posted on November 25, 2015
Support NRA American Rifleman
DONATE
In the early 1950s, a dapper and courtly Englishman told a fascinating tale to a budding young arms enthusiast, who was excited to have been invited to a luncheon with a number of older Los Angeles-area firearm aficionados. The gentleman, Donald B.H. Coates, claimed to be the first man ever shot at by someone armed with a Thompson submachine gun (TSMG).
While probably serving as an underage intelligence agent with the Auxiliary Division of the Royal Irish Constabulary in 1921, Coates (later a soldier, Royal Auxiliary Air Force pilot, adventurer and noted pistol expert) claimed that, while on patrol in Dublin one night alongside the River Liffey, he was met with a withering burst of fully automatic gunfire. He naturally assumed that an Irish Republican Army (IRA) gunman had a Lewis light machinegun, but on searching the area in the daylight, he found a pile of spent .45 ACP cases, instead of the expected .303 British brass.
According to Coates, he submitted an official report claiming to have been fired at by someone armed with a "select-fire M1911 Colt pistol." However, shortly thereafter, he and his fellow "Auxies" learned of an ambush on June 16, 1921, in which two Thompsons were used to shoot up several railway carriages of a troop train carrying a detachment of the Royal West Kent Regiment at the suburban Dublin station at Drumcondra. He now knew that the IRA gunmen had "Tommy Guns," and he assumed that one of them had used one of the submachine guns against him that night. Another attendee at that luncheon, Gordon Ingram, the inventor of the Mac-10 and Mac-11 submachine guns, duly recorded the story in his unpublished memoirs.
Some 20 years later, Coates again related the story to another young fellow, an aspiring police officer, while Coates was repairing the sear on the young man's M1911A1 pistol. During an informal shooting match on the indoor range in the basement of arms author Tom Nelson's home in Virginia, the young man's pistol had suddenly gone into intermittent full-automatic mode, and was firing three-round bursts. The malfunction reminded Coates of the story he had told years earlier in California. However, this time Coates had more to tell about the incident in Dublin. As he replaced the faulty sear on the pistol, he told the young man why he had originally reported being fired at by a select-fire M1911 pistol.
Shortly before the incident on the Dublin quays, Coates had pursued an IRA suspect into a house in the city. The lady of the house was well known to Coates (he didn't specify why), and as he searched the home, he found a double shoulder holster rig under a coat, hanging on a hall rack. In the holsters were two specially modified select-fire M1911s—each one with a thumb selector lever. When he asked the lady about the owner of the guns, she replied that they belonged to "an American gentleman who was visiting from Chicago." Coates, who had turned 17 a few weeks earlier, assumed that an Irish gangster from Chicago was staying there, but since there were no rules against foreigners having such pistols, he did not confiscate the guns. After the incident on the quays, but before he learned of Tommy guns being used at Drumcondra, Coates now figured that the owner of the two pistols was not a gangster after all (the Irish mob was being pushed aside by the Italian Mafia at that time in Chicago), but rather an IRA gunman, and that the owner of the pistols was most likely the man who had shot at him that night.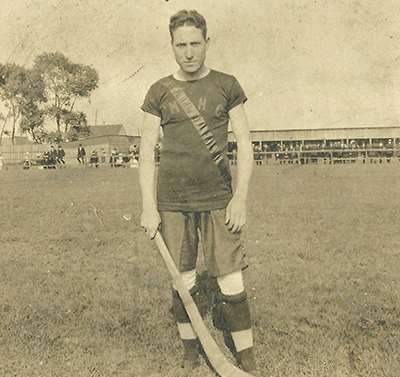 Two "American gentlemen from Chicago," James Dineen and his cousin, Patrick Cronin, brought at least two Thompsons to Ireland in May 1921. Both Dineen and Cronin were former U.S. Army officers who had fought in France with the American Expeditionary Forces during World War I, as well as having seen earlier service on the Mexican border. After landing in Ireland, they demonstrated the Thompsons to a group of IRA luminaries—including Michael Collins and Tom Barry—on May 24 in a disused tunnel outside Dublin. They were staying in downtown Dublin at 2 Wilson's Place, in a house a short walk south of the River Liffey.
Oscar Traynor, the commander of the IRA forces at the May 25 attack on the Dublin Customs House, acknowledged that his force had a "machine gun," but maintained that, "for some unknown reason," it had not been brought into play during the battle. The British already had several TSMGs in Dublin, which had been ordered for "testing" by Maj. Hugh Pollard, a senior intelligence officer in Dublin and a noted arms authority. According to research by Pollard's biographer, Michael Curran, Maj. Pollard did claim that the IRA used a TSMG at the Customs House fight.
However, in the early hours of June 9, 1921, the IRA launched a major night attack on the "Forces of the Crown" alongside the river in Dublin, exactly as Coates described it in his tale. The leader of this effort, Michael Fitzpatrick, recalled years later in Dublin's Fighting Story, 1916-21, By The Men Who Made It that, after the battle, the "British reported that they had captured … a machine gun, [but] this was propaganda, as we had no … machine gun." In reality, there were, at the time, at least two TSMGs available to the IRA for operational use in Dublin, and in the hands of two men who knew how to use them.
The interesting point is that James Dineen was not only a former U.S. Army officer, but a detective sergeant and firearm instructor with the Chicago police force when he took leave to deliver the Tommy guns to the IRA. According to all whom he taught, Dineen was well-versed in all types of firearms. There are very few known examples of select-fire M1911s, and the two most famous ones were those converted by Hyman Lebman in the 1930s for John Dillinger and "Baby Face" Nelson—both gangsters in Chicago.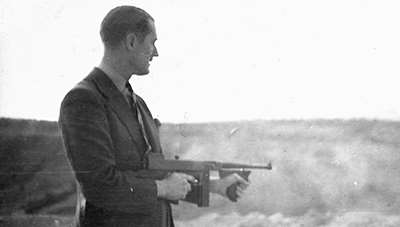 Given the incredible rarity of the arms, and the coincidence of their discovery by Coates in Dublin, could the pistols described by Coates have belonged to Dineen? Of anyone at that time in Dublin, Dineen would have been the most likely person to have access to such pistols. Moreover, Dineen was a recognized marksman and arms expert. Could it have been with those two pistols that someone (most likely Dineen) had opened fire on Coates that night, instead of a Thompson gun, as Coates later assumed? Or, was it indeed one of the Tommy guns that were later used in the Drumcondra ambush that had been fired at him? Fearing detection and exposure by the discovery of his distinctive and unusual pistols, could Dineen have actually targeted Coates? We will probably never know the answers to these queries.
Worse yet, after an exhaustive search of the British National Archives (former Public Records Office) in London, neither Coates' alleged report, nor the supposed British report about the captured machine gun can be found. As of June 11, 1921, there is a list of rifles, shotguns and handguns (presumably including semi-automatic pistols) that the British forces had captured from the IRA during the previous six months in Ireland, but there are no machine guns listed. The IRA was not even keeping detailed records of its membership, much less of its arms, during those chaotic times, so there is little likelihood that there are any extant records in Irish archives that would confirm the story.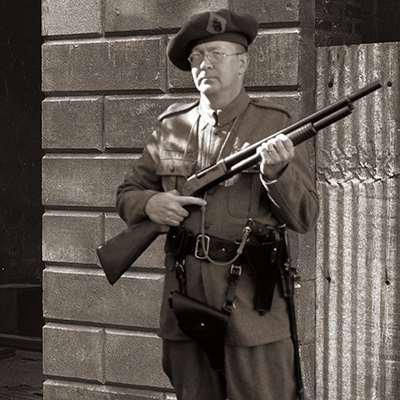 Because of these conflicting accounts, and the possibility that it may have been select-fire .45 pistols, and not submachine guns, being fired on the night of June 9, 1921, there is no way to verify that anyone was firing a TSMG at anyone else in Ireland, prior to the Drumcondra ambush. At any rate, the West Virginia State Police used Thompson guns to "sprinkle the mountainside" while firing at armed striking coal miners at Lick Creek on June 13, 1921, fighting a running gun battle with the miners (which resulted in the death of one miner) some three days before the attack in Dublin at Drumcondra railway station (see "Guns of the Battle of Blair Mountain,"). That means the first documented use of the Thompson gun in combat was not in Ireland, but in the hills of West Virginia.
Postscript: Both Dineen and Cronin returned to the United States after serving in the army of the Irish Free State during the 1922-23 Irish Civil War, and after a few years, Dineen rejoined the Chicago police department, serving on the force until the mid-1930s. According to a descendent, James Dineen maintained his keen interest in firearms throughout later life. Donald Coates led a fascinating life and he, too, continued to be involved in firearms.
(For more on that, see "The Pistolero," americanrifleman.org/pistolero.) 
---
The author thanks Kirk Kellogg, Fernande Ingram, Stephen M. Smith, Michael Parker, Stephen Wood, Michael Curran, David Grant, Allan Cors, Thomas Nelson, Robert McDonough, Brian McCleaf, Joseph Dineen, Deborah Jann, and Ashley Coates for their wholehearted and enthusiastic assistance in investigating this story.