by
posted on May 31, 2018
Support NRA American Rifleman
DONATE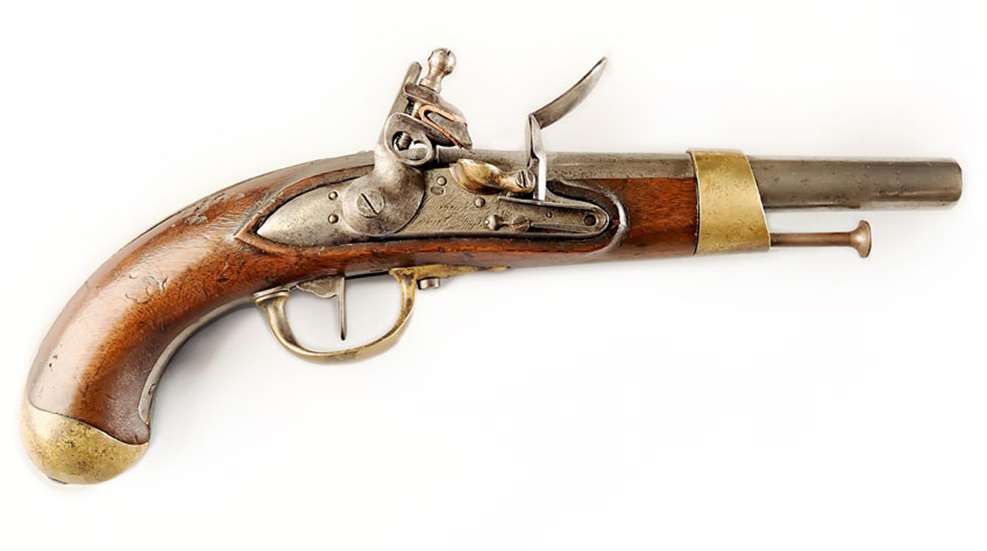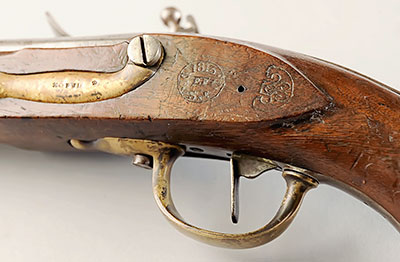 Not content with doing away with a monarchy, establishing a republic, instituting the "Reign of Terror" and making "guillotine" a household word, the French Revolutionary government, in an effort to sweep away religious and royalist connotations, decided that a complete revamping of the calendar was also in order.
Months, consisting of three weeks of 10 days each, were given pastoral names based on items in nature (as were the days of the week), and the old Gregorian dates were jettisoned in favor of a new system whereby, from Sept. 22, 1792, years were to be started all over again at 1. This system persisted until Jan. 1, 1806, when, for political reasons, Napoleon I reinstated the old system as his empire had now replaced the Republic.
Still, many things named before the change retained their original designations, including the Pistolet de cavalerie modelé An XIII (Cavalry Pistol Model Year 13), which was adopted in 1805.
The French had a tradition of building well-thought-out longarms and handguns. Design was normally excellent, as was general quality. In fact, due to French assistance during the American Revolution when many Yankee soldiers were equipped with French arms, a fledgling United States decided to model its first handgun, the Model 1799 North & Cheney, after the French Model 1777 Cavalry Pistol, and its Model 1795 musket was based on the French Model 1763/66.
French arms development under the monarchy—and later during the revolutionary period and the empire—continued apace, with many varying arms being designed for a number of different services and purposes.
In 1786, a pistol, based on a cavalry/dragoon pistol that had been introduced some 20 years earlier, was adopted for the navy. It differed from its predecessor in having an unusual undercut fore-end and similarly configured heavy brass barrel band. Other furniture was also of brass, and the gun was equipped with a sturdy belt hook. The lockplate incorporated a reinforced cock and brass flashpan.
Eventually, other handguns were also adopted and entered the system, including a sturdy cavalry pistol that appeared in An IX (Year 9). The gun's grip was somewhat altered from previous styles, though it retained an older-pattern double-strapped barrel band.
As good as the An IX pistol was, authorities felt they could do better and, thus, the An XIII was born, which incorporated features from its immediate predecessor, as well as the Model 1786 Navy pistol.
The Year 13 was a no-nonsense piece of work. Caliber was .67 (17 mm). Mountings involving the barrel band, sideplate, trigger guard and buttcap were brass. The lock, smoothbore 8" barrel, rear grip reinforcement, trigger and extended trigger plate were of steel. The piece weighed 2 lbs., 13 ozs., and measured 14½" overall.
Between 1806 and about 1819 some 301,690 An XIII pistols were manufactured at Maubeuge, Charleville, St. Étienne, Versailles, Mutzig, Turin and Essen arsenals. It became a mainstay of Napoleon's cavalry troops and continued in French service, generally converted to percussion, until almost the midpoint of the 19th century.
Manufactured at Maubeuge, the Year 13 we are looking at here, though worn in spots, is complete and still in good, serviceable condition. Markings, to include an 1813 barrel date, lockplate arsenal designation and inspectors' stamps, are sharp and readable. As such, it's worth $1,000—not a bad price for a gun with such an interesting history.
Gun: Pistolet de cavalerie modelé An XIII
Manufacturer: Maubeuge Arsenal
Caliber: .67 (17 mm)
Manufactured: 1813
Condition: NRA Very Good (Antique Gun Standards)
Value: $1,000