Support NRA American Rifleman
DONATE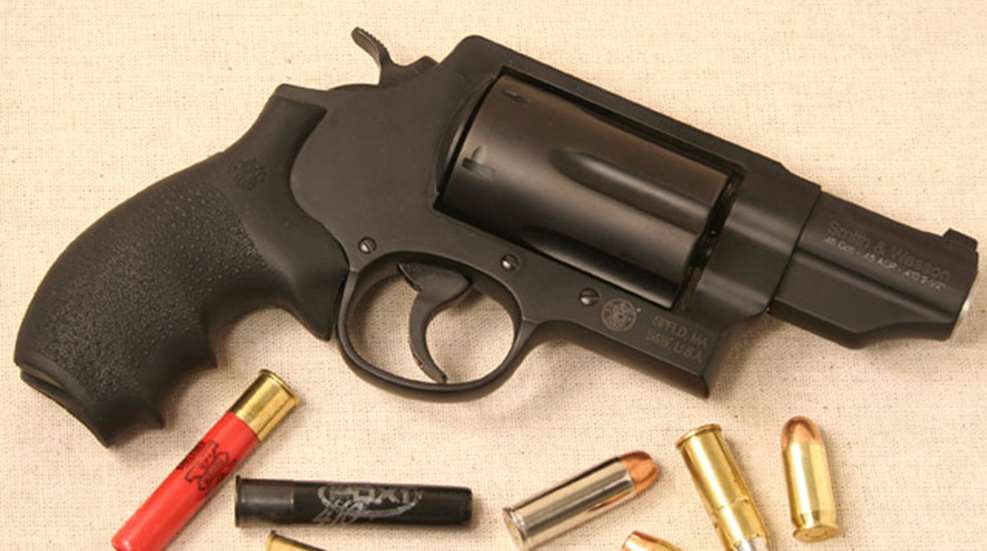 Gallery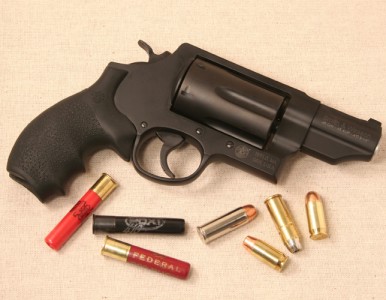 B. Gil Horman
The Governor
B. Gil Horman
Smith & Wesson enters the .410 multi-caliber handgun market with the three-caliber Governor. This defensive revolver can fire 2 ½-inch .410 shotshells, .45 Colt and, with the use of moon clips, .45 ACP.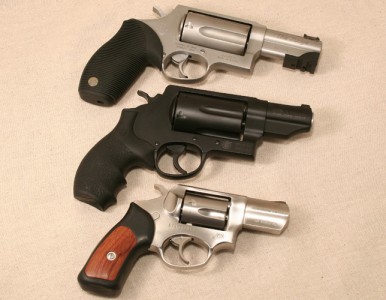 B. Gil Horman
Three Guns
B. Gil Horman
The Governor (Center) with one of the many variations of the Taurus Judge (Top). Although the Governor requires a bit more cargo space to carry than a Ruger SP101 (Bottom), the larger six-shot Governor only weighs 3.6 ounces more than the compact five-shot.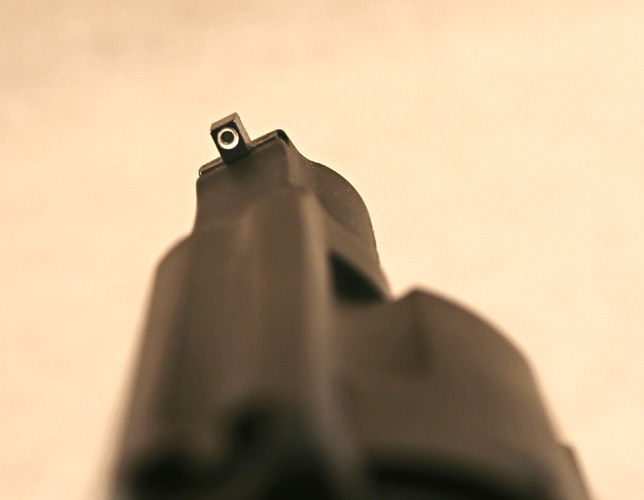 B. Gil Horman
Sight
B. Gil Horman
The no-snag fixed sight configuration of the Governor is enhanced with a dove-tailed front Tritium Night Sight.
B. Gil Horman
Mixed Six
B. Gil Horman
The Governor's cylinder can be loaded using what Smith & Wesson calls the Mixed Six. Two-Round Moon Clips allow two .45 ACP cartridges to ride alongside a combination of .45 Colt and .410 shotshells.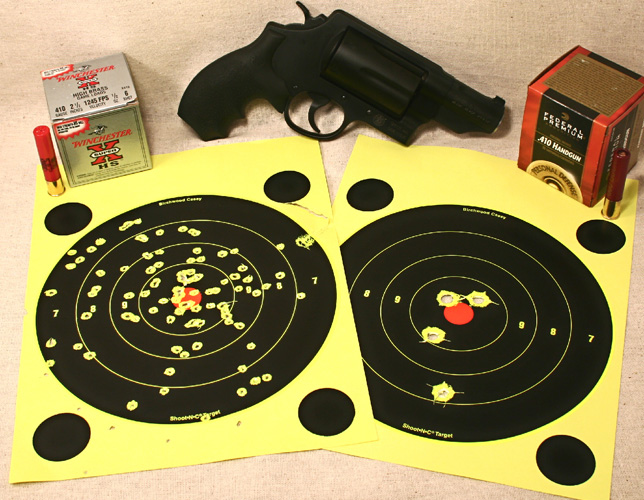 B. Gil Horman
Targets
B. Gil Horman
The Governor can be loaded with fine birdshot for devastating close-range hits to poisonous snakes and pests, or loaded with buckshot for personal defense. (Left Target: Winchester Super X No. 6 shot at 10 feet, Right Target: Federal .410 Handgun 4-Pellet 00 Shot at 7 yards)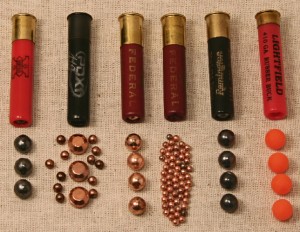 B. Gil Horman
Defense and Buckshot
B. Gil Horman
Not long ago, the Winchester 000 3-Pellet Buckshot load (Right) was the only readily available defensive shot shell for .410 handguns. With the growing popularity of this type of revolver, ammunition companies are providing shooters with more defensive 2 1/2-inch .410 shot shell options. (Winchester PDX-1 loaded with 3 defense discs and 12 BB shot pellets, Federal Premium .410 Handgun 4-Pellet 000 Buckshot, Federal Premium .410 Handgun No. 4 Shot, Remington HD 4-Pellet 00 Buckshot, Lightfield Less Lethal Home Defender 4-Ball Rubber Buckshot).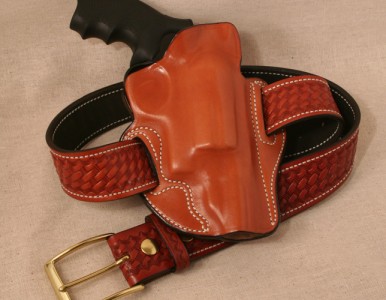 B. Gil Horman
Carry System
B. Gil Horman
On the trail, or for concealed carry, a De Santis Speed Scabbard and gun belt make an excellent carry system for the Governor. The holster can facilitate legal concealed carry, it's comfortable for all-day wear and it provides a quick draw and easy reholstering.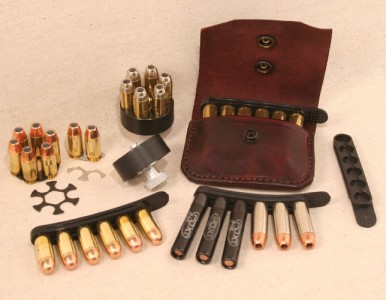 B. Gil Horman
Ammo Retention
B. Gil Horman
No single ammunition retention system will accommodate all three ammunition choices for the Governor, but they all come in handy for at least one caliber. Smith & Wesson's six-round or two-round moon clips are required to fire .45 ACP loads. The HKS 25-5 Speed Loader is a quick way to reload .45 Colt rounds. Tuff Products 7002-BP-644 Quick Strip will hold .410 shells and .45 Colt cartridges, and the 7002-BP-641 Quick Strip will hold .45 ACP. 
Rob Leahy of Simply Rugged Holsters provides one of the few practical belt options for carrying .410 shotshells to reload a revolver. His 410 Pouch will accommodate six-rounds of Quick-Stripped .410 shells or .45 Colt. The two mil-spec snaps allow the flap to be adjusted for the length of the cartridges or shells carried.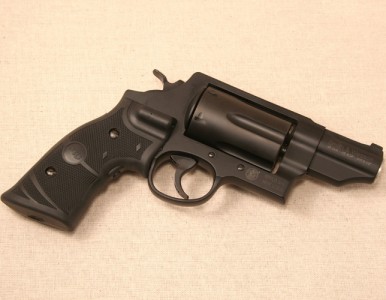 B. Gil Horman
Grips
B. Gil Horman
The Governor arrives from the factory with your choice of the easy-to-conceal Hogue Bantam synthetic rubber grip, or a Crimson Trace Bantam Lasergrips. For folks with larger hands or a preference for a square-butt conversion, Crimson Trace also provides the hand-filling LG-308 Lasergrip for Smith & Wesson K and L frames.