by
posted on October 25, 2016
Support NRA American Rifleman
DONATE
Some guns just refuse to go away. A few of these stalwarts include the Model 1911 pistol, the Colt Single Action Army revolver and a bevy of Winchester lever-actions like the Models 1873, 1886, 1892, 1894 and 1895. With the exception of the 1911 each of these iconic firearms has been discontinued for some time before a hue and cry erupted enough to bring them back.
The Model 1892 was first shelved in 1945 after a 53-year run and a little more than a million rifles made. It came about when Winchester sought to modernize its pistol-caliber Model 1873 rifle. John Browning had already modernized the large-caliber Model 1876 in 1886. Winchester reputedly informed Browning that he would receive a $10,000 bonus over his usual contract amount if he could have a working model of a pistol-caliber lever-action within two months. Browning essentially shrunk the Model 1886 and produced a workable prototype in Winchester's hands within three weeks—and was awarded a $20,000 bonus. The Model '92 was indeed much stronger than its predecessor, but the strength was never really exploited by Winchester since it only offered the rifle in the same moderate pistol-caliber cartridges that the '73 was chambered.


Nonetheless the rifle was a resounding success, especially after the motion picture industry clamored after the little rifle for its ability to feed the 5-in-1 blanks used in films better than the worn-out Model '73s. Ever-increasing rising production costs and lagging sales, along with worn-out tooling provided Winchester the justification it needed to pull the plug on the '92. Civilian shooters at the time wanted powerful bolt-action rifles. The Model 1894 seemed to have sated the die-hard lever-gun aficionados anyway.
A more or less constant but limited demand for '92s ebbed and flowed. Rural sheriff deputies created a cottage industry of converting Model '92s to .357 Mag. and .44 Mag. A gunsmith named Ward Koozer of Douglas, Ariz., was the acknowledged specialist in such conversions for many years. Then the cowboy-action craze blossomed, and wannabe cowboys scrambled to get their hands on pistol-caliber lever actions. The finite supply of original Winchesters quickly dried up like autumn grass; prices went through the roof; and offshore gun makers in Brazil and Italy primarily began making copies of the Model 92, some great, some not so good. Winchester has gone through some serious ups and downs, including the closing of the U.S. Repeating Arms Co. plant in New Haven, Conn. But even that could not kill the Model 92, although production of 92s stamped "Winchester" moved to a long-time Browning and Winchester rifles partner. Though manufactured by Miroku in Japan, the quality and craftsmanship of these rifles was and is far better than what came out of New Haven during its death throes. But Winchester needed to upgrade the safety of the Model 92—the simple half-cock notch was no longer enough—hence the tang-mounted, two-position safety and rebounding hammer. To Miroku's credit, it is relatively unobtrusive and well executed, so it's more of an aesthetic annoyance than an operational transgression. And it's far less obnoxious than a crossbolt through the middle of the receiver.
The new Winchester-Miroku guns are very nice, but there is a contingency of new-old cowboys that want their guns gussied up a bit. That's where Val Forgett and Navy Arms enter the picture. I've known Val for a long time. He is one of those, as many of us in this industry like to say, who has guns in his heart. Val appreciates old-school craftsmanship, design and execution. He is also an astute businessman who knows how to provide products that shooters want at a reasonable price. Val was able to negotiate with Winchester to provide him with some completed but unfinished rifles. He then sought out gunsmiths with the ability to fit and finish these rifles into high-grade guns for those whose pallet craves the beauty and style of the late 19th century. Some of these gunsmiths now work for Navy Arms. In the case of these Model '92s, Val tapped the folks at Wyoming Armory Precision Firearms (WAPF), which coincidentally is about 25 miles from me, to do the color casehardening on these rifles.
Val sent me one of these Model '92s recently for testing and evaluation. The Navy Arms' rifles are available in .44 Mag. or .45 Colt. I chose the .44 Mag. for a couple of reasons; first it highlights the strength of the '92's action and, secondly, I may just pop a whitetail doe off the back of my place with it in a month or so.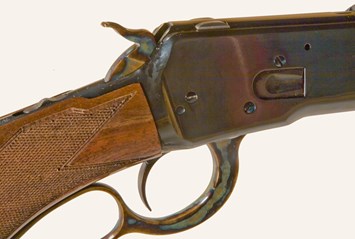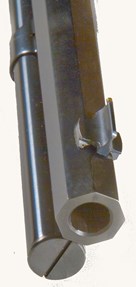 These rifles are much like the Sporting Rifles of a century or so ago. My sample features a 20" octagon barrel and what is described as a pistol-grip buttstock. Actually, it's more like a quarter pistol grip, relatively open in its profile, allowing it to be grasped quickly while providing a bit more control than a straight stock. The hammer and lever are exquisitely color casehardened using the original bone-charcoal method and brought to a glossy finish with a polymer clear coat, according to George Dillman, the operational manager at WAPF, while the rest of the metal work is in a high-polish blue. A Grade II walnut stock with some nice but not lavish figure cloaks the rifle. It is checkered to what looks like 20 lines per inch in a classic pattern. A traditional crescent-shaped steel buttplate finishes the stock—wickedly beautiful, yet often equally wicked on the shoulder, especially meaty ones like mine, with heavy loads. Sights are the quintessential post and buckhorn rear, adjustable by a notched elevator in the rear and drifting within a dovetail. Trigger pull on my sample was 5.1 lbs.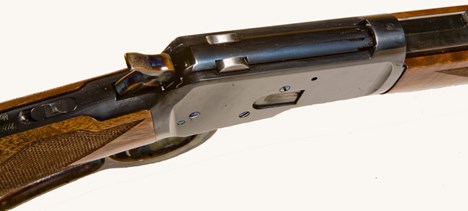 Shooting a pistol-caliber lever action is always fun. They are a bit more substantial than a rimfire, yet not nearly as punishing as a big rifle. Happily, even with the crescent buttplate, this little .44 Mag. was pretty easy on my shoulder. My first couple of groups at 50 yards were in the 3 to 3 1/2" range, but like a lot of new rifles it eventually settled down. After that it did not seem to matter what ammo I used, the Model 1892 tossed its shots pretty consistently into a 2" group, plus or minus. The differences were so minimal that I could attribute them to buckhorn sights and old eyes.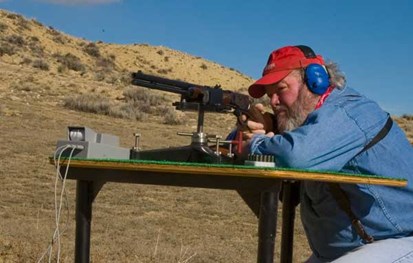 Velocities from the 20" barrel were about 33 percent greater than those from a 6 to 7" revolver. An exception was when I ran a handful of .44 Spl. handloads through it just to see if they would feed—they did, flawlessly. These loads only came out of the barrel about 100 fps more than out of my revolvers.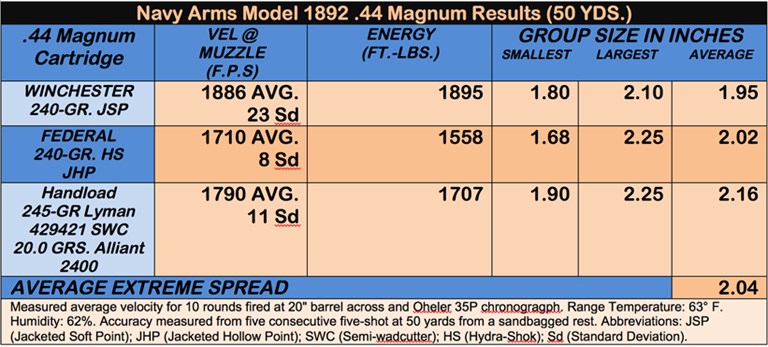 In years past I have found that some rifles did not care to feed the cast semi-wadcutters that I most often use in my revolvers. This '92 apparently never got the memo that mandated semi-wadcutters were difficult to feed. The 245-gr. Lyman 429421 semi-wadcutter—Elmer's bullet—that I have used for more than 40 years ran through the little rifle without so much as a hiccup.
As I said, pistol-caliber lever-guns are fun to shoot. I had a double-handful of leftover rounds after I completed my testing session, so I amused myself by taking a few potshots at rocks from 100 on out to a little past 200 yards. Obviously I did not have a group to measure at those ranges, but I'd hate to be a miscreant out there with someone who knows how to shoot and had one of these rifles in hand.
Years ago I longed for a Model '92 in .44 Mag. as a truck gun. Time changes a lot of things, including attitudes, yet a nice little lever-gun in .44 Mag. still wouldn't be a bad choice. But not this little beauty. With its Grade II wood, high-polish blueing and color casehardened accents, the rough-and-tumble life of a truck gun would be a travesty to inflict on it. These '92s are gentlemen's guns, capable of a rough-and-tumble life but in a class well above that foray.
Specifications
Manufacturer: Navy Arms
Model: Navy Arms-Winchester Model 1892
Phone/Website: (304) 274-0004
Type: Lever-action rifle
Caliber: .44 Mag. (tested), .45 Colt
Barrel Length: 20"
Magazine/Capacity: 10 rounds
Trigger: 5.10 lbs.
Rifling: 1:20" RH
Sights: Post front, buckhorn rear adjustable for elevation and windage
Safety: Tang, 2-position
Stock: Grade I walnut
Drop at comb/heel: 1.25"; 2.0"
OAL: 37 1/2"
Weight: 6 lbs.
Metal Finish: Blue with color casehardened accents
MSRP: $2,500