posted on September 29, 2014
Support NRA American Rifleman
DONATE
After spending a couple of days with Marty Daniel and his team at Daniel Defense headquarters in Black Creek, Ga., I was convinced that his pursuit of knowledge pertaining to the manufacture of firearms—as well as his investment in the personnel and equipment needed to act upon that knowledge—was the embodiment of the "Teach a man to fish" maxim. But on further consideration, I don't believe that Daniel would have been satisfied with a lifetime of fish. Instead, I think, the protagonist of the children's classic If You Give A Mouse A Cookie may be a more apt comparison for his driven nature. It seems that every technique mastered, every piece of machinery purchased and every employee hired was not only the completion of one objective, but also the jumping-off point for one or a dozen new goals and ambitions.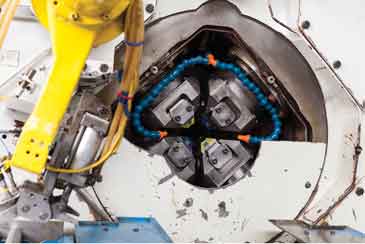 Daniel Defense is now one of the leading, and fastest-growing, manufacturers of AR-15-style rifles in the United States. In each of its firearms, more than 90 percent of the components are manufactured in-house by Daniel Defense, an unprecedented feat in a market populated by many excellent companies "building" ARs from an assemblage of contracted components. Even more impressive is that if push comes to shove, whether by market forces or other external pressures, Daniel Defense has the knowledge, tools and staff to manufacture 100 percent of the parts necessary to build its guns. But how did it all start? What was the cookie that encouraged a hunter and gun enthusiast, though relative AR-15 novice, to build one of the preeminent brands in the field of modern sporting rifles? In a word, golf.
Prior to his foray in the firearm industry, Marty Daniel was building and installing, of all things, garage doors. The booming housing market of the 1990s proved to be an environment where his background in engineering, his entrepreneurial spirit and his knack for management could develop and flourish. With his company on sound footing, Daniel found time for leisure activities, including hitting the links. Luckily for the gun community, his golf game was, in his own words, horrible. Daniel began shooting recreationally with a friend and was hooked. He quickly traded in the irons and greens for brass and black rifles. He found he most enjoyed tactical-style training with semi-automatics and developed a passion for Eugene Stoner's AR platform, in particular the 5.56x45 mm NATO Colt-made variants. If you ask Daniel why he became so enamored with those guns, his answer is the same echoed today by life-long enthusiasts and fledgling converts—they are just so fun to shoot.
Developed as a scaled-down version of Stoner's .30-cal. Armalite Rifle 10 (AR-10), the AR-15—originally licensed to and produced by Colt—has, for more than 50 years, thrived as the M16/M4 family of rifles, the U.S. military's longest-serving standard longarm. Much of its success can be credited to the platform's shootability and adaptability, virtues that remain relevant today. The gun's "fun" factor stems from its low recoil and ease of operation, attributes that have it sharing duties with manually operated rimfires as the rifle of choice for introducing new shooters to the sport. On the other side of the spectrum, the gun's versatility has kept it on the front lines in the hands of warfighters and law enforcement personnel, often outfitted with decisive tools necessary to take on a given task or terrain. The ease with which the guns can be customized and accessorized to meet a broad spectrum of demands is the basis for an enormous and thriving market of not only firearms, but also component parts and related gear.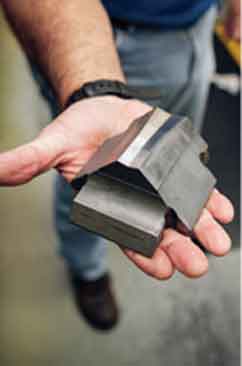 It is no wonder that once Daniel caught the AR bug, he soon developed the accessory itch, and a new rail system, especially one capable of mounting even more accessories, soon became the part he most desired. Approaching an established manufacturer of AR components, he ordered several rails for his personal firearms. Although the company was busy filling large contracts, Daniel was surprised when his business was quickly, and bluntly, turned away. The experience drove home the importance of excellent customer service, a hallmark of his own businesses today, and it was the catalyst for Daniel's first major step toward becoming a firearm manufacturer.
Unable to procure the equipment he wanted, Daniel designed and contracted for the production of an M4-compatible rail system. Besides now having the rail system he wanted as a shooter, Daniel's creation was well received by the shooting public. So much so, that for the first time Daniel must have thought there may be a little money to be made in building his rails. Confirmation came about a year later when, as a first-time exhibitor at the 2003 SHOT Show, a representative of the U.S. military's Special Operations community encouraged Daniel to submit his product and bid on an upcoming government contract. Daniel won that contract, even beating out the company whose rail he had tried to purchase.
In an interview, Daniel admitted that starting out his only goal with regards to making and selling gun parts was to fund his recreational shooting and allow him to make and buy more gun parts. It may have started with rails and even tactical sling loops, but with the SOCOM contract for his Rail Interface System (RIS) II, planned or not, Daniel Defense was now well and truly born.
It would still take another couple of years before Daniel Defense would hire its first employee, and it was not until 2008 that machinery, starting with a vertical milling machine, was purchased specifically for Daniel's firearm business. It was that same year that Daniel bid for and won a United Kingdom Ministry of Defense contract for rails, a contract that continues today with Daniel Defense being the sole provider of its L85 rail system for the UK's SA80/L85 rifles.
Most will recall that around that time the U.S. housing market was in dire straits. The bubble had burst, home prices were down and new construction was at a virtual standstill. Although such conditions would be devastating for a garage door manufacturer, Daniel was able to compensate by doubling down on building firearms. In fact, in 2009 he brought on more employees with the explicit goal of building a complete rifle. To that end, he also purchased a cold-hammer forge for building barrels. Despite the vast expense, Daniel had reviewed the research and determined that such a machine could sustain his company's need for barrels and that they would be of the highest quality. Even though he did not have a single employee with experience using such a machine, he knew he had very capable machinists equal to the task. Sure enough, through practice and some experimentation, Daniel Defense refined its barrel-making process. Now, the company is not only self-sufficient in terms of producing this key component for its own rifles, it is in a position to supply some of its competitors, as well. For an outside observer, the research, investment and faith needed to execute Daniel's barrel-making scheme reveals a broader guiding philosophy which has seen the business flourish.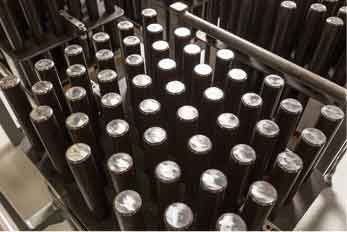 Daniel Defense accomplished its goal of building a complete rifle, and it has built hundreds of thousands since. This year alone the company is on pace to build another 60,000. In just over a decade, Marty Daniel's "little" project, run out of a corner in the office suite occupied by his garage door business, has grown into one of the most recognizable brands in the AR market. His one-man band has grown to an orchestra of 170 employees occupying two facilities in the Savannah River valley—one in Georgia, the other in South Carolina—totaling 137,000 sq. ft. Remember that first milling machine? It's been joined by banks upon banks of modern CNC equipment. And the cold-hammer forge—one of only a few in the country? It has been joined by a second, and Daniel Defense remains one of only a handful of firearm companies producing barrels with the highly prized machines. The success of his company has allowed Daniel to take a step back from the frontline work. He now coaches younger managers and project teams on how to design and innovate on their own, instilling in them a familiar entrepreneurial spirit and harnessing their individual and communal creativity and innovation. Even though the company bears his name, Daniel is adamant that one man's vision will not stifle its growth, and that the firm's continued prosperity will be the just reward for his team's hard work.
DDM4 V9 LW
There is no doubt, Daniel Defense's accumulation of knowledge, personnel and equipment is praise-worthy in itself, but in order to test the capabilities of these resources I had to put one of the rifles through a full American Rifleman evaluation. The company's catalog is extensive, with standard models separated by length of gas system—pistol, carbine, mid and rifle—and further differentiated by rail configuration, barrel length and contour, caliber, finish and other features. For those so inclined, Daniel Defense even offers firearms regulated by the National Firearms Act (NFA) such as the 10.3"-barreled MK18 SBR (short-barreled rifle) and the cleverly engineered .300 Blackout ISR (Integrally Suppressed Rifle) that, despite also possessing an abbreviated barrel, requires only one tax stamp for its permanently affixed suppressor. As well, customers have the option to "build" their own DDM4, selecting from hundreds of component parts to design a unique rifle—well, close to unique, there are tens of thousands of possible configurations. Once an order is placed, the folks at Daniel Defense will assemble the custom firearm and ship it to an appropriate FFL, often the very next day.
For my test I chose the DDM4 V9 LW, a production model rifle with a great mix of Daniel Defense specialty parts and features. The V9 is chambered in 5.56x45 mm NATO and is, therefore, entirely safe for use with .223 Rem. ammunition. It runs on a mid-length gas system and its LW designation relates to the 16"-barrel's lightweight contour. Lightweight barrels are a bit more slender than the government-contour barrels exhibited in many M4 clones, but the cold-hammer-forging process ensures they are still robust and, as the name implies, the svelte barrels shave about 1/2 lb. from the rifle's overall weight.
One immediately apparent feature is the rifle's 15" M4 quad-rail fore-end. This system accommodates the free-floating barrel and provides abundant space for optics and accessories—a good thing because the rifle does not come with any sights. Having such a long rail gives the V9 a couple advantages. First, when using iron- or back-up sights—I added Daniel Defense's fixed sight system, sold separately, for my evaluation—the shooter has a very long sight radius, more than 20" depending on sight configuration. If the operator does his part, that sight radius can translate to enhanced accuracy, especially at longer ranges. Also, the rail extends nearly to the muzzle, allowing for a far-forward support-hand grip—a very popular and effective technique, especially among competition shooters, that aids in manipulating the rifle and driving it toward the target.
Another distinct characteristic, and a relatively new addition to Daniel Defense Rifles, is the proprietary furniture. Constructed from a blend of glass-infused polymer, the buttstock, pistol grip and vertical foregrip each have thoughtfully placed rubber overmolding to enhance purchase and cheekweld. Daniel Defense designed the parts specifically for its rifles and, based on my time with the engineers at their Georgia facility, invested a lot of time, energy and money to make them just right. Considering the influence a gun's stock can have on its handiness, operation and, by extension, accuracy, the hours spent working in computer-aided design (CAD) programs, and the bins of rapidly prototyped models were worth it. The parts just plain work; the lines are clean and aesthetically on-point, and the rubber pads are tacky without being sticky or coarse. From a strategic standpoint, and given the character of the company, designing and using its own furniture is yet another way Daniel Defense has differentiated its products and mastered its supply chain.
Looking at the gun's metal work, the machining and attention to detail, inside and out, are second to none. Touches like the V9's polished feed ramps, chrome-lined gas key and flared magazine well may not be necessary for the firearm to function, but they unquestionably enhance operation and add value. Add to these the intense scrutiny and quality assurance measures through which each component must pass, and it becomes evident that despite it being a standard production model, this rifle's fit, finish and function are the equal of similarly equipped, though much more expensive, semi- and full-custom firearms.
On the range, the V9 was evaluated according to standard American Rifleman protocol. After zeroing, several magazines were fired for familiarization and to test the gun's functionality. The rifle fired and cycled mixed .223 Rem. ammunition with ease, and the ejection pattern was consistent, tossing spent brass several feet in a direction approximately between two and three o'clock. It was during this stage, though, that one polymer magazine—made by Port City Armory (PCA), a relatively new manufacturer—failed to drop free from the magazine well and was actually quite stuck. Using the provided Magpul PMAG, the PCA magazine, two aluminum models—one from Brownells and another military-issue—and a Stag Arms 3T-M rifle for comparison, I explored this issue. It seems that although the Magpul and aluminum magazines functioned well in both rifles, dropping free without assistance, they were noticeably tighter in the DDM4, and slower to fully release. In the Stag Arms rifle, the PCA example still would not drop completely free, but it would partially drop and required only a tiny tug to fully release. I suspect the hang up was caused, simply, by poor pairing—dimensionally—between the V9 and the PCA magazine. It should be noted that the issue did not cause any problems with feeding or the cycling of the rifle's action using any of the tested magazines.
To assess the rifle's accuracy, three different ammunitions were selected for testing, and each was used to fire five consecutive, five-shot groups, as well as 10 rounds through a chronograph to determine average velocities. I chose to use a 77-gr. load from Double Tap, Federal's 62-gr. Fusion and a 55-gr. match load from Lak Orr—cartridges intended to challenge the V9's 1:7" twist rate across a range of bullet weights. Before moving to the 100-yd. line, I swapped iron sights for a Nikon M-223 2-8X 32 mm riflescope. The rifle performed brilliantly. The Lak Orr ammunition turned in the best performance with three sub-m.o.a. groups and an overall average of 1.11". The Double Tap ammunition was not far behind at 1.26"—proof positive that the V9 will stabilize bullets at the heavier end of the .223 Rem. spectrum. And the Fusion hunting load was still very respectable, especially given its intended use, with an average of 1.67". Measured velocities were on average 404 f.p.s. slower than advertised, which is to be expected since the V9 possesses a 16" barrel and the manufacturer-published speeds were attained with 20"- and 22"-barreled rifles. All in all, the V9 turned in an outstanding performance, and is among the top-performing ARs to come through the Rifleman offices.
Daniel Defense—Marty Daniel's interest, turned project, turned business—has come a long way in a short time. Daniel himself has gone from enthusiast and consumer to firearm entrepreneur and celebrated designer. His company has followed suit, growing from a few designs—built by outside vendors—to a nearly self-sufficient gun manufacturer. Given the owner's drive and the company's character, I expect the fast-rising star that is Daniel Defense still has a long way yet to go.
Manufacturer: Daniel Defense, 101 Warfighter Way, Black Creek, GA 31308;(866) 554-4867; danieldefense.com
Caliber: 5.56x45 mm NATO/.223 Rem.
Action Type: direct-gas impingement, semi-automatic center-fire rifle
Receivers: 7075-T6 aluminum, Type III hard-coat anodized
Barrel: cold-hammer-forged 16" chrome-moly-vanadium steel, lightweight profile
Rifling: six-groove, 1:7" RH twist
Magazine: 30-round-capacity detachable box
Sights: none; full-length Picatinny rail
Trigger: single-stage, non-adjustable; 7-lb., 8-oz. pull
Overall Length: 321⁄4" to 357⁄8"
Weight: 6 lbs., 6 ozs.
Accessories: owner's manual, hard case, Magpul 30-round PMAG, three polymer rail ladders
Suggested Retail Price: $1,690