by
Mark A. Keefe, IV, Editorial Director
posted on August 15, 2017
Support NRA American Rifleman
DONATE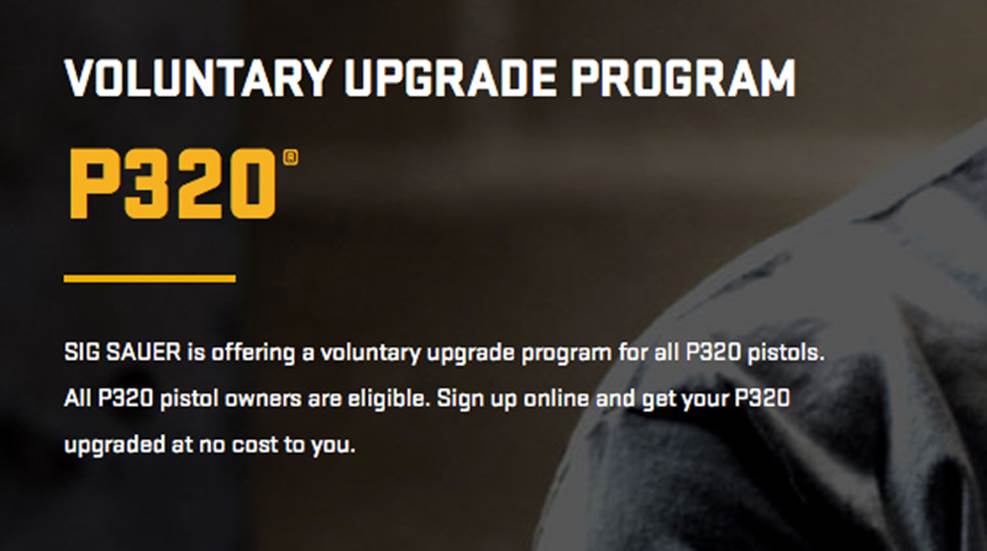 It looks like SIG Sauer is taking steps to make sure there is no sequel to this drama like "Sharknado 2: The Second One."
As promised last week, SIG Sauer has announced the details for its voluntary upgrade program for P320 pistols. The website is up and American consumers can start the process. At this time, it is for U.S. Commercial SIG Sauer P320 owners only.
SIG Sauer needs you to have your P320 serial number ready, then go in to the website and fill out the sign-up form. If you have multiple guns, you will need to fill out a new form for each one.
At that point SIG Sauer will contact you about getting your pistol to them. This is probably going to be a lot like the scheduled upgrade Ruger is doing with the Ruger Precision Rifle. Think of it like having every vehicle from Toyota owner with the recalled airbag driving immediately to the nearest dealership. There will be cars stacked upon cars and a long wait for the technician's—or in our case, gunsmith's—time. Actually it will require a little more work than just swapping parts, including machine time, to install the disconnector.
SIG will install "alternate design parts that reduces the physical weight of the trigger, seer and striker while additionally adding a mechanical disconnector."
The company will apply the upgrades, test the gun and then return it to the consumer free of charge.
In an earlier post, I did not include that a lawsuit has been filed by a Stamford, Conn., police officer regarding the discharge of a SIG Sauer P320. What many need to remember is the facts of the case come out in court, not necessarily in the plaintiff's filing documents. Whether it goes to trial or settled, the facts of the case are not yet in evidence. It's unfortunate anytime a law-enforcement officer is injured, regardless of circumstance. Once more information becomes available, we will report on it.