posted on January 15, 2019
Support NRA American Rifleman
DONATE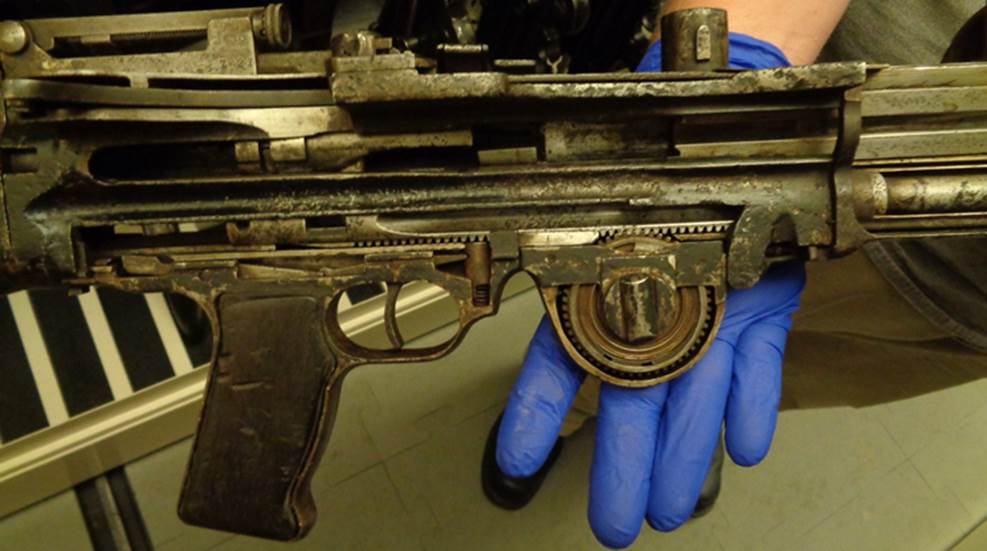 Top: One of four LMGs which accompanied the Ivy Patch Gun during its journey stateside.
As recounted in an article in the Winter 2017 issue of
Reveille: Ireland's Military Story 
magazine, the "Ivy Patch Gun"— a British Mark II 18-pdr field gun— was part of this shipment of artillery and machine guns in 1959. This particular cannon was marked on its breech with the insignia of the Irish Free State forces (a superimposed "FF," surrounded by a sunburst) and it was one of the first six field guns "loaned" by the British to the fledgling Irish Free State in 1922. It may have been one of the two guns that opened the Irish Civil War, by firing at anti-Treaty "Irregulars" of the Irish Republican Army who had holed up in Dublin's imposing Four Courts building.
Discovered under a mound of English ivy, on the grounds of a former dinner theater in the Virginia suburbs of Washington, D.C., in the early 2000s, it was identified by interested museum curators who then arranged for its repatriation back to Ireland in 2016. The "Ivy Patch Gun" is currently being restored by the Irish Army's Ordnance Maintenance Depot for display in the
Irish National Museum
's "Soldiers and Chiefs" exhibition, at the former Collins Barracks in Dublin.
The author thanks Wesley Bourke, Al Houde, Glenn Hyatt, Les Jensen, Mark Keefe, Robert McDonough, Michael J. Parker, Frederick "Fritz" Richards, Michael Shyne, and Paul Smith, for their kind assistance in the preparation of this article.


Additional ReadingIrish Lewis Light Machine Guns In The United States"Grim Reapers": The Machine Guns of World War One
A Lewis Gun For the Trenches
I Have This Old Gun: Lewis Machine Gun