Support NRA American Rifleman
DONATE
Gallery

Thompson/Center: Encore .45 Colt/.410 Conversion
The Thompson/Center Encore is the premier single-shot, break-action pistol for serious shooters. In celebrating the Encore's positive qualities and multitudinous interchangeable barrels, this pistol is sometimes overlooked as a .45 Colt/.410 handgun option. Shooters can quickly and easily swap out an existing Encore barrel for either a 12-inch blued or 15-inch stainless steel (shown) .410 barrel featuring front and rear bead sights.
Manufacturer: Thompson/Center; www.tcarms.com
Model: Encore
Action: Single Action
Caliber: .45 Colt/.410 (2.5" or 3" Shells)
Finish: Blued or Stainless Steel
Grips: Wood or Synthetic
Sights: Dual Bead Sights
Safety: Automatic Hammer Block with Bolt Interlock
Choke: Removable, wrench provided
Barrel Length: 12" or 15"
Overall Length: 16.5" or 19.5"
Weight: 4.25 or 4.5 lbs. 
Capacity: 1 Round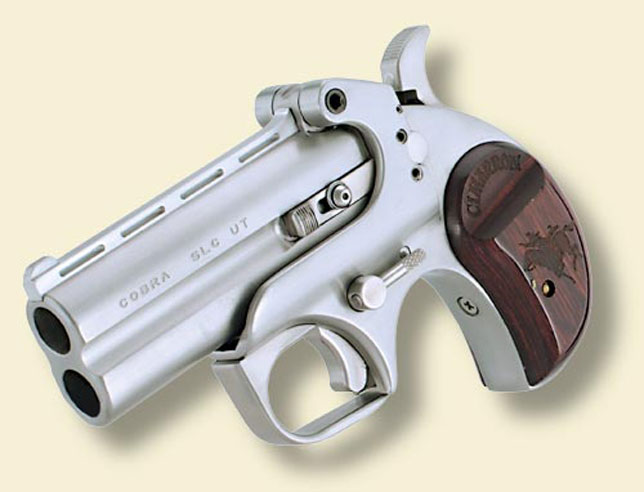 Cimarron Firearms: Titan Derringer
Taking a page from the Bond Arms' book of modern double-barrel pistol design, Cimarron has introduced the Titan .45 Colt/.410 derringer. Built exclusively for Cimarron by Cobra Firearms, the Titan is available in either a natural high-polish or black stainless-steel finish. The grip is fitted with engraved rosewood panels, and interchangeable 9 mm barrels are also available.
Distributor: Cimarron Firearms; www.cimarron-firearms.com
Model: Titan
Action: Single Action
Caliber: .45 Colt/.410 (2.5" or 3" Shells)
Finish: Polished or Black Stainless Steel
Grips: Engraved Rosewood
Sights: Fixed
Barrel Length: 3.5" 
Safety: Cross Bolt, Rebounding Hammer
Trigger Guard: Removable
Overall Length: 5.5"
Height: 3.7" 
Weight: 1.025 lbs.
Capacity: 2 Rounds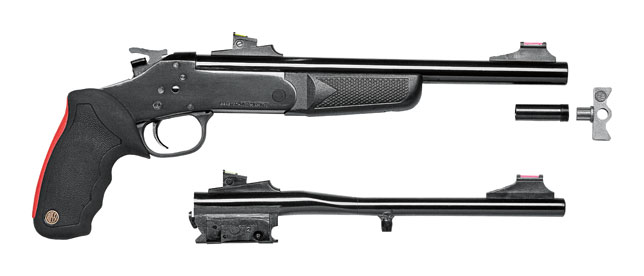 Rossi: Matched Pair Pistol
Rossi has long been giving shooters twice the bang for their buck with its value-priced Matched Pair break-action combo guns. This year, the company entered the .410 handgun market by giving the Matched Pair concept a new twist. Fitted with a recoil-reducing handgun grip, instead of a shoulder stock and an 11-inch barrel, this Matched Pair pistol arrives with an 11-inch .45 Colt/.410 barrel fitted with a removable choke, and a second barrel chambered in .22 Long Rifle.
Manufacturer: Rossi; www.rossiusa.com
Model: Matched Pair Pistol
Action: Single Action
Caliber: .45 Colt/.410 and .22 Long Rifle
Finish: Blued
Grips: Rubber
Front Sight: Fixed Red Fiber Optic
Rear Sight: Adjustable 
Barrel Length: 11"
Capacity: 1 Round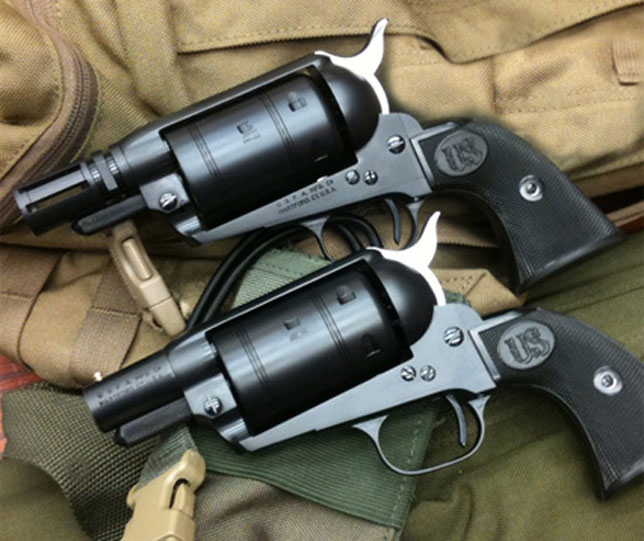 US Firearms: USFA M4-410 & USFA SHOT Pistols
US Firearms, known for its custom cowboy single-action revolvers, has certainly thought outside the box in creating these new dual-caliber wheel guns. Over three years in development, the rock-solid all-steel USFA M4-410 (top) is the result of a variety of experiments to produce a short-barreled revolver capable of producing tight groups with .410 shot shells. For those who prefer a more traditional look, the USFA SHOT Pistol (bottom) features a straight, solid barrel topped with a gold sight bead.
Manufacturer: US Firearms; www.shotpistol.com
Models: USFA M4-410 & USFA SHOT
Action: Single-Action Revolver
Caliber: .45 Colt/.410 (2.5" Shells Only)
Finish: Matte Blue 4140 Carbon Steel
Grips: Hard Rubber
Sights: No Sights or Gold Bead
Barrel Length: 2" vented or 2.4" solid 
Weight: 2.35 or 2.39 lbs.
Capacity: 6 Rounds
Twist: LH 1:16"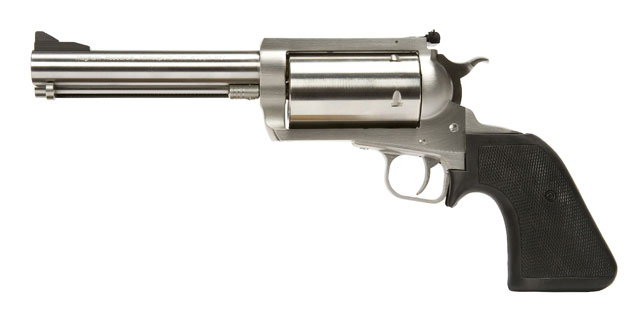 Magnum Research BFR Revolvers: The Hammer
Magnum Research makes big handguns, and the BFR series of revolvers is no exception. The original BFR .45 Colt/.410 features a 7.5-inch barrel fitted with a removable choke. To make the latest version of the gun a little handier, "The Hammer" has been fitted with a 5.25-Inch un-choked barrel. Built with the same materials and processes used for BFRs chambered in hot magnum loads like the .500 S&W Mag. and .450 Marlin, this revolver can easily digest any factory .45 Colt, 2 1/2-inch .410 or 3-inch .410 shell you would care to feed it.
Manufacturer: Magnum Research; www.magnumresearch.com
Model: BFR "The Hammer"
Type: Single-Action Revolver
Caliber: .45 Colt/.410 (2.5" or 3" Shells)
Barrel Length: 5.25"
Capacity: 5 Rounds
Rifling: 1:20"
Sights: Factory Black Fixed Front/Rear Adjustable
Safety: Transfer Bar
Grip: Rubber
Overall Length: 13.5"
Weight: 4.3 lbs.
Trigger Pull: 3-4 lbs.
Finish: Stainless Steel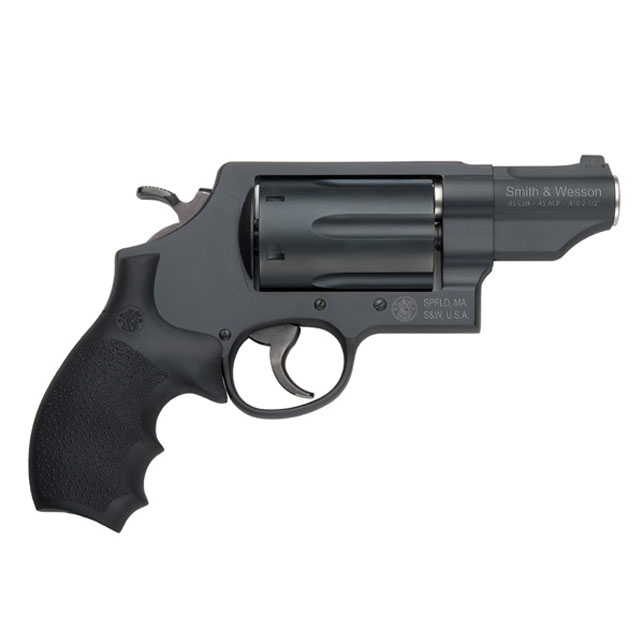 Smith & Wesson: The Governor
At first glance, the Governor looks like an attempt by Smith & Wesson to mimic the Judge. But upon closer inspection, this revolver has a variety of features that allow it to stand on its own. The six-round cylinder fires .45 Colt and 2 1/2-inch .410 shells, but with the use of moon clips it can also fire .45 ACP. With a matte-black finish, lightweight Scandium alloy frame, Tritium Night Sights and an optional Crimson Trace laser grip, the Governor arrives from the factory ready to take office.
Manufacturer: Smith & Wesson; www.smith-wesson.com
Model: Governor (Z Frame)
Action: Double-Action Revolver
Caliber: .45 Colt, .45 ACP, .410 (2.5" Shells Only)
Material: Scandium Alloy Frame/Stainless PVD Cylinder
Finish: Matte Black
Front Sight: Dovetailed Tritium Night Sight
Rear Sight: Fixed
Grip: Hogue Synthetic Rubber or Crimson Trace Laser Grip
Barrel Length: 2.75"
Overall Length: 8.5" 
Height: 5.5"
Weight: 29.6 ozs. 
Width: 1.75" 
Capacity: 6 Rounds
Twist: RH 1:15"
Rifle Grooves: 6 
Other Features: 2-Round and 6-Round Moon Clips included for use with .45 ACP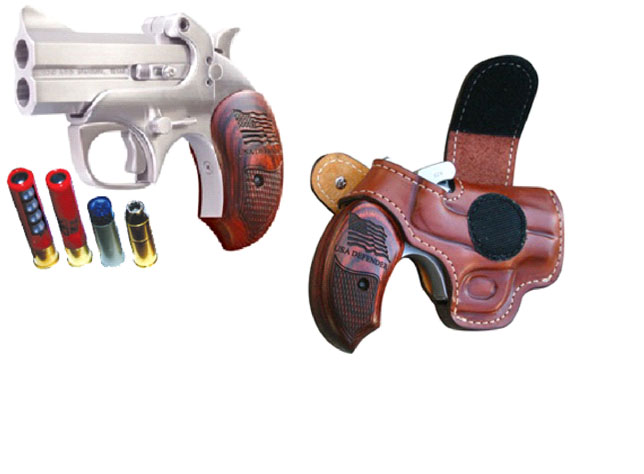 Bond Arms: USA Defender
Bond Arms has been in the business of providing its customers with compact, reliable, Texas-made .45 Colt/.410 double-barrel pistols since 1995. This company is the second most prolific provider of proprietary pistols with seven .45 Colt/.410 models to choose from. The latest addition to the pack is the USA Defender, featuring a 3-inch barrel chambered for 2 1/2-inch .410 shells, a removable trigger guard and an engraved rosewood extended grip.
Manufacturer: Bond Arms; www.bondarms.com
Model: USA Defender
Action: Single Action
Caliber: .45 Colt/.410 (2.5" Shells Only)
Finish: Satin Stainless Steel
Grips: Engraved Rosewood Extended Grip
Sights: Fixed
Safety: Cross Bolt, Rebounding Hammer
Barrel Length: 3"
Overall Length: 5"
Height: 4.25"
Width: 1"
Weight: 19 ozs.
Capacity: 2 Rounds
Other Features: Interchangeable barrels in various lengths and calibers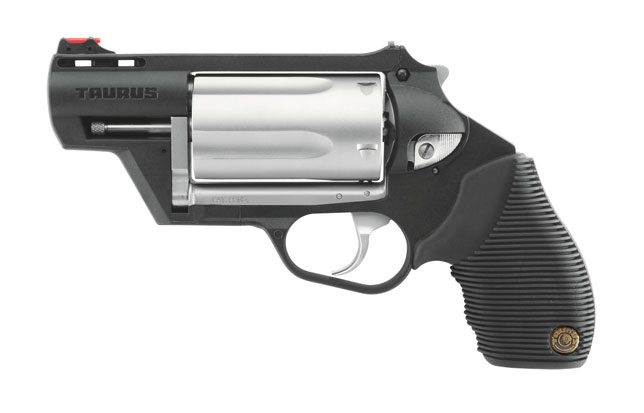 Taurus USA: Judge Polymer Public Defender
Since its introduction of the Judge .45 Colt/.410 revolver in 2008, Taurus has remained the No. 1 manufacturer of .410 capable double-action wheel guns. 2011 marked the arrival of no less than seven new variations of the Judge, including a ported stainless-steel model with a tactical rail, the Raging Judge series and the polymer-framed Public Defender.
The Polymer Public Defender features a frame incorporating both steel and synthetic components, a practice that has been used successfully in a variety of semi-automatic pistols for quite some time. Both the barrel and the grip frame have been abbreviated for ease of concealment, and the comfortable Ribber grip helps to manage the recoil produced by 2 1/2-inch .410 shotgun shells. The bright red fiber-optic front sight on this version of the Defender is complemented with a low-profile adjustable rear sight.
Manufacturer: Taurus USA; www.taurususa.com
Model: 4510PLY-SS2 Public Defender Polymer
Action: Double-Action Revolver
Caliber: .45 Colt/.410 (2.5" Shells Only)
Finish: Black Polymer Frame, Stainless Steel Cylinder
Grips: Ribber Grip
Front Sight: Fixed with Red Fiber Optic
Rear Sight: Adjustable 
Safety: Transfer Bar, Taurus Security System  
Barrel Length: 2.5"
Trigger Guard: Removable
Height: 4.6"
Width: 1.5"
Weight: 23 ozs.
Capacity: 5 Rounds