Support NRA American Rifleman
DONATE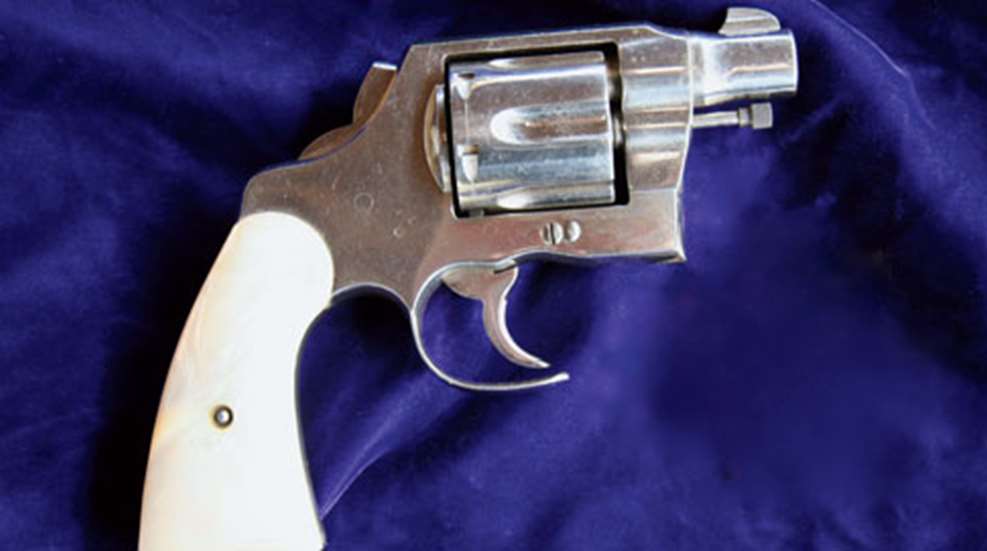 Born in Manchester, N.H., around 1870, John Henry FitzGerald was a large, heavily built man with big hands, setting him apart from many others. During his younger days, FitzGerald, or "Fitz," as he was affectionately known, spent much of his time as a bare-knuckles prizefighter long before boxing gloves were used.
Developing an interest in firearms at an early age, FitzGerald became a champion pistol shot, and he developed good relations with police officers he met. Fitz preferred Colt revolvers, especially the New Service, to all others and became quite adept at improving their actions by adjusting springs and smoothing and modifying internal parts. By 1918 he had become quite well known and was hired as a spokesman by Colt Firearms.
Although FitzGerald had been primarily a competitive target shooter, his association with law enforcement circles generated an interest in defensive revolvers, especially those to be carried concealed. FitzGerald began to develop a 2-inch-barreled defensive revolver that would (unofficially) bear his name and that would revolutionize the concealed-carry revolver. It would be given the nickname "Fitz Special."
There may be no exact record remaining as to when FitzGerald began developing his idea, but it was during the early to mid-1920s that he began working on the .45 Colt New Service and other Colt revolvers. The hallmark modifications included shortening the barrel to 2 inches, shortening the ejector, re-stamping the caliber on the left side of the barrel, installing a lower front sight, shortening and rounding the butt, removing the hammer spur, doing a superb double-action trigger job, rounding all sharp edges and most notable of all, removing the forward portion of the trigger guard. Aspects of this latter feature that are, by today's standards, negative, have been thoroughly argued and will not be covered here.
In his book "Shooting," published in 1930, FitzGerald outlines why he chose the 2-inch barrel. His reasons included ease of carry, speed of deployment, failure to catch on close obstacles such as a steering wheel, effectiveness at typical gunfight distance and, interestingly, reliability—he reasoned that despite the questionable quality of ammunition of the time it would be next to impossible for a bullet to get stuck in a 2-inch barrel!
Sometime before 1926, FitzGerald created a Fitz Special using a Colt .38 Spl. Police Positive. In 1927, Colt introduced its Detective Special revolver, the first 2-inch "snubnose" double-action revolver. This gun was an instant success, and it made FitzGerald's job of modifying the gun much easier.
Because the Colt "VP" (verified proof) mark was stamped on the left side of the trigger guard where it meets the frame, this mark was obliterated in removing the front of the guard and re-shaping the frame. Thus, the "VP" was generally re-stamped on the frame beneath the serial number under the cylinder crane, requiring the cylinder to be opened to see it. However, at least two known Fitz Special Detective Special revolvers had the "VP" restamped at the factory on the right rear of the trigger guard where it meets the frame, and also on Official Police Fitz Special, No. 624285, so this location may have become standard with Colt's small-frame revolvers.
One such Detective Special, No. 412567 was shipped on Feb. 9, 1934, to Lawlor Sporting Goods in Lincoln, Neb., for Capt. Paul Shively, of the Lincoln Police Dept. His name was then engraved on the right side of the gun, which also bears Colt mother of pearl stocks. The letter from Beverly Hanes, of Colt Archives LLC, records "Special Work: Cutaway." The only headings seen on any Colt letters regarding Fitz Special revolvers are "Special Work," or "Special Features," and the details vary from gun to gun depending on what was recorded at the time. Of particular interest is that the hammer spur of No. 412567 is not removed, the only such Fitz Special known. The number of guns in the shipment was two. What the other gun was we may never know.
Another documented Fitz Special Colt Detective Special, and the most famous of this version, was No. 418162, shipped to Charles Lindberg on Oct. 9, 1934, following the kidnap murder of his infant son. The location of a "VP" on this gun is unknown. Another authenticated Fitz Special Colt Detective Special is pictured on p. 181 of Timothy J. Mullin's excellent book, "Colt's New Service Revolver" from Collector Grade Publications. That gun was shipped from Colt in 1932 and has ivory stocks, but no further information is provided. However, the "VP" stamp is clearly visible on the right rear of the trigger guard.
Mullins also documents three other Fitz Special revolvers in his book. All are New Service Models and bear serial numbers 335402, 349064 and 352371, but the calibers are not listed. Number 335402 was shipped to the Des Moines Police Dept., probably in the late 1930s. The other two were shipped to Joseph A. Lorch, Colt's agent in Washington D.C., in 1940, and are identical. The Des Moines P.D. gun has no ejector head and has more rounded corners.
Another Fitz Special New Service revolver is fairly well documented. It belonged to my late friend, Col. Rex Applegate. Having known Col. Applegate for only the last seven years of his life, I learned of the gun in question only shortly before he passed on, and this was from my good friend, the late Chuck Karwan. A long time close friend of Col. Applegate, Karwan reported that FitzGerald converted this Fitz Special from Col. Applegate's own Model 1917 Colt. It is engraved, "To Rex from Fitz."

More recently, another longtime friend, American Rifleman Field Editor Wiley Clapp, told me he saw and examined Col. Applegate's gun not long before he passed on. Clapp relates that, during this meeting he showed Col. Applegate a custom rendition of the Fitz Special made for him by gunsmith Andy Horvath and, on testing the gun's action, Col. Applegate remarked, "That's better than my Fitz," to which Clapp replied, "Wanna' trade?" He said the colonel leaned back and laughed.
Also of interest is that, years ago, Karwan was allowed to spend several days at the (then) Colt Historical Division to go through the records of Colt New Service sales. In addition to finding many interesting New Service revolvers in unusual calibers (including two in .41 Spl.), he found records of a number of Fitz Special New Service revolvers, but Karwan's records are unavailable for examination.
Questions have come up as to whether or not Fitz applied his "Special" treatment to semi-automatic pistols. Captain Manuel T. "Lone Wolf" Gonzaullas, a legendary Texas Ranger from 1920 to 1951, carried a pair of gold, engraved Colt commercial .45 ACP M1911 pistols now on display in the Texas Ranger Museum in Waco, Texas. These two pistols had their trigger guards almost completely cut away and are sometimes referred to as Fitz Special pistols. While such modifications may have been inspired by FitzGerald's work on revolvers, there is no evidence that the pistols were modified by him. Sheriff James E. "Bill" Decker, of Dallas, Texas, owned another pair of Colt M1911 pistols closely resembling those of Gonzaullas, but these guns also have no known connection to FitzGerald.
Because all Fitz Specials were custom guns modified at Colt by FitzGerald instead of factory production, we'll never know exactly how many Fitz Specials were made, and only educated guesses give a clue. Karwan estimated total production at about 40; Wiley Clapp put it at 50 guns and Robert Q. Sutherland and R.L. Wilson put the number at 100. Even at twice that number, the Fitz Special remains one of the most elusive Colt firearms in the world. Incidentally, only the guns made by FitzGerald himself are genuine "Fitz Specials." All the rest are mere copies or fakes.
During research for this article, five additional "Fitz Special" Colt revolvers were uncovered, all with either documentation from Colt Archives LLC, or having other equally important historic records, with some being auctioned by Greg Martin, James D. Julia or Rock Island Auctions complete with photographs, as follows: 1924, Colt .38 Army Special, No. 505844, nickel-plated (recovered from Clyde Barrow's car after he and Bonnie Parker were killed by police); 1938, Colt Official Police, No. 624285, blue;1938, .45 Colt New Service, No. 337309, blue; 1939, Colt Police Positive, .38 Special, No. 461175, blue. Pennsylvania State Police; and, 1940, Colt Detective Special, .38 Spl., No. 462217, Buffalo, N.Y.
Additional guns labeled as "Fitz Specials" are also pictured in the reprint of FitzGerald's book Shooting but, without details, so while there is little doubt they are genuine, they will not be listed here. Nonetheless, another extremely interesting special-order Colt with a probable connection to J. H. Fitzgerald was found on www.ColtAutos.com. A 2 1/2-inch-barreled .32 Pocket Positive, No. 108963, Colt reports this gun being shipped in 1923, and under Special Features, lists "cutoff hammers" (there were six guns in the shipment). While the trigger guard is unaltered, the gun's "bobbed" hammer appears exactly as those worked over by FitzGerald.
So far we have listed 11 documented Fitz Specials, plus Col. Rex Applegate's New Service. We can add one more to the list. Having known this gun in the same large gun collection since 1964, I never paid a great deal of attention to it, but had seen in on many visits and had even shot it on one occasion. There was never a doubt that it was a Fitz Special, as the "VP" mark is stamped on the frame under the crane.
There is an interesting story of this gun connected to a police lieutenant from the state of Oregon. A letter from Colt Archives LLC verified that this gun was a .45 Colt New Service, No. 349449, with a 2-inch barrel, blue finish, grips not listed, but with Special Features, as follows: "Please note that the trigger guard and … rod are were away … and the hammer spur was filed off. In addition, the revolver was fitted with a square butt configuration and a lanyard swivel." No other Fitz Special is known to have been shipped with a lanyard swivel, and few were requested with a square butt, as both seem a contradiction to the intended purpose.
This gun now has a very old nickel finish that appears to be factory original, except that the swivel stud was cut off at the butt and is also nickel-plated. The mother of pearl stocks fit perfectly, suggesting that they are factory, but there is no notation that the gun was returned to Colt for rework.
Shipped on Nov. 9, 1938, this Fitz Special was delivered to Momsen-Dunnegan-Ryan Co., El Paso Texas, for E.C. Seals Service, of Prescott, Ariz. A number of Colt firearms was shipped to Momsen-Dunnegan-Ryan Co., but this company also made the steel windmills we still see on many old ranches and E.C. Seals Service specialized in photography. How the Oregon police connection happened we may never know.
Renewed interest in the Fitz Special is due largely to a number of magazine articles written about these elusive, rare guns during the past few years, and the reproductions of them it has spawned. More information will certainly be forthcoming, as the search is far from over.