by
posted on November 13, 2021
Support NRA American Rifleman
DONATE
This year's approaching deer season presented me with a rather pleasant dilemma. Two of my nephews wanted to try their hand at whitetail deer hunting, and I didn't have appropriate rifles for them. Though the youngsters are already becoming seasoned shooters, their high-powered rifle experience is limited. After a few trips to the range and I discovered that none of the hunting rifles I had on-hand were ideal for them, due to a combination of full-power, long-action cartridges and the eccentricities of vintage European sporting rifles. So, I decided to use the opportunity to get the pair of young hunters to test and evaluate two different youth deer rifle solutions—a budget bolt-action rifle and an AR-15 with an upper chambered in a deer-hunting legal cartridge. 
This is a dilemma faced by many hunters. A wife, girlfriend, grandchild or nephew wants to hunt big game and nothing that you have in your inventory is appropriate for them. The right rifle is crucial to laying the foundation for a good hunting experience. A novice hunter needs a rifle that they can handle safely and shoot accurately. A rifle that is not scaled to the hunter's stature, or one that makes more recoil than the novice can handle, can quickly come to impede and complicate the entire hunting experience.
There are several reasons to go with a budget option for a first deer rifle. From licenses to gear, hunting is already an expensive activity. Additionally, youth hunters are still developing, so the type of firearm and cartridge that is best for them might change as they gain experience and grow. While there are many great compact or youth-sized hunting rifles out there, we will focus on two affordable options—the budget bolt-action and the AR-15 with a more powerful chambering.  
The Budget Bolt-Action
When it comes to accuracy and reliability, it's hard to beat a bolt-action. The same simplicity of use that kept the bolt-action as the world-wide, front-line infantry rifle for over half a century makes it ideal for a young hunter. My nephews, like many, have spent most of their range time with a bolt-action .22-cal. rifle, so a high-powered bolt action would be familiar to them.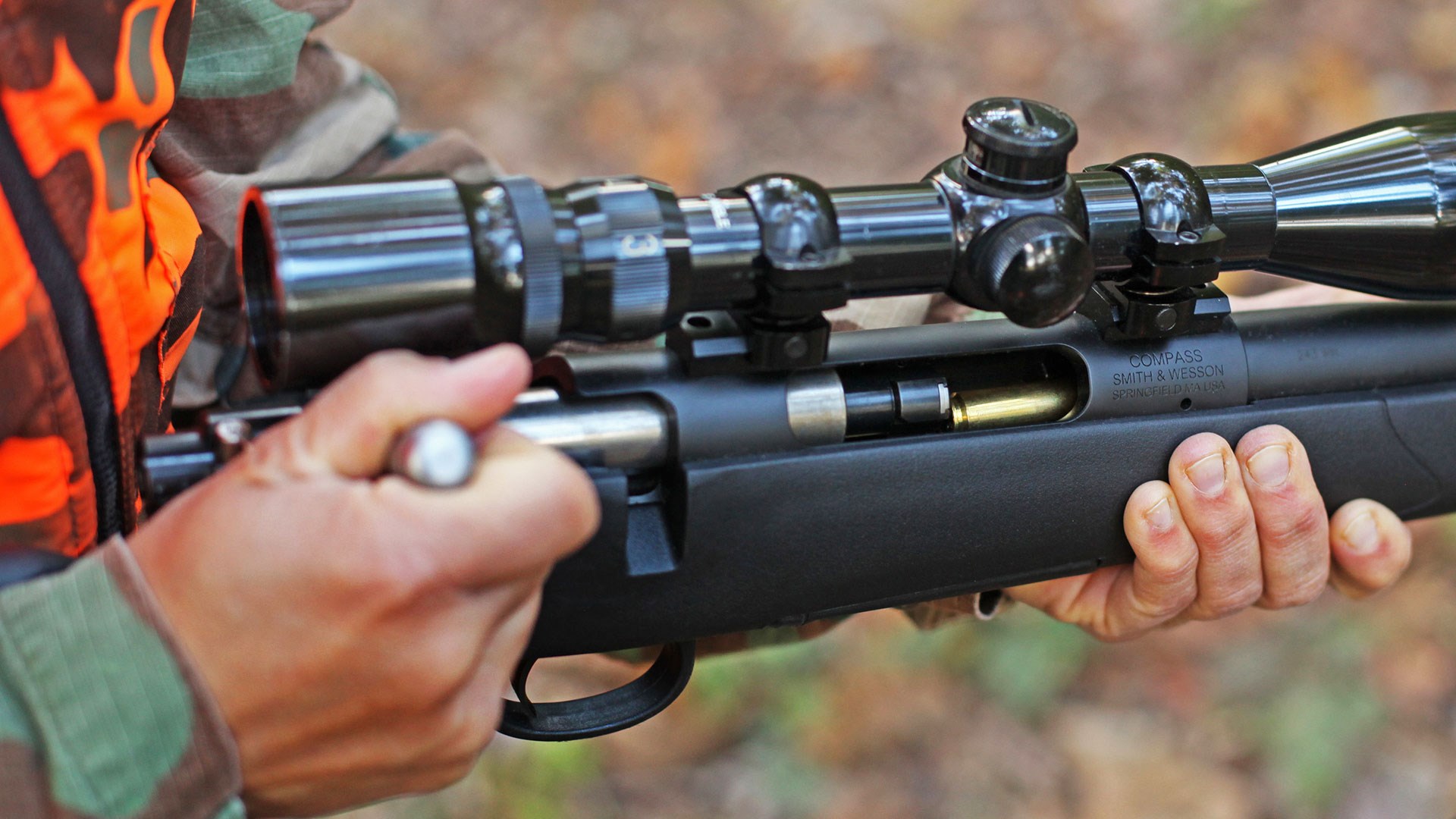 A bolt-action rifle is one of the simplest repeating rifle designs. The action is easy to manipulate even for a beginning hunter.
Over the past decade, most major manufacturers have come out with a "value" bolt rifle. But thanks to the modern manufacturing technology which makes these rifles they are "budget" in price only. Our testing has shown these rifles have quality and deliver accuracy that belies their purchase cost.
The retail price on most budget bolt-action rifles ranges between $359 (T/C Compass Utility) and $559 (Ruger American). I was able to pick up a brand new Thompson/Center Compass Utility in .243 Win. on sale from an online retailer for just over $200. Usually for about $50 more, value hunting rifles are offered as a package deal with a factory-mounted scope. My Compass came without sights, so for an optic I used an older, but functional, Bushnell Banner 3-9x scope and rings that I had on hand, which mounted on the bases that T/C supplies with the rifle.
When it comes to cartridges, one of the best for a young deer hunter is the .243 Winchester. The 6 mm cartridge delivers a potent and flat-shooting, yet soft-recoiling, load that fits well in compact and lightweight rifles. I calculated that the Compass in .243 Win. would have about half the recoil energy of the .30-'06 Sprg. rifles I normally hunt with, while still delivering 2,000 ft.-lbs. of energy at the muzzle.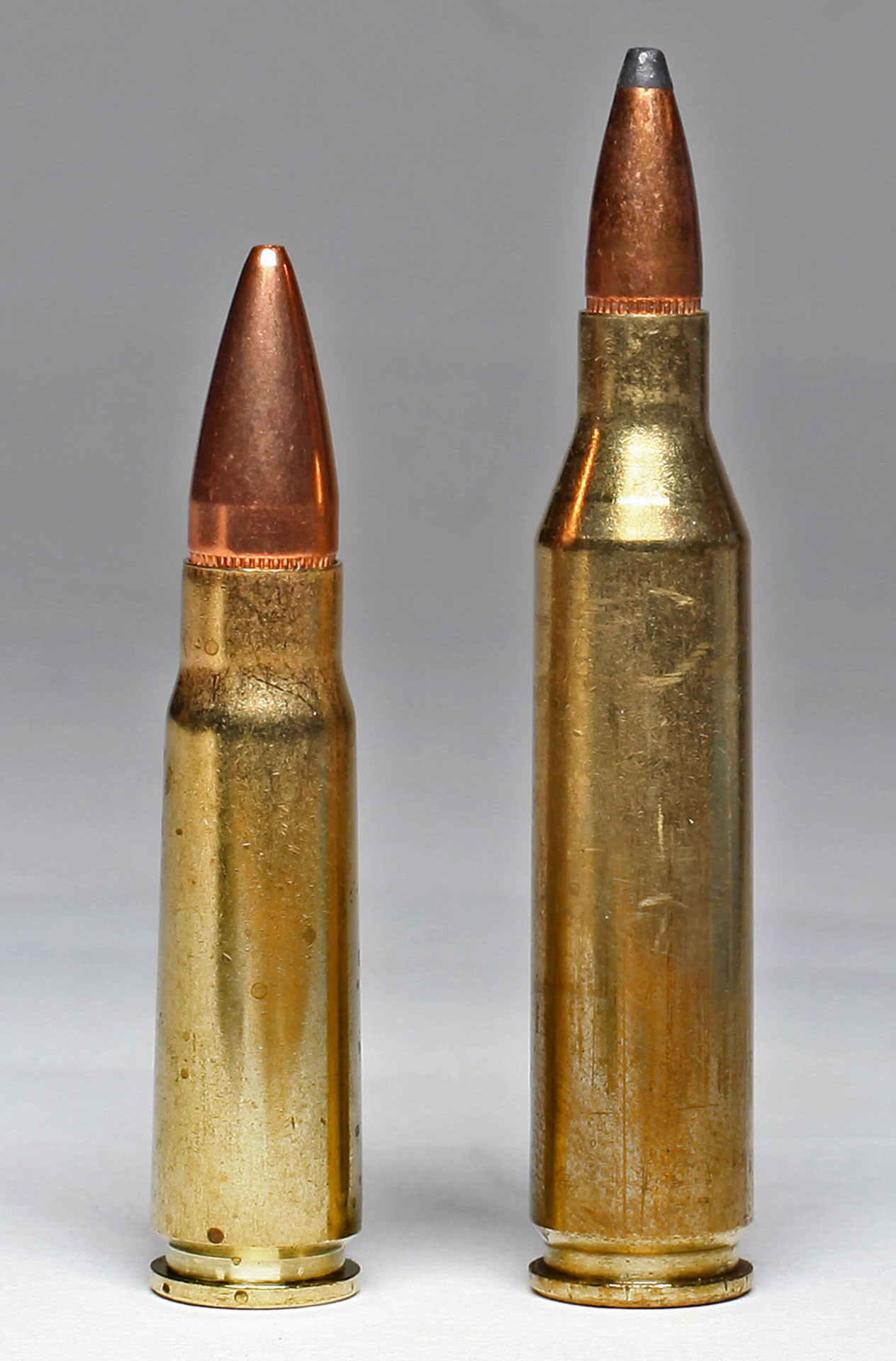 The .243 Winchester cartridge (right) is a classic hunting round for youth deer hunters. The 7.62x39 mm (left) is a good choice for those wanting to use an AR-15 rifle for deer hunting.
When Thompson/Center upgraded their Compass line, they kept the original rifle as a "basic economy" version with the "Utility" designation. It has all the features you need in a beginner rifle and none that you don't, all backed up by a lifetime warranty. Its three-position safety allows for you to work with action with the safety on. Though the Compass Utility uses T/C's "Gen 1" trigger design, it is still crisp and breaks cleanly, with the 5.5-lbs. factory pull weight perfect for a new shooter.
One of the best features of modern budget bolt-action is their detachable magazine. No fumbling in the dark with a hinged floor plate or running each round through the chamber to unload the rifle. Hit the release. Pop the magazine out. Remove the chambered round with the safety on. Head in to the cabin. A spare magazine also makes a great way to carry extra cartridges in the field, securely holding five rounds close at hand, rather than having half a box rattling around in your day pack.

One advantage of AR-15s and most value hunting rifles is that they use detachable magazines, which allows for easy loading and unloading for novice hunters.
The Compass has a barrel with 5R rifling and comes with a m.o.a. guarantee for a three-shot group at 100 yards when using premium ammunition. Using Winchester Super-X and Federal Powershok cartridges and a budget optic, the youngsters constantly shot five-shot groups of about an inch and a half at that distance.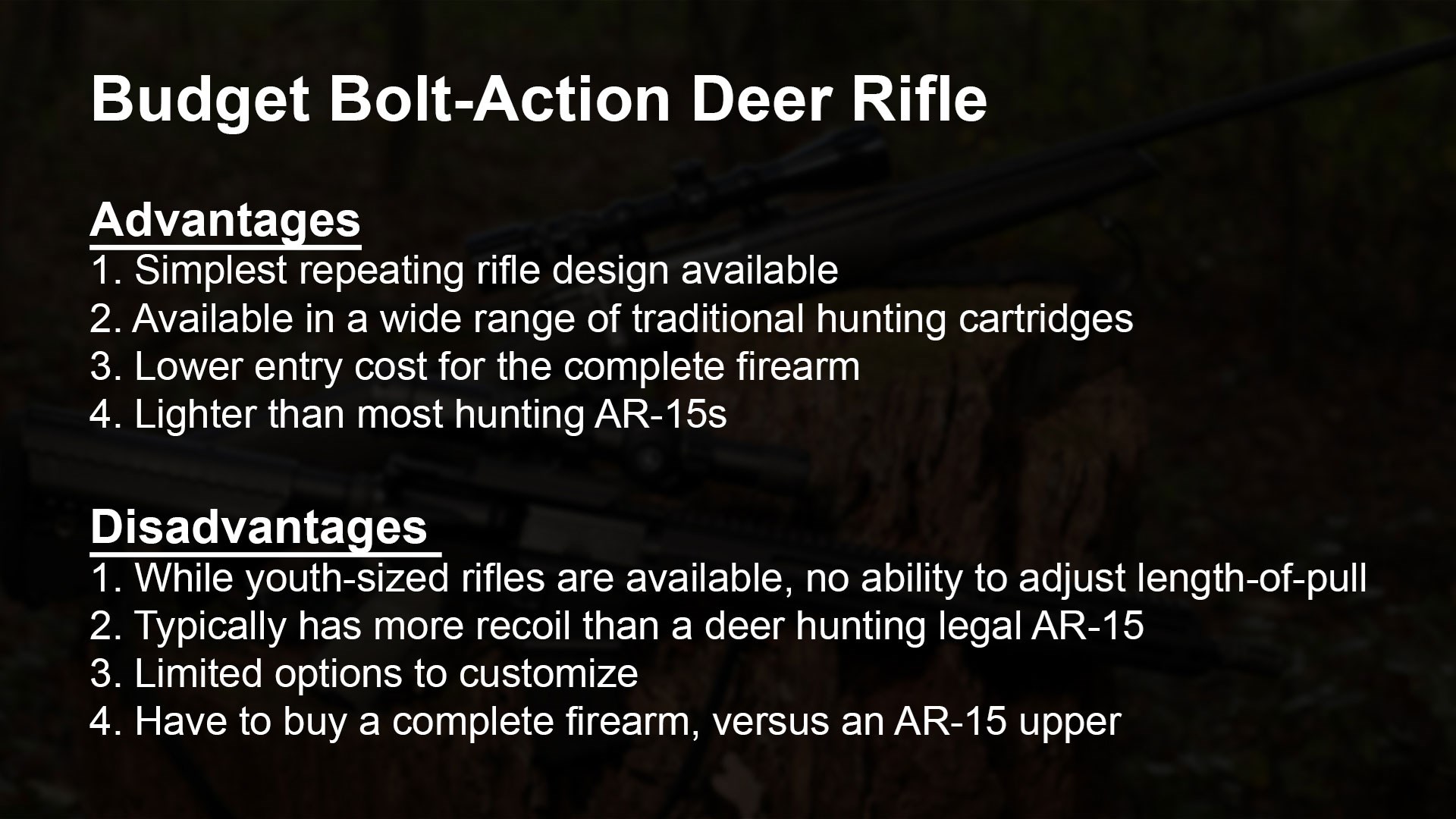 The Deer-Cartridge AR Upper
Contrary to the propaganda you may have heard, not only can you use an AR-15 to hunt with, in many ways, the AR-15 makes the ideal hunting rifle. The controls are intuitive and easy to manipulate and the design lends itself to excellent triggers and equally excellent accuracy. To top this off, the modular nature of the AR allows for endless and easy at-home modifications to tailor a rifle to any hunter.  
These youngsters got started with high-powered rifle shooting at the range with a .223 AR-15 and later used it for groundhog hunting to build some shooting experience under field conditions. Though the .223 Rem. cartridge is legal for deer hunting in most states, in Virginia where we would be hunting, any rifle used for whitetails must use a cartridge with a bullet of at least 0.23" diameter. There are at least a dozen cartridges that fit into an AR-15 sized action that met this requirement, from the 6.8 SPC designed for special forces to Winchester's .350 Legend, which was designed to meet the straight-walled hunting cartridge requirements that some states have.
After much research and debate, I settled on an upper in 7.62x39 mm. In 1992, Colt introduced the 7.62x39 mm chambering to the AR-15 market in their Match Target Lightweight rifle. While maybe not the best choice for a deer hunting AR, it was the one that worked for me in the context of The Great Ammo Shortage of 2020 and 2021. After a year of gun shop hopping and ammo scrounging I didn't have the heart to add a new cartridge to my logistics issues.
The 7.62x39 mm is usually the cheapest high-powered rifle cartridge you can buy, meaning plenty of practice time at the range, and I happened to already have some on hand. The round is popular enough that there are plenty of options these days for high-quality, American-made, brass-cased hunting ammunition. While the 7.62x39 mm cartridge has about 400 ft.-lbs. less energy than the venerable .30-30 Win., it would be more than adequate for the 100 yards or less woodland shots I anticipated in the coming season.

While the 7.62x39 mm cartridge is most often associated with military-type firearms and imported steel-cased ammunition, there are many high-quality hunting loads available.
The retail price of hunting- AR uppers ranges from just under $300 to well over $1,000, with many available in the sub-$500 range. Thanks to a sale put on by Bear Creek Arsenal, I was able to purchase a complete upper, which used a 16" barrel, carbine-length gas system and 15" free-floating forearm with MLOK slots, for just over $200.
I paired the upper with my trusty work horse, a 20-year-old Rock River Arms AR-15 lower. The lower uses Rock River Arm's excellent two-stage match trigger, and I had upgraded the buffer system to the VLTOR's A5, which uses an intermediate-length receiver extension and buffer, which shares some of the attributes of a rifle-length buffer system. The A5 system does a better job of taming the action of over-gassed or more powerfully chambered AR-15s than the standard carbine buffer system, lessening felt recoil as a result.
It also has seven positions for the stock over a range of 3", allowing for greater range to adjust the length-of-pull. The adjustable stock is one of the AR-15's most valuable features for a new hunter. It allows for the rifle's length-of-pull to quickly be adjusted to a smaller stature shooter and further adjusted to compensate for the expanding layers of clothing that they will use as the season progresses. VLTOR's EMOD stock gives a solid cheek weld when using a scope, and features a rubber butt-pad to mitigate recoil and add retention. I topped off this set-up with my ever-present Vortex Strike Eagle 1-6x scope on Vortex's cantilever mount.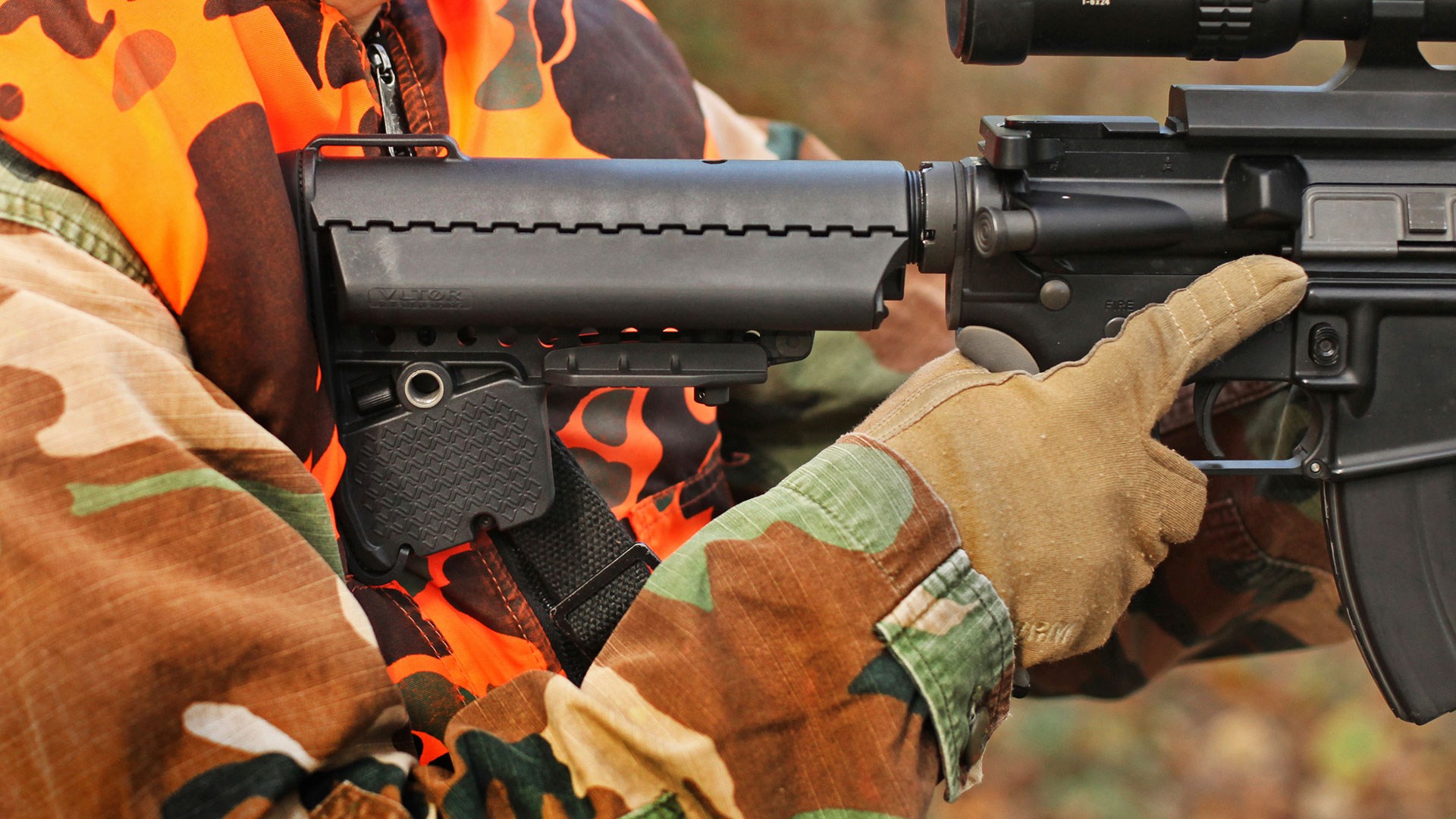 A M4-type telescoping stock is one of the biggest advantages when using an AR-15 for hunting. The length-of-pull can be adjusted as a young hunter grows or as they add more clothing as the hunting season progresses.     
The reliability of 7.62x39 mm chambered AR-15s usually comes down to the specific magazines you use. To complete the package, I picked up a pair of ASC 20-round magazines. I had no plans to let the young hunters ever have more than five rounds loaded at a time, but the longer magazine makes for more positive insertions and is still short enough to allow for prone shooting. ASC also makes five and 10-round magazines for those who hunt in areas where magazine capacity is restricted. At the range, reliability of my Bear Creek and Rock River rifle combo was 100 percent and with even the most budget, imported, steel-cased ammunition, accuracy—in the hands of the youngsters—averaged around 2" at 100 yards.   
The 7.62x39 mm cartridge delivers nearly double the recoil of the .223 Rem. in the same rifle, but still keeps it well below even .243 Win. levels. Recoil is also mitigated by one of the disadvantages of an AR-15 hunting rifle setup—weight. My 7.62x39 mm AR-15 with the scope, sling and five rounds in the magazine weighs 10.5 lbs., exactly two more pounds than the similarly equipped T/C Compass.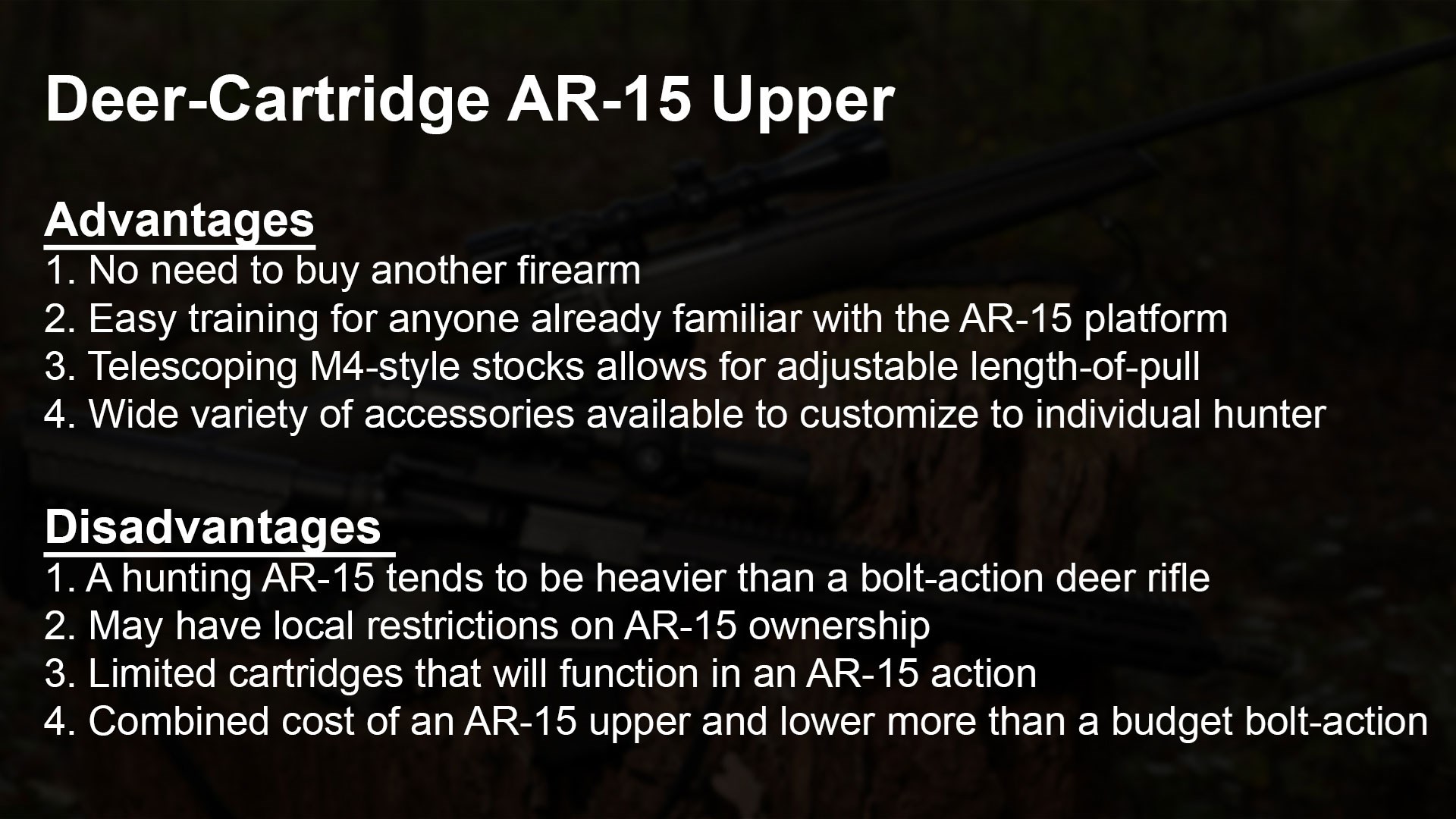 With the rifles chosen and sighted in, only one problem remained. Who gets to use what? Conflict was averted when each youngster developed a natural preference for each rifle. The "traditionalist" went for the Compass, while the "technologist" chose the AR. Success during deer season comes down to a combination of skill, luck and preparation. Skill can be learned. Luck is, well, it's luck. And when it comes to preparation, I'm confident that these two novice hunters will be heading into the woods this fall with two of the best beginner deer rifles out there.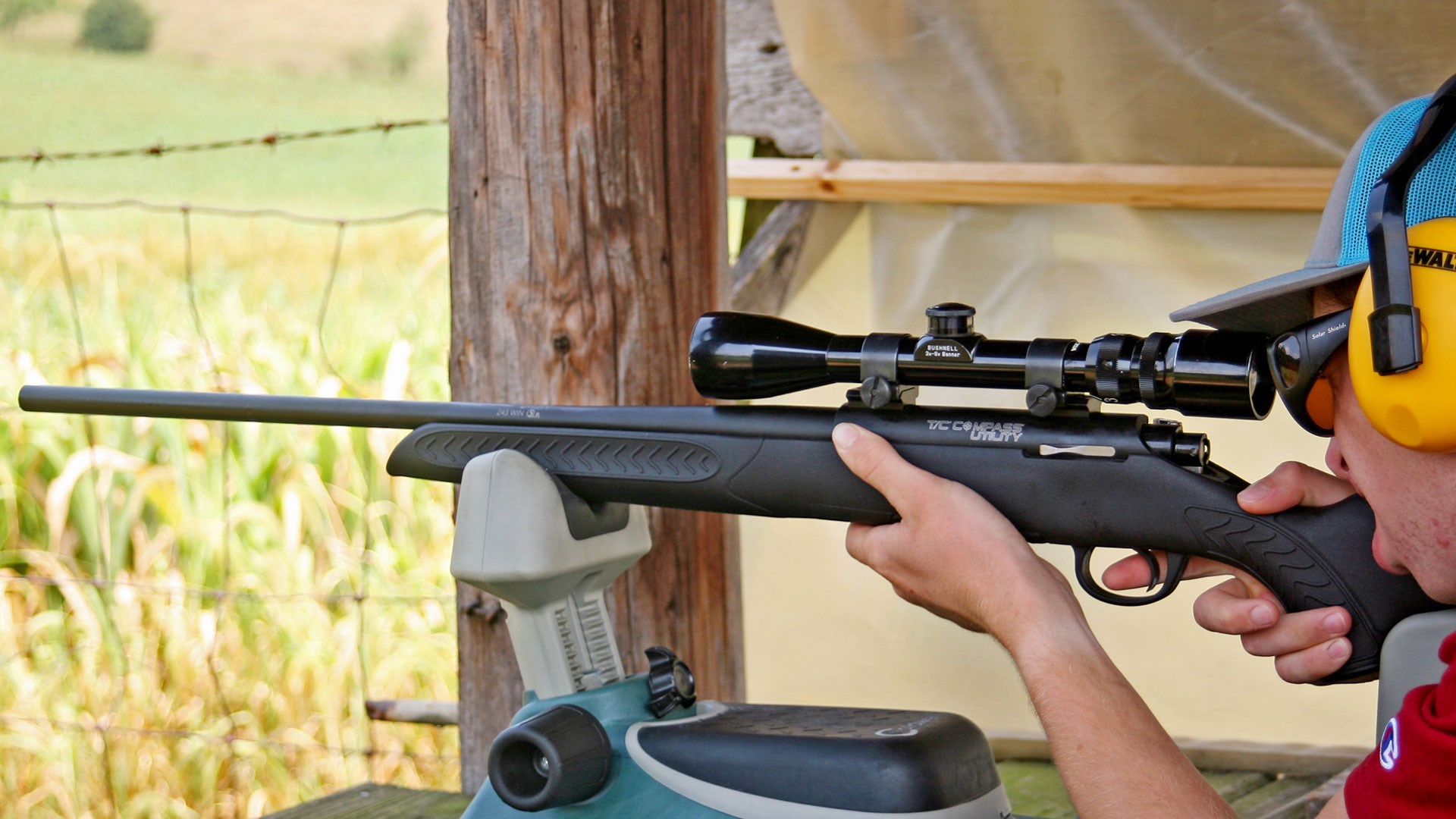 A successful deer hunt is the result of skill, luck and preparation. Choosing an appropriate rifle is a big part of that preparation. Time spent on the range builds marksmanship skills.