by
posted on October 29, 2021
Support NRA American Rifleman
DONATE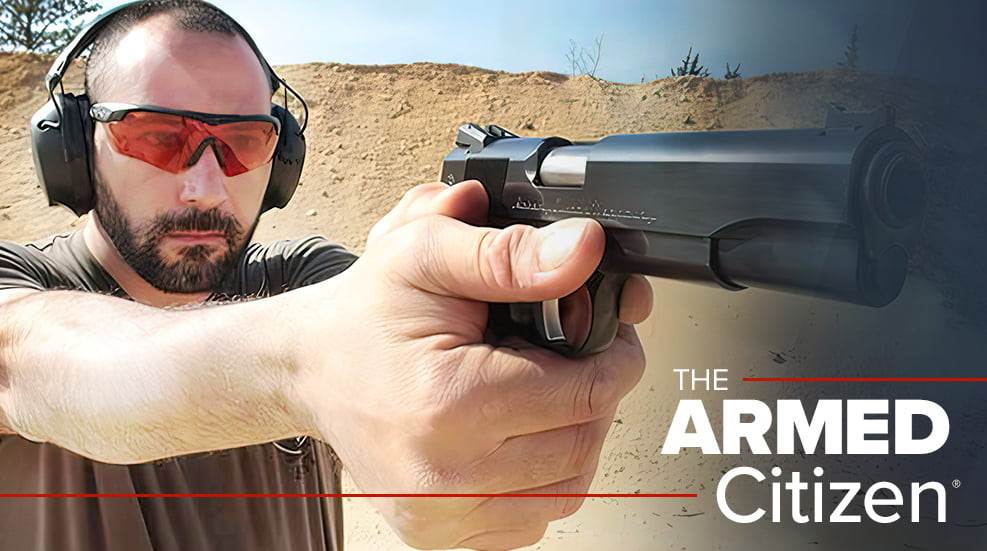 Armed Citizen® Today

An armed citizen in Aurora, Colo., was forced to act in self-defense when a small argument turned into a life-or-death struggle on July 9, 2021.
The 23-year-old man was riding an RTD bus with his wife and 18-month-old daughter that Friday, when they noticed that a teenager in the seat behind them was vaping. Both the husband and his wife asked the youth if he could stop vaping, since it wasn't allowed on the bus. Things quickly escalated, however, as the youth exploded in rage after they asked him three times. As the husband recalled, "He ignored us until the third time we asked him. He stood up and he said, "F— you, f— your wife and f— your baby.' And he started swinging at my wife and baby first, and I had to throw myself in-between them." Acting quickly, the husband put himself between the aggressive teen and his family.
In the ensuing struggle, the teen managed to knock the husband down to the floor of the moving bus and began beating him mercilessly. The husband could feel that he was loosing consciousness as the attacking youth said "I'm going to kill you," to which the husband told himself in that moment "If you lose consciousness, he's going to follow through with that threat." So, with his remaining focus and strength, the husband pulled his concealed Glock handgun and shot his assailant in the chest. The shot stopped the attack, and as the husband remembers, "He said, 'You shot me' and walked off the bus and lied in the grass. Made no attempt to put pressure on the wound." 
The stricken teenage attacker was taken to a local medical center, survived his wound and was later released. He was charged with a misdemeanor count of assault. Footage from the bus obtained by law enforcement corroborated the husband's story, and as the husband himself said, "I acted in self-defense, and most of the officers on the scene told me they would've done the same thing." (kdver.com, Denver, Colo., 09/08/2021)

From the Armed Citizen® Archives - January 1987

Sacramento, Calif., apartment manager Joseph Harshaw was told to evict a tenant. The tenant came to Harshaw's apartment, and, after the men talked awhile, the man pulled a butcher knife. The manager's cousin wrestled the man outside, and Hershaw ordered him off the property. When the knife wielder came at Hershaw, who was armed with a .357 Mag., the manager warned him off. When the man continued to advance, the Vietnam veteran fired when his assailant was about 3 ft. away, fatally wounding him. (The Bee, Sacramento, Calif.)