by
posted on June 4, 2021
Support NRA American Rifleman
DONATE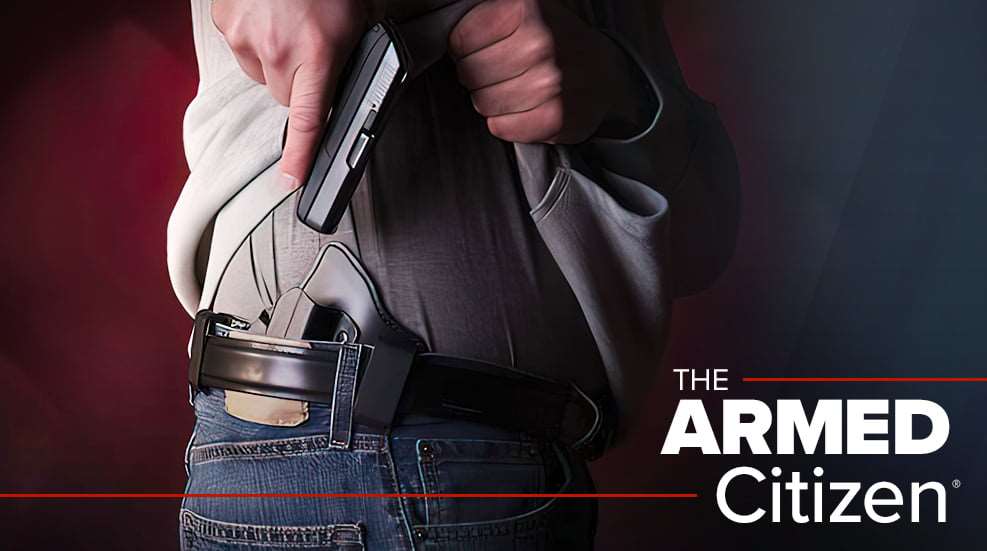 Armed Citizen® Today

An Armed Citizen came to the rescue of a Walmart security officer who was held at gunpoint by a suspected shoplifter in Beach Grove, Ind., on April 17, 2021.
It all started earlier that Saturday afternoon when a security officer confronted the suspected shoplifter inside the store. This soon turned into a tussle as the shoplifter attempted to escape. As the security officers called for backup, the shoplifter then pulled out a pistol and pointed it at the officer.
Seeing the perilous situation that the security guard was in, a nearby shopper, with a licensed concealed-carry pistol, stepped in and drew his handgun on the armed shoplifter. The armed Samaritan then fired several rounds at the shoplifter, who promptly fled the store and ran behind the gazebo of a nearby hotel, where he was later caught.
Both the security officer and shoplifter were treated for injuries that were not gunshot-related. Thanks to the fast actions of the armed shopper, the security officer's life was likely saved. (wthr.com, Indianapolis, Ind., 03/18/2021)

From the Armed Citizen® Archives January 1987
Two men posing as renters came to Robert and Gladys Delavan's Denver, Colo., apartment house and attempted to rob the couple. One intruder was armed with a sawed-off shotgun, and the pair forced the Delavans to lie on the floor. After removing the couple's wedding rings, the robbers began ransacking a bedroom.
Robert, 68, took a .22-cal. handgun from a drawer and when the intruders emerged from the bedroom, he opened fire. The pair dropped money stolen from the home and fled. (The Rocky Mountain News, Denver, Colo.)