by
posted on February 6, 2023
Support NRA American Rifleman
DONATE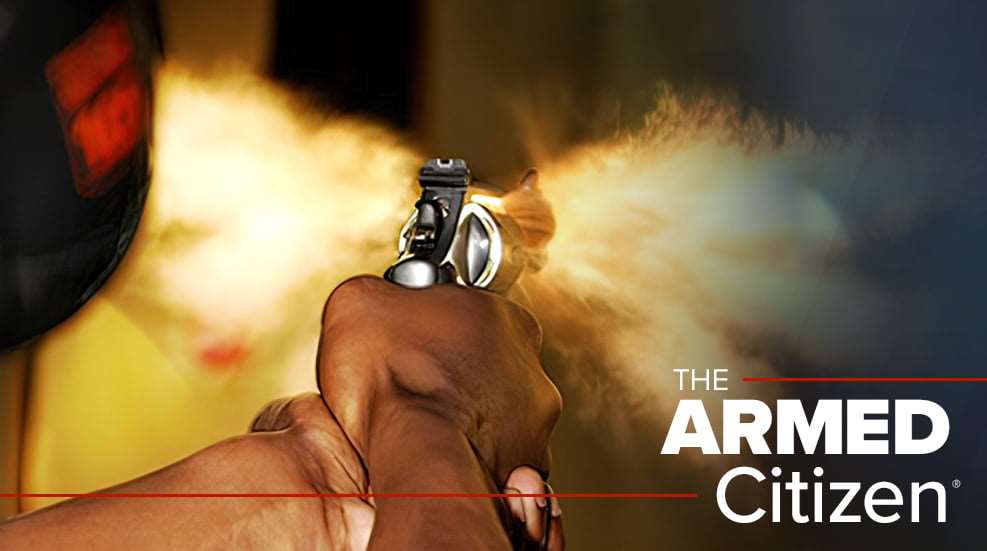 Armed Citizen® Today
An alleged burglar in Polk County, Fla., is in critical condition after meeting an armed homeowner returning to his house early in the morning on Friday, Jan. 27, 2023.
The resident returned home at 1:30 a.m., with his girlfriend and a puppy in tow. Upon entering his house, the man flipped on his lights, only to encounter two burglars standing in his kitchen, allegedly in the process of stealing jewelry from the house. Fearing for his own safety and that of his girlfriend, the man immediately drew his concealed-carry handgun and fired at the nearest threat, who was shot four times.
After the encounter, both the man and the burglars fled the home, with the armed resident heading to the police station to report the situation. Officers used a K9 unit to search for the suspect, and they later found the wounded burglar in a nearby park and provided immediate medical care.
According to the Haines City Police Department, the suspected burglar, who has a history of prior arrests, has been charged with burglary of a residence and grand theft. The homeowner will not face charges, and Haines City Police Chief Greg Goreck hopes the story will discourage other would-be burglars.
"One should expect that if you're brazen enough to enter into someone's residence, and it's not yours, with intent to commit an unlawful act, there may be repercussions," he said. "We live in Florida, and moreso, we live in Polk County, and most people are armed." (ABC Action News Tampa Bay, Haines City, Fla., 1/27/23)
From the Armed Citizen® Archives – Feb. 16, 1987
An armed man walked into a Sherman Oaks, Calif., liquor store and demanded that the customers and a front clerk lie down on the floor. A teenage clerk working in the rear armed himself with a handgun, and, in a confrontation with the intruder, fatally wounded him. Police said the case would be treated as a justifiable homicide. (The Daily News, Van Nuys, Calif.)