by
posted on February 2, 2018
Support NRA American Rifleman
DONATE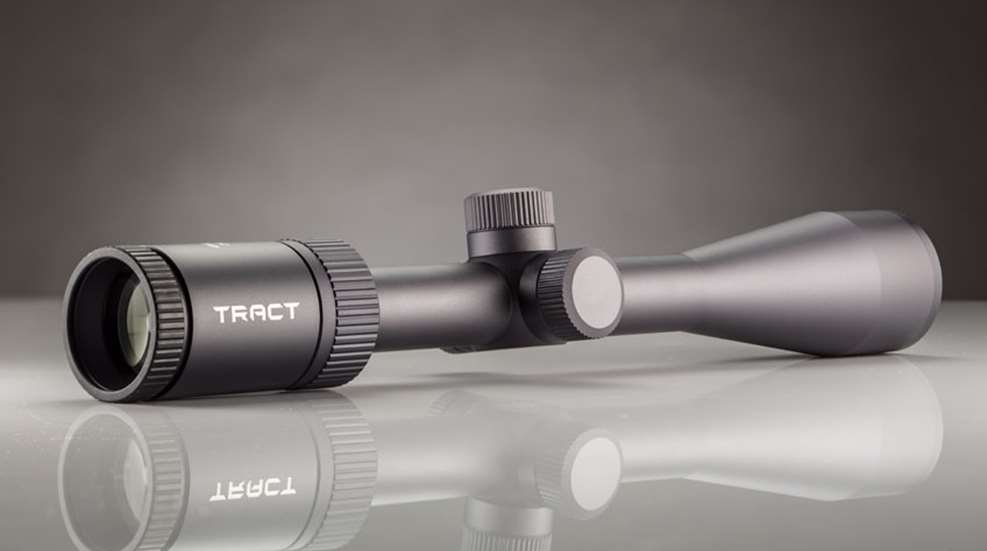 A recent trend in outdoor and sporting optics has been the emergence of smaller, boutique operations offering premium, well-featured glass for substantially less cost than comparable models from larger competitors. These companies are often lean operations, with relatively small staffs helmed by former executives from the larger, reputable manufacturers. Leveraging established relationships and contacts within the industry, these smaller companies achieve great savings by working directly with manufacturers in Japan and other Pacific Rim locales that enjoy lower labor costs than more traditional European sources. Further, they can "cut out the middle man" and reduce costs by bringing their products directly to consumers through online storefronts or smaller-scale, targeted distribution.
Tract Optics, headquartered in Hummelstown, Pa., is a great example of this trend. Founded by Jon LaCorte, formerly of Nikon, and Jon Allen, of Redfield and Nikon, the company is committed to designing high-quality and innovative riflescopes and binoculars, and selling them directly to consumers through its website. Tract also promises to provide best-in-class customer service, engaging consumers by email, phone and through web-based chat—a function of the website that allows potential purchasers to ask questions in real time as they peruse Tract's products.


For our evaluation, we selected a 3-15X 42 mm riflescope from Tract's flagship Toric line—the Toric series also includes 2-10X 42 mm and 3-15X 50 mm scopes, as well as 8X 42 mm and 10X 42 mm binoculars. Our scope featured the company's ballistic drop compensating (BDC) reticle, but a plex model is also available in each scope configuration. Manufactured in Japan, the Toric riflescope is, overall, a thoughtful, feature-rich optic possessing many sought-after characteristics and controls, which we will discuss shortly. But to avoid burying the lead any further, the most impressive feature of any Tract optic is its value—the relationship between cost, quality and utility—and the Toric 3-15X 42 mm delivers in spades, exhibiting performance on par with scopes costing thousands of dollars, but with a price of just $724.

Built on a 1" main tube, and finished in Tract's signature Graphite Gray, the Toric is sealed and purged with argon gas, rendering it waterproof and fogproof. From objective lens to ocular lens, the assembly's profile is trim and streamlined, as one would expect from a hunting-style optic, but the large eyepiece and three-turret system are clues that the Toric may be as functional on the range as it is in the field. The eyepiece houses the magnification ring, neatly labelled "3" to "15," and knurled to improve purchase. Movement throughout the magnification range was smooth, and a raised fin facilitates fast adjustment. A second knurled ring for focus adjustment caps the ocular end of the eyepiece and can be used to sharpen the image of the scope's reticle.


The Toric's three turrets control parallax (left), elevation (top) and windage adjustments (right). Parallax can be tuned from 15 yds. to infinity, and the turret locks when pushed in. The windage and elevation turrets are somewhat of a hybrid system, featuring protective covers and being of a medium height—taller than those on basic hunting scopes, but not as high as some competition-style turrets. Adjustments per click are valued at 1/4" at 100 yds., and both the windage and elevation turrets can be reset to zero/zeroed out without any tools—once the scope and rifle are dialed-in, simply loosen the turret's top cap, lift and spin the turret to align with "0" and replace the top cap. Tract also includes a user-replaceable, extra-tall elevation turret kit that adds a zero stop and locking functions. A turret cover is also included, and detailed instructional videos are available on Tract's website for topics from mounting the scope to resetting turrets to zero.


Schott high-transmission glass is used throughout, which is typical of high-end optics and a welcome feature in the budget-friendly Toric. The fully multi-coated, extra-low-dispersion (ED) lenses are designed to allow maximum light transmission and provide crisp, clear images throughout the magnification range, and we were indeed impressed with the optical quality. Throughout our evaluation, the scope was used on indoor and outdoor ranges—and in the hunting field from sunrise to sunset—and provided excellent clarity throughout the varied and changing lighting conditions, at ranges from 50 to 1,000 yds. As previously noted, our sample used Tract's Impact Ballistics BDC reticle that features a central plex with a limited "Christmas tree" array of hashes and dots for windage and elevation holds. It's a very utilitarian design and isn't overly complicated or cluttered. As with most of the other features, Tract has posted a video about using its BDC reticle online.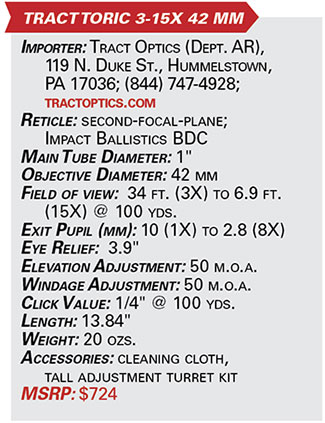 Beyond extensive range and field use, the Toric was subjected to our usual battery of tests—we froze, submerged and even dropped the scope—and it exhibited no weakness. Shooting the square proved the internal mechanisms provide consistent, repeatable adjustments, creating tight groups at equal distances when repeatedly dialed up, down, left and right. In fact, the Toric performed so well that one evaluator used it, atop a Ruger Hawkeye in 6.5 mm Creedmoor, to test a new ammunition offering—a soft-point hunting load. The five, five-shot groups resulted in an overall average of just 0.91", and while sub-m.o.a. accuracy is largely based on the bullet and bore, a good scope goes a long way toward ensuring that the shooter is at his or her best.
Considering the Toric's suite of features, its performance in our evaluation and its $724 price tag, shooters in the market for a well-made, do-anything scope with plenty of magnification for mid- to long-range pursuits would be hard-pressed to find better bang for their buck.