by
posted on September 17, 2018
Support NRA American Rifleman
DONATE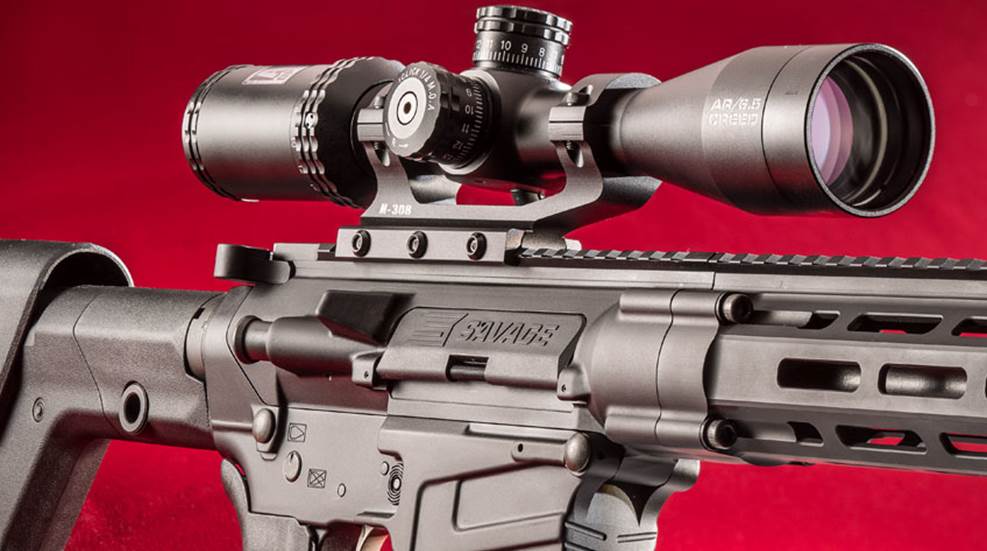 Although many folks think of Savage primarily as a maker of purpose-built bolt-actions, the company has actually been in and out of the AR business for several years. It has been quietly producing barrels for other manufacturers, which in turn has given the firm time to polish its processes and work out some ideas of its own. After meeting with thousands of customers, online and in person, the company's seasoned team of engineers spent a good deal of time and resources working out which rifles should be released first.
The Savage MSR family of rifles is available in two receiver sizes. Based on the more compact AR-15, the company's MSR 15 line currently stands at six models, ranging from entry-level tactical options to fully decked-out competitive rigs: the Patrol; the Recon; the Recon LRP; the Valkyrie; the Long Range; and the Competition. Meanwhile, the MSR 10 line—encompassing the Hunter, Long Range and Competition HD models—takes its cues from the larger AR-10 platform. Cartridge options vary by rifle, but include 6 mm Creedmoor, 6.5 mm Creedmoor, .308 Win. and .338 Federal. For this review, I spent some quality time at the range with the MSR 15 Patrol and MSR 10 Long Range models.
Key Platform Features 
The Savage development team was perfectly aware that its products would be launched into an exceptionally competitive, even saturated, facet of the shooting market. In order to compete, the MSRs would need to stand out from the crowd by offering desirable features along with a high level of quality at a fair price.
The direct-gas-impingement system commonly employed by many modern AR platforms has proven to be exceptionally reliable when the gas tube's length is properly matched to the length of a particular rifle's barrel. However, it's not uncommon to find 16" mid-length rifle barrels fitted with carbine-length gas tubes designed for 14" carbine-length barrels in order to reduce production costs. The result is an over-gased action that can increase felt recoil, enlarge down-range group sizes and decrease the rifle's working life span. Savage's 16"-barreled MSR 15 models feature appropriately scaled mid-length gas systems. For the MSR 10s, the company customized each rifle's system to best fit the barrel length and chambering, extending the dimensions beyond those typical to the AR-10. An adjustable gas block has also been incorporated into the rifle's action that can be fine-tuned for optimized performance.
The configuration of an AR barrel's rifling plays a key role not only in the gun's accuracy, but its longevity and maintenance, as well. Standard rifling patterns consist of four to six lands and grooves cut with 90-degree corners where the lands and grooves meet. While this is a proven approach to giving bullets the proper spin as they travel down the barrel, Savage used the MSR lines to introduce its 5R rifling system.
As the name implies, 5R employs five lands and grooves. With each land positioned directly across from a groove, the rifling provides just the right amount of support for the bullet without the added constriction or friction of a sixth land. Instead of squared edges, the lands are more trapezoidal in shape. This is intended to reduce the buildup of fouling, which affects accuracy, and to make the barrel easier to clean.
The barrels are treated inside and out with a Melonite finish. This thermo-chemical nitrocarburizing process continues to gain in popularity as a barrel finish because it provides a uniform, non-reflective appearance that is harder than chrome with a lower coefficient of friction. It's a durable option that can comfortably withstand the rigors of harsh outdoor conditions.
Factory-assembled ARs tend to fall into one of two categories: general-purpose models and purpose-built. General-purpose models sell at a relatively low price because they're fitted with basic, but serviceable, components and furniture. Amateur gunsmiths who enjoy tinkering with their rifles often swap out these Plain-Jane parts for various upgrades.   
Savage opted to go the purpose-built route with its MSRs by installing hand-picked feature sets selected to complement each rifle's primary purpose. The custom-forged receivers give the rifles a sleek appearance. High-quality furniture is either produced in-house or provided by trusted companies including Blackhawk and Magpul. The triggers have been upgraded at the factory to save the time and trouble of swapping them out. The MSRs may cost more than the typical general-purpose models, but they arrive ready for use and already featuring some basic enhancements.


The MSR 15 Patrol
Thanks to the MSR 15 Patrol's quality construction and a top-notch set of polymer furniture from Blackhawk, the rifle's features are a tangible step up from the general-purpose model category that its $849 suggested retail price might imply. The custom upper and lower receivers are forged 7075-T6 aluminum with a matte-black, hardcoat anodized finish. The pivot and takedown pins exhibit a snug fit, which is an indicator of close alignment between receivers.
The flat-top upper has an integral Picatinny rail for optics. The 16.125" 4140 steel barrel features 1:8" twist right-hand rifling, M4-style feed ramps and a Melonite finish. The muzzle is threaded at 1/2x28 TPI and fitted with an A2-type flash hider. The mid-length gas tube is paired with a milled, custom A-frame gas block that is pinned to the barrel and has an adjustable front sight post. This front sight has much cleaner, crisper lines than the typical cast mil-spec version. A removable flip-up Blackhawk BUIS (Back-Up Iron Sight) rear sight is shipped with the rifle to complete the sight system.


The M16 bolt carrier group (BCG) is fitted with a Carpenter 158 steel bolt, and is manually cycled with a mil-spec charging handle. All of the BCG's components appeared to be well-made and properly fitted. The right side of the upper receiver is where two particular cost-reducing measures are often applied. Some makers offer models that ship without a dustcover or have no place to install a forward assist. Savage initially split the difference by shipping the gun with a dustcover installed and a port for a forward assist machined but capped with a polymer plug to keep out the dust. That way a customer could add a forward assist. Now the gun ships with a forward assist assembly installed.
The six-position buffer tube houses a standard carbine buffer. All of the rifle's lower receiver controls are typical mil-spec offerings, including the magazine release, bolt release, left-side safety selector and mil-spec, single-stage trigger group. The traditional straight aluminum trigger guard has been replaced with a curved, enlarged polymer component. The single-stage trigger was an improvement when compared to others in its class because it did not exhibit the grittiness of some makes. However, it was still a bit mushy with a 7-lb. pull.
It's readily apparent that Blackhawk put plenty of thought into the Knoxx Axiom furniture line so as to compete with the established big players in the AR market. The designs are both useful and easy on the eyes. The M4-style two-piece handguard, held in place with a spring-loaded delta ring, cleverly extends past the front sight. It's shaped to provide a bilateral thumb rest and hand stop for those shooters who prefer the straight-arm support-hand grip favored by 3-gun competitors. Four M-LOK-compatible accessory slots are found at the 3-, 6- and 9-o'clock positions. The handguard also has lightly textured grip-enhancing areas and quick-detach (QD) flush sling sockets on the right and left sides.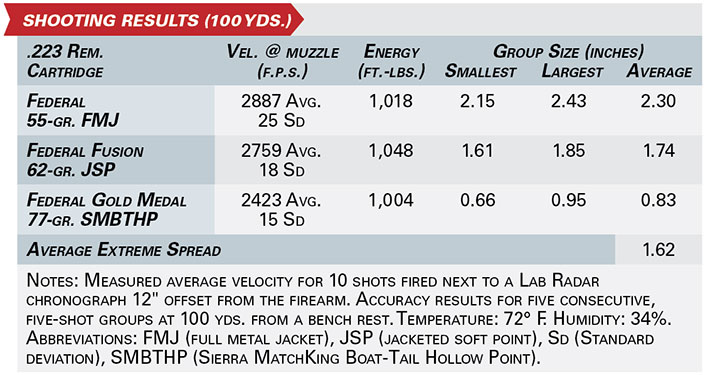 The single-piece, molded-polymer grip is designed to comfortably fit a wide variety of hand sizes. Sections of straight-line raised ridges are separated by fine, non-abrasive texturing. The grip is narrow at the top with deep bilateral thumb grooves and a hand-filling palm swell. It offers an improved fit for those users with smaller hands, while providing plenty of room for larger ones.
The sleek, A-frame, six-position buttstock provides four sockets for QD sling mounts and a slot for direct threading of slings. The rounded top provides a positive cheek weld. The buttplate has large diamond-pattern texturing with two ports that allow for the attachment of a Knoxx recoil pad. The stock's adjustment lever is placed at the front to keep it out of the way.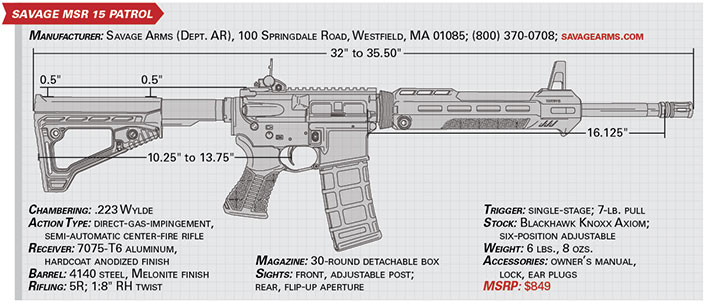 ---


The MSR 10 Long Range
More AR fans are looking for rifles that can be used for extended-range precision shooting without being overly heavy. Savage's answer to this customer request is the AR-10-type Long Range model, the 6.5 mm Creedmoor variant of which weighs in at 10 lbs., 6 ozs. The MSR 10 upper and lower receivers are also forged from 7075-T6 aluminum and hardcoat anodized like the MSR 15s.
The Picatinny-rail-topped upper receiver is paired with an 18" free-floating aluminum handguard that features a full-length top rail. Together they provide a total of 25.75" of rail space to work with. The handguard is attached directly to the upper receiver using four bolts for added stability and strength. The remaining handguard surface area is thoroughly perforated with numerous M-LOK-compatible accessory slots to provide maximum accessory potential, reduced weight and plenty of ventilation.
The 22"-long 5R rifled barrel is constructed of fluted 4140 steel with M4-style ramps, an 11-degree crown and a Melonite finish. The muzzle is threaded at 5/8x24 TPI and fitted with a Savage four-chamber muzzle brake to reduce felt recoil. A small gap in the top of the handguard provides easy access to the adjustable gas block attached to the extended-length gas system.


The Long Range's upper receiver does come with a polymer dustcover and a forward assist. In addition to the typical top-mounted AR charging handle, Savage incorporated an additional non-reciprocating, side-charging handle on the left side of the upper receiver. This second charging handle is, in my opinion, more intuitive and easier to use than the standard AR type, especially when a magnified optic is mounted.
Separating the receivers reveals a Savage-designed bolt carrier with a nickel-boron finish. The E9310 high-pressure bolt features dual ejectors for added reliability.
The external controls—bolt release, safety selector and magazine-release button—are of mil-spec type, shape and location. The polymer pistol grip is the same comfortable Blackhawk Knoxx Axiom AR model installed on the MSR 15s, and an integral trigger guard is enlarged to provide extra space for gloved fingers. At first glance, the smooth-faced trigger appears to be mil-spec with a nickel-boron finish. But any similarity to a mil-spec trigger ends there. It is in fact a Blackhawk AR Blaze 2-Stage precision trigger that provides a short, light take-up before breaking cleanly with just 2 lbs., 15 ozs. of trigger pull according to a Lyman digital trigger gauge. It proved to be a real treat to work with at the shooting range. The Long Range ships with one 10-round Magpul PMAG.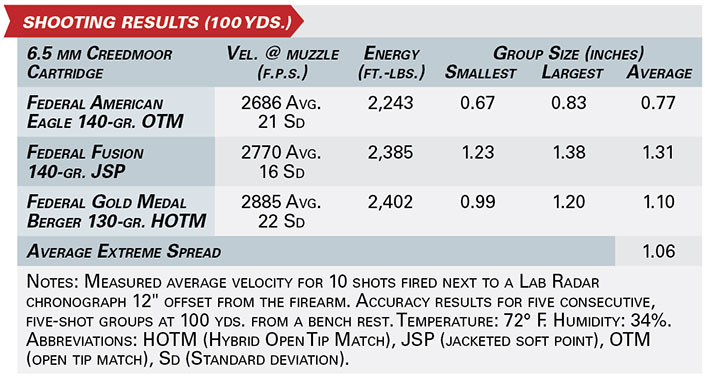 The mil-spec-diameter AR-10-length buffer tube is fitted with the excellent Magpul PRS Gen3 buttstock. The length of pull (LOP) and cheek piece height are easily click-adjusted using hardcoat anodized aluminum knobs running along Melonite-treated steel adjustment shafts. The LOP can be extended an additional 1.4" with the cheek piece providing up to 0.75" of additional height. The 0.85"-thick soft rubber recoil pad is supported by a reinforced buttplate designed to withstand severe impact and recoil up to .50 BMG levels. Other features include right- and left-side metallic QD flush sling sockets, a reversible 1.25" aluminum sling loop with one QD sling swivel port and two M-LOK slots along the bottom edge of the stock for rails, sling mounts or monopods.


At The Range
The time spent at the shooting range with these rifles was enjoyable thanks to their feature sets and reliable operation. All of the controls worked properly, in typical AR fashion. The guns cycled flawlessly from start to finish during all test procedures using a variety of loads provided by Federal Premium Ammunition.
The Patrol was just as handy and comfortable to work with as one would expect a good M4-type semi-automatic to be off and on the bench. The larger Long Range rifle benefits from the adjustable stock and comfortable pistol grip for standing and prone shooting. The four-chamber muzzle brake used in conjunction with 6.5 mm Creedmoor ammunition provides a shoot-all-day level of manageable recoil, which is particularly tame from a bench rest.
For formal bench-rested accuracy checks at 100 yds., the Patrol was fitted with a Bushnell SMRS Elite Tactical 1-6.5X 24 mm optic with the BTR-2 reticle using a Weaver SPR Optics Mount. The Long Range was topped with a Bushnell LRTS Elite Tactical 4.5-18X 44 mm with the G3 reticle using Weaver Tactical Extra High Picatinny Six Hole rings.
Although these two rifles rest at the opposite ends of the price spectrum, they both produced sub-1" groups with certain loads. The Patrol printed a best single group of 0.66", with an average of 0.83", using Federal Premium Gold Medal Match 77-gr. Sierra MatchKing boat-tail hollow points. The Long Range yielded a best single group of 0.67",with a five-group average of 0.77", when using Federal Ammunition's American Eagle 140-gr. OTM load. Federal has specifically designed this load as an affordable, yet accurate, option for competition and practice.
Parting Thoughts
I've had a host of opportunities to work with a variety of Savage firearms in the past. Despite their budget-friendly price tags, I have yet to test one that would qualify as "cheap." In fact, what I have seen time and again is a level of fit, finish and attention to detail that exceeded my expectations based on the product's price.
The same is clearly evident in the MSR series of AR-pattern rifles. These guns were not hastily thrown together to meet a particular trend, but carefully thought-out and professionally assembled to provide years of enjoyment at the range or in the field.