by
posted on April 15, 2016
Support NRA American Rifleman
DONATE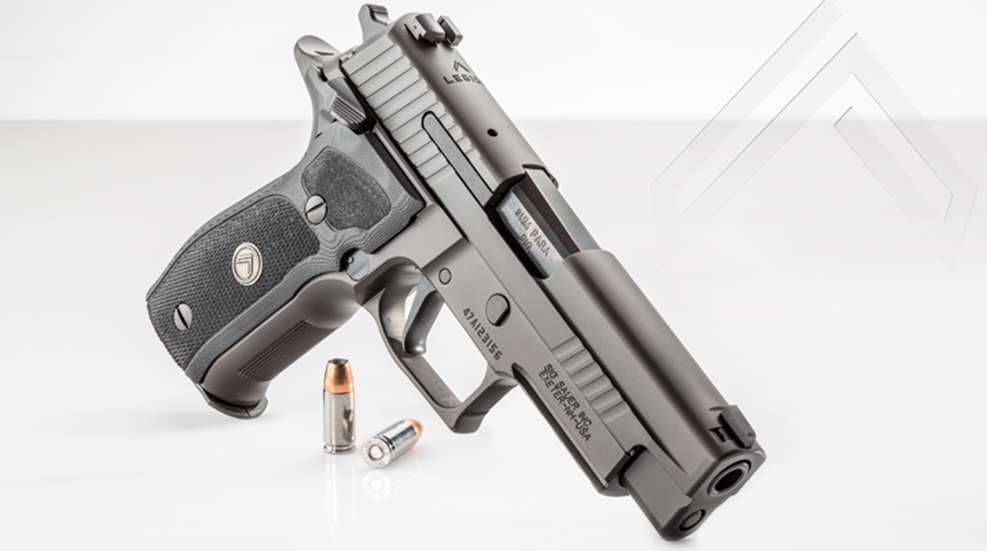 SIG Sauer's Legion Series of handguns—including the P226 SAO Legion pictured above— feature many upgrades that place the new models among the finest factory pistols the company has ever made—and that's saying something.
Legion is defined as: 1. The principal unit of the Roman army, comprising 3,000 to 6,000 foot soldiers with cavalry. 2. A large military force, especially army. 3. A very large number, multitude. 4. A national association of ex-servicemen. 5. A brotherhood of like-minded individuals who push themselves and their gear to the limits. The first four definitions come directly from Merriam-Webster; the fifth is a new interpretation that SIG Sauer is hoping will resonate with shooters and drive customers toward the company's new Legion Series handguns, and into the ranks of an exclusive web-based club open only to Legion owners.
To give you a peek behind the curtain without opening your wallet, I bought a P226 SAO Legion and then joined up. But before delving into the Legion membership, let's talk about the Legion guns. After all, SIG Sauer makes some of the best handguns in the world; they're used by military forces and police departments both foreign and domestic. There are scores of shooters who prefer SIG Sauer handguns to any others—and I suspect all of them will want a Legion model next to the one they own now. 
That's because during more than 40 years of service, evaluation and real-world testing undertaken by people who depend on their sidearms daily, SIG has received its share of suggestions. This input has led to tweaks here and there that professional operators believe would make the guns slightly more intuitive, accurate and ergonomic; collectively these changes could refine them and ultimately make SIG Sauer handguns better than ever. Those user-requested upgrades are the basis for the Legion Series.
While servicemen and women will likely have to wait until their department officially adopts it, consumers can own one immediately—albeit for an increased retail price of $1,428 (a quick gunsamerica.com search revealed you can get them for a little less). What I want to know, however, is if the upgrades are worth the extra cost.
SIG Legion Features
At the time of this writing, three Legion Series guns are available (P226, P226 SAO and P229) while three more are soon to be (P220, P220 Carry and P220 SAO.) These guns are SIG P-Series in every sense—hammer fired, all-metal beauties made in Exeter, N.H.—except they come with factory upgrades that are more than cosmetic. Here's a rundown of those upgrades, starting from the muzzle, followed by a rough estimate of their individual value if you were to buy them à la carte.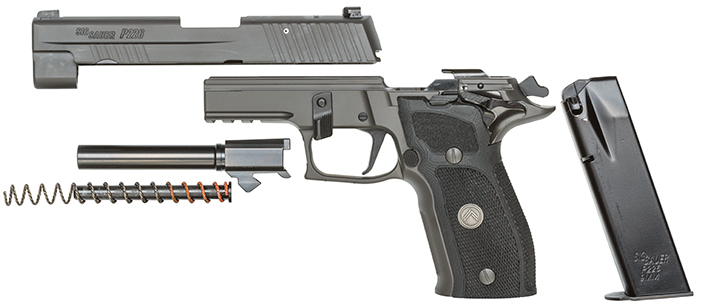 SIG's X-Ray high-contrast Day/Night front sight features a tritium insert for shooting in total darkness. Night sights are necessary for a combat handgun, but are hardly new. What is new is that the front sight's single glowing dot is surrounded by a brightly colored green ring. The windage-driftable rear sight has been upgraded to what SIG calls its X-Ray Blacked Out Day/Night Rear sight that provides stark contrast against the green front sight. 

"The in-the-field guys that offered input on the Legion asked for very specific traits in sights," said Allen Forkner, a company rep. "They wanted a large, bright, daylight front sight that is easy to distinguish from the rear night sights in the dark. And they demanded they be extremely durable.
"So SIG used a fiber-optic rod to meet the first requirement, then inserted a tritium vial to make it day/night visible. Then it used a larger vial in the front sight to meet the second criteria of 'easy to distinguish,'" said Forkner. "Finally, the company set the front vial into steel, making it more durable that most fiber-optic sights." I'm valuing this significant upgrade at $150 over non-night sights, and $50 over typical night sights.
Similar to SIG's vaunted Elite series handguns, Legion guns feature a contoured beavertail that's been shortened slightly. As such, it provides all the benefits of a beavertail while minimizing the pistol's footprint and, therefore, making it slightly easier to conceal. I'll allow $50 for the machining costs.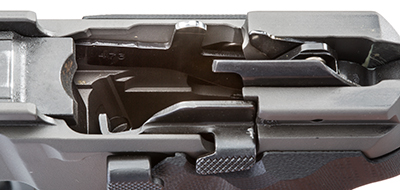 On the interior side of the grip just underneath the trigger guard, all Legion pistols feature a relieved portion—a scooped out area, if you will—that serves as a finger groove for the strong-side middle finger. SIG calls this feature its X-Five undercut. In addition to added control and recoil mitigation by allowing the hand a higher grip that's closer to the bore's axis, the cut ensures that all but the largest-handed shooters will find the grip's circumference small enough that they'll be able to access the magazine release button with the thumb without having to relinquish their shooting grip. While this can't be purchased aftermarket, it's a nice feature—$25. 
As a necessary result of the higher grip, the Legion's slide release button and decocking lever (on DA/SA models only) were made lower in profile to avoid inadvertent activation, a problem for many shooters who employ a high-riding, ultra-aggressive, two-handed grip—the exact style which the Legion's grip encourages. Both of these controls rest in recesses formed by the stocks. On the P226 SAO model, a bilateral safety provides a rest for the strong-side thumb very much like the style of an M1911's safety. If utilized in that fashion it can, in theory, also help prevent inadvertent slide closings, because it places the thumb slightly over the slide release button. For operators, a slide that locks back every time after the last round is expelled could spell the difference between a smooth, speedy reload and the dreaded noise brought on by a firing pin clinking into an empty chamber—$50.

Below the machined recess under the trigger guard, the frontstrap features enhanced checkering that goes a long way to improve the shooter's purchase. The Legion's stocks feature finely checkered G10 material that extends around the backstrap. Similar to the Micarta that's commonly used on knife handles, G10 is a laminate that's made from layers of fiberglass cloth bound together by resin and pressed together at high pressure. The resulting stocks are extremely tough, durable and very grippy to the touch even without checkering. When checkered, the G10 takes on a wood-like feel, yet doesn't chip, crack or absorb water like wood. The Legion features coarser checkering on the palm contact and fine checkering on top where the thumb rests. All told, the entire grip feels like medium-grit sandpaper to the touch and lends positive purchase in any elements, with or without gloves, one handed or two. But it's not so sharp that it's damaging to the hands. Embedded within both sides of the guns' stocks are SIG's golden Legion logo medallions. The added control and, thus, enhanced accuracy that they result in is worth the cost of the upgrade—right around $75. 
For the shooter who wraps his support-hand index finger around the front of the trigger guard—something I don't recommend—the Legion provides more checkering. In addition, there is a checkered section on the trigger guard's underside. These features are neat, but I wouldn't pay much for them. I do, however, like the metal serrations on the forward portion of the slide, as they assist with press checks and give the gun a mean-as-a-shark look—$25.
An all-metal guide rod is touted to lend slightly more weight to the front end of the gun, helping to balance it and control recoil. While I couldn't actually tell whether it helped to do so, because the weight makes a subtle difference, it's a feature worth noting mainly due to its enhanced toughness—$25.
All Legion guns are finished in SIG's gray PVD, which stands for Physical Vapor Deposition. It is a process whereby a protective coating in the form of a metal vapor is applied to a metal surface by ion bombardment or heat evaporation while in a vacuum. It results in an extremely durable, hard (about 70 on the Rockwell scale) and uniform compound; and, in the Legion's case, it results in a matte gunmetal-gray color that resists rust and wear. (On other SIG guns, black is added to the PVD process and the company calls the coating Nitron.) But I prefer the Legion's gray tone. 
Regardless, the Legion's finish as a protectant is critical if you plan to wear the gun next to your skin all summer long. Consumers often pay more than $125 to have their guns Cerakoted, so that's where I'm valuing this upgrade. 
Most significant of all the upgrades, however, is the Legion's dedication to an improved trigger. I believe SIG's P-series triggers have always been at the top of the pack for factory semi-automatic handguns, no doubt one advantage its guns have over striker-fired guns. Yet SIG's standard triggers are certainly capable of being improved. The Legion offers two triggers, depending on the model chosen. 
Legion P220 SA/DA, P226 SA/DA and P229 SA/DA models come standard with a Grayguns Intermediate Reach Adjustable Trigger. This is a custom trigger and an excellent one. It's built for all hands, not just big ones. By adjustable, the company means it's adjusted for over-travel; as a byproduct, it exhibits a mere 1/16" of reset distance. This makes for faster shooting. Grayguns is a custom shop owned and operated by 40-year pistolsmith and champion shooter Bruce Gray. The Oregon firm specializes in fine tuning SIG Sauer and H&K handguns. The bulk of its work goes into triggers, and all are hand-finished. The Grayguns trigger is worth $62 plus installation ($25) if you bought it outright.
The Legion P220 SOA (that's in the pipeline) and the P226 SOA models come from the factory with SIG's Master Shop Flat Trigger. I tested this one extensively, and it's a thing of beauty for a combat pistol. While it's different, I've quickly accepted it and now even laud it. To me, its 1" of flat, square face offers a more positive and uniform feel than a curved trigger. While I'm not so sold that I'm going to demand all my handgun triggers be flat now, I prefer it if given the option. Academically, it has 5/64" of creep, broke at 4.9 lbs., and has a very short 1/8" reset. I'll pay a premium for a trigger like this every time, because when it comes down to it, it's the single most important mechanical way to improve accuracy—$75.
SIG has a new manufacturing process that polishes the internal components, thereby reducing friction between moving metal parts. This acts like an action job and is worth a few bucks, perhaps $25. 
Legion Downrange
So, how'd it shoot? Over a case of ammunition, my P226 SAO (in 9 mm Luger) had no jams, no hiccups and no surprises. At 34.4 ozs. unloaded but with a magazine, it's fairly beefy, and when combined with its robust grip and checkering, recoil is mild to say the least. I recorded 2.65" groups at 25 yds. Like all SIG handguns, the Legion is supremely accurate, but more so mainly due to its grip and trigger. Quite simply, it's easy to shoot well.
My speed drills were excellent; magazine changes were swift thanks to spring-loaded magazine ejection that actually pops mags to the ground rather than relying on gravity. During testing, however, I found that I still managed to depress the slide release button several times inadvertently, but I'll blame that on my high-riding grip and suspect that with more awareness and practice the occurrence will disappear. Each of the Legion's three magazines hold 15 rounds. The DA/SA models are available in 9 mm (15 rounds), .357 SIG (12 rounds) and .40 S&W (12 rounds.)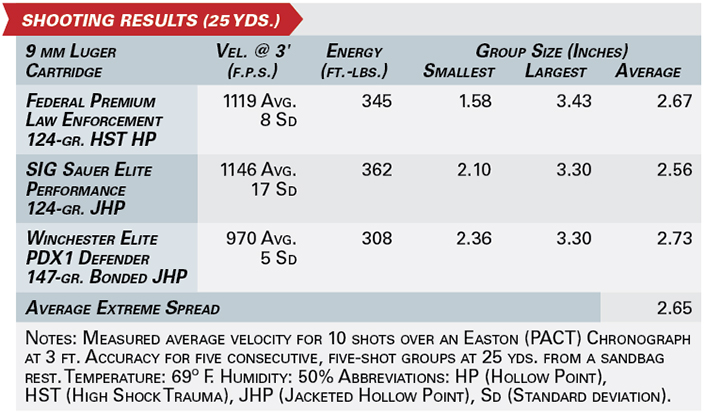 Press checks were easy using the offhand thumb wrapped over the barrel thanks to the slide's forward serrations. The integral, under-barrel Picatinny rail gets the job done, and I like the sharpness to its looks. The sights are superb; the large front dot mimicked the speed of a Big Dot system, while the rear notch provided precise aiming, regardless of light. I hit poppers as fast as I could draw and pull the trigger, and also managed to hit a steel gong at 200 yds. multiple times, just for sport of course.
In sum, all of these upgrades, if purchased separately, add up to $825 in my estimate. Combine that to a standard P226's price of around $1,000 and that's $1,825. That amounts to roughly $400 more than the price of the Legion. Now back to the program.
Joining The Legion
Here's how it works: I purchased a SIG Sauer Legion P226 SAO handgun and brought it home. I logged onto legionseries.com, clicked on the "Visit SIG Store" web link, then onto "Register Your Legion Series Firearm Online Here." From there the process is straightforward, but you can also enroll by mail or phone by dialing customer service at (603) 610-3000 and navigating the teleprompts. 
Being a loyal NRA member who's mighty suspicious of anything called registration when it deals with my guns, alarm bells chimed, so I called the company to ask about it. A SIG Sauer representative quickly assured me that the serialized registration served only as my gun's warranty registration, just like any other warranty on most other products.
About a week later, I received a free Thermo-mold case—a custom-molded upgrade to the common plastic case in which the gun is sold—and a Legion challenge coin featuring the Legion logo—a martial insignia modeled, perhaps, after the Greek letter "," or lambda, famously emblazoned on Spartan shields. Or, in my view, it represents the basic chevron of an enlisted soldier. 
While perusing online chatter, I've heard some folks opine that the Thermo-mold case should come with the gun in the first place. The reality is, however, it's a custom case from a third-party vendor, and it's costly. The case has foam cutouts for the gun, two magazines, a knife and the challenge coin. SIG gives it to you as a bonus for joining the Legion, a no-nonsense welcome-to-the-club gesture, if you will. 
Next I used my registration number to log onto SIG's online store, where I noticed gear was available for sale that previously was not. Other tabs on the website read "Exclusive Access" and "Exclusive Communications." At the time of this writing, nothing happened when I clicked on them, but SIG reps assure me that training tips and product releases will be made available to Legion members soon.
So, as of right now, when you pay for a Legion handgun, you get the opportunity to buy exclusive Legion stuff and receive messages from the company. If this sounds a little like the anti-climactic secret decoder ring from "A Christmas Story" to you, I'll remind you that this club offers top-end holsters, ammunition, knives, and lifestyle accessories such as humidors and cell phone cases in lieu of Ovaltine.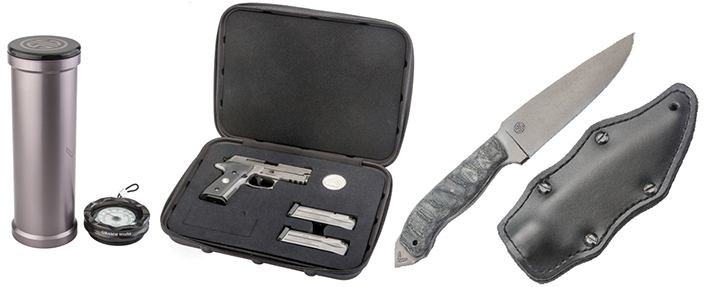 Plenty of the Legion-branded items aren't even made by SIG, but rather purchased from other companies for their uniqueness or superiority, such as Black Point Tactical holsters, Surefire weapon lights and Emerson knives, for example. I ordered a Black Point Mini Wing IWB holster and mag pouch, and it's one of the best I've used, thanks to its combination Kydex-and-leather design, which enhances speed and comfort. 
No doubt some folks will roll their eyes and view SIG's Legion club as a marketing ploy. Others will revel in it and appreciate the opportunity to get a free case and buy some great gear at a slightly reduced price. What I know is that the Legion handguns are the best SIG factory combat models the company has ever made, and that's fairly epic.