by
posted on January 9, 2017
Support NRA American Rifleman
DONATE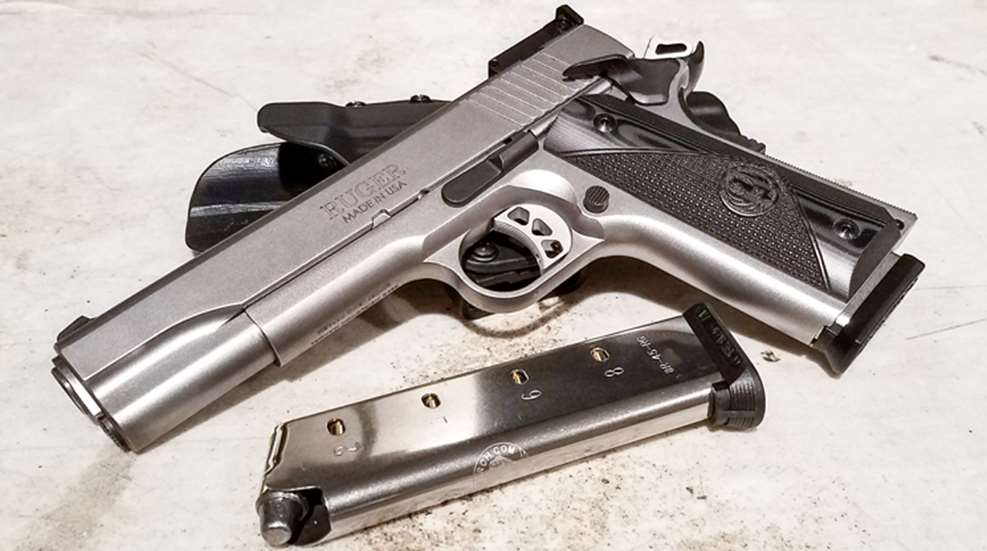 Having become familiar with John Browning's Masterpiece at an early age, I have always had a 1911 close at hand. I have owned 1911s from companies such as AMT, Springfield Armory, Randall, Colt, Auto Ordnance and Kimber, as well as some lesser-known manufacturers. While these pistols are all built on the same basic design, quality control and parts tolerances can vary greatly from brand to brand and even from one pistol to the next.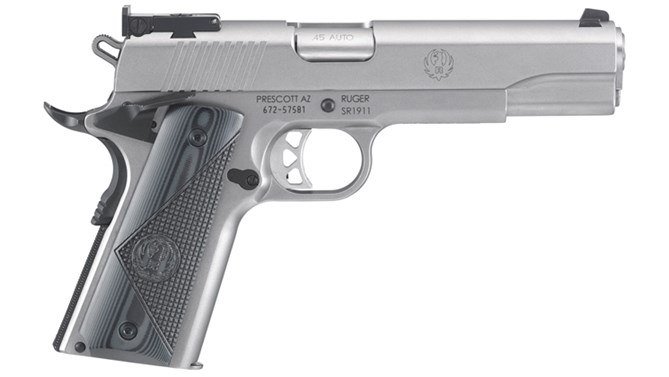 In years past, it had generally been my experience that price dictated quality and the more money one spent, the better pistol one purchased. Even then, chances were the gun might need some fine tuning in order to feed and function properly. Buying a 1911 with the expectation that it would need gunsmith attention and parts replacement was just part of doing business. Fortunately, modern manufacturing techniques and the use of metal injection molded parts has changed much of that and now one can purchase a very good quality pistol that will likely need little, if any, gunsmith tuning and will probably function correctly right out of the box.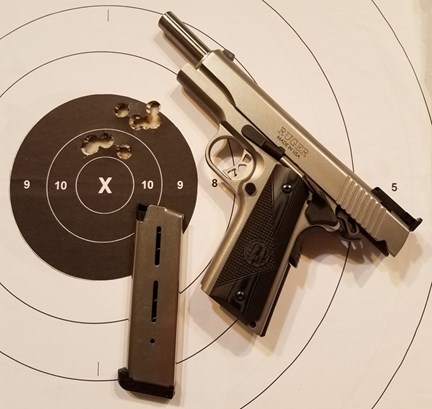 One company making major use of modern manufacturing technology is Sturm, Ruger and Co. Ruger has been in the business of making aftermarket 1911 frames for a well-known aftermarket company for years and it was only logical that Ruger would eventually launch a complete pistol. This pistol was named the SR1911 and has been a success for the company in its half decade of existence. Launched in 2011, the original Ruger SR1911 was soon joined by several different models including "Commander" variants in both .45 ACP and 9 mm Luger. Pistols in the SR line use a frame machined from a casting and a barrel and slide machined from bar stock. The stainless (or aluminum, depending on model) frame and slide are offset with blackened mainspring housing, slide stop, thumb safety and other small parts. Many of these small parts are supplied by Ruger Precision Metals, a metal injection molding parts supplier owned by Ruger.
Building on the success of these forebears, Ruger has now introduced the SR1911 Target model. As the name implies, this new .45 ACP pistol features an adjustable rear sight rather than the Novak fixed rear on other models. This new rear sight is closely styled after the famous Bomar sight. It is fully adjustable for both windage and elevation, and is blended nicely into the slide. Other changes might not be as obvious but the new Target model also features an ambidextrous thumb safety and G-10 grips that are unique to this model.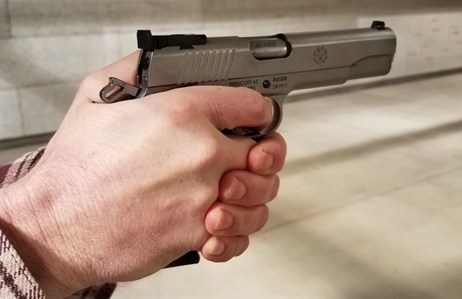 I tested the new Ruger with several different types, weights and styles of both jacketed and cast lead bullets. I found the gun to be completely reliable with the OEM 8-round magazine as well as the excellent magazines from Tripp Research. Manufacturers can often skimp on magazines; supplying only one or shipping the pistol with an inexpensive magazine with feed lips designed only for FMJ. This pistol ships with one 7-round and one 8-round mag. While I'm pleased Ruger chose to take the extra step of shipping the pistol with two mags I'd rather see the gun come with two 8-rounders.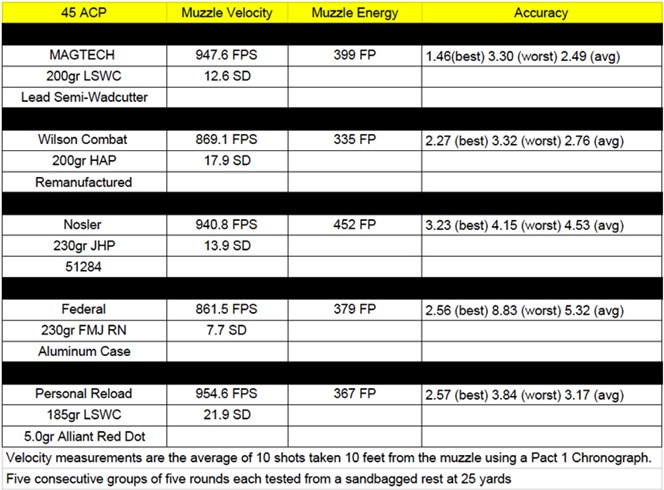 The SR1911 Target provides the purchaser with a pistol that can be sighted in based on a specific load or personal preference and should meet the accuracy needs of most users. Even though the SR1911 Target features a fully adjustable rear sight, the gun is not a bullseye pistol and is built to the same tolerances as Ruger's other 1911 pistols. This means that the pistol probably won't be accurate enough in stock form to win PPC or precision accuracy competitions but it should work just fine for most action pistol sports such as IDPA's CDP division or USPSA's single-stack division.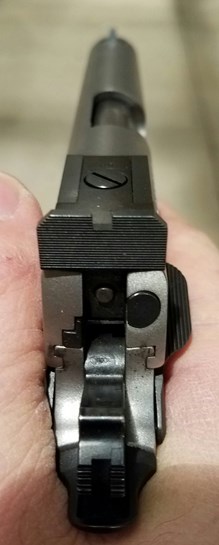 While I was pleased with the SR1911 Target, the smooth ramped "combat" front sight is less than optimal when paired with the adjustable rear sight, which is nicely serrated and provides glare-free sight alignment. However, the front sight would pair better with a serrated ramp or patridge-style that would provide a darker, more precise outline. Secondly, the G-10 grip material is durable and attractive, but I found the factory checkering provided less than ideal traction for my support hand during rapid-fire strings. Neither is a big deal as grips and front sights are easily changed after purchase.
All in all, I found the SR1911 Target model to be just as expected. It performed well, was reliable and does not need any costly upgrades, gunsmith tweaks or parts replaced outside of those mentioned above. It will likely be another success in what continues to be a winning 1911 lineup from Sturm, Ruger and Co.