by
posted on January 4, 2018
Support NRA American Rifleman
DONATE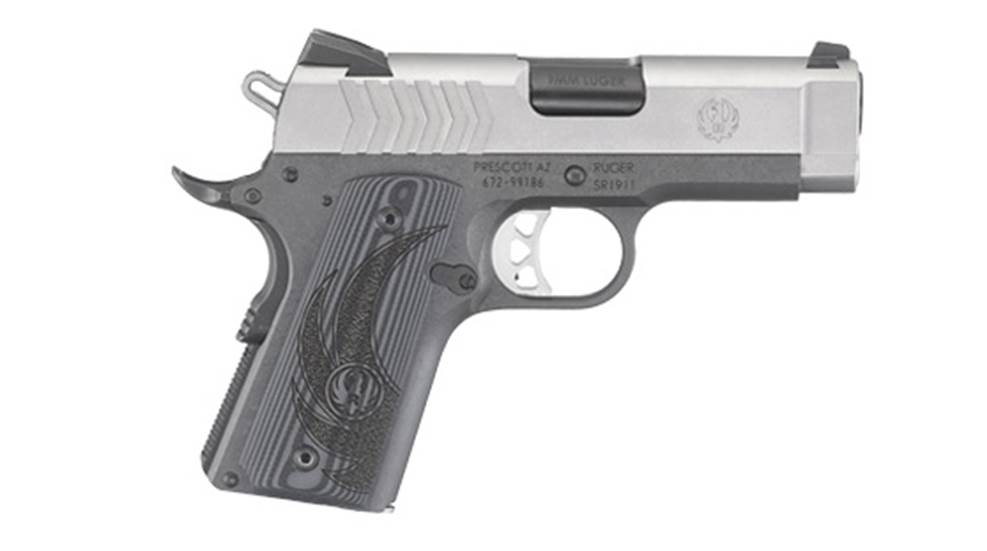 Much like the word "Xerox" has become synonymous with any document that has been photocopied, the name "Officer's Model" now equates to a snub-nosed 1911-style pistol with a barrel length of about 3.5" and a magazine capacity (in .45 ACP) of six rounds. The Colt Officer's Model has become the de facto standard for compact 1911s, even though the pistol's creation was Colt's response to compact .45 pistols like the Star PD and Detonics Combat Master. These small pistols set the size parameters for what Colt would eventually introduce as the Colt Officer's Model. Many companies have tweaked the compact 1911 over the years, introducing models like the Springfield Armory EMP and the Kimber Ultra. These guns may not be Officer's Models in the technical sense, but one is not necessarily incorrect in referring to them as such. Now Ruger has entered the Officer Model market with an SR1911 it is calling "Officer's Style."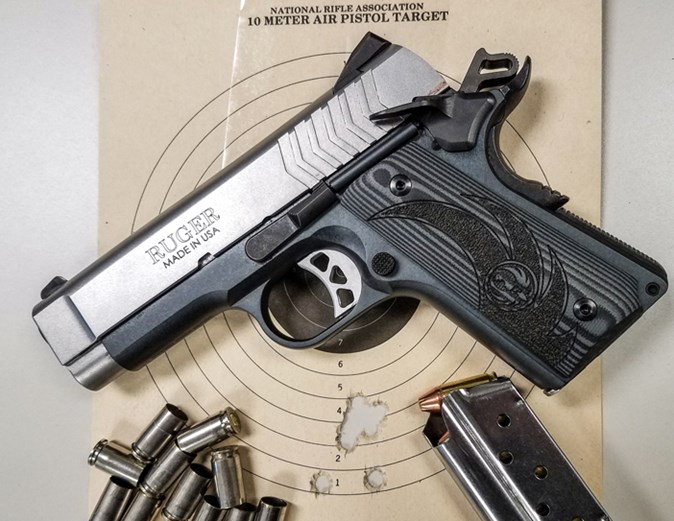 Ruger started making 1911 pistols in 2011 with a full-size Government Model chambered in .45 ACP. This pistol was quickly followed by Commander models in .45 ACP and 9 mm Luger. Ruger 1911 pistols have proved popular with consumers, and Ruger has recently added a target model in .45 ACP with adjustable sights and a version chambered in 10 mm. The new Ruger Officer has been speculated about for quite some time. Some, including myself, imagined the pistol would be built in .45 while others assumed Ruger would want to do something different and offer its first Officer chambered in .38 Super. Well, we were all wrong. This new gun is chambered in 9 mm Luger.
Ruger's new SR1911, catalog number 6758, is made with a bead-blasted matte-stainless slide, which continues Ruger's scheme of matte stainless and blackened steel parts that give the pistol a two-tone appearance. The slide is topped with white-painted three-dot sights. The pistol's feed ramped barrel is a coned bushing-less pattern and a flat wire recoil spring is retained with a reverse plug inside the recoil spring tunnel. The pistol lacks front cocking serrations but has a gentle "Browning Hi Power" scallop, which works for chamber checking for those who perform this action by pinching the front of the slide. The slide has a monolithic pattern in front of the frame's dust cover that mates nicely with the BHP-style scallop, giving the slide a blocky but aesthetically pleasing appearance. The rear cocking serrations are chevrons rather than the traditional vertical lines used on 1911 pistols from most manufacturers. The pistol is Series 70, meaning it has no active firing pin block if dropped on a hard surface, but Ruger uses a lightweight titanium firing pin to help make the pistol drop-safe.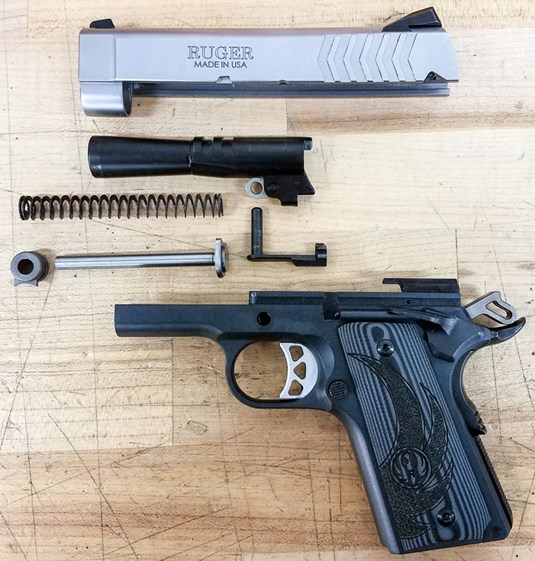 The frame is constructed of lightweight aluminum alloy that is anodized a very dark gray and nicely matches the pistol's blackened steel parts. The slim profile grips are made of G10 and engraved with the Ruger logo. The grips are set in place with short grip screws and shallow bushings, giving the pistol a very flat profile. The thumb safety is left-side-only, and the grip safety is the ubiquitous beavertail. The mag well is beveled to ease reloading. The pistol ships with two magazines that use the Devel-type collapsing follower, giving each magazine a capacity of nine rounds. The trigger on the test sample breaks at a fairly crisp 4.25 lbs.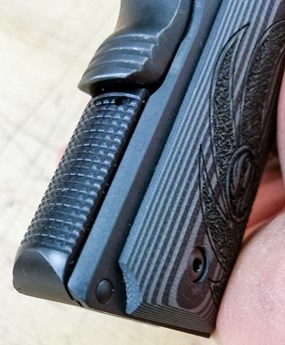 During range testing we fired more than 300 rounds of ammo, including inexpensive practice ammo and premium self-defense ammo from Speer, ASYM Precision and Federal Premium. Despite the pistol's small size and 1.55 lb.-weight, the Ruger is surprisingly pleasant to shoot even with the hotter +P load. That's not to say that this hotter load doesn't produce snappy recoil—it does--but the Ruger's G10 grips are smooth, and the pistol's mainspring housing is nicely radiused thereby removing known bite points at the bottom edge of the frame. The pistol was reliable until the last 50 rounds or so. By then the pistol was dirty enough that the slide would not always go into battery while feeding the first round from a full magazine. Downloading the magazines to eight rounds relieved spring tension enough to allow the recoil spring to fully strip the first rounds and still have enough energy to seat the slide fully into battery. The pistol showed itself to be sufficiently accurate with all loads but consistently shot about two inches low at 15 yards regardless of bullet type or weight.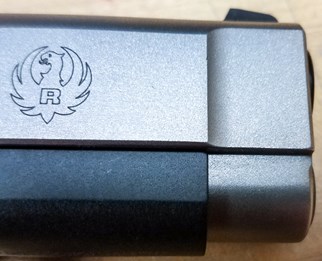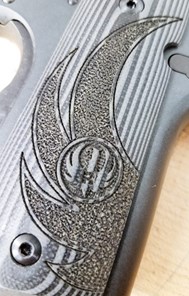 The pistol's controls work well and there were no failures to lock the slide open when empty. The magazine release cannot be pressed in too far, thereby removing the issue of trapping mags inside the frame. Empty mags dropped free cleanly and without snags. The thumb safety is a bit soft and indistinct when being switched on or off. I prefer a more crisp response. Another minor complaint was that the right grip panel worked loose several times and the grip screws had to be tightened twice during testing.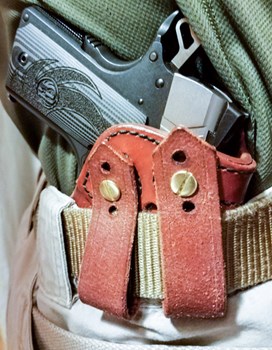 This new pistol is intended primarily for personal defense and concealed carry, which calls for a good concealment holster. I prefer leather over Kydex for inside the waistband (IWB) carry. Kramer Handgun Leather makes an attractive and sturdy leather holster that offers maximum comfort, concealability and speedy access. The Kramer #3 is particularly suited for small semi-automatics and pairs very well with the Ruger.
I've regularly wondered about the practicality of small handguns chambered in 45 Auto. While pleasant to carry, these models aren't usually pleasant to shoot and I've always believed that the slight increase in concealability is dramatically offset by the increase in recoil and loss of magazine capacity. But perhaps an Officer's Model in 9 mm makes sense. Total ammunition capacity is 10 rounds, depending on magazine make/style and the 9 mm cartridge, when fired from short barrels, usually yields muzzle velocities that closely rival muzzle velocities obtained from larger pistols. Recoil is more manageable and a shooter should have no real difficulty becoming comfortable with the new Ruger within a couple of range visits.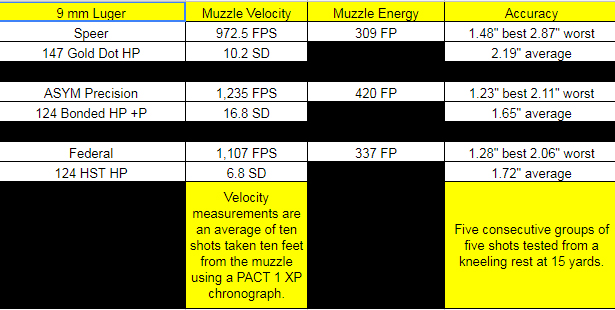 A little over a year ago I had the opportunity to test Ruger's 9 mm Luger 1911 Commander. I was pleased with that pistol and believe it offers a solid value for someone who might choose a 9 mm Luger 1911 over other caliber choices. Now that we've had a chance to shoot and evaluate this new model, I continue to believe Ruger offers one of the best values in the current 1911 market.

Specifications
Manufacturer: Sturm, Ruger & Co.
Model: SR1911 6758
Caliber: 9 mm Luger
Action: Recoil-operated, hammer-fired, semi-automatic centerfire pistol
Frame: Aluminum alloy
Slide: Stainless steel
Barrel: 3.6" salt bath nitrided
Magazine: Detachable Box; nine-round capacity
Sights: Dovetailed three-dot configuration, drift adjustable
Weight: 27.2 ozs. with empty mag
Height: 5.0"
Overall Length: 7.25"
MSRP: $979.00

Additional Reading:
Tested: Ruger 9 mm SR1911 Commander Pistol   
Tested: Ruger SR1911 Target Pistol