Support NRA American Rifleman
DONATE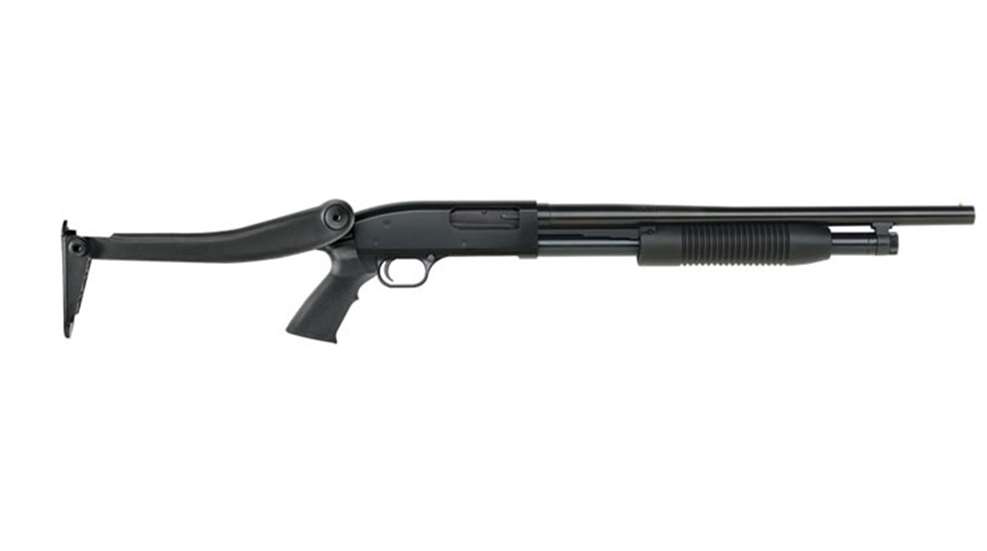 Mossberg has been keeping outdoor media members busy lately with eye catching pump-action developments including additional caliber options for the non-NFA Shockwave line-up and the proprietary double-stack box magazines of the 590M series. While the cameras have been clicking away at these recent releases, the company has quietly added a new option to the budget-friendly Maverick 88 Security. This new-for-2018 model now has one of its most popular aftermarket upgrades pre-installed at the factory, the Advanced Technologies (ATI) Shotforce top-folding polymer stock. Every year I make an effort to review at least a few models intended to serve the needs of shooting enthusiasts on a tight budget and this version of the Maverick was simply too good to pass up.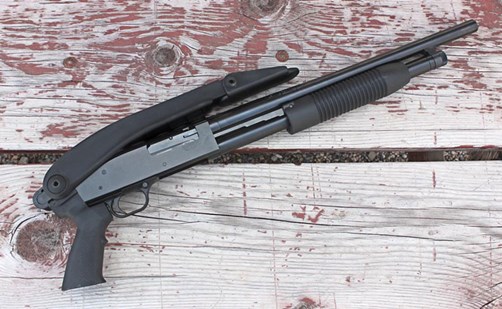 It's important to take a moment here to point out that when it comes to budget priced shotguns (or any low price firearm for that matter) there's a difference between a cheaply manufactured model and one that's been simplified to reduce costs. I've held and bench-checked some cheaply made imports that left a lot to be desired. They exhibited plainly visible mold marks and rough spots inside and out, flimsy (even loose) stocks, poorly fitted components and triggers that were so gritty they almost crunched when cycled.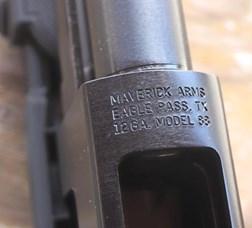 On the other hand, the American-made Maverick 88 series pump-action shotgun is manufactured in Eagle Pass, Texas, with a blend of components and conscious choices to modify or leave certain features out in order to reduce production costs without sacrificing reliability. When it comes to fit, finish and core construction, the Maverick 88 is all but indistinguishable from the Mossberg Model 500 it's based on. In fact, most of the Maverick's components are Model 500 compatible including the barrel, stock and magazine tube.  

The Maverick 88's receiver is milled from aluminum and features anti-glare grooves along the top. It is not drilled and tapped for optics like the Model 500. It's fitted with a blued steel bolt assembly, dual extractors, an anti-jam shell elevator and it provides a positive steel-to-steel lockup of the moving parts for added durability.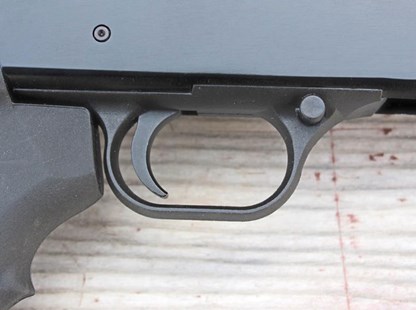 The polymer trigger housing has a traditional rounded trigger guard that protects the smooth faced steel bow trigger which, in this case, exhibited a bit of take up before breaking with 6 lb. 6 oz. of trigger pull. The Mossberg 500 tang-mounted sliding safety is absent, having been replaced with a less expensive cross-bolt safety button located it the front of the trigger guard. This modification to the safety system is the main reason the Maverick 88 trigger groups are not interchangeable with those made for the Mossberg 500.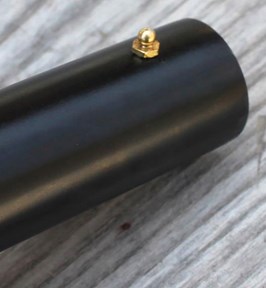 The 18.5" smooth-bore barrel is made of blued steel with a fixed cylinder bore choke and brass bead front sight. The barrel connector is secured to the blued steel magazine tube using a Mossberg 500 style knurled takedown screw. In this case, the screw head is not fitted with a sling swivel stud but it is drilled and tapped to accept one. This model's magazine sports a black polymer follower and has a total shell capacity of 5+1 when loading 2¾" 12-ga. shells or 4+1 when loading 3" shells.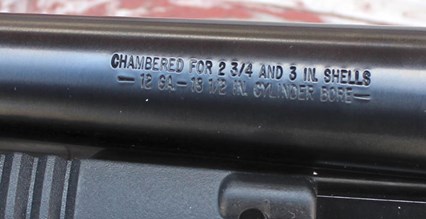 The slide assembly of the Maverick 88 has been simplified quite a bit. The Mossberg 500 is fitted with a fore-end slide that consists of a steel bracket that fits around the magazine tube to provide support for the wood or polymer grip and the twin action bars. This allows the grip to be traded out or upgraded by removing a nut and sliding the grip off of the bracket. In contrast, the Maverick 88 slide assembly consists of a polymer grip fitted directly to the magazine tube with the dual action bars pinned into the polymer just behind the textured gripping surface. It weighs less and costs less but doesn't allow for much in the way of customization.

The American-made ATI Shotforce top-folding stock is made of DuPont Extreme reinforced polymer. The textured pistol grip has a profile similar to that of an A1 mil-spec AR-15 grip. On the left side of the shoulder stock's hinge is a sling swivel stud and a spring loaded release button. Pressing this button allows the stock to be folded or extended. The hinged butt plate is nice and wide with a textured surface for improved purchase.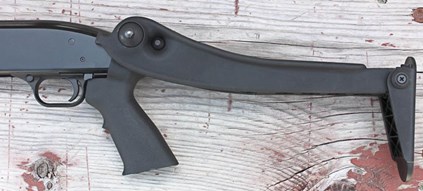 The Shotforce stock can be fired from either the folded or extended position and arrives pre-drilled to accept an ATI 5-round shell holder (#SHO0500). With a 14" length of pull (LOP), this stock will fit Mossberg 500, 535, 590 and 835 models in 12- or 20-ga. in addition to the Maverick 88. When it comes to most fixed, sporting style shotgun stocks, a 14"LOP is a little too long for my build. However, the pistol grip of the ATI stock provided the level of control I needed to properly manage the gun and cycle the fore-end.
At the shooting range, the Maverick 88 did just what a defensive shotgun is supposed to do. The controls all operated properly, the slide cycled smoothly and all of the tested ammunition moved into and out of the action in an orderly fashion without any issues. The felt recoil generated by defensive 12-ga. shotguns is never subtle. But the wide butt plate and pistol grip of the ATI worked well together to keep this relatively light platform manageable with full power defensive loads.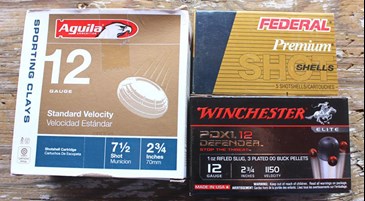 Pattern testing was conducted at 7 yards using Birchwood Casey Shoot N-C 18"x 12" silhouette targets to capture the results produced by the cylinder bore barrel. Aguila's Sporting Clays 2¾" round is packed with 1 1/8 oz. of #7½ lead birdshot with a listed velocity of 1225-fps. The birshot formed a dense central 7" pattern with some pellets spreading out to 11".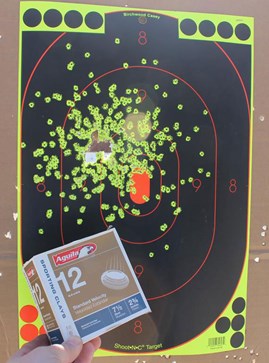 Federal Premium's 2¾" buckshot load pushes nine pellets of copper-plated 00 buckshot at a listed velocity of 1145 fps. Thanks to the company's FliteControl wad, this round produced a tight 3" group with the wad striking just above and slightly left of the buckshot.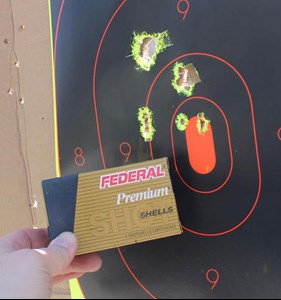 Winchester's Elite PDX1 Defender 2¾" shell launches a 1 oz. rifled lead slug along with three pellets of 00 lead buckshot at 1150 fps. The buckshot formed a triangular 3" group around the slug with the wad striking the target off to the right.
The latest version of the of Mossberg's Maverick 88 Security pump-action 12-ga. with ATI's Shotforce top folding stock provides the flexibility and reliability of a solid security shotgun at a budget friendly price. The suggested retail price of this Maverick 88 is only $28 more than the standard stock model which means customers are saving around $50 compared to purchasing the Shotforce stock as an upgrade. Real world prices are even lower than that. The Maverick 88 is a solid platform that's a terrific value, plain and simple.

Specifications:
Manufacturer: O.F. Mossberg & Sons
Model: Maverick 88 Security (#31027)
Action: Pump Action
Caliber: 12 gauge, 2¾" and 3" Shells
Barrel: Matte Blue Steel
Receiver: Hard Anodized Aluminum
Trigger: Smooth faced steel bow
Trigger Guard: Black Polymer
Safety: Cross Bolt
Fore-end: Ribbed Black Polymer
Shoulder Stock: ATI Shotforce Top-Folding (#TFS0600), Black Polymer
Length of Pull: 14"
Sight: Brass Bead
Barrel Length: 18.5" smooth bore
Choke: Cylinder bore
Overall Length: 39.5" (stock extended)
Trigger Pull: 6 lbs. 6 oz. (as tested)
Weight: 6 lbs. Unloaded
Capacity: 2¾" Shells = 5+1, 3" Shells = 4+1
Accessories: Lock, Owner's Manual
MSRP: $259