Support NRA American Rifleman
DONATE
O.F. Mossberg & Sons, Inc., is kicking off the new year by introducing a detachable-box-magazine-fed version of the company's venerable Model 590 pump-action shotgun: the Model 590M. Offered in two variants, one pairing a corncob fore-end with a bead front sight and the other featuring a tri-rail fore-end and ghost ring sights, the 590M is a 12 gauge that measures 39.5" long with an 18.5" barrel, and weighs 7 lbs., 12 ozs. The tri-rail model also comes with a barrel shroud and makes use of the Accu-Choke system.

The shotguns feed from Mossberg's beefy new double-stack magazines that feature hardened steel feed lips, an anti-tilt follower and a removable floorplate for easy disassembly. The Model 590M ships with one 10-round magazine, however, five-, 15- and 20-rounders are also being offered aftermarket. As necessitated by the detachable magazine system, the guns can only feed and chamber 2¾" loads. A bilateral, steel magazine release is located just forward of the trigger guard and can be actuated by pressing inward. Other operating controls are found in the traditional locations for the 590: The action lock lever is located on the left side of the receiver behind the trigger guard, and a two-position safety is centered on the shotgun's tang.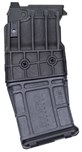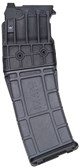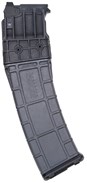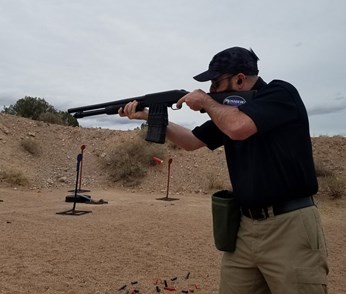 Offering a capacity of 10+1 12 gauge shells right out of the box, the Mossberg Model 590M packs a lot of firepower into a relatively compact and handy package. And, in addition to the far faster reload times possible with a box-fed shotgun compared to its tube-fed counterparts, the 590M also opens up the potentiality of carrying load-specific magazines—which will likely garner particular attention from law enforcement departments and hunters. For more on Mossberg's new Model 590M, see American Rifleman's Joe Kurtenbach fire the shotgun during Industry Day at the Range ahead of the 2018 SHOT Show, visit mossberg.com, and look for a full report later this year in American Rifleman.