by
posted on March 6, 2021
Support NRA American Rifleman
DONATE
When it comes to choosing which product we want to buy next, there's nothing quite so magical as a celebrity endorsement. A famous face or popular name will catch our eye and hold our attention right up to the cash register. But if we're honest with ourselves, not all endorsements are created equal. Just because a famous person's name is associated with a particular item doesn't mean that they had a hand in developing it, or that they even use it in real life. But it's a different story when it comes to Mossberg's 940 JM Pro competition shotgun.
The JM in the name is an abbreviation for World Champion competition shooter Jerry Miculek and his family, who are also world-class competitors. Like others who participate in three-gun matches, the Miculeks recognized that Mossberg's 930 JM Pro series was a big step in the right direction. But it still needed a few more tweaks to be the right gun competitors are looking for. The 930's gas system is a bit too tightly tuned for race gun work.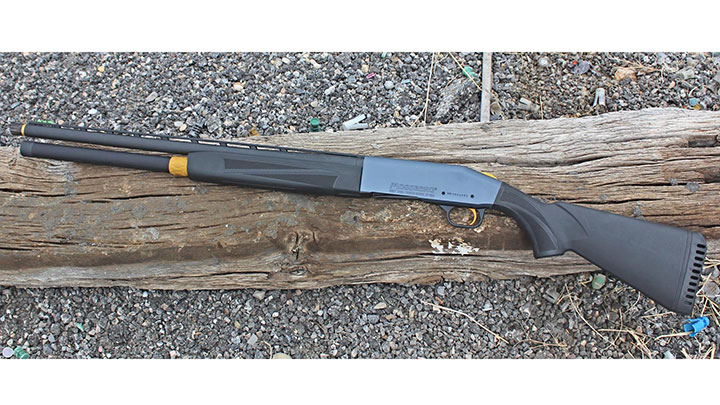 It needs to be cleaned about every 600 rounds. That's plenty of room to work with for hunting and sporting clays but three-gunners tend to blow throw a lot more shells than the average sportsman does. There also needed to be more accommodations made for adjusting the shoulder stock to better fit the shooter using it. Using the 930 JM Pro-Series competition shotgun as a starting point, Mossberg teamed up with Mr. Miculek and his family to take this semi-auto series to the next level.

Applying the family's input and extensive shooting experience led to a variety of modifications and improvements including changes to the sight system, gas system, controls and stock configuration. The goal was to incorporate a full set of features to give three-gunners a tricked out, ready-to-use 12-gauge shotgun right out of the box for less than the cost of a custom-built gun.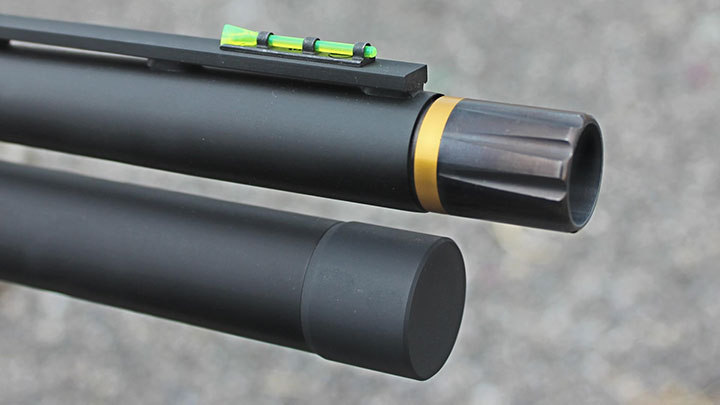 The 940 JM Pro series was launched with two 24" barrel models. The version shown here (#85111) has a three-tone finish with a matte blued barrel, black polymer stocks and a tungsten gray anodized aluminum receiver. The magazine tube connector, bolt handle, bolt release button, trigger and safety slider have all been treated with an easy to see gold tone anodized finish. The other finish option (#85113) includes a black receiver and controls with a set of Black MultiCam pattern camouflage stocks.  
Some of the key changes to the 940 are tucked away inside the gun. Internal components have been treated with a nickel-boron finish for increased lubricity and easier cleaning. The gas system was redesigned to cycle more quickly and more reliably with a variety of 2 ¾" and 3" 12-ga. shotshells. This system incorporates a stepped and vented-spacer component that sheds moisture and fouling with each shot fired. This system successfully reduces maintenance time by firing up to 1,500 rounds in between cleanings instead of 600 or so.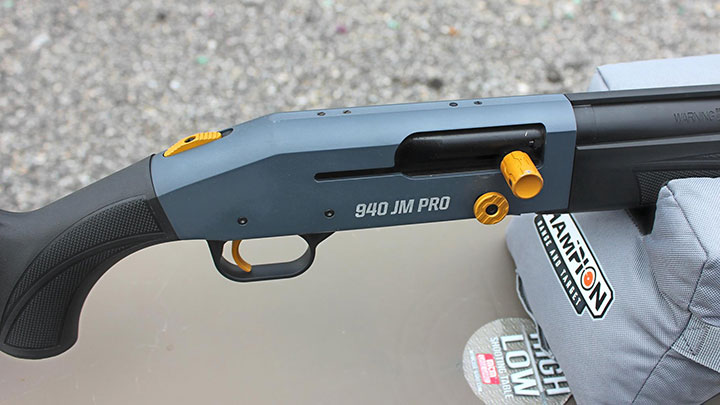 Another subtle but important change has to do with the recoil spring system.  By shortening it, this shotgun could be outfitted with an adjustable synthetic shoulder stock. It ships with a full set of grip and recoil pad spacers that allow the drop and cast to be adjusted along with the length of pull to be shifted between 13" to 14.25".
The 24" barrel is the product of a new manufacturing process developed by Mossberg to contribute to more accurate shot placement when using factory produced ammunition. The barrel is topped with a vented rib and outfitted with a HIVIZ TriComp fiber-optic front sight. The 940 arrived with a triangular green sight installed along with an additional set of interchangeable red, green and opaque white sight pins in different shapes and sizes.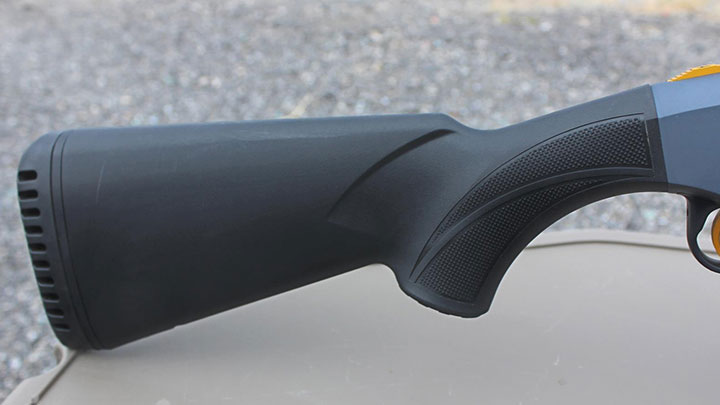 The muzzle is threaded to accept Mossberg's Accu-Chokes. This model ships with a set of three Briley extended chokes including cylinder, improved cylinder and modified options with a plastic case to store them. The extended aluminum magazine tube has a threaded cap and a knurled aluminum connector which makes it easy to take apart for cleaning. The magazine holds up to nine 2 ¾" shells with one in the chamber.
This shotgun has been outfitted with a set of slim profile stocks with molded in texturing along the forend and grip for improved purchase.  The forend features a short, curved extension which both complements and protects the receiver at the loading port. The shoulder stock is capped off with a soft-textured rubber recoil pad which works well to cushion the shoulder against felt recoil.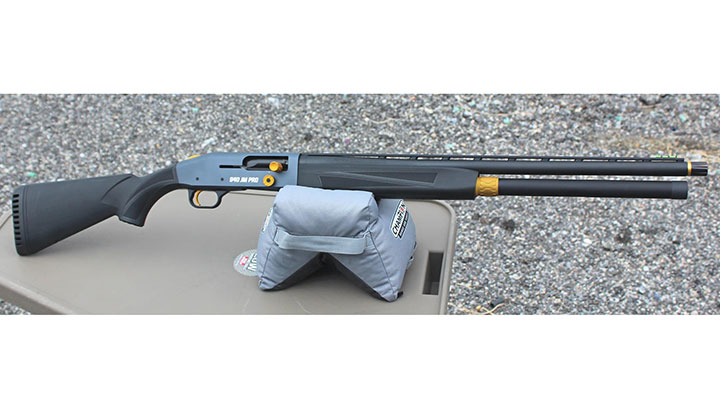 At the heart of the 940 JM Pro is a durable aluminum receiver with a grooved top that's been drilled and tapped for a scope mount. This feature will come in handy for those who choose to attach a red-dot optic. You won't find any polymer used in and around the receiver. All of the controls are made from aluminum as is the trigger housing. The bolt handle and bolt-release button, both of which are on the right side of the receiver, are oversized with stylized texturing. The tang mounted safety slider is easily operated right or left handed.
The beveled loading port, bright-orange aluminum magazine follower and the shell elevator have all been configured for quick reloads, including quad loads. Inside the rounded trigger guard is a small pin which acts as a visible and tactile cocked hammer indicator. The pin retracts into the trigger guard to indicate that the bolt needs to be cycled to reset the hammer. The smooth faced single-stage trigger exhibited a clean break with a 4-lb., 13-oz., trigger pull.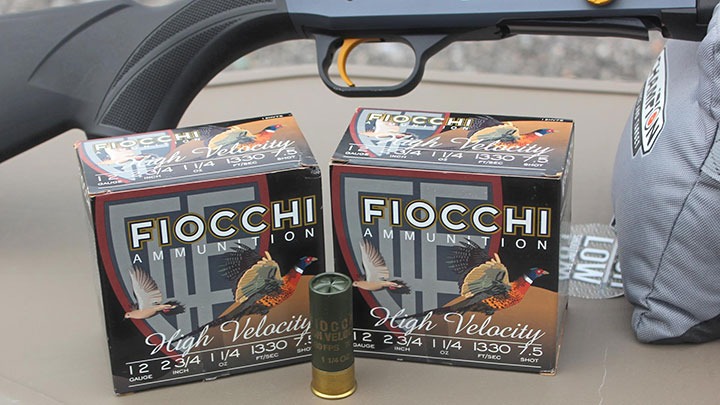 At the range the 940 JM Pro's handling proved to be just as good as I hoped it would be. It cycled flawlessly with all of the 2 ¾" shot shells tested. The majority of shells fired were Fiocchi USA High Velocity bird shot loads launching 1.25-oz. of 7.5 size lead pellets at a listed velocity of 1,330 f.p.s. This load is on the heavy side for a competition platform but the gun's action and recoil pad soaked up the felt recoil nicely. A pattern check at 20 yds. using a grease board and the provided Modified-size choke showed that the pattern fit comfortably within the board's 30" diameter ring.
The Mossberg 940 JM Pro 12 gauge three-gun shotgun is a ready to use competition platform for seasoned participants or those who are new to the sport that want to skip an expensive trip to the gunsmith. This shotgun is quick loading, fast handling and enjoyable to work with. In fact, it won the NASGW/POMA 2020 Caliber Award for Best New Shotgun. It would be a shame to keep all of the improvements the 940 represents to just three-gun competition since many of them would be handy in other endeavors as well. Thankfully that won't be the case. The JM Pro version of the 940 is just the first in a series which will include field and defensive models.
Specifications:
Manufacturer: O.F. Mossberg & Sons
Model: 940 JM Pro (#85111)
Action Type: gas-operated, semi-automatic shotgun
Chambering: 12-ga., 2 ¾" and 3" shells
Receiver: hard-anodized aluminum, drilled-and-tapped for optics
Barrel: 24" vented rib, smooth bore
Magazine: tubular, matte black, 
Front Sight: HIVIZ fiber-optic, interchangeable
Trigger Guard: aluminum
Safety: tang-mounted slider, metallic
Fore-end: checkered black polymer
Buttstock: checkered black polymer
Recoil Pad: textured and vented black rubber
Drop at Comb: 1.35"
Drop at Heel: 2.15"
Length of Pull: adjustable, 13"-14.25" using provided spacers
Choke: interchangeable Briley extended, M and IC provided
Overall Length: 44.75"
Trigger Pull: 4-lb., 13-oz. (as tested)
Weight: 7 lbs., 11 ozs., unloaded
Accessories: 3 Choke Set with Case, Stock Spacer Set, Front Sight Light Pipe Set, Lock, Owner's Manual
MSRP: $1,078