Support NRA American Rifleman
DONATE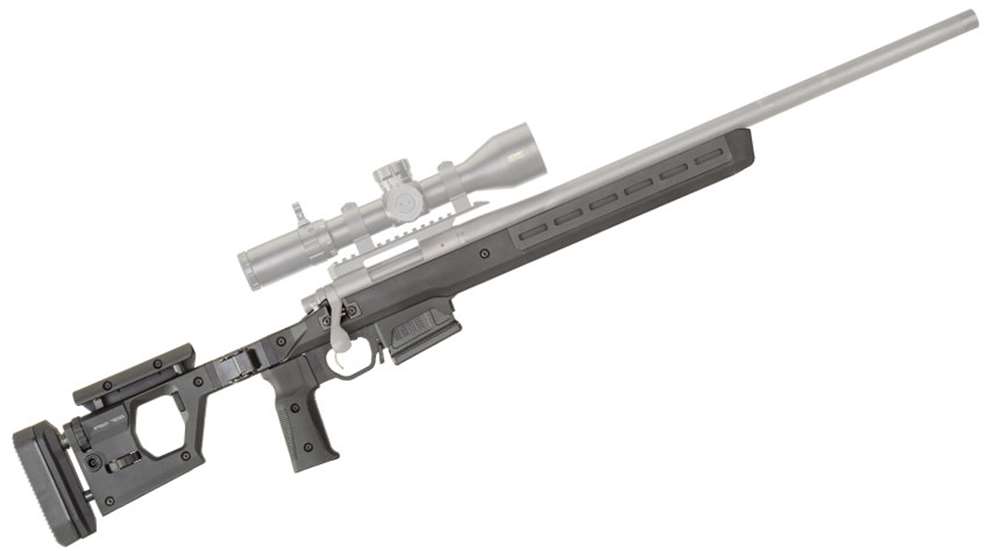 The popularity of precision rifle shooting for competition has spurred development of equipment that has heavily influenced the tactical and hunting markets as well. Rifles for such pursuits are almost exclusively bolt-actions based on the Remington 700 pattern, and stocks are typically of conventional style in fiberglass or carbon-fiber, or of chassis style in machined aluminum. Magpul has entered the market with a stock that marries a billet-aluminum skeleton to molded polymer outer panels. Similar in construction to its previously released Hunter series stocks, the new Pro 700 stock is a much more adaptable and feature-rich design.
Said to be four years in development, the Pro 700 is currently available only in short-action length, but doubtless a long-action version will be forthcoming. A fixed version of the stock is also available, and optional accessories to fit both include a Night Vision Mount and adapters to convert the fixed stock into a folder and vice versa. Our sample weighed in at 5 lbs., 7 ozs., and came with two grips and a single five-round PMAG magazine.
The stock's construction consists of a machined aluminum bedding chassis—with a V-shaped cross section, a recoil lug recess and action screw passages where it meets the receiver—and bolted-on, injection-molded polymer panels. At its rear, the chassis is bolted to the cast-steel hinge assembly, which is reversible, and a fully adjustable buttstock capped with a rubber pad. Flush-fitting, integrated aluminum rails with machined M-Lok slots run nearly the entire length of the fore-end at the 3-, 6- and 9-o'clock positions. A cast-steel plate recessed for the bolt handle can be swapped out, simply by removing two button-head machine screws, with a similar fitting on the reverse side that contains a non-rotating, push-button sling swivel socket. That feature allows the stock to be re-configured for either left- or right-hand actions.
The hinge mechanism, as well, is reversed by simply removing four Allen head cap screws and turning it end-for-end. Its recessed, serrated, 1/2"-square release button is easily depressed with the thumb, and spring-loaded pins tension, but do not lock, the stock in the folded position. In either case, a recess in the buttstock clears the bolt handle and knob, allowing it to lie completely flat against the front portion of the stock. Fully extended, the stock locks up firmly. At its minimum length of pull, it measures 32.7" overall and is 1.86" at its widest point. Folded, it measures just 23.5".
We found the stock's adjustments to be easy to effect and capable of accommodating a variety of shooters' differing physical features. They include: tool-free buttstock comb-height and length-of-pull adjustments, the latter being 13.25" to 15.125", by way of grooved metal knobs; three fore-and-aft cheek riser positions; and a choice of clamshell-style grips attached with dual cap screws—one of which is nearly vertical and the other angled in a style similar to that of an AR. Several staffers with completely different builds were able to attain a comfortable hold on a scoped Remington Model 700 barreled action fit into it. The stock's integrated AICS-pattern polymer magazine well accepts most such units, including Magpul's five- and 10-round PMAGs, and an enlarged trigger guard and generous bilateral magazine-release paddle at its front accommodate even gloved hands.
No accuracy testing was conducted, as it was decided that the stock's generous barrel channel and precision-machined aluminum bedding block are unlikely to negatively affect a properly torqued action. We did note that the block's recoil-lug recess is quite generous and may benefit from an application of bedding compound for a precise fit with specific actions.
While its price and weight are not insignificant, the Magpul Pro 700 is well-made and takes full advantage of the company's expertise in design and manufacturing, offering the discriminating user a full range of adjustments and capabilities. MSRP: $1,000. Contact: Magpul Industries Corp.; (877) 462-4785; magpul.com.