by
posted on January 13, 2017
Support NRA American Rifleman
DONATE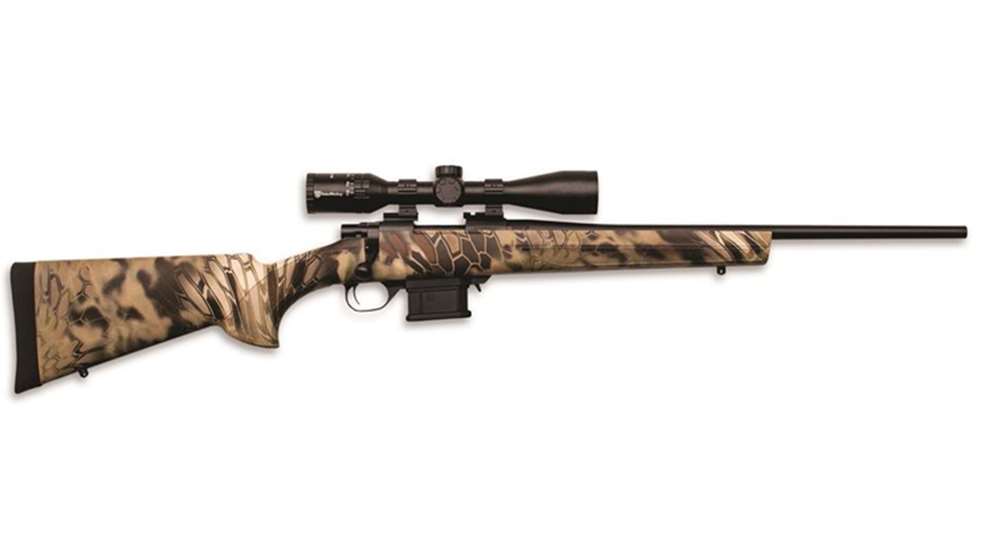 Sometimes a cartridge becomes so strongly associated with a particular platform that folks think of the two of them as a single unit sharing the same qualities instead of separate entities. This seems to be the case with the 7.62x39 mm, most famously known as the round fired by the AK-47. The AK has a reputation for spray-and-pray accuracy which has, in turn, rubbed off to a degree onto the round it fires. However, a change in platform type can reveal cartridge performance characteristics that may not have been appreciated before.
That's why I immediately jumped on board when I learned that Howa, whose products are distributed here in the U.S. by Legacy Sports International, was going to offer the distinctive 1500 series Mini Bolt chambered in 7.62x39 mm. Founded in 1907, this Japanese gun manufacturing company has a long history of producing top quality bolt-action hunting and target rifles along with filling military contracts. I've wanted to work with a Howa rifle for some time now. Testing this new model was an opportunity to satisfy my curiosity on two fronts with a single range test.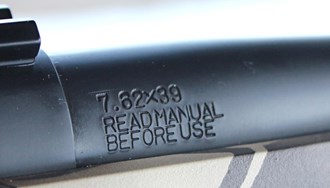 The Howa Mini Bolt is unique in that it offers one of the shortest, lightest bolts on the center-fire market. The typical long-action bolt is 7.4" long and weighs around 15 ozs. while short-action bolts are 6.9" long with a weight of about 13 ozs. The Mini Bolt is just 6" long with a weight of 10.2 ozs. Reducing the bolt's mass and length to suit shorter cartridges allows the bolt to be cycled more quickly.
The Mini Bolt's action, barrel and trigger are constructed of matte-blued carbon steel. The single-piece trigger guard, magazine well, magazine release lever and removable 5-round box magazine are molded black polymer. As of this writing, Howa offers three barrel contours for this rifle including a 20" long #1 lightweight, 22" long #2 standard hunting contour and a 20" #6 heavy barrel. I went with the #6 option because it offers a high level of barrel rigidity (for improved accuracy) without adding too much weight to the rifle. The bore diameter of the target crowned barrel is .311" with a 1:9.45" right-handed twist and four-groove rifling.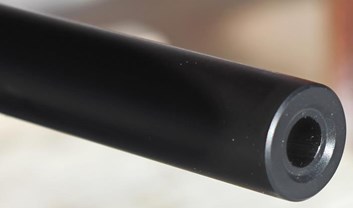 The rifle's external controls are easy to operate thanks to an intuitive design and proper fitting at the factory. The angled, round knob bolt handle rests close to the stock on the right side while leaving plenty of room to grasp it properly. The large, rounded cocked bolt indicator located at the rear of the bolt assembly is clearly visible with a quick glance down from the scope. If that spot is empty, the bolt needs to be cycled.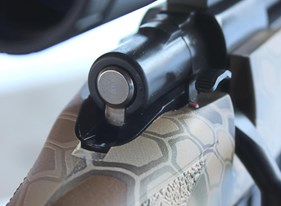 The thumb-operated safety lever is located on top of the stock just behind the bolt handle on the right with a bolt-release lever located on the left. The safety is pressed forward, toward the muzzle, into the Fire position and back into the Safe position. The bolt can be cycled with the safety engaged. 
The short magazine release lever is cleverly placed in front of the magazine. Reaching up to grasp the magazine with the support hand automatically places the pointer finger on that lever. Taking a hold of the magazine releases it at the same time. It's a fast and effortless system that should come in very handy when a quick reload is required.
The two-stage trigger exhibited a target-grade trigger pull right out of the box without any need to break it in. After a short, smooth feather-light take up it broke cleanly with 2 lbs 9.8 oz. of pressure. It had the kind of feel I would expect to find in an expensive aftermarket upgrade.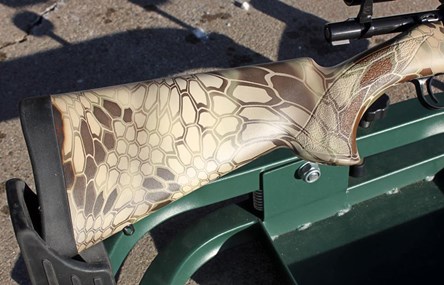 The Howa logo fixed shoulder stocks are manufactured for the company by HTI. Providing a 13.75" length of pull (LOP), stock finishes include rubber over-molded options in OD Green or black, or hard surface composite models with dip applied Multicam or Kryptek Highlander camouflage patterns. Features include front and rear sling swivels, a comfortable pistol grip and a thick, pliable shock absorbent recoil pad.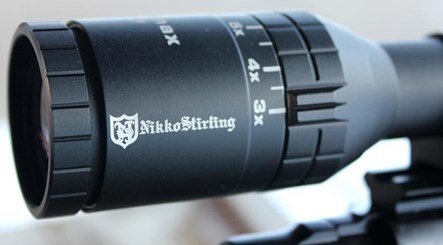 The rifle tested was the Highlander stock and optic package which includes the Kryptek pattern stock and a Nikko Stirling wide angle lens Panamax 3-9x40 scope with rings and bases. Just add gun oil and ammo and you're ready to go. The total package, ready to shoot with the optic installed and an empty magazine inserted, weighed in at 7 lbs. 9 oz.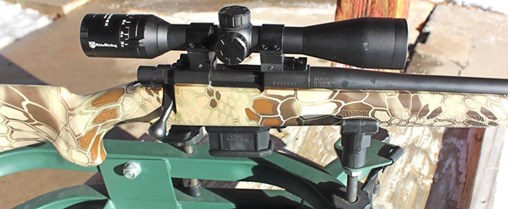 At the range, the Howa Mini Bolt proved to be the bolt-action shooting equivalent of curling up next to a warm fire with a good book. The rifle would shoulder and swing easily during standing shots. It had that just right, natural extension of the body feel to it. The view through the Panamax scope was clear, bright and precise. All of the controls worked smoothly and properly. There were no hang ups or hiccups of any kind. The rifle cycled steel and brass cased ammunition from the magazine without complaint. And the felt recoil produced by the test ammunition was moderate at most. Younger, small-framed and less experienced shooters will find this rifle comfortable to use. 
Some folks may question the wisdom of using the battle proven 7.62x39 mm for hunting. However, when it's topped off with a .30-cal. 123-gr. bullet and loaded to a nominal muzzle velocity of around 2400 fps, it yields terminal performance levels comparable to the venerable .30-30 Winchester. This makes it a good fit for taking medium-sized game while producing moderate levels of felt recoil. Because of the popularity of the AK-pattern rifle these days, this ammunition is plentiful, affordable and available in several varieties ranging from imported bulk surplus to premium American made hunting loads. If you already own an AK, then an ammunition compatible hunting rifle is a great way to reduce ammunition costs even more. This rifle and ammunition combination also drops neatly into the emergency preparedness bolt gun category I wrote about last year.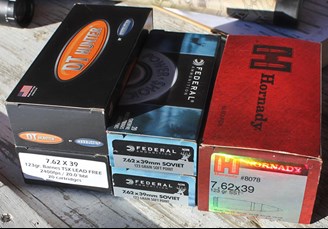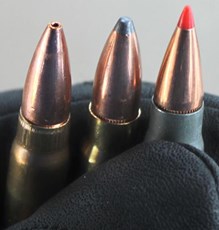 As I had hoped, firing the 7.62x39 mm from a quality hunting rifle produced respectable levels of accuracy. For bench-rested accuracy testing at 100 yards, five 5-shot groups were fired using three high-quality hunting loads. Hornady's steel cased 123-gr. SST ballistic tip produced a best single group of 1.02" with an average of 1.07". Double Tap's Hunter load topped with 123-gr. Barnes TSX all-copper hollow points yielded a best group of 0.84" with an average of 0.92. The best performer of the test was the affordably priced Federal Premium's blue box 123-gr. Power Shok soft points. This load produced a best single group of 0.70" with an average of 0.90".
Working with this Howa 1500 Mini Bolt rifle was one of the more enjoyable out-of-the-box bolt action rifle experiences I've had. The Mini Bolt's short throw was smooth and intuitive. The 20" #6 barrel balanced nicely off the bench. The trigger was superb, recoil was moderate and the accuracy was better than hoped for. Although I've not worked with a Howa before now, this modern hunting rifle felt like that trusty ol' bolt gun that grandpa shot all his life and wouldn't trade for love or money because it was an ideal fit for him. As for the 7.62x39 mm cartridge, quality loads have a level of accuracy potential that hunters will find useful in the field.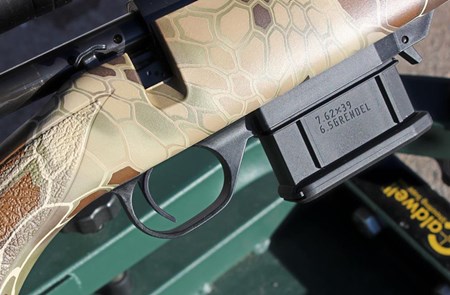 Several good, budget-friendly bolt guns are on the market these days but the Howa is a great rifle that looks, feels and performs like those models that have significantly larger price tags. With so many barrel and package options available for each Howa model in the catalog, it's easy to find that just-right fit. The Mini Bolt is also available chambered in .204 Ruger, .222 Rem., .223 Rem. and 6.5 Grendel.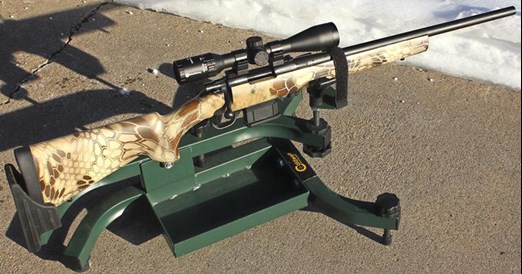 Specifications
Manufacturer: Howa
Distributor: Legacy Sports International
Model: 1500 Mini Bolt
Action: Bolt Action
Caliber: 7.62x39 mm
Finish: Matte Black Carbon Steel
Stock: HTI Composite with Recoil Pad
Stock Finish: Kryptek Highlander Camouflage
Sling Swivel Studs: Yes
Sights: None
Optic: Nikko Stirling Panamax 3-9x40, Rings and Bases Included
Barrel: 20" #6 Heavy Barrel
Overall Length: 39.25"
Length of Pull (LOP): 13.75"
Weight: 7 lbs. 9 oz. with Optic and Empty Magazine
Capacity: 5+1 Rounds
Twist: 1:9.45" RH
Rifle Grooves: 4
Accessories: One Magazine, Optics Package, Owner's Manual
MSRP: $608 to $855 Depending on Package Selected