Support NRA American Rifleman
DONATE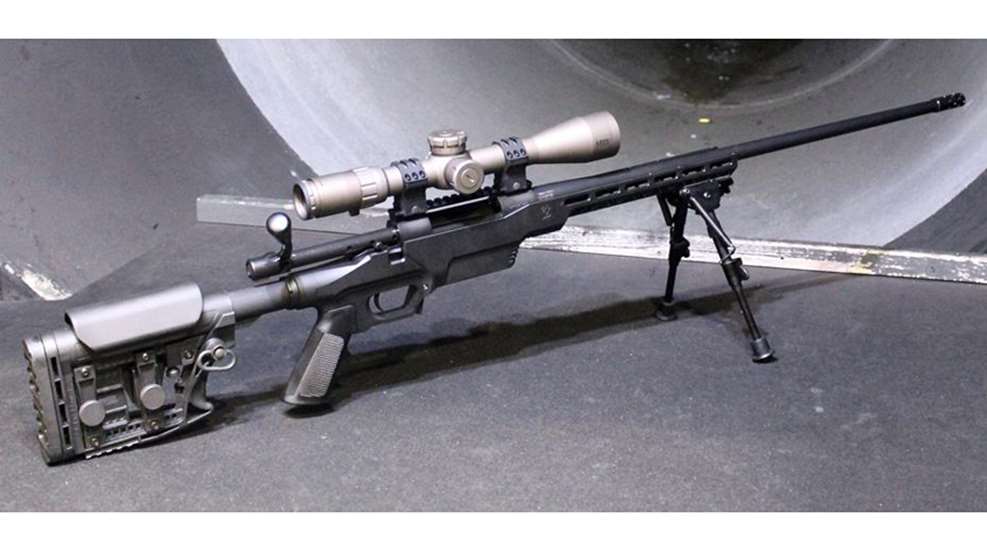 Things don't always turn out as planned. But in some cases, that can be an improvement. This is especially true when you're working with a company that has a massive catalog of components like Brownells.
I enjoy working on at-home firearm build projects because they are a great way to get the features you want while reducing out-of-pocket expenses. For the last couple of years I've been thinking about building a bolt-action rifle suitable for hunting big game in my region of the country, in particular, Rocky Mountain elk. With that purpose in mind, I needed to choose which hunting cartridge to work with.

When I mentioned this elk gun project to my two older brothers (who have successfully kept their family freezers stocked with elk for many years), they suggested that this would be a good opportunity to take a closer look at the cartridge they both prefer, namely, the 7 mm Rem. Mag. I did quite a bit of digging into the online literature available for elk-hunting enthusiasts. While there will never be a consensus as to which is the "best" elk cartridge, the 7 mm Rem. Mag. kept showing up time and again as a top choice that gets the job done. With the 7 mm. Rem. Mag. cartridge in hand, so to speak, it was time to pick a platform.

I was considering something along the lines of a Remington 700 with a traditional sporting stock. However, my plans to go the Remington route evaporated when I learned that Brownells offers Howa 1500 factory-barreled actions. I fell in love with the glassy-smooth bolt and clean controls of Howa offerings two years ago with a test of the company's Mini Bolt. I've been chomping at the bit to work with one again. But building a rifle using a Howa action wasn't even on my radar because I thought the only way to get one in the U.S. would be to purchase a complete rifle through Legacy Sports International. But as it turns out, Brownells is an exclusive distributor of Howa barreled actions, which is why you won't find them anywhere else.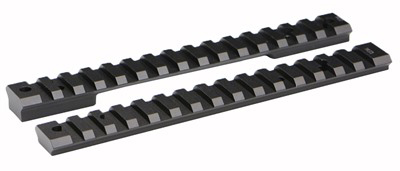 I contacted the good folks at Brownells to take advantage of the company's conveniently broad one-stop-shopping components catalog (every part that went into this rifle can be found there). As we reviewed the options that were available, including some I had not considered, the original plan for this project continued to evolve.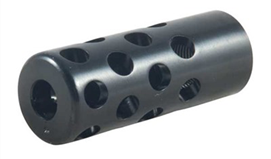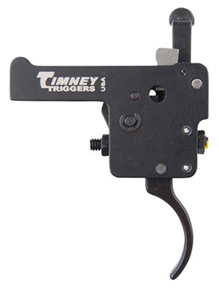 We started off by talking about the Howa barreled receiver I had in mind. That was a fine choice, but would I be interested in a longer barrel with a heavier profile and a threaded muzzle? My answer was yes, I would. As for drop-in shoulder-stock options, there were plenty of wood or polymer models from which to choose. But did I know that Brownells' BRN-1 precision chassis system is available for the Howa 1500 Long Action? Oh, really? That was new information. I went with the chassis instead.

In the end, what started out as a traditional, wood-stocked Remington 700 hunting rifle had morphed into a Howa 1500 precision chassis bolt-action. Was it a high-quality long-range bench rifle or a cutting-edge hybrid elk gun? Whatever you want to call it, I couldn't wait to build and shoot it! Here's more information about the components that went into the build.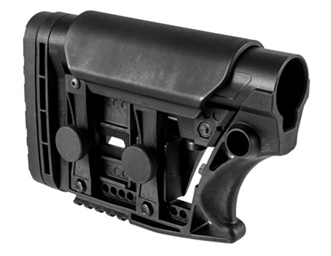 For those who are not familiar with Howa, it's a Japanese manufacturing company which has been in business for over a century. Construction vehicles, military-grade weaponry, industrial-machining tools and hunting rifles, this company has done it all. Howa broke into the American sporting arms market back in the late 1960s and continues to produce top-notch rifles at competitive prices.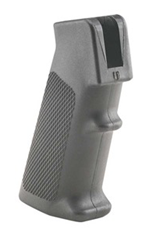 The Howa 1500 semi-heavy barreled action in 7 mm Rem. Mag. is built around a forged-steel receiver with a matte-black finish. All the heavy lifting and gunsmithing are completed at the factory, including the head spacing of the target-grade barrel, so it arrives ready to use right out of the box. The one-piece, two-lug bolt assembly is fitted with an M16-type extractor, a rounded cocked firing-pin indicator and a threaded bolt-handle knob which can be traded out for other models. The 26" barrel's muzzle is threaded at 1/2-28" TPI and fitted with a knurled thread protector. This complete action assembly is only two components away (stock and scope mount) from an entire high-quality rifle for less than $500. That's not a bad start at all.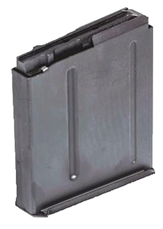 If you want to go the traditional sporting-stock route, this action arrives with a Howa two-stage trigger group, three-round internal magazine assembly, a hinged floor plate and the two mounting bolts. To bench test this action's ready-to-go factory configuration, it was installed into a Boyds Featherweight Thumbhole laminated wood stock. In case you're wondering, the features of the stock shown here include a conservative nutmeg laminate wood (light and dark browns), a standard finish, 0.5" recoil pad and laser-engraved checkering along the underside of the fore-end and around the thumbhole grip.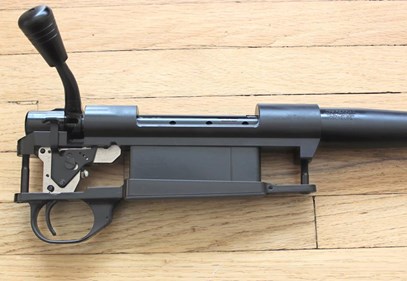 Remove the two floorplate bolts, insert the action in the stock, insert the magazine and floorplate, and then tighten the bolts. That's it. The Howa components fit neatly into the Boyds stock without any modification or issues. It took about five minutes to complete. Just slap on a scope mount and you're ready to rumble. With the wood stock bench check successfully completed, the action was removed and the internal magazine and floor plate set aside since they are not required for the chassis build.

Brownells exclusive BRN-1 stripped precision chassis is made by Modular Driven Technologies (MDT) in both black and FDE Cerakote finishes. The chassis is a durable, no-polymer design milled from 6061 aluminum with a V-shaped bedding system that ensures the barrel is free-floated for improved accuracy. The handguard features right and left side QD-sling swivel ports, a front-mounted sling swivel stud and M-Lok accessory rail slots at the 3-, 6- and 9-o'clock positions. An AR grip screw and both receiver mounting bolts are provided.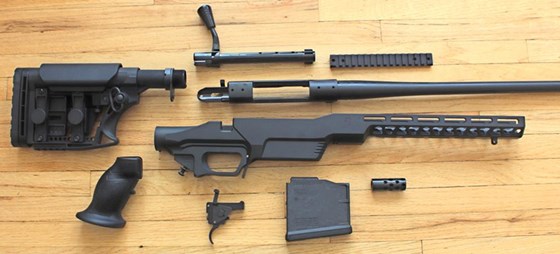 A generously sized integral trigger guard rests in between an extended magazine release and the AR-15 pistol-grip mounting point. The magazine well accepts single-stack AICS type magazines sized for long-action configurations. The rear of the receiver is threaded for an AR type six-position M4 buffer tube. The tube is locked in place with an AR castle nut and a small receiver-mounted locking nut.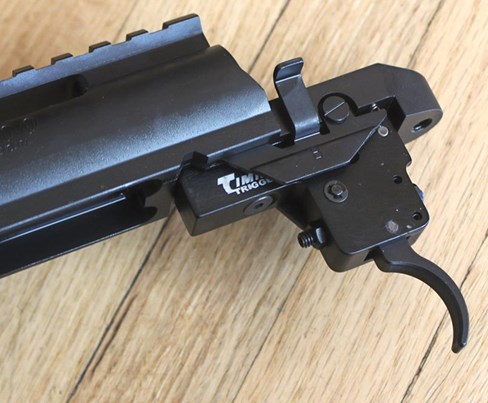 As you'll see in the build photos, I originally planned to install Luth-AR's excellent Chubby target grip which fits me like a glove when attached to AR-15 rifles. However, it didn't fit my hand very well when mounted to the BRN-1 chassis. The angle when the grip meets the chassis was just too tight. So the Chubby grip was relegated to AR-15 duty and I proceeded to try out a few other grips. In the end, the best fit for my hands with this chassis was none other than your friend and mine, the standard A2 polymer grip (the one that usually comes with an AR-15 lower parts kit). It's inexpensive and comfortable to work with, so no complaints.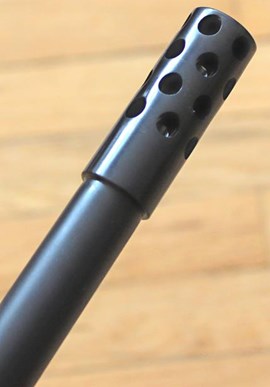 The chassis was completed with the installation of one of my favorite AR shoulder stocks, the Luth-AR MBA3, which is loaded with features including a height-adjustable cheek riser, fine tuning length adjustments for the buttplate and a no-rattle adjustment screw. Three more accessories were added to the action. The factory trigger group was traded out for a Timney Trigger adjustable Howa 1500 model with a blued steel bow trigger. This group's trigger pull can be adjusted from 1.5 to 4 lbs. For this review, it was tuned to 3 lbs. 8 ozs. The receiver was topped with a Warne Howa 1500 Picatiny/Weaver 0 m.o.a. scope mount, and a Gentry Custom Quiet Muzzle Brake was threaded onto the muzzle.

Installing the tricked-out action into the finished chassis was even simpler it was with the wood stock. There's no floor plate or internal magazine to massage into place. Place the action in the chassis, tighten the two receiver mounting screws and presto! The rifle is complete.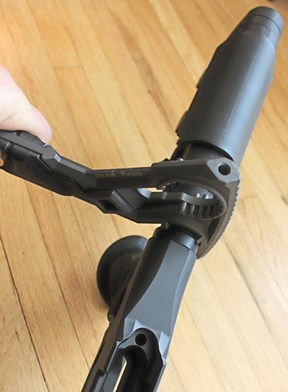 As with all mixed-component builds, this project presented a few "learning opportunities" along the way. I already mentioned the swapping of the grips. I also planned to use Luth-AR's fixed shoulder stock but it doesn't fit the BRN-1 chassis. Magpul's five-round PMAG AC L AICS Long Action magazines (shown in the build photos) would not stay locked into the magazine well during recoil. They would drop down just enough to prevent the next round in the magazine from chambering. There's nothing wrong with the magazines or the chassis, they simply do not fit together. However, MDT's five-round AR .308 Win./.300 Win. Mag. steel magazines locked tightly in place and fed flawlessly.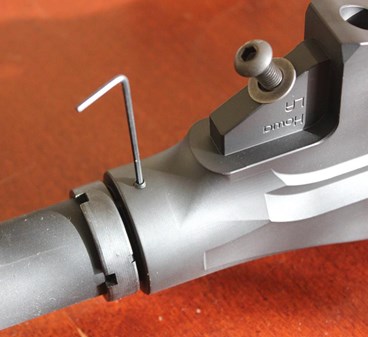 Usually when I upgrade a trigger it's because the gun desperately needs it. In this case, it was more a matter of personal preference. The Howa factory two-stage trigger had a light take up and broke cleanly with 3 lbs. 3 ozs. of trigger pull. In other words, there was nothing "wrong" with it. While I have yet to ever regret investing in a Timney trigger, those home builders who choose to stick with the factory option will not be cheating themselves out of a positive shooting experience.

With a finished overall length of 45.75" to 48.75" and an unloaded weight of 9 lbs. 10 ozs., this version of the Howa 1500 does not qualify as a purse gun. However, the chassis system does not add as much weight as some might expect. When the action was installed in the Boyds wood stock, the rifle was one pound lighter than the chassis configuration. But the tradeoff for that extra pound includes a +2 increase in ammunition capacity, faster reloading times with the removable magazines and a fully adjustable shoulder stock.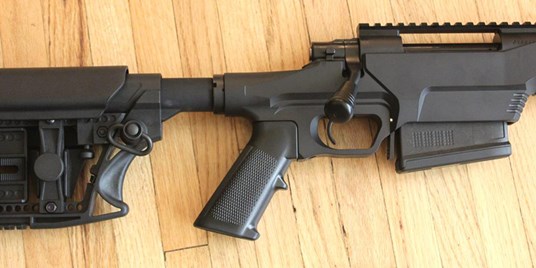 After the chassis rifle passed all bench checks with A+ grades, it was test fired at the TNT Guns & Range subterranean 100-yard facility. The controls operated properly with a clean, tight feel throughout. The bolt felt especially smooth as it cycled.  There were no hang-ups or malfunctions, mechanical or ammunition related, once the MDT magazines were in place. Testing was conducted using a Bushnell Elite Tactical LRTS 4.5-18X 44 mm scope with a G3 reticle and Weaver Tactical 34 mm High 6-Hole Picatinny rings. Five-shot group accuracy testing was conducted from a benchrest at 100 yards.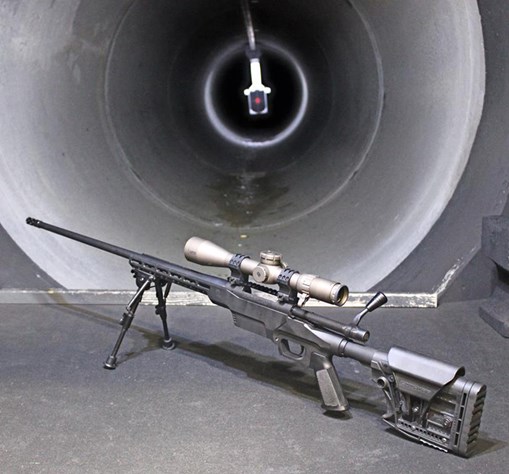 Federal Premium Ammunition is a company that understands the performance qualities hunters are looking for in their ammunition. I was confident that I would get positive results with Federal's big game 7 mm Rem. Mag. offerings and I wasn't disappointed. The company's 160-gr. Barnes TSX all-copper hollow-point load provides large-diameter expansion with close to 100 percent weight retention. This load printed a best single five-shot group of 1.24" with a five-group average of 1.35".

The 155-gr. Edge TLR round is topped with a Slipstream polymer tip. This bullet's patented hollow core expands at velocities that are 200 f.p.s. slower than other polymer-tipped bullets, allowing for effective results at greater distances. It tapped out a best group of 0.85" with an average of 0.94". The tightest groups of the day were produced using the boat-tail 140-gr. Trophy Bonded polymer tip load that features a bone-breaking solid copper shank. The smallest group was 0.70" with an average of 0.89".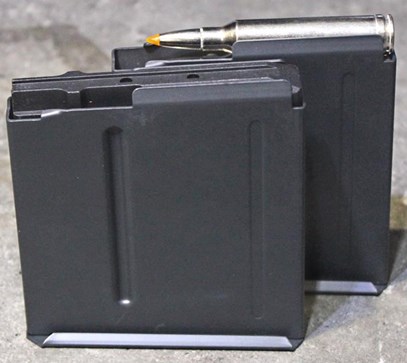 Brownells made organizing and building this Howa 1500 chassis rifle about as easy as a home build can be. This is by far one of the simplest and most rewarding builds I've had the pleasure to conduct. Just twist a few screws, follow a few instructions and the rifle you've been looking for will be ready to shoot for less than what it would cost to buy it off the rack. I like every single feature of this rifle, and the performance is spot-on for its intended applications.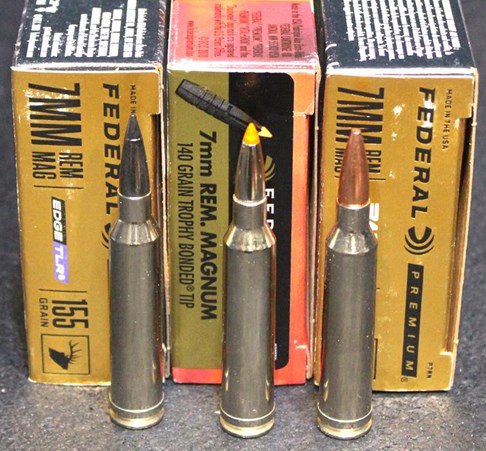 The Howa 1500 action is available from Brownells in a variety of configurations, barrel lengths and finishes. Caliber options include 6.5 Creedmoor, .270 Win., 7 mm-08 Rem. and .300 Win. Mag. to name just a few. The Brownells MDT BRN-1 chassis is also available as an upgrade for Howa Short and Mini actions, Remington 700, Ruger American and Tikka T3X rifles.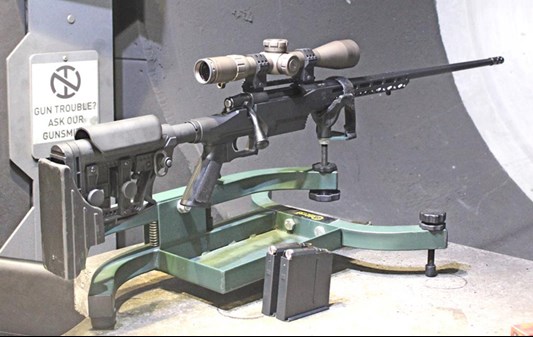 Specifications:
Component Provider: Brownells
Model: At-Home Custom Build
Action: Bolt-Action Rifle
Caliber: 7 mm Rem. Mag.
Complete Barreled Action: Howa 1500 Long-Action (100-026-420WB) $481.99
Action Finish: Blued Carbon Steel, Forged Receiver
Bolt: One Piece, Dual Locking Lugs
Barrel: 26" Hammer Forged #4 Semi-Heavy, Threaded
Magazine: Internal with Hinged Floorplate and Mounting Hardware
Factory Trigger Group: Two-Stage, Three-Postion Safety, 3-lbs. 3-ozs. (As Tested)
Muzzle Threading: 1/2-28" TPI
Muzzle Device: Gentry Custom Quiet Muzzle Brake (339-101-284WB) $116.99
Trigger Upgrade: Timney Triggers Howa 1500, Blued (883-000-056WB ) $152.99
Tinmey Trigger Pull: Adjustable from 1.5 to 4 lbs., 3 lbs. 8 ozs. (as tested)
Sights: None
Scope Mount: Warne Howa 1500 Picatiny/Weaver 0 MOA (947-000-515WB) $59.99
Stripped Chassis: Brownells MDT BRN-1 Precision Chassis (100-820-005WB) $449
Chassis Finish: Milled 6061 Aluminum, Matte Black Cerakote
Shoulder Stock: Luth-AR MBA3 6-Position Adjustable (100-024-566WB) $150.35
Buffer Tube: Brownells Mil-Spec AR-15/M16 6-Position (080-001-046WB) $25.99
Castle Nut: Luth-AR MBA-3/MBA-4 Carbine Steel Castle Nut (100-028-004WB) $4.69
AR Pistol Grip: Luth-AR AR-15 A2 Pistol Grip (100-028-040WB) $4.18
Grip Screw: Included with BRN-1 Chassis
Magazine: MDT Long-Action 5-Round 300 Win. Mag. (100-035-216WB ) $79.99
Overall Length: 45.75" to 48.75"
Length of Pull (LOP): 11.50" to 14.50"
Weight: 9-lbs. 10-ozs. with Empty five-round Magazine, No Optic
Capacity:  5+1 Rounds
Twist: 1:9.5 RH
Rifle Grooves: Six
Build Package Suggested Retail: $1606.16 (Excluding Shipping, Taxes and Labor)

Optic: Bushnell Elite Tactical LRTS 4.5-18x44mm with G3 Reticle, Flat Dark Earth (ET45184GA) $1,499.99
Scope Mount: Weaver Tactical 34 mm High 6-Hole Picatinny Rings (99684) $109.95
Laminated Hardwood Stock: Boyds Featherweight Thumbhole Nutmeg Laminate with Factory Adjusted LOP and Checkering $226.95