by
posted on April 13, 2018
Support NRA American Rifleman
DONATE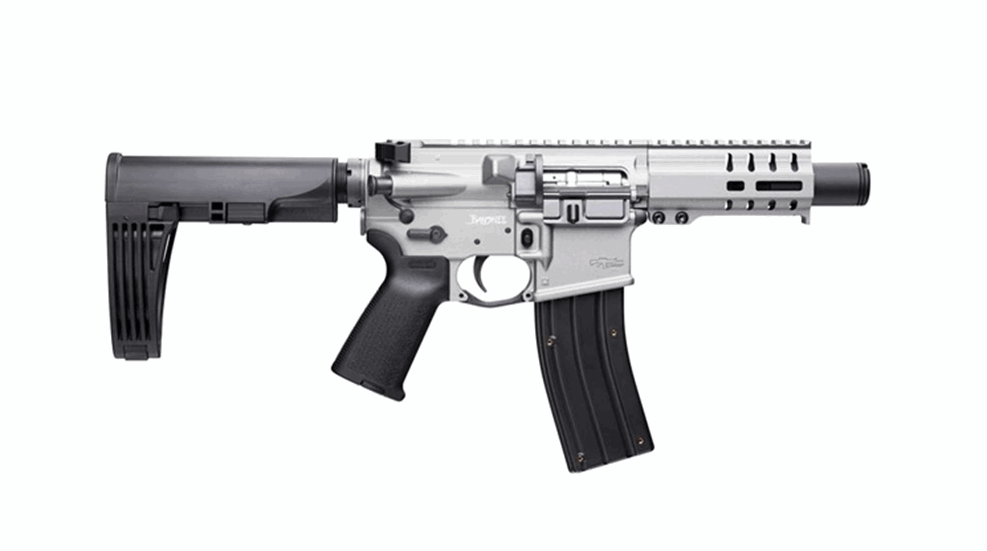 CMMG Inc. has just launched the new MK4 Banshee line of short-barrel, compact AR pistols and ATF-regulated Short Barrel Rifles (SBR). The line-up currently includes 8" barrel, gas-operated .300 BLK models fed by AR magazines, 5" barrel Radial Delayed Blowback operated .45 ACP and 9 mm models designed for Glock magazines and 4.5" barrel blowback-operated .22 LR configurations using 25-round CMMG 22ARC magazines.
The Banshees are available in a variety of CMMG's Premier Cerakote color options. With so many models to choose from, I opted to work with one that wasn't quite like anything I've tried before, the MK4 Banshee .22 LR pistol with a Stealth Gray Cerakote finish and an adjustable wrist brace.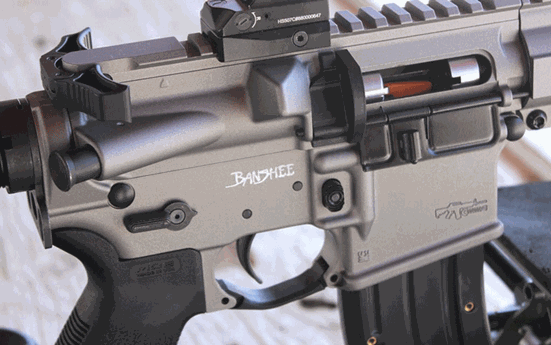 Unlike other companies, who use plastic bezels to give their standard rimfire semi-automatics an AR-like profile, CMMG builds actual ARs chambered for .22 LR. The rimfire modifications are found in the barrel, bolt assembly, dust cover and magazine. The rest of the pistol's components are typical of the company's MK4 series of firearms.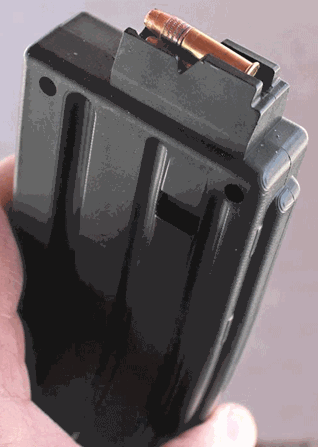 The forged M4-type flat top upper and milled billet lower are both constructed from 7075 T6 aluminum and fully compatible with mil-spec components. The lower assembly is fully kitted out for conversion to another AR-15 compatible caliber because it includes a standard buffer and recoil spring.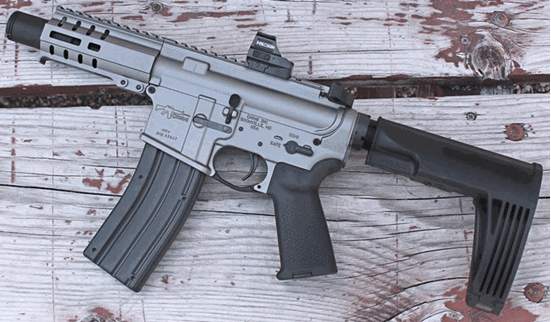 The 4.5" barrel's muzzle is threaded at 1/2x28 TPI to accept a variety of .223/5.56 compatible muzzle devices. The pistol arrives with a 2.75" long KAK Industry Slim Flash Can muzzle device installed. It has the benefits of being lightweight, focusing the muzzle blast forward to reduce concussion to the operator's ears and it extends past the end of the CMMG 4.5" free-float RKM4 M-LOK handguard. The Flash Can is easy to remove (without taking off the handguard) if the owner wishes to swap it out for a sound suppressor.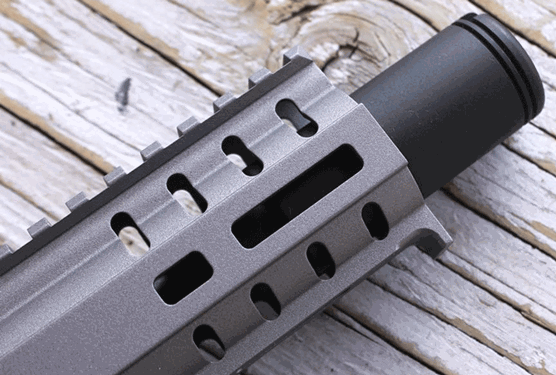 The blowback-operated, spring-powered bolt assembly of the Banshee's dedicated .22 LR upper is based on the company's popular rimfire conversion kit. Because the bolt is paired with a dedicated .22 LR barrel, the .223 chamber extension found in the kit is absent. The company's new ambidextrous aluminum charging handle upgrade ships as a standard feature with the Banshee models.
Although they serve no purpose on this particular model, a fully functional forward assist and bolt catch have been dutifully installed at the factory to support caliber conversions. The bright orange magazine follower locks the bolt open when the last round is fired. The bolt closes when the magazine is removed. The customized dust cover door has been trimmed at one end and fitted with a polymer brass deflector.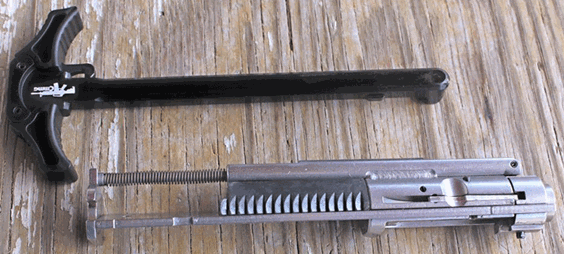 The remaining controls consist of a mil-spec magazine release button, a bilateral safety selector and CMMG's better-than-mil-spec single-stage trigger. The trigger is smooth and clean with a 5 lbs. 8 oz. trigger pull. The polymer MOE pistol grip and trigger guard are both made by Magpul. The buffer tube support plate provides dual single-point sling attachment loops.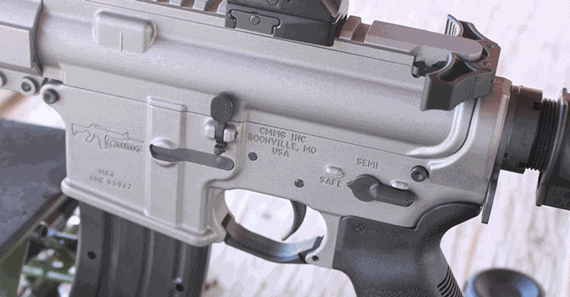 The Gear Head Works adjustable Tailhook Mod 2 buffer tube assembly with wrist brace is by far the most flexible wrist brace system I've worked with so far. Other wrist braces and supports are strapped to the forearm. These devices provide plenty of support for one-handed shooting but limit range of motion and aiming options.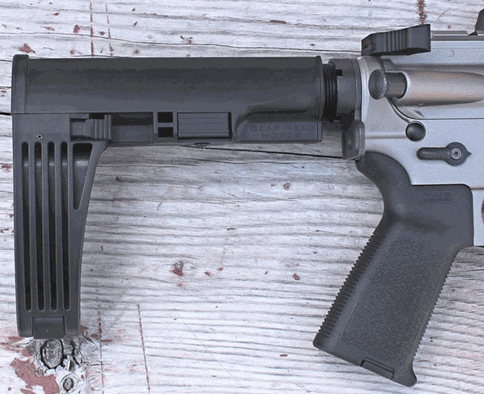 Instead of attaching to the forearm, the polymer Tailhook swings out to provide support along the inside and underside of the forearm. The typical smooth pistol-type buffer tube that allows other wrist braces to twist side to side has been replaced with a proprietary (not shoulder stock compatible) five-position tube. It keeps the brace vertical and allows for 2.5" worth of front-to-back adjustment in 0.5" increments.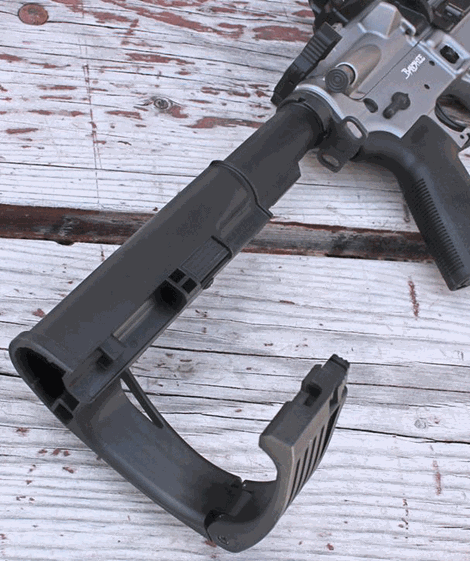 My experience with .22 pistols has shown that it usually takes some experimentation to find out which brands and loads of ammunition the gun is going to get along with. The Banshee did not exhibit the brand preferences that I've seen with some models. However, the pistol experienced some failures to feed when firing cartridges with listed velocities below 1,200 f.p.s. When the listed velocities were higher, they ran flawlessly. A few faulty primers cropped up among the practice grade loads, but that's a fairly typical occurrence with less expensive rimfire ammunition. 
Because the Banshee ships without sights, I installed a pistol-sized Holosun HS507C Micro solar-boosted red dot sight using the provided Picatinny compatible low profile rail mount. This sight is powered by a single CR2032 battery and Holosun's Solar Fails-Safe back up system with an open frame for unlimited eye relief.
The reticle has three settings including a 32 MOA ring with a 2 MOA dot, a 2 MOA dot only, or a 32 MOA ring only. The same LED projects all three reticle types so re-zeroing the sight is not necessary when switching between them. Reticle brightness is easily adjusted using the left-side control buttons. Additional features include a waterproof CNC-machined 7075 aluminum housing, 0.5 MOA click adjustments for height and windage, Shake Awake technology and a working battery life of 50,000 to 100,000 hours.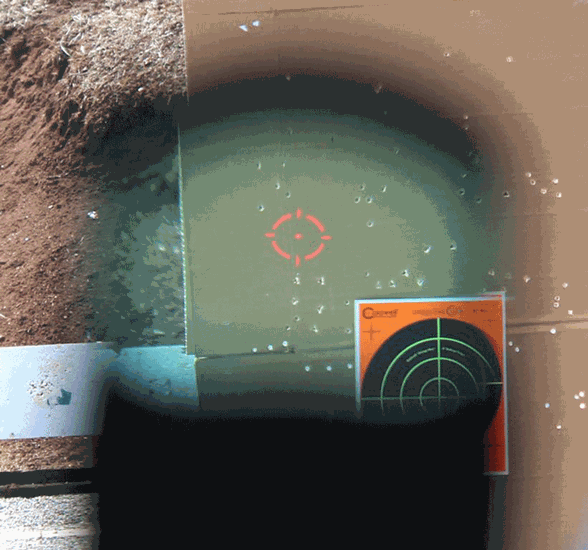 Trying several different positions with the Tailhook wrist brace in the course of informal testing, I found two that fit my shooting preferences. When shooting this relatively lightweight, low-recoil pistol with a traditional two-handed grip (both hands around the grip), the Tailhook was most comfortable in a partially extended position with the swing arm folded out and under my shooting hand forearm. With the support hand placed out at the magazine well, I closed the swing arm, placed the Tailhook in the fully extended position and cheeked it with the hinge just brushing my collar bone. Both of these approaches provided a just-right line of sight to work with the low profile Holosun optic. For those who would choose to shoulder the Tailhook (yes, it's legal to do so, for now) a taller optic mount would be required.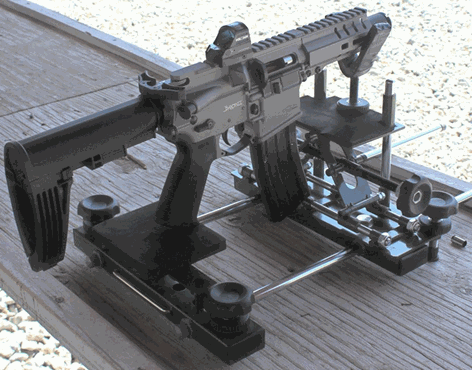 Because the Banshee is technically a 4.50" barrel rimfire pistol, formal accuracy testing was conducted at 25 yards from a benchrest using the Holosun optic. Working with various rifle-action pistols over the years, they've proven to be more accurate than traditional handguns in the same caliber with similar barrel lengths. My expectations were high, but Banshee didn't disappoint. A look back through previous reviews revealed what I believe to be the most accurate .22 rimfire handgun I've worked with up to this point, which is the 5.50" barrel Ruger Single-Ten revolver. It printed five-shot groups that hovered around both sides of the 2.25" mark at 25 yards.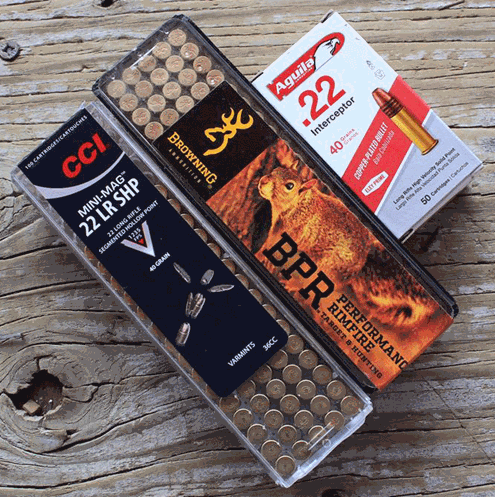 Firing five, five-shot groups with the Banshee using Aguila's Interceptor 40-gr. copper-plated flat points produced a best single group of 1.48" with a five-group average of 1.58". Browning's BPR 40-gr. copper-plated hollow points yielded a best group of 1.18" with an average of 1.28". The round that took home the gold was CCI's new Mini Mag SHP 40-gr. segmented copper-plated hollow point. It printed a best group of just 0.83" with an average of 0.91".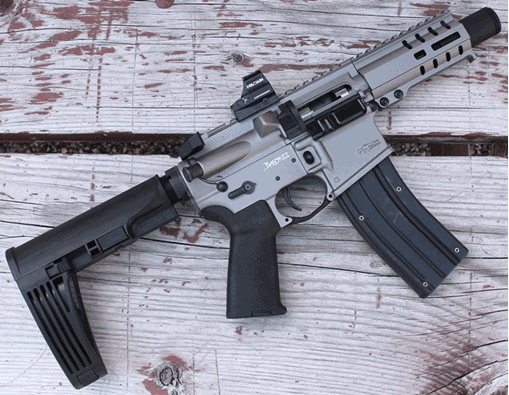 One of the several commendable attributes of CMMG Inc. as a gun company is the fact that the .22 LR cartridge is treated with the same respect as center-fire calibers. The MK4 Banshee is not an afterthought or casual plinker. It's a serious training tool with the same top-notch fit, finish and quality found throughout CMMG's various product lines. 
For a review of CMMG's Radial Delayed Blowback system, read Tested: CMMG Guard Pistol Caliber Carbines
For a review of CMMG's other rimfire products, read Three Awesome Uppers. 
Specifications:
Manufacturer: CMMG Inc.
Model: MK4 BANSHEE .22 LR Pistol, Shown with Stealth Gray Cerakote Finish
Action: Blowback-Operated Semi-Automatic
Caliber: .22 Long Rifle
Upper Receiver: M4-Type Flat Top Forged 7075 T6 Aluminum
Ejection Port Cover: Yes (Modified)
Forward Assist: Yes
Complete Bolt Assembly: CMMG Stainless Steel, Spring Operated
Charging Handle: Aluminum, Ambidextrous
Barrel: 4.5" Nitrided 4140 Chrome-moly Steel
Rifling: 1:16" RH
Grooves: 6
Muzzle Threading: 1/2x28 TPI
Muzzle Device: KAK Slim Flash Can
Gas Block: N/A
Gas Tube: N/A
Handguard: 4.5" Free Float CMMG RKM4, Integral Picatinny Optics Rail
Handguard Slots: M-LOK
Lower Receiver: Milled Billet 7075-T6 Aluminum
Trigger Guard: Magpul
Lower Parts: Mil-Spec
Safety Selector: Ambidextrous
Buffer Tube Plate: Ambidextrous Single-Point Sling Loops
Trigger Group: CMMG Single-Stage, Mil-Spec
Trigger Pull: 5 lbs. 8 oz. (As Tested)
Pistol Grip: Magpul MOE (MAG415)
Buffer Tube: Gearhead Works 5-Postion
Wrist Brace: Gear Head Works Adjustable Tailhook Mod 2
Sights: None
Magazine: 25-Round CMMG 22ARC
Capacity: 25+1 rounds
Overall Length: 20.75" to 23.25"
Weight: 4 lbs. 6.6 oz., Unloaded With No Magazine
Accessories: One Magazine, Owner's Manual
MSRP: $1,149.95 (Cerakote Finish Included) 
Optic: Holosun HS507C Solar Red Dot with Rail Mount $352.93