by
posted on July 14, 2016
Support NRA American Rifleman
DONATE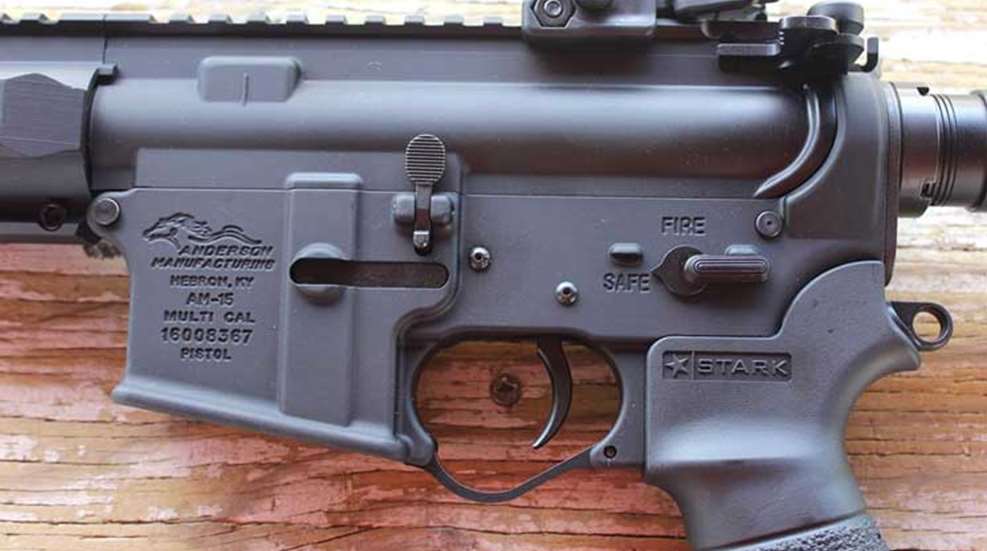 I recently had the opportunity to pit three home-built AR-15 pistols against each other in a head-to-head performance test at the range. Here's a closer look at a variety of top-notch components and upgrades, that played a role in the pistol tests, that are excellent options for improving home built AR-15 pistols, carbines and rifles:
Anderson Manufacturing Forger Lower Receivers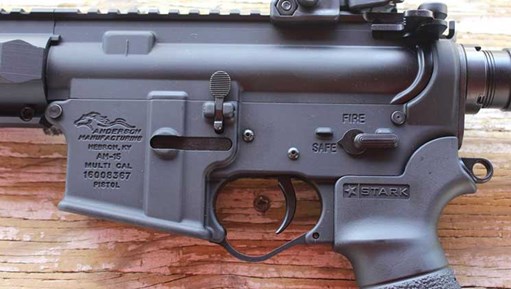 There's a good deal of online hype about which forged mil-spec 7075-T6 aluminum AR-15 lower receivers are the best to buy and build with. In truth, there are only a handful of manufacturers producing forged lowers. They subcontract their services out to other companies, producing identical lowers with different names and logos stamped into them. 
One company that actually makes their own lowers is Anderson Manufacturing. Some home builders question the quality of these receivers because of their low price. The reason they cost less is because there's no middle man involved. The Anderson lowers I've worked with have proved to be well-made with a properly applied matte black MIL-A-8625F hard anodized finish. Remember that stripped lowers, unlike other AR components, cannot be shipped to you from the manufacturer. They must be sent directly to a federally licensed dealer (FFL) and go through the same transfer process as a complete firearm. MSRP:  $52.49
Dead Air Armament Muzzle Accessories



Dead Air Armament's three-chamber Keymount Muzzle Brake not only works to reduce felt recoil for flatter shooting, it also features the Sandman series QD attachment system for use with Dead Air's Sandman-L or Sandman-S sound suppressors. If you're not ready to invest in a sound suppressor just yet, attaching the perforated, can-shaped Pyro Enhanced Muzzle Brake will boost the recoil reduction of the Keymount. The Pyro is manufactured from the same rugged materials as the suppressors and features a Cerakote finish. MSRP: Keymount Muzzle Brake $89, Pyro Enhanced Muzzle Brake $259
Ground Zero Precision Enhanced Fire Control Group (EFC)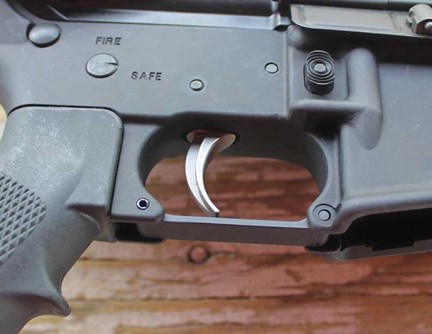 The Ground Zero Precision Enhanced Fire Control (EFC) Group is one of my favorite finds that cropped up during the pistol builds. I'm not a big fan of mil-spec triggers and prefer to shoot with trigger upgrades. However, drop-in trigger groups often start at $175 and go up from there. The EFC provides a practical solution at a fraction of the price.
The single-stage EFC is constructed of premium tempered 410 stainless steel components with all engagement surfaces painstakingly hand polished and lubricated to produce a very smooth, crisp, glass-break feel. It arrives with polished 4140 chrome-moly steel trigger pins precision machined to be 0.0012" larger in diameter than mil-spec pins for a more positive fit with your lower receiver. The trigger tested for this review broke at 6 lbs. 3 oz. of trigger pull making it a solid all-around option for plinking, hunting and self defense. $34.49.
Mission First Tactical TORCH Backup Light (TBLW)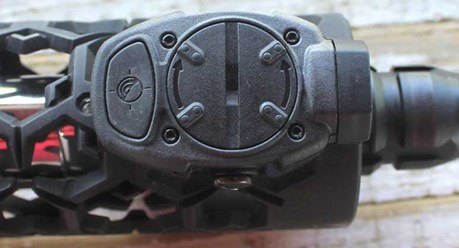 The Mission First Tactical TORCH Backup Light (TBLW) with dual white LEDs is a low profile, Picatinny mounted, recessed pressure-pad activated light ideal for home protection or as a backup to a primary illumination source. Weighing just 22 grams, this light module has a IPX7 waterproof rating, a 10-year storage shelf life, and uses a single replaceable CR2016 battery generating 20 lumens of illumination for up to 12 hours of constant-on run time. The power switch provides a simple, no-nonsense on/off function. Also available in IR/Red and Red/White LED configurations, all TBL lights are manufactured here in the U.S. MSRP: $49.99
Naroh Arms Skeletonized Billet Aluminum AR Grips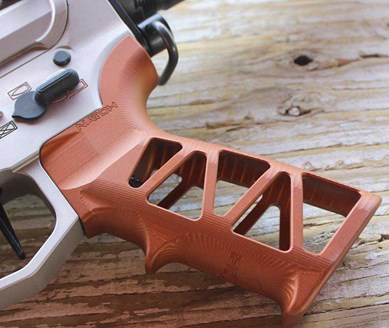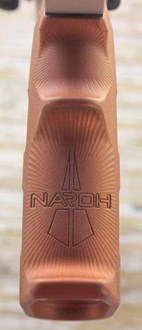 I'm all for utilitarian functionality in AR components. But when a manufacturer finds a way to provide a strong, light, useful part that's also uniquely styled, then they have something really interesting to work with. The Naroh Arms skeletonized aluminum AR grip is milled from a solid billet of 6061-T6 Aluminum into a grip that weighs just 3.24 ozs. What really makes it stand out from the crowd is the subtle, artistically applied straight-line texturing that not only looks good but also feels good to hold. The grip is treated with a matte finish military-grade MIL-A-8625, TYPE lll, CLASS 2 hard anodizing for a scuff resistant surface. Color options include Black, OD Green, Burnt Orange (shown), Gold and Hot Pink. All Naroh Arms products are designed and manufactured in Rockledge Fla. MSRP: $121.50
Phase 5 Upgrades and Kits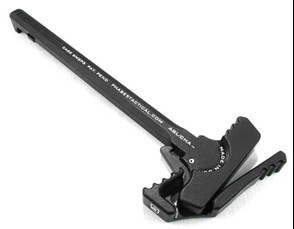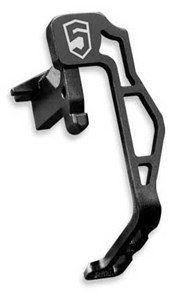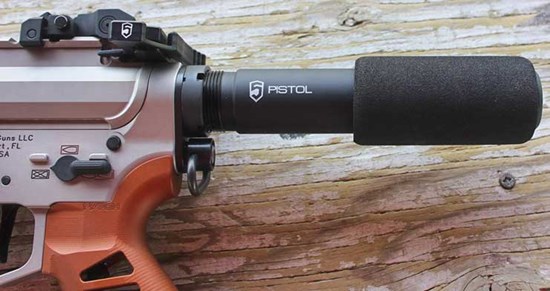 I first met the Phase 5 team during a trade show held near the end of 2015. This company is working hard to stand out with offerings that have a unique look and added functionality. I had a chance to work with three products and liked them all.
The Phase 5 7075 Aluminum ABL/CHA Ambi Battle Latch charging handle assembly incorporates structural improvements including an upgraded stainless steel coiled spring pin and increased sidewall thickness. It's a truly ambidextrous design ideal for left-handed users ($80). The PBT-CA is a complete buffer tube assembly for AR-15 pistols which includes an enhanced buffer spring, billet aluminum pistol buffer tube, mil-spec end plate, mil-spec castle nut, mil-spec carbine buffer and the company's durable NPVC-constructed buffer tube foam pad ($69.95).
The EBRV2 extended bolt release curves down into the trigger guard where it be actuated with the tip of the trigger finger instead of the support hand. This allows operators to clear jams and reload more quickly by eliminating unnecessary hand movements during various operations ($49.99). 
Stark Rifle Grips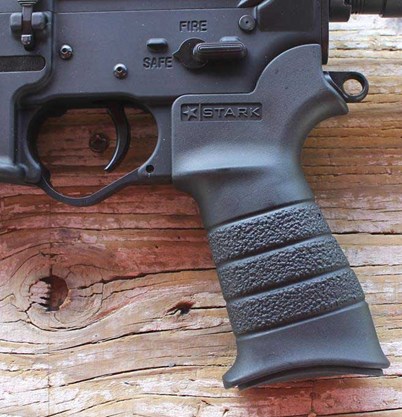 If you are looking for an easy and inexpensive way to attach a single-point to an AR, Stark Rifle Grips has the answer. This company's AR rifle grip is the first and only grip to integrate an ambidextrous sling mount. Customers can choose from a hook-style loop mount or a swivel mount that allows the attachment of push-button detachable sling swivels (not included). Stark grips are weather and chemical resistant, comfortably contoured and have a textured surface for a reliable grip. Color options include Black, Earth, OD Green and MultiCam (for an additional charge). The grip kit arrives with mounting hardware and a CR-123 battery storage plug (AA battery plugs are sold separately). MSRP: $34.95
Timney Triggers AR Targa 2-Stage ShortTrigger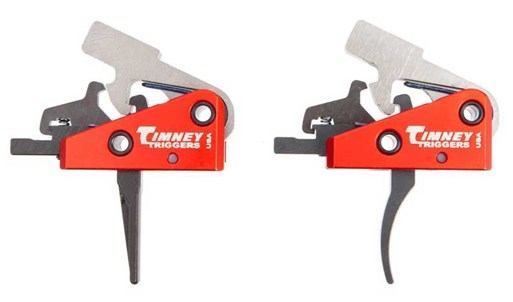 The new Timney Triggers AR Targa 2-Stage Short Trigger is a self-contained, 100 percent drop-in unit that is ready to install in your AR-15 for an exceptionally smooth, crisp, two-stage trigger pull. No gunsmithing, fitting, or adjusting required. Available with either a straight or curved trigger, the pull weight is factory calibrated for a two-pound first stage and a two-pound second stage pull. This translated into a total trigger pull of just 3 lbs. 6 oz for the unit tested. The trigger housing is constructed of military grade, 6061 T6 alloy that is CNC machined using state-of-the-art robotics and is anodized for superior durability. The hammer is wire EDM cut from S7 tool steel, combining hardness to resist wear with superior impact resistance. Each trigger is proudly made in the USA. MSRP: $228.75
TRUGLO 20mm TRU-TEC Red Dot Sight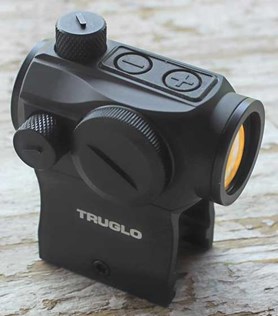 The new TRUGLO 20mm TRU-TEC sight is designed to give other popular brands of micro red-dot optics a run for their money. It ships with a brightness-adjustable 2 MOA reticule dot, which makes the TRU-TEC one of the smallest dot options on the market. The smaller dot is more flexible because it provides a large enough aiming point for close range work but does not obscure targets at longer distances. This optic ships with short and tall mounting bases and features which include click windage and elevation adjustments, digital push-button controls and a shock resistant housing. MSRP: $221
 Unique-ARs Handguards
s
Unique-ARs offers creatively milled round aluminum free-float handguards ranging from seven to 15 inches in length. Shown here is one of the company's in-house patterns called Hex Hazard with a standard matte black finish.  Constructed of 6061 T6 aluminum, this particular pattern is pre-drilled and tapped for full-length aluminum Picatinny rails to be attached along the top and bottom with mounting points for shorter accessory rails on the sides. This handguard arrives with a proprietary barrel nut and mounting screws which fit mil-spec 5.56 or DPMS style .308 upper receivers. Add custom CeraKote color for $35. MSRP: Handguards Starting At $175, Picatinny Rails Starting At $16
Yankee Hill Machine Annihilator Muzzle Brake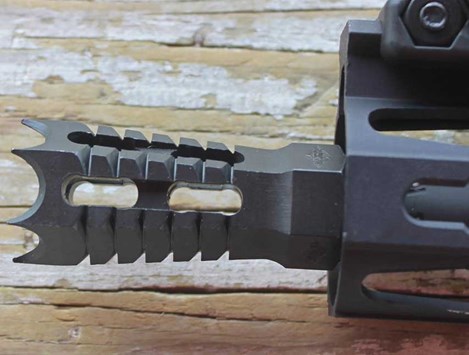 Yankee Hill Machine offers muzzle accessories that not only think outside the box, they set the box down range and blow it up!  Shown here is the aggressively styled YHM-27-MB-A Annihilator muzzle brake, based on the original Annihilator Flash Hider. Made from 4140 heat treated steel with a 1/2"-28 TPI, this brake has a 4-port design without downward facing ports. This helps to eliminate dust problems when shooting from a prone position. And just in case you're wondering, the answers is yes, those forward facing points are sharp. MSRP: $56
Windham Weaponry Component Kits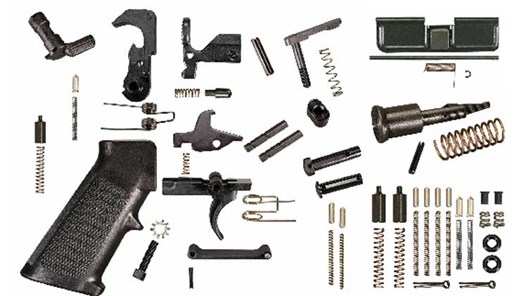 An ancient proverb says that for the want of a horse shoe nail a kingdom was lost. So too with AR-15 platforms: Having just one of the many small parts break down or get lost can sideline the gun, often at the most inconvenient times. Windham Weaponry offers handy, affordable small parts kits filled with high-quality components that are ideal for building a new gun or repairing one in the field. Options include the company's complete lower receiver parts kit (P/N KIT-LOWER-AR - $68.95), ejection port cover kit (P/N KIT-EPC - $7.95), forward assist kit (P/N KIT-FWDASSIST-RD - $13.50), and the Most Wanted Parts Kit (P/N KIT-MOSTWANTED - $14.95) which comes in very handy when one of those tiny little springs or detents go missing.
WMD Guns Polished NiB-X M16/AR-15 Full-Auto Bolt Carrier Group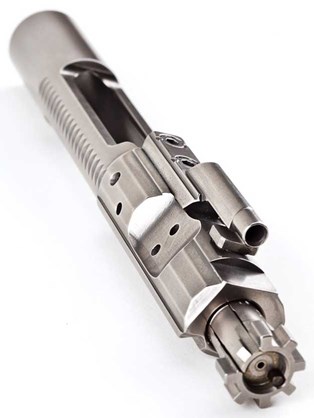 The WMD Guns polished NiB-X M16/AR-15 full-auto rated bolt carrier group (BCG) is manufactured by Defense Industrial Base to WMD's exacting specifications to provide the best BCG available. It's been specifically engineered for the NiB-X nickel boron coating to provide long life, high reliability and easy cleaning and maintenance. The components are coated and polished to reduce fouling. The NiB-X coating is guaranteed for life against chipping or flaking. Over 30K rounds in Government protocol endurance testing did not wear the coating off. This BCG configuration is especially beneficial in short barrel and suppressed platforms. MSRP: $170