by
posted on November 10, 2016
Support NRA American Rifleman
DONATE
Late last year we saw the arrival of a new and unusual new bullet technology launched by Polycase Ammunition. The company's projectiles are formed by the high-pressure injection molding of polymer binders with fine copper-alloy dust. This process produces customized bullets that are lead-free and lightweight.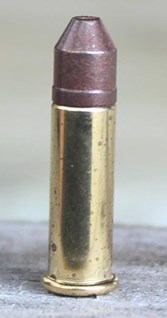 With reliable poly-copper bullet technology on the market for a year now, I've been curious to see which companies might adopt it next. As it turns out, CCI Ammunition has beaten everyone else in the rimfire market to the punch with the very first .22 Long Rifle round to employ this type of bullet. The new round is simply called CCI Copper and is available in 50-round plastic boxes. It launches a 21-gr. hollow tip poly-copper bullet at a sizzling listed velocity of 1850 fps from brass cartridge cases.
I met with a CCI representative to discuss this new ammunition. He pointed out that this round's light 21-gr. bullet, which is about half the weight of typical lead hunting and target rounds, provides optimal performance at distances of 50 yards or less from rifle and carbine length barrels. As the bullets travel beyond 50 yards they start to shed energy rapidly due to their lightweight. Despite their reduced range, this load does have its advantages.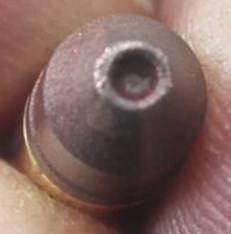 Within its optimum range, the round is quite fast and will have a devastating effect on small game. The bullets fracture when striking hard targets, like rocks and steel plates, to greatly reduce chances of ricochets. It should be noted that although the bullets are completely lead free, the cartridge's primer compound, like all .22 ammunition, does contain lead. Be sure to wash up carefully after a shooting session with this round just like you would with any other rimfire load..
As with any brand new load, the first questions that come to mind with the CCI Copper revolve around reliability. The number of .22 rimfires in American sportsman's hands is vast and exceptionally diverse when it comes to barrel length and action type. Because of this diversity, the folks at CCI willingly acknowledged that the CCI Copper is not going to be a perfect fit for every gun out there. Much like the popular 5.56 NATO/.223 Rem. cartridges of AR-15 fame, the CCI Copper relies on bullet velocity for performance. Therefore, the longer the barrel, the better performance you can expect. Those guns with manually operated actions, including break-action, bolt-action, and lever-actions, will cycle this load without any issues.
But what about the ever popular semi-automatic rifle? I was told that some of them are going to hiccup with this load, which is not wholly unexpected since semi-automatic rimfires are notoriously finicky eaters to begin with. The only way to know for sure if your particular gun will run with CCI Copper is to give it a try.
What about rimfire handguns? This question wandered into something of a gray area because the CCI Copper is intended for use in small-game hunting and recreational rifles. To find out more, I took a 500-round brick of the CCI Copper load to the range and ran it through three completely different guns that might or might not work with this new load. The results were quite interesting.
For the semi-automatic rifle category I used one of the latest versions of the popular Ruger 10/22, the Takedown Lite model. This version features a 16.5" tensioned target barrel.



Without a current production .22 semi-automatic pistol on hand at the time of testing, I dusted off a much loved but long forgotten (by the shooting industry anyway) Smith & Wesson 2206. This is the heavier stainless steel frame version of the 422 series that went out of production back in 1996. But the ol' 2206 is a family favorite for target shooting and plinking thanks to its reliable action, 3-dot sights, 4.5" barrel and a smooth 4-lbs. 8-oz. single-action trigger.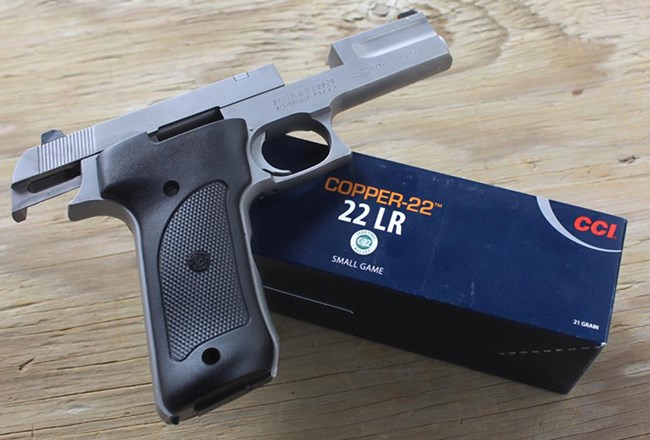 The final test gun in the set was one of the top-performing off-the-rack wheelguns I've had the pleasure to work with. The Ruger Single-10 blends the best of Ruger's single-action rimfire revolvers with a compact cylinder, slim barrel and a full-size grip. This version has a 10-shot cylinder and has earned top marks in my books with group averages hovering around the 2.25" mark at 25 yards.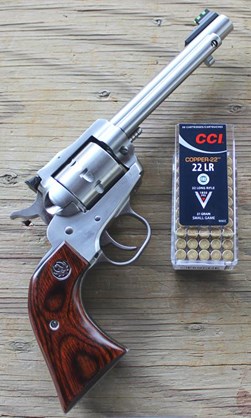 At the range, all three guns were taken through informal and formal tests, drills and function checks using the CCI Copper ammunition. I'm happy to report that all three guns ran properly with this load. There were no malfunctions of any kind from start to finish. I expected the Single-Ten revolver to operate smoothly because single-action wheelguns are cycled manually and do not rely on fired-cartridge energy to operate them.
The Ruger 10/22 was not a surprise either. I have yet to introduce a 10/22 to a CCI cartridge that it didn't like. However, seeing the 4.5" barrel 2206 semi-automatic pistol humming right along with the CCI copper was a real treat. Despite the pistol length barrel it cycled properly round after round.
Formal accuracy testing with each gun consisted of five 5-shot groups fired from a benchrest. The 10/22 Takedown Lite was sighted in for 50 yards using an Alpen Optics Kodiak 3-9x40 mm Wide Angle scope. The handguns were fired at 25 yards using factory iron sights. Bullet velocity was measured using a Lab Radar chronograph.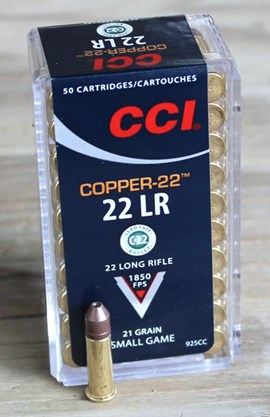 The 10/22 produced a best single group of 1.32" with a five-group average of 1.40". This level of accuracy was as good as or better than other loads test fired from the same rifle. The Smith & Wesson 2206 pistol produced a satisfying best group of 2.14" with an average of 2.35". The Single-Ten revolver's accuracy was, unfortunately, mediocre. The best single group was 3.72" and the average was 4.59". 
The wheelgun's expanded groups make more sense when we take a look at bullet velocity and energy. If the CCI Copper's 21-gr. bullet travels at the company's listed velocity of 1850 fps., it yields 160 ft-lbs. of energy at the muzzle. Here's a table representing the range results: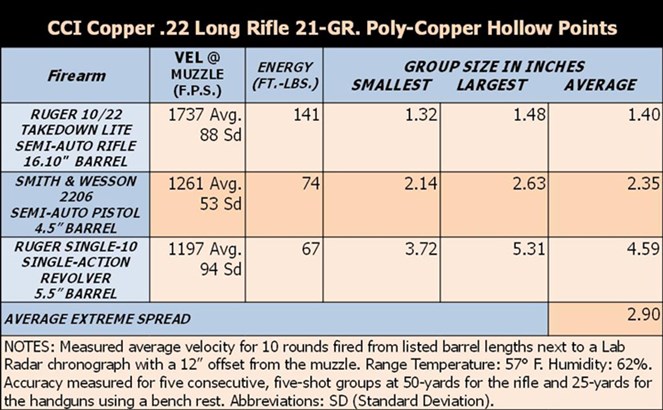 The rifle's 16.5" barrel produced an average velocity that was 94 percent of list velocity with 88 percent of the listed muzzle energy. My guess is that CCI's test barrels were probably longer (around 18" or more). The semi-automatic pistol's 4.5" barrel naturally shows a more significant drop with 68 percent of list velocity and 46 percent of list energy. Nevertheless, it cycled reliably and yielded tight groups. While the revolver had a longer 5.5" barrel, the cylinder gap causes a pressure drop, resulting in 64 percent of list velocity and 42 percent of list energy. Although the differences between the performance of the pistol and revolver are not that great, it seems to be just enough to open up the revolver's groups.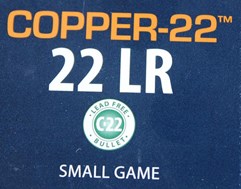 Overall, I have to say that the new CCI Copper 21-gr. poly-copper hollow point is a terrific new addition
to the CCI line up. It feeds and functions reliably in a variety of action types, including semi-automatics, bolt-actions and lever-actions, with accurate results down range. It was a bold move to embrace the fledgling technology of injection-molded bullets. A lead-free load like this will certainly be a welcome option for shooters who need a way to work around lead restrictions. For more information, visit cci-ammunition.com.