by
posted on January 29, 2018
Support NRA American Rifleman
DONATE
Defensive handgun ammunition manufacturers are constantly searching for the "silver bullet" to offer their customers, meaning, a bullet design that will offer the best possible performance in the popular calibers they prefer. For 2018,
Winchester Ammunition
has launched a new 124-gr. 9 mm +P load called the Hybrid X, which blends new bullet materials and design elements with features that have been in use for well over a century.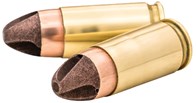 The fluted tip of the Hybrid X bullet follows the same composition and fluid-displacement design as the polymer/copper
Polycase Inceptor ARX
bullets launched in 2015. Instead of the entire projectile being made of injection molded materials, the polymer/copper tip is seated into the four sections of a pre-fragmented lead core, which provides the mass needed to increase the bullet's weight to 124 grains. The core is then pressed into a copper jacket for reliable feeding and accuracy. The bullets are then loaded into brass cases at a listed velocity of 1225 fps. for a nominal muzzle energy of 413 ft./lbs.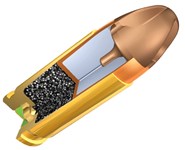 According to Winchester, the Hybrid X bullet feeds, travels and penetrates into targets much like a traditional, round-nose bullet. As the bullet travels into fluid-filled media, the fluid-displacement dynamics of the tip's fluting causes massive disruption. The bullet then fragments into six distinctive projectiles including the tip, the four sections of the lead core and the copper jacket. The fragments continue to penetrate in different directions, creating multiple wound channels, to a depth of 10" to 12" when fired into blocks of ballistic gelatin.
The few rounds I fired during Industry Day at the Range ahead of SHOT Show 2018 fed properly and hit the target just like they were supposed to. I'm looking forward to putting this ammunition through more rigorous testing to see if it delivers the performance the company says it has to offer.
Winchester.com images
.