by
posted on December 10, 2019
Support NRA American Rifleman
DONATE
Exploring a new-to-you shooting sport doesn't always require reinventing the wheel or wandering into wholly unfamiliar trigger territory. This year I was interested in learning more about long guns suitable for varminting, including rimfire rifles set up for prairie dog and ground squirrel hunting, and center-fire platforms useful for both varmints and small predators.
While exploring the multitudinous varminting options currently available, I soon learned that two platforms with which I'm already familiar will do nicely. On the rimfire side, Ruger recently added .22 Mag. (.22 WRM) and .17 HMR models to the Precision Rimfire bolt-action rifle line up. I was impressed by the features and performance of the .22 LR version of this rifle, so I opted to give .22 Mag. version a workout for this review (I'll be tackling the .17 HMR cartridge in a different article).

If you want one rifle cartridge that can be used for varminting and small predator hunts, there are plenty of center-fire options to choose from. The .22-250 Rem., .204 Ruger and .243 Win., to name just a few, are all good choices. But smack dab in the middle of the varmint round bucket is a cartridge that's already familiar to fans of modern sporting rifles and 3-gun competitors: the .223 Rem. Whether you want inexpensive loads for high round count events or specialized rounds specifically for particular types of game, the .223 has it all.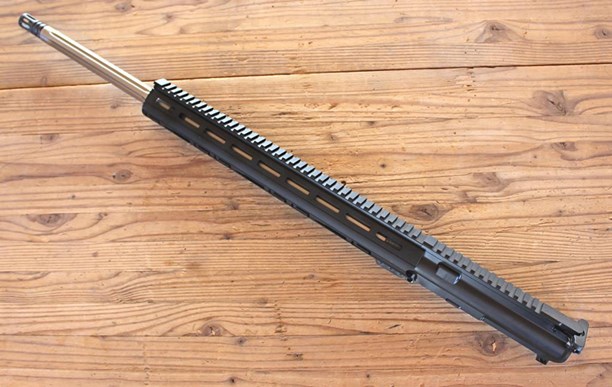 Dozens of AR manufacturers offer long-range uppers outfitted with bull barrels to stretch the performance of the .223 Rem. For this field test, I wanted a proven factory built upper I knew I could trust right out of the box, which is why I contacted Luth-AR to request the longest bull-barrel AR-15 upper the company offers. Let's take a look at how these two varmint-ready rifles performed.
Ruger Precision Rimfire .22 Mag. Bolt-Action Rifle
Ruger's Precision Rifle series original consisted of budget-friendly center-fire models designed for long distance competition. But no matter how good the price of a center-fire rifle may be, a .22 rimfire version is always going to be cheaper to practice with. So not long after the center-fire models were launched, the Precision Rimfire in .22 LR arrived on the scene. Although the rimfire version is smaller and lighter than its big brother, the features and layout of the controls are the same. The owner can even adjust the throw of the .22's bolt to match that of the center-fire version.



However, in the process of developing this understudy to the larger models, Ruger produced an accurate, enjoyable rifle that's a stand-out option in the rimfire marketplace. The same features and shooting qualities that make it an ideal target gun readily lend themselves to varminting pursuits. All it really needed was the boost in power that .22 Mag. ammunition provides.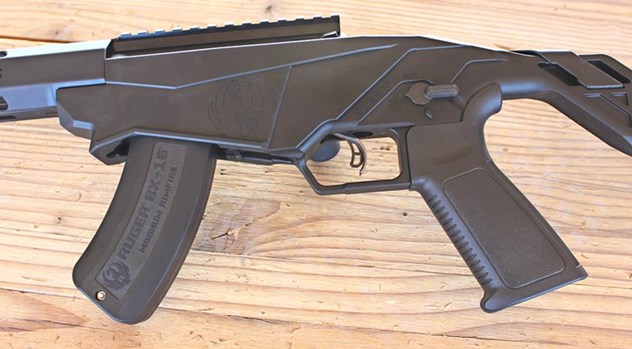 The Ruger Precision Rimfire Rifle's action is set into a chassis system similar to that of the larger center-fire version. The primary differences in the rimfire one-piece chassis, and its adjustable shoulder stock assembly, is that it's molded from glass-filled nylon instead of being milled from aluminum. Also, the stock's length of pull (LOP) and cheek riser height adjustments have been simplified to just one lever for both. Simplifying the stock and using polymer makes this rifle lighter and less expensive than the center-fire models . Other chassis features include a thick textured recoil pad, QD sling swivel ports and Picatinny accessory rail. The removable AR pattern pistol grip is Ruger's own in-house design.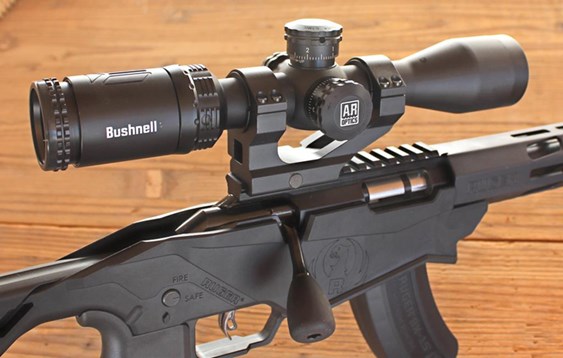 The rimfire's receiver is CNC-machined from pre-hardened 4140 chrome-moly steel with an integral Picatinny optics rail on top. The 18" target grade bull barrel is cold-hammer-forged from 4140 alloy steel with a muzzle that's  threaded at ½"-28 TPI for popular .22 caliber compatible muzzle devices and sound suppressors. A vented, hard anodized aluminum 15" handguard free floats the barrel and provides M-LOK accessory slots on all four sides for AR accessories including bi-pods. The barrel and handguard are are both attached to the receiver with an AR-15 type barrel nut. This allows them to be easily removed using an AR-15 armorer's wrench.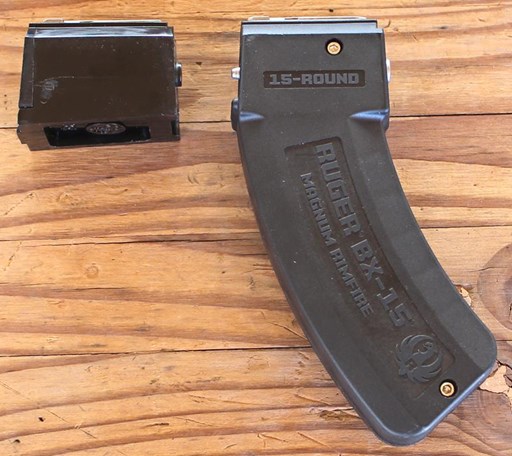 The rifle's left-side safety selector is based on the AR design. Ruger opted to outfit this gun with an adjustable Marksman trigger group with a trigger pull weight ranging from a light bench rest 2 lbs. 4 oz. setting up to a stiffer  5 lb. setting for use in the field. A handy little trigger adjustment wrench is provided which can be kept in a compartment of the stock. The trigger arrived from the factory set at 2 lbs. 9 oz. which was just fine for bench rested accuracy testing.



This version of the Precision Rimfire platform shipped with one of the new BX-15 Magnum magazines, which is an innovation that may have slipped under the radar for some fans. Up until now, Ruger's .22 Mag and .17 HMR rifles relied on flush-fit 9-round rotary magazines. These magazines are certainly adequate, but a few more rounds to work with never hurts. The new extended BX magazine holds 15 rounds while remaining a just-right length for benchrest shooting. It's even easier to grab on to for quick reloads. I ran the Precision .22 Mag. with the factory produced 9-round and 15-round rotary magazines. They were both easy to load and they fed the rifle reliably without any malfunctions.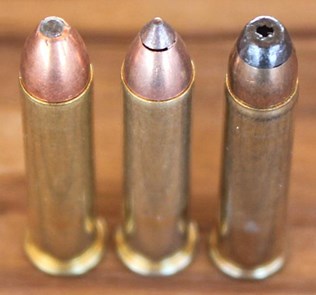 Benchrested accuracy testing consisted of five 5-shot groups fired at 50 yards using Bushnell's AR Optics 2-7x32 mm scope with a Weaver SPR Optics Tactical Rail Mount. This is the same optic combo I used with the .22 LR version. It proved to be just as good a fit for the .22 Mag.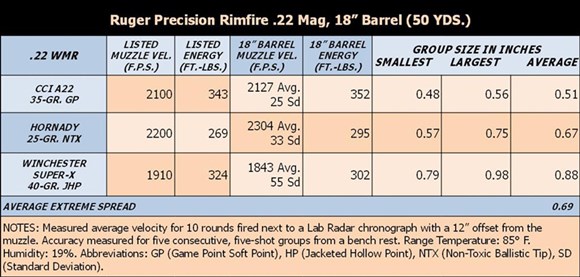 The heaviest bullet of the three test loads, a 40-gr. jacketed hollow point, was launched by Winchester's Super-X round which is intended for varmints and small game. It lost about 67 f.p.s. of muzzle velocity when compared to the manufacturer's listed velocity for 302 ft.-lbs. of energy. Hornady's 25-gr NTX ballistic tip gained 104 f.p.s. of velocity for 295 ft.-lbs. of energy. The hardest hitting load was also the most accurate. CCI Ammunition's A22 35-gr. Game Point soft points were designed to run reliably in the Savage A22 semi-automatic rifle. The cartridge's consistency and potent powder charge only gained 27 f.p.s. in muzzle velocity but the bullets were landing with 352 ft.-lbs. of energy.  

Luth-AR 24″ Bull Barrel AR-15 Upper
One of the best features of the AR-15 platform is its split personality. The top half simply lifts off of the lower half with the press of two pins. This means that you don't have to buy a whole new rifle to try something different. Not only does this save money it also allows you to stick with the grip, shoulder stock and trigger configuration you prefer.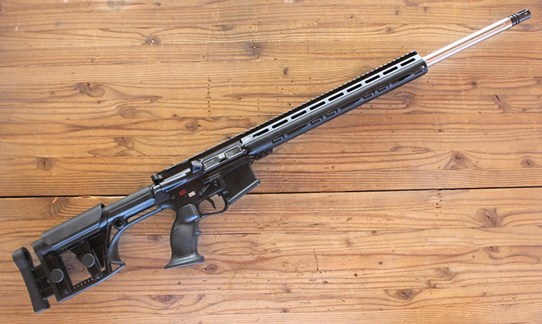 Last year I worked up a 16" barrel precision AR-15 with Luth-AR and Patriot Ordnance Factory (POF) that is among my favorite AR-15 builds to date. The POF lower receiver and trigger group paired with Luth-AR's polymer furniture fits me like every component was custom made just for me. I like it exactly the way it is so I don't want to do anything else to it except shoot with it more often!
Based on my previous results, I wanted to work with another Luth-AR factory complete upper. These uppers are outfitted with fluted 416 stainless-steel bull barrels, M4 feed ramps, carbine-length gas tubes and low profile 0.936 " gas blocks. The button-broached bore is six grooves with 1:9" right-handed twist rifling and the muzzle is threaded at 1/2x28 TPI.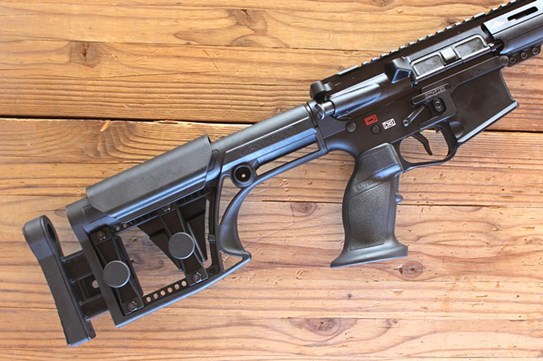 The 15" free-float aluminum Palm Handguard features a full-length top rail. It has a triangular, almost tear-drop shaped profile that is one of the most comfortable to handguards to hold on the market. It features M-Lok accessory slots with cartridge-shaped cutouts for added ventilation.
The Mil-Spec A3 flat-top upper receiver is forged from 7075-T6 aluminum and treated with a matte-black hard-coat anodized finish. And there's no skimping on dust covers or forward-assist buttons, they're both installed at the factory. A fully assembled bolt carrier group is also included. The Mil-Spec charging handles and A2 flash hider are not flashy components but they certainly get the job done.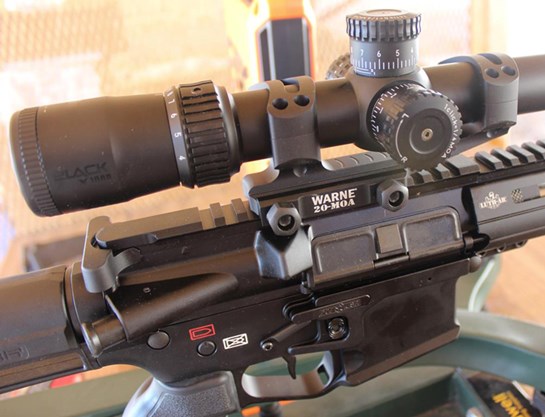 Don't forget that even though 16" barrel AR-15 carbines are among the most popular modern sporting rifles today that this platform's roots go back to the military's 20" barrel M16. This means that 5.56 NATO and .223 Rem. cartridges can gain a significant velocity boost with longer barrels.
Luth-AR offers the complete bull barrel uppers with barrel lengths of 16", 18", 20" and 24". Any of these barrel lengths will be accurate (the 16" was impressive) and the 20" version offers a good balance of stability and performance with a bit less weight. But I wanted to squeeze every last powder flake worth of performance out the test ammunition this time around, so I went with the longer 24" barrel. Extending the bull barrel's length from 16" to 24" bumped the rifle's weight up by 1 lb. 3 oz., so you may want to keep that in mind when select a bull barrel. In this case, the extra weight was not an issue I plan to use it primarily for bench rested shooting.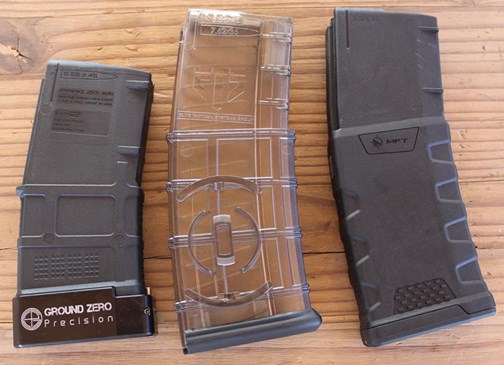 Fitted with a Nikon BLACK X1000 4-16x50SF Illuminated X-MOA scope using a Warne 20-MOA Extended Skeletonized 30 mm MSR mount, the rifle was benched for formal accuracy testing at 100 yards with a Lab Radar chronograph alongside it to measure bullet velocity. Test magazines include Magpul PMAG, Elite Tactical Systems and Mission First Tactical offerings, all of which operated flawlessly throughout the testing process.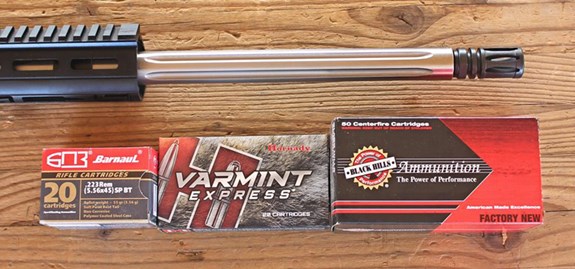 As always, I take the manufacturer's listed velocity information with a pinch of salt. Their numbers are produced in ideal laboratory conditions so it's typical to see slower bullet velocities out in field. Like the .22 Mag. platform, I hoped for bullet velocities that would match or exceed the manufacturer's listed velocities with the 24" barrel. However as the table shows, all three loads flew at slower than listed speed. Were the listed velocities overly optimistic, or is 24" worth of barrel more than I need to succeed? It will take additional testing to find out for sure. Nevertheless, the rounds tested still generated plenty of pep and they printed out satisfying sub-MOA 5-shot groups across the board.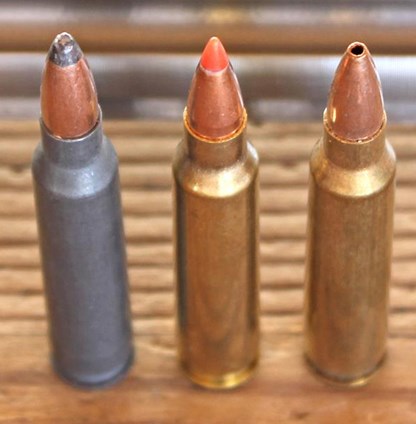 This was the first time I can remember firing Barnal 55-gr. soft-point boat tail loads from a precision platform. I was curious to see how this imported, steel-cased round would perform because this particular load has the advantages of being both affordable (about $0.22 a round) and flexible. It ran flawlessly making a solid option for high round count hunts, affordable practice sessions or harvesting small predators.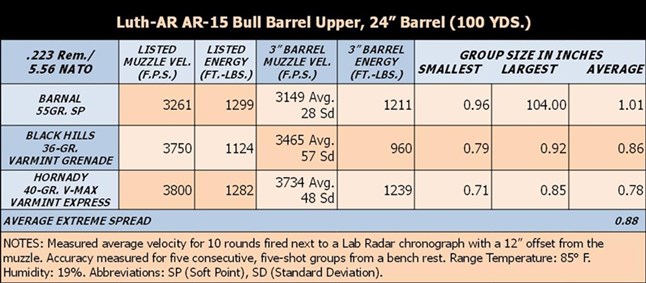 The other two test loads included the Black Hills 36-gr. Varmint Grenade and the Hornady V-Max Varmint Express, both of which sport lighter bullets designed for varmints. Producing an almost gentle level of felt recoil and average group sizes around 0.75", both loads will certainly get the job done.
Depending on which part of the country you live in, you may be surrounded by challenging varmint and small predator hunting opportunities that you have yet to try. A few changes to a familiar platform's caliber or features may be all that's required to explore that untapped endeavor. Reliable and accurate platforms like the Ruger Precision Rimfire and Luth-AR bull-barrel uppers make these forays into new shooting territory an enjoyable experience.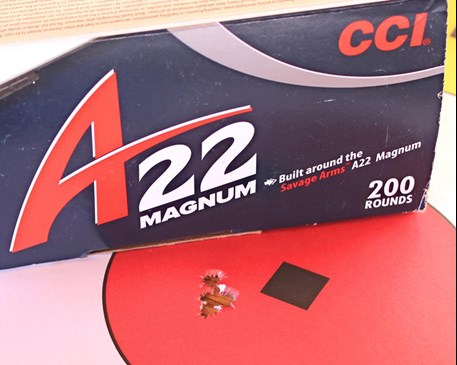 Specifications: 
Rifle Manufacturer: Sturm, Ruger & Co.
Model: Precision Rimfire (8404)
Action: Bolt Action
Caliber: .22 Mag. (.22 WMR)
Receiver: CNC Machined Pre-Hardened 4140 Chrome-Moly Steel
Barrel: 18" Target Cold Hammer-Forged 4140 Steel Alloy, Matte Black Finish
Muzzle Threading: 1/2"-28 TPI with Knurled Thread Protector
Handguard: Magpul Aluminum Free-Float, M-LOK Accessory Slots
Handguard Finish: Hard Coat Anodized, Matte Black
Stock: Adjustable Quick-Fit Precision Rimfire with Removable Recoil Pad
Pistol Grip: Removable Ruger AR-15
Trigger: Ruger Marksman Adjustable, 2.25 to 5.0 lbs
Trigger Pull: 2 lbs. 9 oz. (As Tested)
Sights: None
Optics: Integral Scope Rail
Overall Length: 35" to 38.5"
Length of Pull (LOP): 12" to 15.5"
Weight: 7 lbs. 5 oz. with Empty BX-15 Magazine
Magazines: Accepts Ruger BX-15 Magnum or JMX-1 Rotary Magazines
Capacity: 15+1 Rounds, 9+1 Rounds
Twist: 1:14" RH
Rifle Grooves: 6
Accessories: One BX-15 Magazine, Trigger Adjustment Tool, Lock, Owner's Manual
Rifle MSRP: $529
Optic: Bushnell AR Optics 2-7x32 mm (AR92732) $173
Scope Mount: Weaver SPR Optics Tactical Rail Mount for 1" and 30 mm Tubes (48377) $90.45
AR-15 Upper Manufacturer: Luth-AR
Model: 24″ Bull Barrel (FTBL-B24)
Action: Gas-Impingement Semi-Automatic
Caliber: 5.56 NATO/ .223 Rem.
Upper Receiver: Forged 7075-T6 Aluminum A3 Flat Top, Mil-Spec, Hard-Coat Anodized
Ejection Port Cover: Yes
Forward Assist: Yes
Factory Charging Handle: Mil-Spec
Bolt Carrier Group (BCG): Complete AR Auto
Barrel: 16″ 416 SST Bull Barrel, Fluted with Threaded Muzzle (BL-B16FT)
Rifling: 1:9" RH
Grooves: 6
Muzzle Threading: 1/2x28 TPI
Factory Muzzle Device: A2 Flash Hider
Gas Block: .936 Low Profile (GB-LP936)
Gas Tube: Carbine-Length
Handguard: Luth AR 15″ Vented Palm Handguard (HG-V-15K)
Handguard Slots: KeyMod
Upper Assembly MSRP: $499.95
Optic: Nikon BLACK X1000 4-16x50SF Illuminated X-MOA $599.95
Scope Mount: Warne 20-MOA Extended Skeletonized 30 mm MSR Mount (LRSKEL30TW) $139.99