by
John Zent, Editor Emeritus
posted on February 21, 2017
Support NRA American Rifleman
DONATE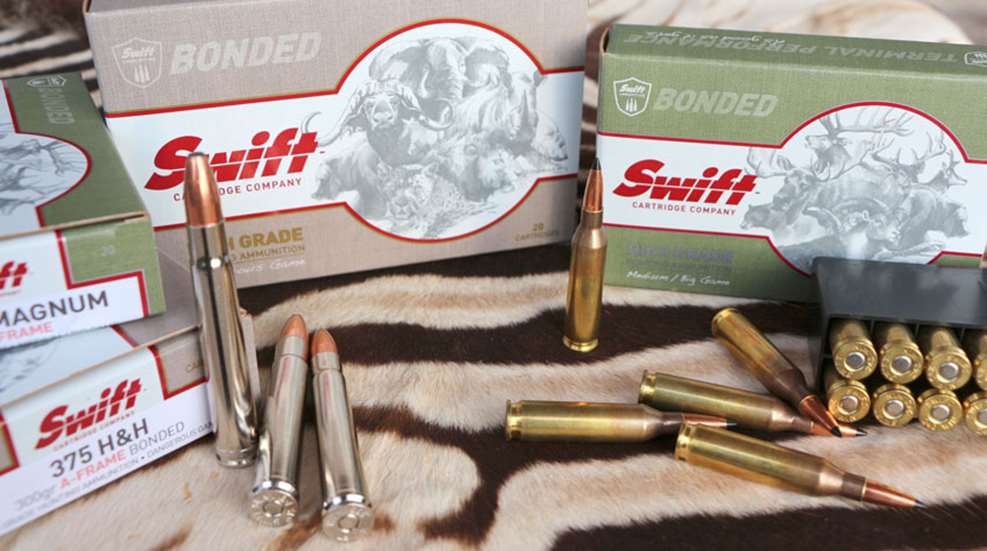 One thing many African professional hunters agree on is that the very best bullets for stopping dangerous game come from a modest workshop located halfway around the globe in Quinter, Kan. Bonded and bolstered by an internal cross-member, the Swift A-Frame expands to double its diameter and yet routinely retains 90-plus percent of its weight while smashing deeply through elephant, buffalo and hippo anatomy. Among safari aficionados, that consistency has elevated the A-Frame to the rarefied status of best British express rifles.
The problem, however, is that the A-Frame, as well as Swift's highly regarded Scirocco II long-range big-game bullet, can be tough to find in factory ammunition. Sporadically they've been loaded by Remington, Federal, Weatherby, Norma and others, but because of shifting alliances and in-house product, bullets from the independent maker tend to vanish abruptly from the high-profile lines.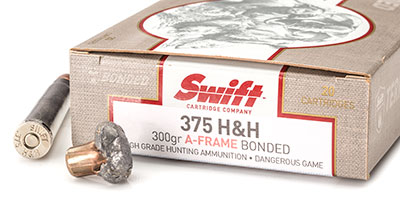 "Too often our customers have experienced difficulties in finding ammunition with our bullets," said Swift CEO Bill Hober. "And so in 2016 we launched Swift High Grade. Presently there are 25 different loadings in 12 chamberings, but that will expand to range from .223 Rem. to .500 Jeffrey for 33 calibers in all. There are four categories—medium/big-game, lever-action, dangerous game and heavy revolver—covering virtually every big-game and predator-hunting application. Not only will this ensure availability for those who want A-Frames and Sciroccos in factory loads, but with our new Break-Away solid bullet gaining a foothold, it was necessary to create this platform."
Since acquiring Swift in 1994, Hober has been a conservative manager in regard to product development, a stance counter to his true nature as a career marketing professional who walked away from a vice-presidency at PepsiCo in order to follow his heart. As a youngster growing up in Las Vegas, Hober recalls spending most of his free time in the desert shooting and hunting. During his corporate years, even though he hunted worldwide and amassed an impressive trophy collection, he wanted more. With his move to Swift he got it—along with a dose of reality. After sinking his life's savings into the small-town bullet manufacturer, he says he learned the need for caution, to protect both his investment and the jobs of Swift employees.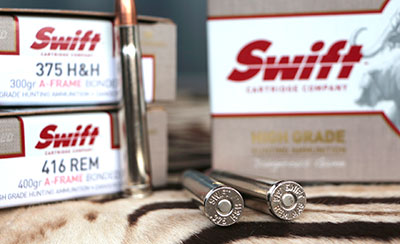 Entering the highly competitive loaded-ammunition business represents a huge undertaking for a small company that's always chosen core competence over diversification. The advent of the Break-Away three years ago (see sidebar below) was a notable expansion for a firm long dependent on just two product lines—the A-Frame since 1984 and the Scirocco since 1999. In 2011, however, the first hint of a new direction came with the acquisition of Blackburn, a bottom-metal specialist supplying custom gunmakers with trigger assemblies, floorplates/trigger guards and followers widely considered the best in class. That set the tone for future moves, since along with branding and intellectual property, all of Blackburn's machinery and tooling were moved to Swift's Kansas facility. "We purchased everything necessary for a turnkey transition. We wanted to assure that the quality, craftsmanship, procedures, and manufacturing methods and materials that Ted Blackburn used all remained exactly the same," Hober said. Now called Swift Blackburn, the line remains the premier offering in its niche.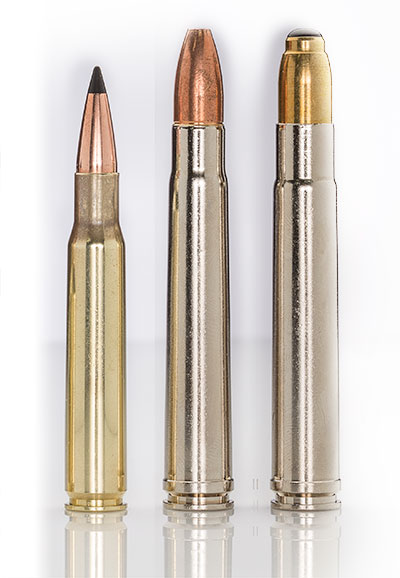 By design, High Grade is also a turnkey operation, and frankly, that's doing it the hard way. Among the many new ammunition brands introduced recently, very few are following the path Swift has chosen.
"It's important for your readers to know," Hober said, "that High Grade is actually manufactured by Swift Cartridge Company at our facility in Kansas, not outsourced to another producer. We actually make it ourselves. Like our bullets, these cartridges—the first ever from Swift and bearing our headstamp—are virtually handmade and hand-inspected. We're confident it will be the most reliable hunting ammunition on the market. Limited retail availability started last August, and each month brings a wider selection of calibers and bullet options."
A major investment was required for new tooling and materials, workers had to be trained and the factory was getting a makeover when I visited there last December. With considerable help from his son, Tony, Bill steps in as production engineer, product developer, finance officer, building superintendent, salesman and more. Between shuttling me to deer stands, Bill was constantly busy juggling brass shipments, inspecting product fresh from the presses and stressing over minute details of packaging design. If anyone can pull this off—and success will be measured only by how closely High Grade ammunition matches the standard now expected of Swift bullets—it's Hober.
In addition to incorporating famed Swift projectiles, High Grade offers quality features such as: annealed case necks/shoulders in the Medium/Big Game series; nickel-plated brass for slick feeding with the Dangerous Game and Heavy Revolver loads; and all rounds waterproofed by way of Hernon Mfg.'s industry-proven sealing process, which involves equipment that applies a low-viscosity sealant that is cured by UV light.
We received early-production samples in a handful of rifle and revolver chamberings for range and function testing. The accuracy testing (see table above) was done with actual hunting firearms paired with their current scopes, as opposed to dedicated test guns. Low standard deviations in muzzle velocities indicated consistency in the components and assembly, and the accuracy was quite good for controlled-expansion bullets.
For more information contact: Swift Bullet Co. (Dept. AR), 1001 Swift Ave., Quinter, KS 67752; (785) 754-3959; swiftbullets.com.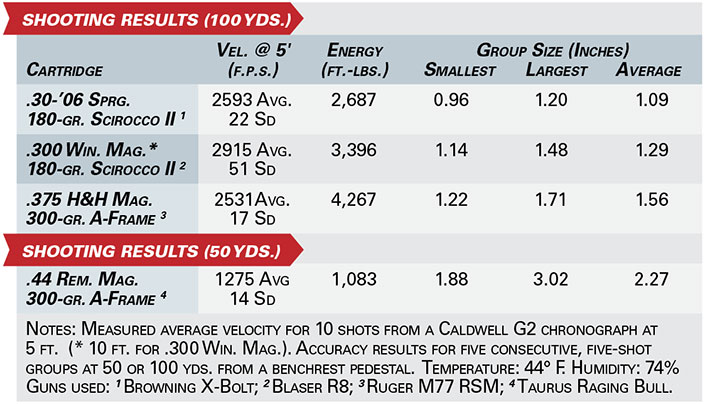 ---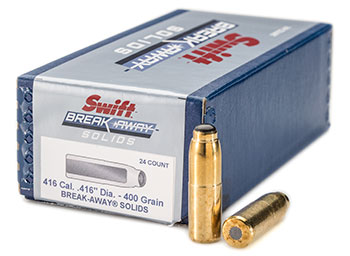 Break-Away Solids
Despite the A-Frame's sterling record on dangerous game, Swift CEO Bill Hober worked for years to develop a "solid" projectile. "African PHs often insist on clients using solids," he said. "However, I didn't want to just bring out a 'me-too' product; it not only had to be something different, it had to be better. We worked hard to come up with a solution for the problems people have with existing solids. Our solid would have to equal or better the best straight-line penetration. Flat-nose bullets run straight, and newer concave-nose designs rarely turn, but they don't feed through the magazine as smoothly as old round-nose types."
That solution is the Break-Away, introduced in 2015. The name comes from a small polymer tip that gives the bullet a round-nose profile, but then separates immediately upon impact. Minus the tip, the nose is slightly concave. Energy transfer is boosted as it flattens out, claims Hober, and exceeds the penetrating ability of round-nose and flat-meplat designs, routinely burrowing 80" or more in wet-newspaper testing. He also says the Break-Away's profile increases the likelihood that it will hit to the same point of impact as the A-Frame, though naturally that may vary from rifle to rifle and load to load.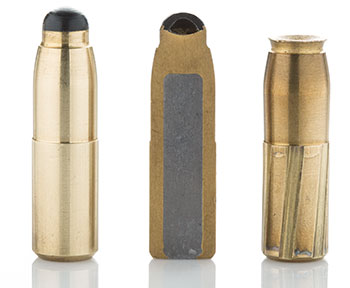 Unlike some current solids crafted from rigid homogeneous alloys, the Break-Away has a more traditional construction with a thick proprietary alloy jacket over a hardened-lead core. Hober acknowledges that he "likes and trusts lead" since it makes for shorter bullets with reduced bearing surface that also have enough "give" to shoot accurately in a wide range of barrels. Aiding that is the half-length "bore-runner," or driving band, comprising the Break-Away's base.
Break-Away bullets are currently produced in nine different sizes—9.3 mm, .375, .410, .416, .423, .458, .470, .500 and .505. In addition to being sold as component bullets for handloaders, Break-Aways will be exclusively offered in the company's High Grade loaded ammunition in
12 different chamberings.