by
posted on September 13, 2020
Support NRA American Rifleman
DONATE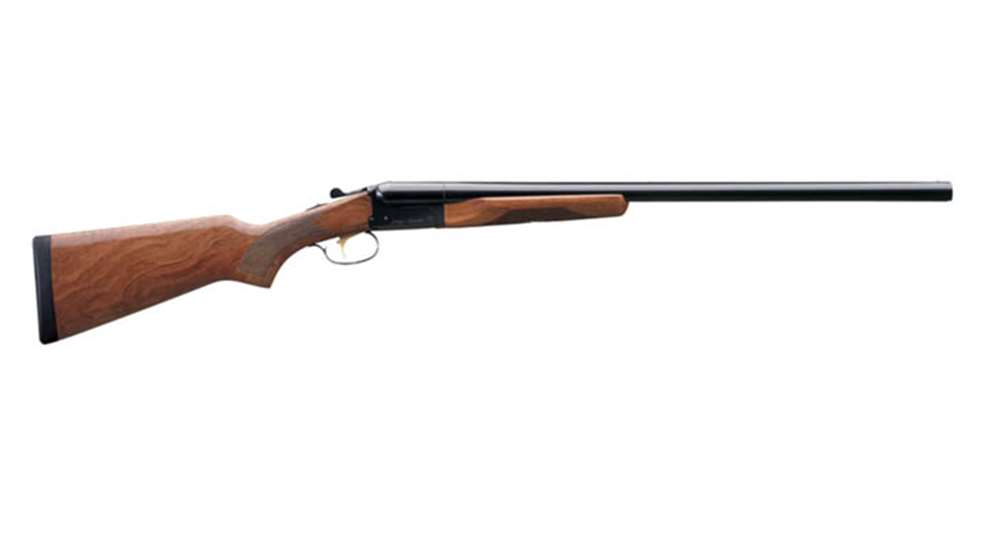 The look of a side-by-side shotgun is too much to resist for many enthusiasts, but the attraction is more than just skin deep when it comes to the popularity of the Stoeger Uplander. It was one of the most popular models sold last year, according to Gunbroker.com. It's currently available in Supreme, Longfowler, Field and Youth models in a variety of sizes and configurations.

The Field models come in 12-, 20- and 28 gauge, as well as .410-bore. MSRP is $449 for every variation. Each come with A-grade satin walnut furniture, double triggers, barrel lengths are either 26" or 28" and a brass bead up front provides sighting.

For a more classic appearance the Supreme will set you back $549. It comes with a single, gold-plated trigger. The wood is AA-grade walnut with a gloss finish. This one's only available in 12 and 20 gauge, though, and you have a choice in barrel lengths of either 26" or 28".

Stoeger's Uplander Longfowler shotgun is available in the same chamberings with a 30" barrel. Price is the same as the Field model. They also have a single trigger, although it's not embellished with gold.

American Rifleman reviewed a Longfowler several years ago and explained, "Its classic box-lock receiver is investment-cast, finished by CNC-machine and then hand-fitted to the barrel unit. The action is cocked by leverage applied to the cocking arms via the Anson-style fore-end anchor as the gun is broken open to load.

Within the action, mechanical-style trigger sears connect to a single, non-selective, investment cast trigger that fires the right barrel first." Overall, the story summarized that the shotgun is, "…tough-as-nails, reliable and readily capable of downing ducks and geese at long range through a range of less-than-ideal conditions. In the end, that's what matters."

The Youth version is available in 20 gauge and .410 bore. Barrel length drops to a more manageable 22" for younger enthusiasts and MSRP is $449.

Every model in the line has a tang-mounted safety and extractors.