posted on September 24, 2019
Support NRA American Rifleman
DONATE
American gun owners make up a diverse community, and include individuals from all across the population spectrum, people of every race, creed, culture or socio-economic status. While many factors may tie us together, one near-universal thread is the desire to keep our families safe. Two new products from Stoeger Industries address this desire specifically, and, by offering these tools at remarkably budget-friendly prices, the company ensures that personal safety is not a right reserved only for the wealthy.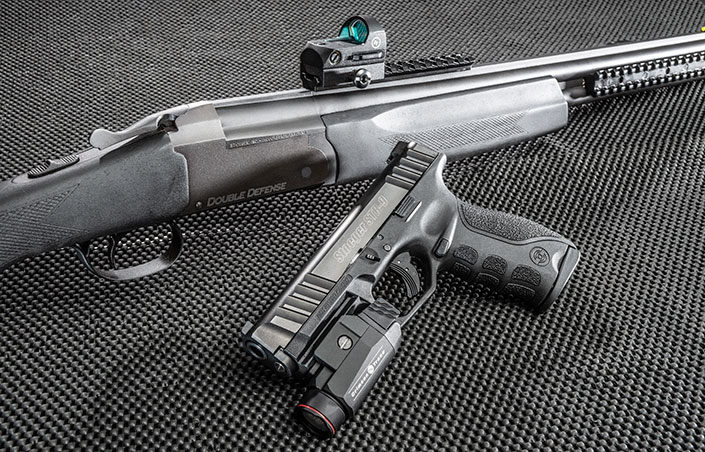 The Stoeger STR-9 is a polymer-frame, striker-fired, semi-automatic pistol chambered in 9 mm Luger that possesses a 15-round magazine and many of the desired characteristics sought by concealed carriers, but at a price far below what we've come to expect. Our other evaluation arm is Stoeger's Double Defense, an over-under shotgun built expressly for home defense, also without a budget-busting price. In the firearm industry you usually get what you pay for, so I went into these evaluations questioning whether such economically priced firearms could provide life-saving performance. I'll answer that starting with the STR-9.
Manufactured in Turkey and imported by Stoeger Industries, the STR-9 is very much like other service-size, polymer-frame semi-automatics currently available. What's different is the pistol's starting price of just $329. That's the suggested retail price, so it is likely you'll find it for even less in your local gun store. The gun comes with one 15-round stainless steel magazine, and Stoeger also offers a package that includes three interchangeable backstraps along with three magazines for $389. Yet another package includes the aforementioned extras and upgraded night sights for just $449.
Like most common polymer-frame semi-automatics, the STR-9 uses a plastic grip frame with a steel chassis pinned into it that possesses the rails on which the slide rides—there is no metal-to-plastic contact as the slide reciprocates. There are molded finger grooves on the gun's frontstrap, and the backstrap is replaceable, allowing the gun to be configured to each shooter's hand size. Stoeger designed the STR-9's magazine release to be reversible. The slide stop is located in the usual position on the left side of the frame, and it is neither bilateral nor reversible. In an effort to help shooters get a higher grip to better control recoil and minimize muzzle flip, Stoeger undercuts the frame at the junction of the trigger guard and frontstrap. The gun has a squared trigger guard, and its dustcover features a Picatinny-type rail for mounting accessories such as a tactical light or laser module.


The STR-9's trigger has a familiar central-blade safety designed to keep the gun from firing accidentally unless the trigger is purposefully pulled. The gun also features a mechanical striker block to prevent firing in the event it is dropped, and still another passive safety feature prevents the gun from firing when the slide is out of battery. Like many of the currently popular striker-fired semi-automatics, there is no manual safety on the STR-9, nor is there a magazine safety—the pistol can still fire with the magazine removed.
For comfortable carry, Stoeger rounds the slide's sharp edges. It has wide and deep cocking serrations fore and aft, and the carbon steel is given a tough, black-nitride finish. An external extractor is pinned into the slide's right side, and there is also a loaded-chamber indicator at the top of the slide to provide both visual and tactile confirmation. Stoeger uses steel sights on the STR-9, and they are both dovetailed into the slide. They possess the usual three-dot pattern, and the rear sight has a set screw to lock the sight after it has been adjusted for windage.
Like the slide, the STR-9's barrel has a black-nitride finish, and it not only increases the surface hardness but also provides corrosion resistance and possesses a certain amount of lubricity. Measuring 4.17" in length, the barrel has six-groove rifling and uses a 1:10" right-hand twist. The pistol's single recoil spring is held captive on a guide rod, which makes assembly and disassembly much easier.
I tested the STR-9 for accuracy at 25 yds. Given that it is a full-size, service-style gun, I thought that would be a fair distance at which to evaluate it. I brought along an assortment of ammunition to not only check the gun's accuracy but to see if it would function with a variety of bullet weights and bullet nose profiles. I fired all groups from a seated rest using a Millett BenchMaster with the gun rested on its dustcover.
Our smallest group was fired with Colt Defense 124-gr. JHP ammunition, which, by the way, also generated the most energy. Groups ranged in size from 1.25" to 2.83" with the average for all groups just 2.10". This level of accuracy from a budget blaster was a pleasant surprise and not what I expected. Field shooting the STR-9 was also a positive experience. Though the gun feels big and blocky, its ergonomics did not hamper my ability to shoot it quickly and accurately. Reliability was 100-percent with no failures of any kind experienced.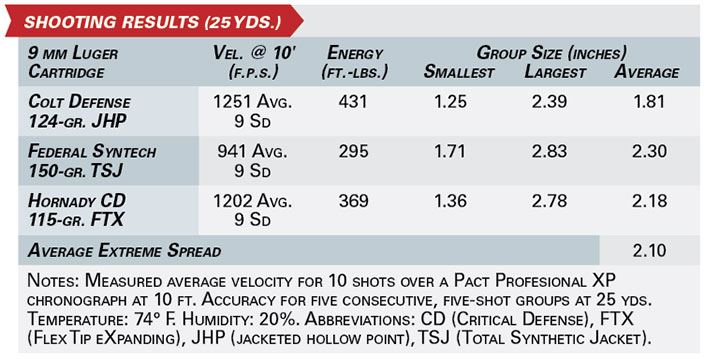 Considering the gun was designed for home defense, I also chose to mount a Crimson Trace CMR-208 tactical light (crimsontrace.com). Retailing for under $100, the unit weighs just 4 ozs., yet produces up to 420 lumens of white light and uses a single CR123 lithium battery. The light features Crimson Trace's tap-on, tap-off activation and mounted easily to the STR-9's rail. Being able to identify a threat in a home-defense situation is critical, and the CMR-208 provides the user with an economical solution.

Fieldstripping Stoeger's STR-9 is easy and doesn't require any tools. Begin by removing the magazine and clearing the chamber. With an unloaded gun, retract the slide approximately 1/16" to the rear and pull downward on the bilateral take-down latches, then allow the slide to move forward until it stops. Point the pistol in a safe direction and pull the trigger. You'll now be able to pull the slide assembly—including the barrel and recoil spring—forward off the frame. Turning the slide assembly over in your hand, you can now remove the recoil spring assembly and then lift the barrel out of the slide. This is as far as you'll need to disassemble the STR-9 for routine cleaning and maintenance. Re-assembly is in the reverse order.
While the most attractive aspect of the STR-9 may be its price, I do not feel an individual armed with this pistol to be handicapped in the least. It's a solid performer and should be at the top of the list for anyone looking for an economical double-stack, polymer-frame, striker-fired pistol.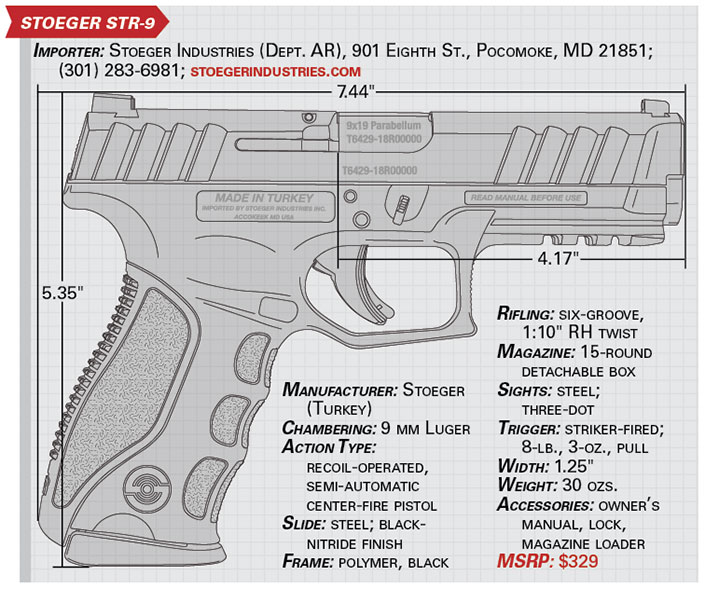 Turning to the long-gun side of the equation, it's true that not everyone's first choice for home defense is a double-barreled shotgun. But such a platform's uncomplicated mechanism and simplicity of operation make it an easy one to learn and use. Stoeger's Double Defense is a rugged over-under designed for home- and self-defense, manufactured in Brazil and available in both 12 and 20 gauge, with 3" chambers to accept both 3" and 23/4" loads. It is a no-frills gun and sports a matte, black-oxide finish along with a black-finished walnut buttstock and fore-end and a 1" solid recoil pad. Aesthetically it is all-business, and Stoeger designed it to be as sturdy as possible. My 20-ga. test sample had fixed, improved cylinder chokes in both its 20" barrels, which contribute to the gun's handy overall measurement of 36.5". The Double Defense has extractors that lift the shells from the chamber, but there are no ejectors; and a single mechanical trigger automatically resets after the first shot in order to fire the second barrel. There is no provision for barrel selection, and the bottom barrel always fires first. There is also an automatic safety, which resets every time the action is opened. To disengage it, the shooter pushes the tang-mounted button forward.

Stoeger Industries' STR-9 and Double Defense represent two viable home-defense solutions for those on tight budgets.

Stoeger makes use of Picatinny rail in three places on the Double Defense. There is a 5" piece of rail just forward of the chamber area on the top barrel for mounting a red-dot or holographic sight. In between the barrels, on either side of the gun, is additional rail for attaching other accessories to enhance the gun for its defensive mission.
Despite the gun's utilitarian finish, I found it to lock up tight with zero play once the action was closed; the fore-end's latch system was very secure and wobble-free, giving the gun a solid feel. To open the action for loading or unloading, the user simply rotates the top lever to the right while pulling downward on the barrels.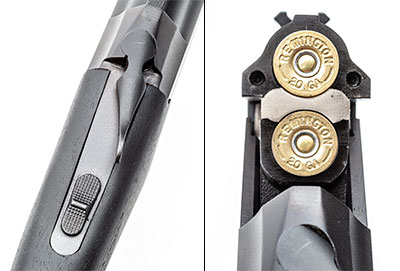 American Rifleman protocol normally calls for patterning tactical shotguns at 25 yds. But, given this gun's intended mission of home defense, I thought it would make more sense to pattern it at 15 yds. Let's face it, finding a space in your house or hallway more than 15 yds. across would be unlikely, and a realistic home defense scenario would probably be half of that. I used three different loads, all with No. 3 buckshot and 2¾" in length. The top barrel of the Double Defense averaged an 11"-diameter pattern at 15 yds. Patterns were centered slightly left of my aiming point. The bottom barrel printed a little low and left, with the highest percentage of pellets going into the upper left quadrant, and an average pattern diameter of 10.5". In a home-defense scenario, even with the 20-ga. loads, these buckshot patterns would be—let's just say—more than sufficient.
Trigger pull on our Double Defense registered at 5 lbs., 8 ozs., and I found it perfect given its intended use. The trigger's reset between the first and second shot is firm and allows the shooter to fire a follow-up shot very quickly. The solid 1" recoil pad made shooting the Double Defense comfortable.
Crimson Trace provided me with its CWL-202 Tactical Light, which produces a blinding 900 lumens of LED white light. The light has its own mounting hardware and attached easily to the Double Defense's Picatinny rail. Users can activate the light using its tail-cap button or by using the tape-mounted pressure pad. I attached the CWL-202 to the left-side rail so I can activate the tail cap with my left thumb. The included mounting hardware allows the light to be mounted on either side. Crimson Trace also includes mounting options for KeyMod and M-Lok handguards. The unit operates with two CR123 Lithium batteries and boasts more than 85 minutes of continuous run time. Crimson Trace, as well as a number of other manufacturers, also make a variety of tactical lights with integral lasers that can not only illuminate and identify a threat but also use the laser beam to designate the point of aim. While the CWL-202 retails for just $99, expect light-and-laser units to be more expensive.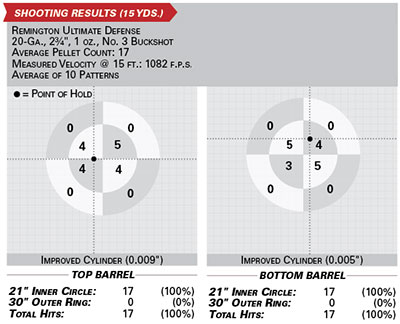 The Double Defense over-under shotgun impressed me as a well-made shotgun capable of providing the reliability needed for home defense. During my evaluation there were no malfunctions or problems of any kind with the gun. Even though the gun sports 20" barrels, its short overall length of just 36.5" and its ideal balance, right at the hinge pins, make it a handy house gun for use in tight spaces. Weighing just 6 lbs., 9 ozs., unloaded, the gun should be light enough for most family members to handle easily.
Stoeger Industries' STR-9 and Double Defense represent two viable home-defense solutions for those on tight budgets. Both possess the reliability, ease of operation and accuracy needed to provide peace of mind.