by
posted on January 11, 2016
Support NRA American Rifleman
DONATE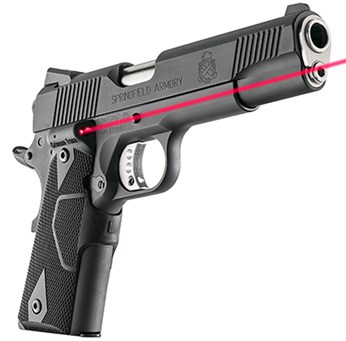 Springfield Armory has optimized the 1911 Loaded Parkerized pistol for serious defensive use by adding Crimson Trace Lasergrips.
The Parkerized finish is designed to stand up to the rigors of daily carry while the full 5" Government size makes it an excellent home-defense option too. 
"The addition of the laser means you can react more quickly in response to a threat," says Springfield CEO Dennis Reese." I don't know if there's anything more comforting than that." 
Those familiar with Crimson Trace Lasergrips will already appreciate the instinctive activation button, which turns on the laser with no switch manipulation required. And low-profile grip replacements means that customers can use their favorite Government size holster. As a self-defense model, the Loaded Parkerized comes standard with three-dot Tritium combat sights. 
"The goal of our Loaded product line is to provide customers with pistols that are ready to go, out of the box, with everything they might need for serious types of usage," says Reese. "To us, Loaded doesn't represent a single combination of features. Rather, we create a number of different configurations within the Loaded family to meet different types of customer needs."
Because everyone's definition of Loaded is a little different, Springfield Armory now offers six different models in the series, each with its unique set of features. For example, the LB Operator offers an extra round in the magazine, while the Lightweight Operator uses a forged aluminum alloy frame to shave extra weight for concealed carry applications. The traditional Parkerized and Stainless Steel models are forged with a traditional dust cover while the Marine Corps Operator, LB Operator, and Lightweight Operator models include Picatinny rails for more tactical use. 
Depending on the specific Loaded configuration, customers will find premium features such as ambidextrous thumb safeties, extended beavertail grip safeties with memory bumps, lightweight delta hammers, and extended triggers. Two included magazines and a very high quality polymer briefcase round out the package. 
Springfield Armory will be offering the Loaded Parkerized Crimson Trace pistol in .45ACP.