Support NRA American Rifleman
DONATE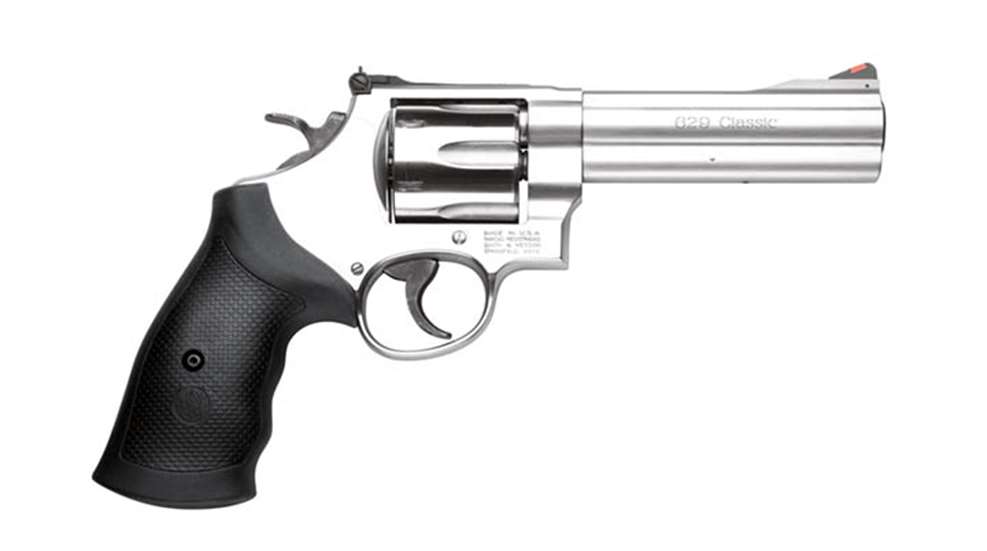 The Smith & Wesson 629 comes from an enviable, purebred lineage. The revolver is a direct descendant of the N-Frame handguns the company began producing in 1955, shortly after famed gun writer Elmer Keith worked with manufacturers to alter the .44 Spl. cartridge into something more appropriate for large and dangerous game—the .44 Mag. In 1957, the company's heavy-frame gun, then the world's most powerful production handgun, was officially designated the Model 29. 

It was popular with enthusiasts, but 14 years later, the revolver went mainstream when Clint Eastwood wielded one on the silver screen as he played San Francisco detective "Dirty Harry" Callahan. Subsequent demand was so high that retailers ran out of stock, and Smith & Wesson couldn't make enough.

A variety of versions have appeared through the years in slightly different configurations. That heavy N-Frame, though, has played a key role in keeping the gun popular.

Then in 1978, the company introduced a stainless-steel version known at the 629. In 2019, it was the fourth-best-selling revolver among retailers using the services of GunBroker.com. In the last five years its been a steady performer, remaining in either fourth or fifth place in the standings.

Today there a wide number of new models are available in .44 Mag., with various barrel lengths and configurations. The Model 629 Classic, for example, comes with a 6.5" barrel and it has an overall length of 12". Capacity is six cartridges and the revolver weighs 48.4 ozs. The frame, barrel and cylinder are all stainless steel and the gun comes with recoil-mitigating synthetic grips. MSRP is $989.

The 629 4" Barrel model has a commensurately shorter overall length and tips the scales at 41.5 ozs. MSRP also drops to $949. Smith & Wesson also offers a .44 Mag. Hunter variant, a competition model with weighted barrel, another fine-tuned from its Performance Center and more.