by
posted on January 15, 2016
Support NRA American Rifleman
DONATE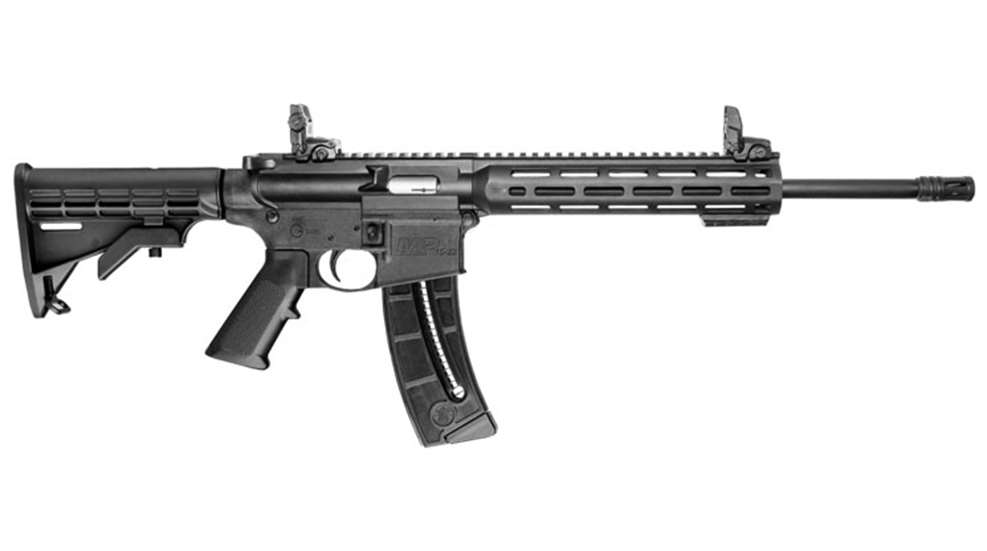 Since its 2009 debut, the Smith & Wesson Corp. M&P15-22 has grown to become one of the most popular rifles on the market, and our 18-second video clip of the rifle being fired is still our most-viewed American Rifleman YouTube video. Now S&W announces the new M&P15-22 Sport, its most feature-rich M&P15-22 to date, including premium Magpul accessories.
"By starting with the market-leading M&P15-22 rifle and building in enhanced standard features and value, we now offer consumers the opportunity to own a new, superior rimfire modern sporting rifle," said Jan Mladek, General Manager of the Smith & Wesson and M&P brand.

The M&P15-22 Sport model features a 10" M&P slim handguard that incorporates the popular Magpul M-LOK system, which allows for the easy addition of accessories without removing the handguard. A 2" M-LOK rail panel is included with each rifle. Standard on the rifle are the removable Magpul MBUS front and rear folding sights.
In addition to the standard matte black offering, the Sport is offered Kryptek Highlander and Moon Shine's Muddy Girl camo. 

The rifle will also be available in a Performance Center exclusive edition featuring an enhanced two-stage match trigger, match grade precision 18" threaded barrel and match grade chamber. The Performance Center model is also standard with a VLTOR adjustable stock and Hogue grip. MSRP: $449

Specifications:
Model: M&P15-22 SPORT
SKU: 10208
Caliber: .22 LR
Action: Semi-Auto Blowback
Capacity: 25+1 Rounds
Barrel Length: 16.5" (41.9 cm)
Front Sight: Folding MBUS
Rear Sight: Folding MBUS
Overall Length: 33.75" (85.7 cm) Extended 30.70" (77.9 cm)
Grip: Collapsed Polymer
Weight: 5 lbs. (2,268.0 g)
Barrel Material: Carbon Steel
Upper & Lower Material: Polymer
Finish: Matte Black
UPC Code: 022188868203

Other Features
• 10" M&P Slim Handguard with Magpul M-LOK
• Magpul MBUS Folding Sights
• Easy to Mount M-LOK Accessories
• 2" M-LOK Rail Panel Included
• 6-Position CAR Stock
• Functioning Charging Handle
• Shell Deflector
• 2-Position, Receiver Mounted Safety Lever


Look for range video from American Rifleman editors as they try out the Sport version of this rifle at SHOT Show 2016 on Jan. 18. Meantime, you'll have to settle for a video of shooting champion Jerry Miculek as he wrings it out for the first time.


For more, please visit smith-wesson.com.