by
posted on July 6, 2011
Support NRA American Rifleman
DONATE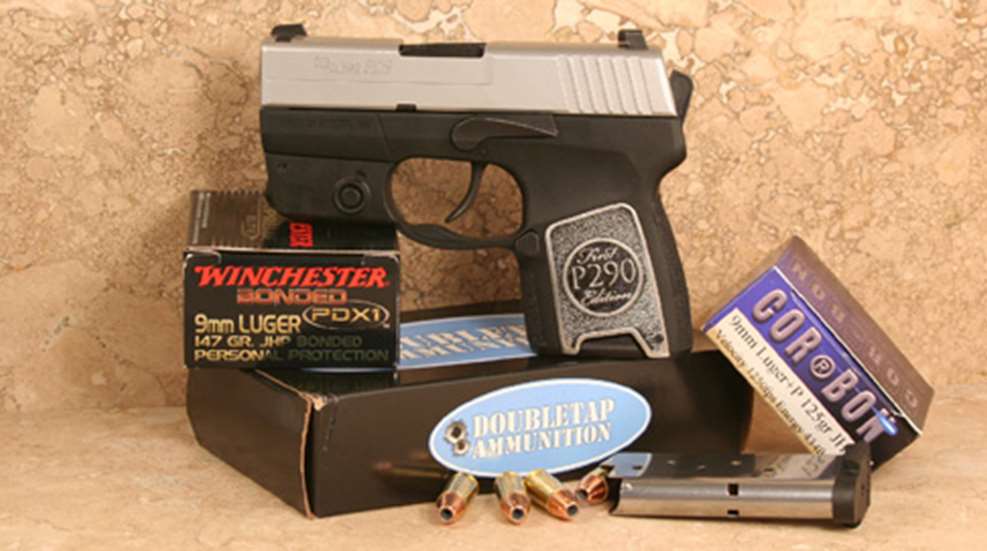 This is a banner year for sub-compact 9 mm pistols, often grouped together as "The Pocket 9s." Even within this narrowly defined subcategory of defensive pistols, gun companies still have to play out a challenging balancing act. Should they shed frame strength and features to achieve the desired mouse-cannon status? Or, should they sacrifice some of the pocketable compactness of the handgun in order to keep the popular features of their beloved full-size pistols in place?
SIG Sauer is well-known for the quality and reliability of its rifles and pistols. It has also done quite well in the pocket .380 market with its many variations of the P238. But like many other gun companies this year, SIG didn't want to miss out on the pocket 9 mm trend. In developing the new P290, it chose to beef up the pistol a bit and keep some important features. This doesn't mean the pistol is overly large or heavy per se, but it does push the limits of what can be called a pocket pistol. Considering that this is one of the few super-compact 9 mms rated for +P ammunition, a little more gun to work with is a good thing.
The P290 First Edition is a sleek, simple-to-operate pistol free of extraneous buttons and levers to complicate its operation. It's a tilting barrel, locked-breech 9 mm. The barrel bells out at the muzzle to facilitate a tight lock up when the slide is forward and to allow the barrel to tip as the slide moves back. The milled stainless-steel slide shows SIG Sauer's signature styling. This model arrives from the factory with a set of the excellent SIGLITE Night Sights installed, but standard sights are also available. The overall fit and finish show the high-level of quality folks have come to expect from SIG Sauer.
The P290 has a double-action-only trigger mechanism, which acts as the only exterior safety. The published trigger pull claims an average of 9 pounds. The Lyman digital trigger gauge agrees with this average, as this particular gun tested out with a trigger pull of 9.35 pounds. The trigger is a non-re-strike design. Like a single-action pistol, if a round does not fire, the slide must be racked manually to reset the trigger. This is not a point of concern if you already practice tap-and-rack drills.
The magazine release is a wide, textured triangle, making it easy to work with. The magazines don't just drop out of the grip frame, they vigorously jump out to facilitate fast reloads. The grip is aggressively textured along the front and back strap. This P290 model comes with two sets of removable grip panels. One set is aluminum, marked "First Edition," the other set is constructed of black polymer to match the frame. Just in case you have a hankering to personalize your pistol, SIG Sauer provides a wide selection of grip panels in various colors and materials to make your pistol stand out from the crowd. Just remove the pin at the heel of the grip, exchange the grip panels and reinstall the pin.
The optional laser module is well-designed. The ambidextrous push-button activator is right where it should be for fumble-free operation. The module melts into the pistol frame perfectly, creating the impression of a one-piece frame. Although it is easy to remove and to install, the laser locks firmly in place without any rough edges or protrusions to snag while drawing or reholstering the pistol. Once the laser was properly adjusted, it did just what it was supposed to do: place a bright red dot where the bullet is going to strike.
With an empty weight of just 20.5 ounces, an overall length of 5.5-inches and a 1-inch wide slide, the P290 definitely qualifies as compact. But, if you are used to the exceptionally pocket-able guns in .380 and .32 ACP, like the Ruger LCP, North American Arms Guardian or DiamondBack DB380, the P290 is going to seem bulky for a quick drop into a front jeans pocket. However, it was terrific to work with in the waistband, on the hip, in an ankle holster and in the various backpack and purse pockets it was tested in. The P290 fits right into the same defensive slot as a J-frame .38 Spl. revolver. In other words, enough gun to get the job done, but just the right size for everyday carry.
At the Range
With the P290's light weight, heavy trigger, short grip and short barrel, it took some concentration to produce good 5-shot groups from the bench at 25 yards. The top-notch sights were helpful in this regard, but my little finger was looking for something to hold on to. I took advantage of the pistol's +P rating to test CorBon 125-grain +P jacketed hollow points, DoubleTap 115-grain +P Barnes TAC-XP hollow points and Winchester standard pressure 147 grain PDX1 hollow points. Group sizes were quite consistent, with the CorBon averaging 2.95-inch groups, the Winchester 3-inch groups and the DoubleTap 3.1-inch groups.
It's nice to know the pistol is accurate out at these distances, but it's not intended for silhouette target competitions. This little SIG really came into its own in off-hand shooting in the 7- to 15- yard range. Through a series of drills with a variety of ball and hollow-point ammunition, the P290 provided solid defensive accuracy, and it functioned flawlessly with every ammunition type it was fed. Standard pressure loads produced a manageable level of felt recoil. With +P loads, however, the recoil level increased measurably. It made the P290 feel like an Airweight .38 loaded with +P ammo. Certainly not unbearable, but definitely not for a beginner.
Final Notes
To be honest, I didn't know if I was going to like the P290. As a fan of pocket pistols and deep-concealment firearms, I thought this pistol would be just a little too large to fit the bill. However, as I've cleaned it, carried it and shot it, this new SIG Sauer has grown on me. By moving it half a step over from the pocket pistol category to the sub-compact box, it's clearly a pistol with an exceptional feature set—handling, power level and reliability—for a handgun of its size. I can see the P290 easily taking the place of some of the larger defensive handguns that I like, and possibly some of the smaller ones as well.
As of this writing, First Edition models are still available, though you might have to look for them. Standard and two-tone models are in stock and ready to ship. A new eight-round magazine will be available soon to boost ammunition capacity and to keep your little finger from getting lonely.
Specs:
Manufacturer: SIG Sauer, sigsauer.com/Default.aspx
Model: P290 First Edition
Action: Double-Action Only (DAO)
DAO Trigger Pull: 9.0 lb. Average
Caliber: 9mm
Finish: Natural Stainless Slide, Polymer Frame
Sights: SIGLITE Night Sights
Grip Panels: First Edition Aluminum, multi-color polymer inserts available
Barrel Length: 2.9"
Overall Length: 5.5"
Height: 3.9"
Weight: 20.5 ozs. (No Magazine)
Width: 0.9"
Capacity: 6+1 Rounds
Twist: 1:10" RH
Rifle Grooves: 6
Suggested Retail: Two-Tone Pistol $758, With Laser $856