by
Kelly Young, Senior Executive Editor
posted on January 3, 2018
Support NRA American Rifleman
DONATE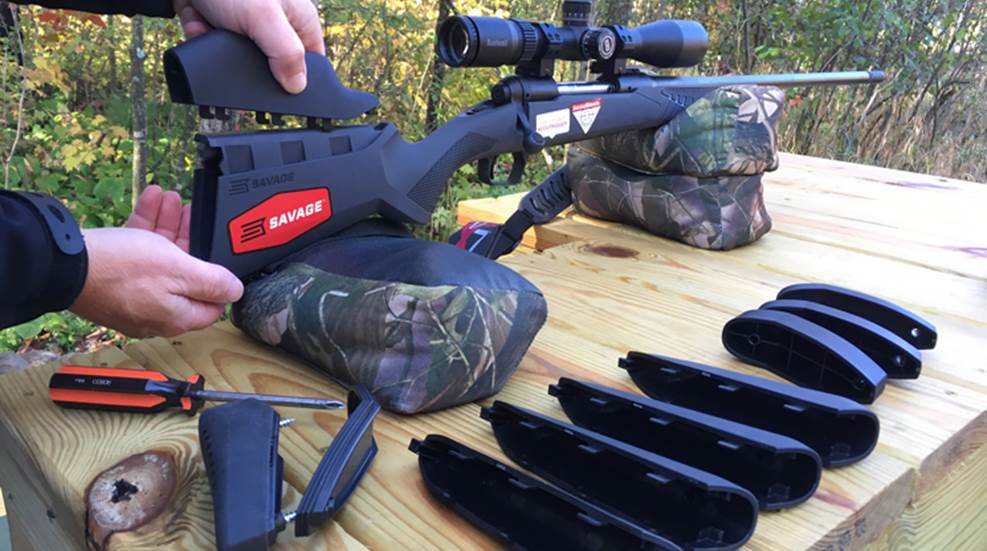 Savage Arms really shook up its product lineup in 2003 and again in 2009 with the introductions of the AccuTrigger and AccuStock systems, respectively, innovations that have stood the test of time—as evidenced by the fact that both have become fixtures of the company's rifle models ever since, and are likewise still being imitated by Savage's competitors to this day. For 2018, Savage is once again revamping its bolt-action line, this time to feature what the firm has termed AccuFit—a new synthetic stock design that allows shooters to customize both the rifle's length of pull and comb height quickly and easily in the field with only a Phillips head screwdriver.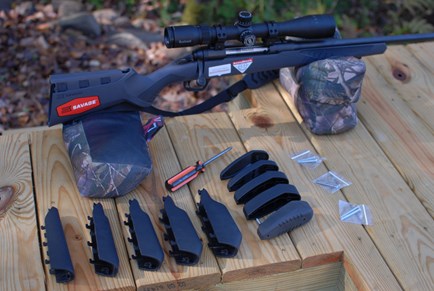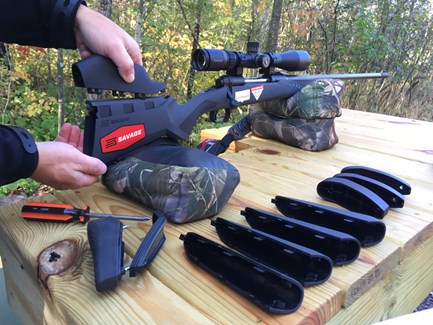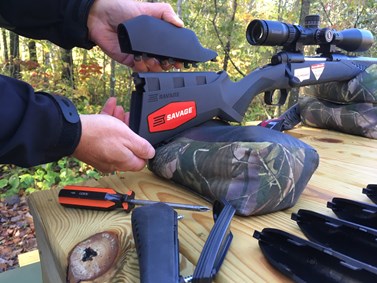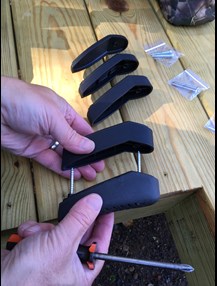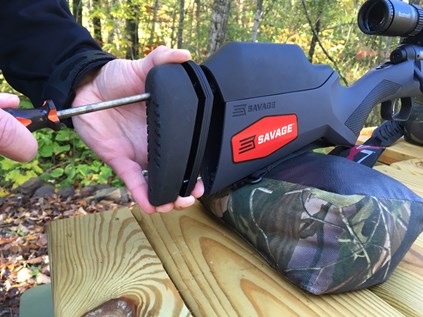 AccuFit's adjustability is made possible by way of a system of spacers and risers that are held in place by the rifle's soft rubber buttpad. The guns ship from the factory with the straight comb and the longest spacer installed, however, three additional spacers and four comb risers are included allowing the user to fine-tune the rifle's fit to any combination of five different lengths of pull and five different comb heights. The LOP can be set between 13" and 14" long in ¼" increments, while the drop at comb can be adjusted from 1" to ½" in 1/8" increments.
In addition to the dimensional adaptability of the AccuFit stock, Savage has also tweaked the aesthetics, resulting in a much more modern profile. Purchase-enhancing soft-grip texturing has likewise been added to the pistol grip and fore-end.
Right out of the gate Savage is introducing a diverse lineup of nine Model 110 variants that feature the AccuFit stock, providing shooters of many different persuasions with an offering that meets their needs. Although the nine new rifles vary in terms of chamberings, finishes and features, each new SKU is built on Savage's classic Model 110 action and benefits from both the AccuTrigger and AccuStock upgrades.
The Model 110 Hunter (below) pairs the AccuFit's gray synthetic stock with a blued action and barrel and a detachable box magazine. The Hunter is available in 12 chamberings with either 22" or 24" button-rifled barrels. MSRP: $749

                                  

Matching a stainless steel barreled action with a gray synthetic stock, the Model 110 Storm (below) is intended for use in all weather conditions. Both left- and right-handed models are available, with 17 chamberings offered for righties and nine for southpaws. MSRP: $849

                                    

The Model 110 Long Range Hunter (below) comes chambered for 10 cartridges, each utilizing a 26" barrel. The .338 Lapua Mag. version features an AICS-compatible detachable box magazine and a fixed muzzle brake, while the others come with a hinged-floorplate magazine and an on/off muzzle brake. MSRP: $1,099 ($1,299 for .338 Lapua Mag.)

                                       

Offered in .223 Rem., .22-250 Rem. and .204 Ruger, the Model 110 Varmint (below) mates a 26" heavy-contour barrel with the gray synthetic AccuFit stock. Using a four-round-capacity detachable box magazine, the rifles weigh approximately 10 lbs. MSRP: $749

                                  

A blued barreled action resting in a Realtree Max-1 camouflage-patterned synthetic stock, the Model 110 Predator (below) also features a fluted and threaded barrel and an oversized bolt knob. Available chambered for six short-action cartridges. MSRP: $899

                                    

The Model 110 Wolverine (below)—chambered only for the straight-walled .450 Bushmaster cartridge—includes a heavy-contour 18" barrel, a muzzle brake, a one-piece 20-m.o.a. optics rail and a Magpul AICS detachable box magazine. MSRP: $899

                                      

Chambered for five hard-hitting cartridges, the Model 110 Bear Hunter (below) pairs a Mossy Oak Break-Up Infinity patterned stock with a stainless steel action and barrel. The rifle also comes with an on-off muzzle brake and a hinged-floorplate magazine. MSRP: $999

                                  

Accepting 10-round Magpul AICS magazines, the Model 110 Tactical (below) is offered in .308 Win., 6.5 mm Creedmoor and 6 mm Creedmoor, all with threaded barrels and oversized tactical bolt handles. A left-handed .308 Win. version is also available. MSRP: $769-$784

                                   

The Model 110 Scout (below) matches a flat dark earth AccuFit stock with a 16.5" blued, muzzle brake-capped barrel. Featuring adjustable iron sights and a forward-mounted optics rail, the rifle is offered in .223 Rem., .308 Win., .338 Federal and .450 Bushmaster. MSRP: $819

                                  

I had the opportunity to use an AccuFit-equipped Model 110 Storm, chambered for .30-'06 Sprg., during a Wyoming pronghorn hunt in late October. Topped with a Cabela's Instinct HD 3-9X 40 mm riflescope and firing Federal Premium's 175-gr. Edge TLR load, I was able to successfully harvest a good-sized buck off-hand from a distance of 207 yards.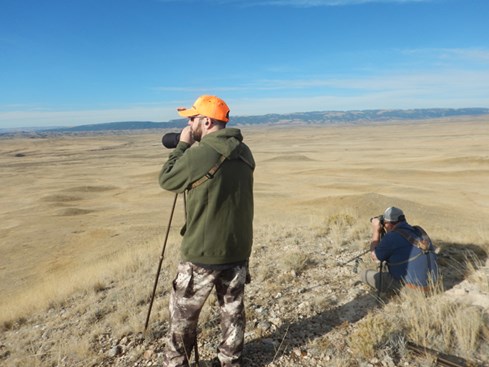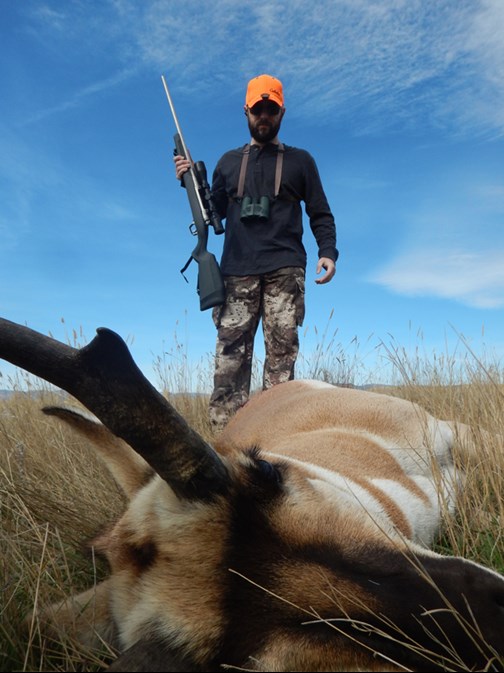 Frequent shooters understand that an ill-fitting gun is more difficult to shoot well, and that proper fit is an important aspect of consistent accuracy. As mentioned above, the rifles ship configured with the longest spacer and the lowest comb riser, and while zeroing our scopes in Wyoming, I found that shortening the LOP and raising the comb each by one setting resulted in the optimal fit for me. The outcome, when naturally bringing the rifle to my shoulder, was a solid cheekweld that correctly aligned my eye within the optic's eye box and hand placement conducive to a proper trigger pull.
Most hunting rifles on the market today offer no provisions for customizing LOP and comb height, and those that do often employ external knobs that can snag or become loose at the most inopportune of times. Although my experience with the Model 110 Storm has been limited, in the field the rifle felt good in the hand and at the shoulder, and so far I have found the AccuFit system to be simple and unobtrusive, yet effective.



Look for a full report on the AccuFit stock in general, and the Model 110 Storm in particular, later this year in American Rifleman. For more on Savage's new AccuFit stock, visit savagearms.com.