by
posted on August 3, 2022
Support NRA American Rifleman
DONATE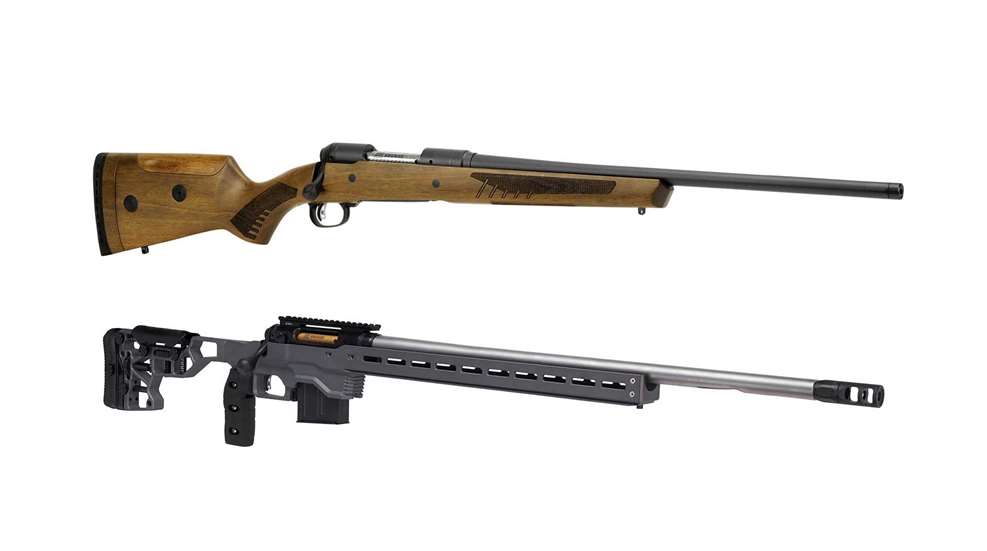 In 1956, Savage Arms launched an ambitious project—creating a new bolt-action rifle built for longevity and reliability, one the company could offer at an affordable price. Add the requirement that it also needed to be accurate, and designer Nicolas Brewer faced with a formidable task.
Two years later his work was complete, and the company's Model 110 appeared. It fulfilled the requirements with dexterity, proved to be an instant hit and the popularity continues to this day. It is currently offered in 38 variants—each in a dizzying array of chamberings and configurations.
The year it was introduced though, its was only available in .30-'06 Sprg.  and .270 Win. MSRP was 109.75, according to American Rifleman's early review of the first models to hit the market (reprinted here on our website). The article concludes, "When fired with 110-, 150-, and 180-gr. ammunition the Model 110 rifle exhibited good accuracy, with no functioning difficulties. The spring-type ejector proved to be efficient and threw empty cases to the right at a proper ejection angle to clear low-mounted scopes. Quality of finish on both wood and metal parts is excellent. We can make no significant criticism of this well-designed and well-made arm."
Throughout the years the rifle has built an enviable reputation for accuracy right out of the box—a feat made possible by the unusual design of the Model 110 action. Some purists expressed disgust at its cosmetic invasion of American walnut stocks, at first anyway, but they quickly discovered it was a critical component in a painstakingly precise system that trimmed expensive production time.
In grossly oversimplified terms, a barrel nut threads onto the chambered side of the barrel during assembly. The threaded shank then goes into the round Savage receiver. With a headspace gauge inserted, the bolt closes. Then the barrel turns into the receiver until proper headspace is achieved (contact with the gauge). The final step is to tighten the barrel nut to lock everything into place. On the majority of today's models it's a challenge to detect any cosmetic difference, although it's easier to locate that spanner access point on versions with wood furniture.
It was a time- and cost-saving approach, but the advantages at the firing line are undeniable. The fact the receiver was machined from a single bar of steel was a price trimming decision, too, although the kind of strength and longevity it provides is another asset. The Model 110 action also brought three-position safeties and left-handed rifles into the mainstream. In addition, the 110s bolt design provided a replaceable, twin-lug floating head that not only allowed for better lockup of chambered cartridges, it paved the way for out-of-family cartridge conversions to be completed on a DIY basis.
The design has improved dramatically through the years, though. Select models now wear the company's AccuFit system, including the famed AccuTrigger and AccuStock. Long-lasting and rugged polymer stocks are available—some in camo—receiver-mounted rails, threaded barrels, some are southpaw friendly and much more.
For enthusiasts who prefer long distance there's even a Model 110 Elite Precision (above)—available in both left- and right-hand versions—that wears a Modular Driven Technologies stock. Its aluminum chassis ensures longevity with minimal maintenance, and it comes with a full-length Arca rail. Owners can easily tune the AccuTrigger for let-off weights between 1 lb., 8 ozs. and 4 lbs., and the cheekpiece, recoil pad and pistol grip are adjustable. It's a versatile setup, available in .223 Rem., 6 mm Creedmoor, 6.5 mm Creedmoor, .300 PRC, .300 Win. Mag., .308 Win. or .338 Lapua Mag., your choice. MSRP runs from $1,999 to $2,199, depending on chambering.
If a more tradition stock better fits your pursuit and the budget's tight, the Model 110 XP Hunter comes in at $709, the lowest MSRP in the line. It arrives with a 3-9x40 mm Vortex Crossfire riflescope and is available in 20 chamberings. The .450 Bushmaster model will set you back another C note.
Savage also has a wood-stocked version available (seen above). It comes in at $1,099.
The versatility of the Model 110, named for its original MSRP rounded up to the next dollar, shows in its longevity. It's the inherent accuracy and innovation that make it a classic, but the manner in which Savage Arms continues to improve the rifle—without abandoning that original budget-friendly mission—is what keeps it at or near the top in popularity.