by
posted on March 28, 2014
Support NRA American Rifleman
DONATE
Savage Model 1903 Slide-Action Rifle
Gun: Savage Model 1903 slide-action rifle in .22 S, L or LR rimfire
Condition: 80 percent (NRA Very Good)
Approximate Value: $300-$350
While Savage may not get as much respect from most collectors (except for the Model 99) when compared to the other more famous American trademarks, for the past 11 decades this company has provided a lot of shooters and hunters with reliable firearms at an affordable price. That is still true today. Originally named Savage Repeating Arms Co. when founded in Utica, N.Y. in 1895, its first gun was the Model 1895 center-fire lever-action rifle, which was actually manufactured by Marlin. The company was renamed Savage Arms Co. in 1899, and with its redesigned action, rotary magazine and cocking indicator, the improved Model 1899 quickly became a hit.
With the .22-cal. rimfire cartridge having been developed in 1857, its evolution continued until the powerful .22 LR (Long Rifle) was released in 1887, developed by J. Stevens Arms & Tool Co. Although John M. Browning was the first to realize the potential of the cartridge in his Winchester Model 1890 slide-action .22-cal. rifle, in 1903 Savage decided that it wanted a part of this new exploding market and released the Model 1903. Differing from the Model 1890, it featured a hammerless design, detachable box magazine and an upper tang safety.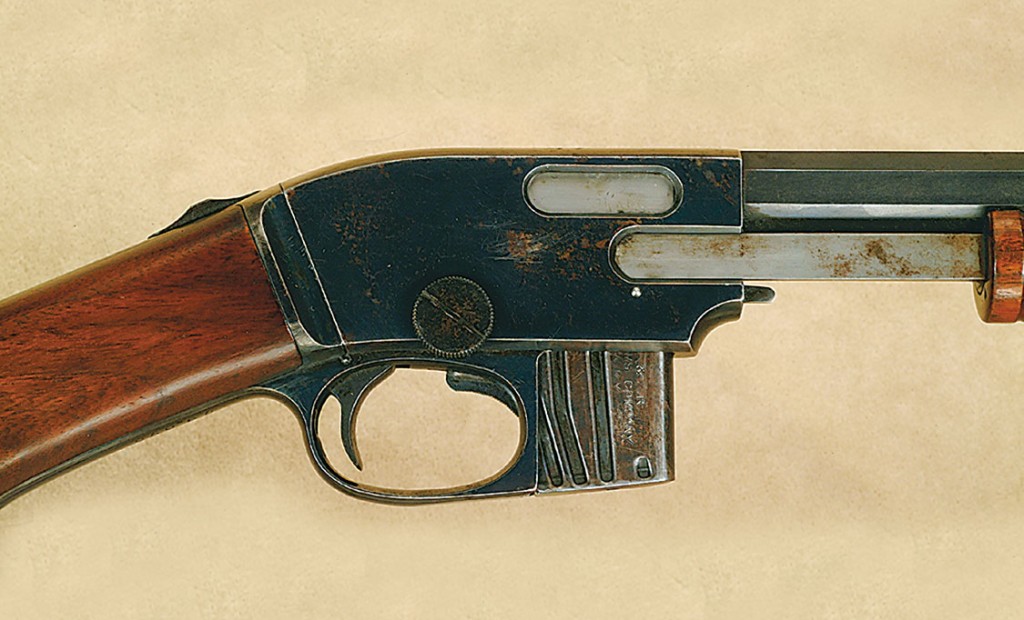 As with most of these early 20th century, .22-cal. slide-action rifles that were inexpensively priced when new (typically $10-$15), it is now difficult to find a surviving specimen in superior original condition. Even in 80-percent condition, this particular example, manufactured circa 1907, is probably still in better condition than the vast majority of older slide-action makes/models. Note the wear on the edges of the frame that still retains most of its bright bluing and small areas of scattered rust on the edges of the frame and shiny slide rail. The large slotted screw is for the takedown mechanism. The seven-shot detachable magazine, mounted flush to the front of the trigger guard, has faded and turned a light plum color consistent with the rest of this gun's overall wear. The bluing on this rifle's 24" octagon barrel also shows some fading and edge wear, especially where handled when shooting. The uncheckered rounded pistol-grip stock with crescent buttplate and 11-groove fore-end retain most of the original varnish without any major nicks, scratches or dings.
Currently, the Blue Book of Gun Values lists the value range at $300-$350 for a Standard Model 1903 in this condition. If in mint original condition, the price could top $700. This is a good example of a 100-year-old rifle that is still relatively inexpensive, has years of great shooting and enjoyment remaining, and will still retain its value if maintained properly.
-S.P. Fjestad, Author/Publisher Blue Book Of Gun Values
(Originally published December 2006. According to the 33rd Edition of the Blue Book of Gun Values, a Model 1903 Standard Slide Action in 80 percent condition could fetch around $370.)