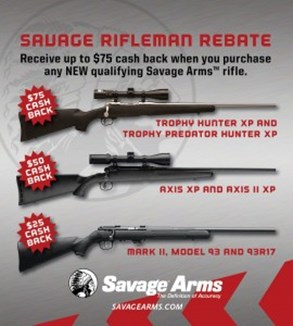 Get up to $75 cash back on any of 80 new qualifying Savage Arms rifles with its just-announced Rifleman Rebate. The promotion includes the new AXIS Heavy Barrel and Model 11 Trophy Predator Hunter XP.
Purchasing a model Mark II, Model 93 and 93R17 rimfire comes with a $25 rebate, while buying an AXIS, AXIS XP or AXIS II rifle makes you eligible for a $50 rebate. Buy a Trophy Hunter XP centerfire rifle package, meanwhile, and you'll be able to claim $75 back. Complete rifle eligibility can be viewed here.
Rifles must be purchased between Aug. 1, 2014 and Nov. 30, 2014. The mail-in rebate coupon must be received by Dec. 31, 2014. The coupon can be downloaded from the Savage Arms website.
"Savage Arms has a strong reputation for delivering quality, accurate rifles at surprisingly low retail prices. It's the key to the popularity of our products, and it's why we have so many dedicated repeat customers," said Savage Firearms Marketing Director Bill Dermody. "This rebate is a great way to win over new shooters looking to buy their first Savage rifle. It also gives our many loyal customers a great opportunity to add another Savage to their collection."
Among the qualifying models are rifles that feature suppressor-ready functionality, left-handed versions, camouflage options, youth sizes and more. A number of new-for-2014 models are also available.
For more information, go to SavageArms.com.