by
posted on December 16, 2011
Support NRA American Rifleman
DONATE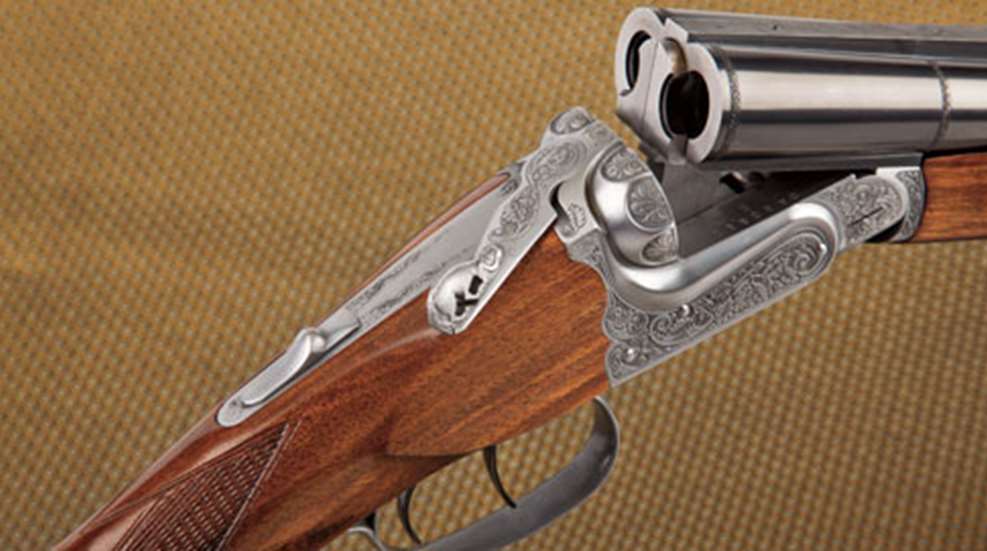 Hunters who have been to Africa for dangerous-game safaris often gain a keen appreciation for the double rifle, a specialized gun developed to deal mighty blows quickly in close quarters. An actual purchase is another matter, however, principally because of cost. Starter doubles from any of the well-known European makers begin at around $12,000. That's a deal-breaker for many would-be owners.
Now comes a half-price, entry-level alternative that is generating considerable interest, but also some controversy. The Italian-made Sabatti Model 92 Deluxe is being imported by U.S. Sporting Goods and retailed exclusively through Cabela's Gun Library outlets across the country. The asking price, depending on features, is $5,000 to $5,500. We evaluated a Model 92 Deluxe in .450 Nitro Express 3¼ inch; it is also available in .416 Rigby, .450/400 NE 3 inch, .470 NE and .500 NE. A less robust, plainer and less expensive Model 92 Basic in 9.3x74 mm R or .45-70 Gov't is also offered by Cabela's.
The modified Anson & Deeley-type boxlock action has two massive underlumps engaged by corresponding sliding square-faced lugs controlled by the gun's top-lever. To further strengthen the action, the front underlump hinges around a 0.44-inch-diameter axle and then extends a square foot that fills a recess in the receiver floor.
The underlumps are part of a monobloc into which the barrels have been joined using a silver alloy at medium temperature. The chrome-molybdenum steel barrels are regulated through the insertion of steel wedges in the rib, which are then silver-soldered permanently in place. A U.S. Sporting Goods spokesman told us that the regulation is now accomplished by state-of-the art machinery, though the traditional test-firing is still done. The barrel assembly features a standing quarter rib containing one standing and two folding rear sight leaves that are notched and lined to aid rapid sight acquisition. The front sight presents a brass bead mounted in a piece that slides into a slotted ramp at the muzzles. That piece is replaceable with taller or shorter units, and thus can be used to shift point of impact elevation. The quarter rib is also drilled and tapped for scope mounting, and our rifle was supplied with a 4.1-inch section of rail compatible with Weaver-type rings.
The receiver begins as a high-strength steel billet that is milled to provide a solid standing breech attached to a double-limbed watertable that extends 2.45 inches and is slotted to accept the underlumps. The standing breech features large hemispherical fences that mate against the barrels' breech ends. A sliding tang safety activates only when manually manipulated.
Our sample rifle's walnut stock was straight-grained (as is the customary choice for hard-kicking big-bores), with more dramatic figure on the left side, highlighted well by a gloss finish. The stock has a pistol-grip configuration and raised cheekpiece for right-handed shooters. The wood-to-metal fit was proud (not perfectly flush), though consistent, with the wood slightly higher than the receiver. A thin, red rubber buttpad, though functional, clashed somewhat with the rifle's appearance. The beavertail fore-end sported matching grain and it was fitted with an Anson-type pushrod release controlled by a forward plunger button.
Our rifle was sent with a 50-meter factory test target bearing four bullet holes, two each marked "1" and "2." The latter pair were touching and approximately 1-inch right and 1-inch low of the central aiming mark. Shooting the same Hornady load with the 480-grain DGX bullet as noted on the target, we alternated the left and right barrels in firing our customary five, five-shot benchrest groups. All of our 50-yard groups printed inside 3 inches and that accuracy threshold remained consistent when we extended the range to 100 yards.
Given the action type, the sights and the heavy recoil involved, we feel this level of accuracy, and thus the regulation of the barrels, is entirely suitable for the rifle's intended purpose of shooting very large, heavy game at close ranges.
Our rifle was fitted with strong ejectors that flung out empty cases several feet, however, it is also available in an extractor-only variant. All the other controls—double triggers, safety, break-open lever and fore-end latch—worked perfectly, and we experienced no misfires or other function problems.
At 9 pounds, 8 ounces, the Sabatti is a bit lighter than many contemporary doubles, and of course that will affect felt recoil. We mitigated that somewhat using a Caldwell Lead Sled when shooting from the bench, but did not find the rifle prohibitively punishing in that set-up or when firing it offhand or from shooting sticks. However, the kick was stout enough that none of the test shooters wanted to fire too many shots in any single session. That aside, the Model 92 balances well and comes to the shoulder naturally.
As the Sabatti gained attention in the U.S. market, it also received criticism on internet message boards, with barrel regulation at particular issue. As stated above, we did not observe a problem in this area, and while we normally confine our reviews to only what we have experienced, we want readers to have the very best information available and to know we were aware of this concern. At any rate, Cabela's long-standing policy to stand by its wares gives purchasers recourse.
Based on our experience, the Sabatti is a perfectly functional, capable dangerous-game rifle whose styling and embellishments are in keeping with double rifles costing much more.
Manufacturer: Sabatti S.p.A., Gardone V.T., Italy
Importer: U.S. Sporting Goods; (321) 639-4842; www.ussginc.com
Mechanism Type: break-action, boxlock, center-fire, side-by-side rifle
Caliber: .416 Rigby, .450/400 NE 3", .450 NE 3¼" (tested), .470 NE, .500 NE
Overall Length: 41"
Weight: 9 lbs., 8 ozs.
Receiver: nickel-plated steel
Barrels: cold hammer forged, 24"
Magazine Capacity: none (two barrels)
Trigger: double-mechanical; 8-lb., 2-oz. pull, front; 6-lb., 1-oz. pull, rear
Sights: replaceable front bead, express rear with three leaves on quarter rib
Stock: European walnut: length of pull, 151⁄4"; drop at heel, 2¼"; drop at comb, 1¾".
Accessories: fitted plastic case, dovetail rail optic mount
Suggested Retail Price: $5,000 (extractors only); $5,500 (with ejectors)