by
John Zent, Editor Emeritus
posted on November 23, 2015
Support NRA American Rifleman
DONATE
How prolific has Mossberg been at producing rimfire rifles? So prolific that the incomparably comprehensive Blue Book of Gun Values chose to cry "uncle" rather than include every last model in a section that still runs almost seven pages.  
But even though millions of Americans have enjoyed plinking, hunting and competing with the ubiquitous Mossberg rimfires, that's hardly the case with center-fire rifles from this 96-year-old manufacturer that also dominates in shotgun sales. Despite valiant efforts and some promising designs along the way, Mossbergs have never made much of a dent in big-game hunting, NRA High Power competition or tactical rifle circles.
That appears to be changing thanks to market dynamics that have been intelligently addressed by the company's management and product developers. While the stable isn't large, Mossberg now has promising entries in a few notable categories, all of them priced to make buyers take a hard look. Leading the charge is the bolt-action Patriot (read the full American Rifleman review here), a rifle whose classic good looks, functionality and solid workmanship are commanding as much attention as its affordability. Patriot sales have been hot throughout 2015, especially a combo offering that includes a mounted Vortex scope, and, somewhat surprisingly in this day and age, a walnut-stocked selection. But that's not all. Another turnbolt, the MVP, can be readily modified for all sorts of tactical and hunting specialization, while the Model 464 is a lever-action so faithful to the form it makes one want to saddle up.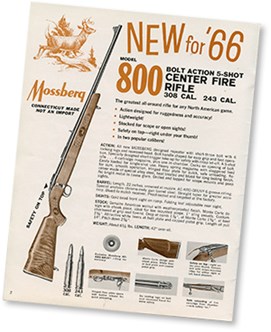 1965-1981: Private-Label Economics
Fifty years ago Mossberg entered the center-fire business at the urging of retail giant Montgomery Ward, whose private-label Western Field line largely consisted of Mossberg-made .22s and smoothbores. It was the heyday of the bolt-action hunting rifle, a time when American riflemen were trading up from military surplus and lever-actions. Winchesters and Remingtons ruled the roost, the new Ruger Model 77 was on the rise, and Savages, Weatherbys, Brownings and a slew of imports made for a rich buyer's market.  
Mossberg responded with the Model 800, borrowing elements from the company's Model 385 shotgun and a turnbolt prototype fashioned by German immigrant gun designer Louis Seecamp, who later founded his own company to make pocket-size, semi-automatic pistols. The short-action design, initially chambered for .243 Win. and .308 Win., featured a solid-body, front-locking bolt with a hook extractor, bolt-face ejector and sliding tang safety. Counter to the prevailing dual, opposed locking-lug designs, the 800's bolt boasted six lugs arranged in pairs 120 degrees apart, similar to that of standard-caliber Weatherby Mark Vs, except that the front lugs were more than twice the size of those in the rear. The short 60-degree bolt lift aided cycling speed and eased scope mounting.  
Associate Technical Editor Ludwig Olson's favorable review in the August 1966 issue of The American Rifleman noted safety features such as the bolt's counterbored face and solid rear shroud, as well as the gun's fast lock time, while calling shooting test results "… exceptionally fine for a lightweight big-game rifle." At 7 lbs., 2 ozs., the Model 800 was not quite what we'd consider a lightweight rifle today, but its $97.95 price tag certainly sounds reasonable. 
The 800's run extended to nearly 150,000 guns under Mossberg, Western Field and other private-label brands, demand that eventually spawned the long-action Model 810, which also became a Western Field mainstay. The 810 chambered in-demand big-game cartridges such as .30-'06 Sprg., .270 Win. and 7 mm Rem. Mag., but did so in a redesigned receiver that relied on conventional opposed bolt lugs, a beefier extractor and a choice of drop-box or hinged magazines. Although it was a good-looking rifle, labor-intensive production methods reportedly ate into profitability, and the 810 series was discontinued after less than a decade.
Mossberg made a final run at bolt-gun sales in that early era with its Model RM7. That rifle's most interesting characteristic was touted as a "rotary" magazine, however our reviewer observed it was not a true spool-type like the Savage 99's, but instead " … a metal feed arm powered by a 'mousetrap' spring, which directs cartridges around a curve in the magazine box … ". The review was otherwise quite positive, but nonetheless, the RM7 quickly vanished.
Also in the early 1970s, the company set its cap on lever-action sales, by then a two-horse race between the long-entrenched Winchesters and Marlins. Again, motivation came from partners that were the big-box stores of the day, principally Wards, but also Western Auto and Coast to Coast Hardware. When Mossberg completed development of the Model 472 .30-30 Win., Wards dropped its affiliation with Marlin. 
Western Field carbines appeared first, and soon a rifle-length variant was added along with the .35 Rem. chambering. Both straight and pistol-grip stock styles were produced. Spent cases ejected on the side a la the scope-friendly Marlin 336, but the designers took safety a step further with a bilateral crossbolt safety, as well as an "intercept notch," both of which stopped the hammer fall short of the firing pin. Further innovation came by housing the trigger blade within the lever. When cycled in and out of battery, the trigger would ride along inside the guard, thus preventing pinched fingers and plausibly hastening follow-up shots. Unfortunately, Mossberg had to price its upgraded lever-action at $10-15 over the better-known competition, which proved more than the market would bear. 
2005-2014: Opportunity Knocks
Though private-label economics weren't the motivation, no doubt Mossberg factored in potential sales through a new generation of big-box stores when it resumed center-fire rifle manufacturing shortly into the new century. Plenty of the company's shotguns and rimfires were selling through Cabela's, Bass Pro, Walmart and other retailers, so why not deer rifles?
Bolt-action center-fires returned to the Mossberg catalog at mid-decade, first the ATR, followed a few years hence by the 4x4, related models based on the round-bodied/barrel-nut-style receiver that is all the rage at present. The former came in three short- and two long-action calibers, was equipped with a simple but effective single-stage trigger and a blind magazine. Several camouflage patterns, along with black synthetic and walnut, were available for stock finishes, and in addition to matte blue, metalwork could be had in Marinecote. 
The 4x4 boasted many more caliber options—from varmint rounds to heavy hitters such as the Winchester Short Magnums and the .338 Win. Mag.—and it was the platform for introducing Mossberg's take on the adjustable, lever-in-blade trigger, dubbed the Lightning Bolt Action (LBA). Often sold in combo packages with scopes mounted, both the ATR and 4x4 were discontinued a year ago.
Effectively, they paved the way for the MVP, introduced in 2011, another gun utilizing the round-bodied receiver, but one that made news with a chambering option in 5.56 NATO (as opposed to .223 Rem.) and the ability to accept AR-type magazines. Since then a large array of MVPs have emerged, mostly with features geared to the tactical generation. These include long-range, patrol, tactical, Scout, Flex and Light Chassis versions bearing Picatinny rails, flash hiders, adjustable stocks and other contemporary furniture.
Concurrent with the bolt-gun developments was a move to fill the void when upheaval at Winchester in 2006 resulted in shelving that firm's legendary Model 94 lever-action. Mossberg was quick to jump in with a nicely made straight-grip carbine, unmistakably a Model 94 clone, but upgraded with a rear receiver bridge that added rigidity to the frame and made for more stable scope mounting. Covering the Model 464 intro for American Rifleman, former NRA Publications editor Dave Campbell said, "… an American-made, forged steel receiver rifle that is handsome, well made and functions properly … [for] less than $500 is quite an accomplishment." Campbell wasn't shy in calling for a walnut option to the stained birch stock as well as a pistol-grip model, and eventually those two wishes were combined. Mossberg designers also thought way outside the box a few years later in conceiving the 464 SPX, with a stock treatment mimicking tricked-out AR rifles.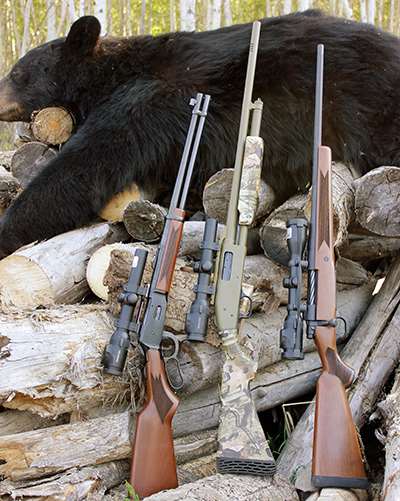 Mossberg's Center-Fire Outlook
With the Patriot and MVP, it certainly appears Mossberg possesses a clear read on today's bolt-gun spectrum, at least the end within reach of most gun owners. For a number of specialized uses, Mossberg can match or beat competitor pricing. And though I know many need to stretch their dollars, it's also my belief that gun folks generally rate performance and features above cost, so ultimately it's what happens on the range, in the field and on duty that'll determine their future.    
When it comes to lever-actions, it's not clear to me if there's much future beyond the nostalgia vote. The Model 464 certainly gets mine and perhaps more from my demographic, but that's a small number. I think under-50 riflemen mostly see them as relics, but perhaps there are two glimmers of hope. First, you can empty a lever-action's magazine faster than a bolt-action's and in most cases the lever gun holds more rounds (albeit .30-30 vs. just about every other caliber). Of course ARs, AKs and the like are even faster and have much greater capacity, but you'll pay hell to find one that rides a fraction as comfortably in a saddle scabbard. The second chance periodically comes to light on reality TV programs depicting life in the Alaskan bush, where it's not uncommon to see off-the-grid types toting lever-actions when they go out to check their livestock, pick berries or pot a caribou.