by
posted on August 27, 2014
Support NRA American Rifleman
DONATE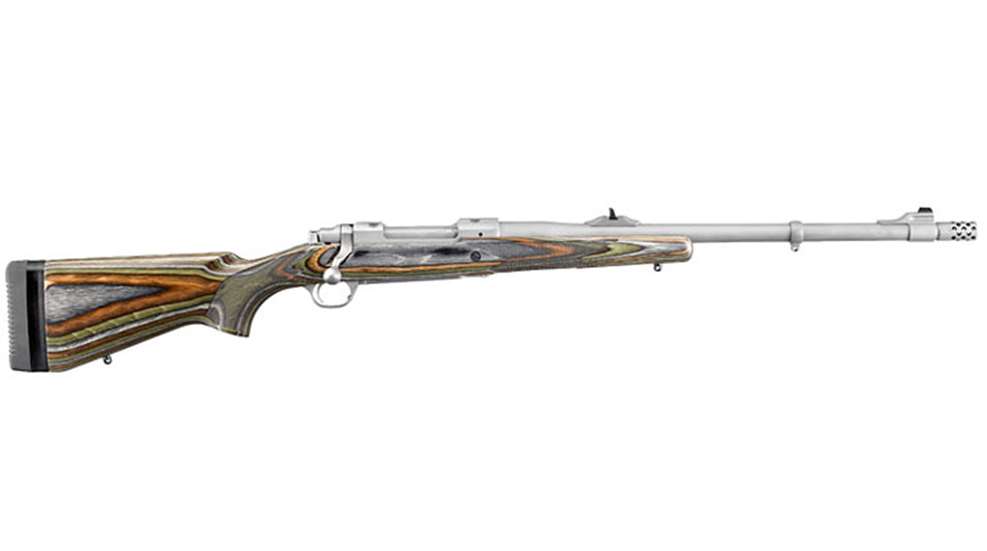 Many dangerous-game guides carry a different sort of rifle than their clients. African professional hunters often carry open-sighted, large-bore double rifles, and an Alaskan bear guide's rifle is typically a short lever- or bolt-action chambered for a cartridge of at least .33 caliber. The reason is because it's the client's primary job to place the first shot correctly, and the guide shoots only if the client wounds an animal, and usually at close range.
Recently Ruger started offering a "Guide Gun" variation of its popular Model 77. The stock is laminated, and the action and 20" barrel are stainless steel—along with all the other steel in the rifle except the magazine box, rear sight blade, trigger spring and two stock reinforcement bolts. The barrel is equipped with sturdy, adjustable open sights.
The trigger is Ruger's excellent LC6, one of the few "open" designs offered anymore, rather than the typical modern trigger with the moving parts mounted between two pieces of sheet steel. Some hunters prefer open triggers because both water and dust tend to move on through, rather than building up inside. The LC6 is not user-adjustable, but can be quickly and safely tuned by a knowledgeable gunsmith.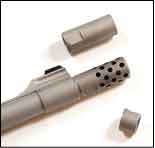 The barrel comes equipped with a muzzle brake. The use of brakes on dangerous-game rifles is somewhat controversial and debatable: Since guide and client are  usually together, brakes tend to deafen the other hunter—but many people shoot braked rifles more accurately, especially rifles chambered for typical dangerous-game cartridges. Some people prefer to sight-in and practice with a brake, then remove it while hunting—but this practice can alter point of impact. Ruger's solution is a removable brake, along with a "dynamically matched" muzzle weight, essentially a brake without holes. After sighting-in, the muzzle brake can be replaced with the muzzle weight, minimizing point of impact shifts. Also included is a short thread protector for shooters who don't want to use the brake at all, and prefer a slightly shorter rifle.
The stock includes three removable 1/2" spacers that can be fitted between the recoil pad and butt. Until recently the only concession American rifle manufacturers made to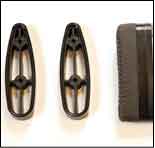 differences in human size was to offer "youth" models, with shorter stocks and barrels, but today there's a definite trend toward adjustable or switch-part stocks, with Ruger being a leader.
This became more feasible as utilitarian rifle designs gained popularity. A quarter-century ago many hunters refused to use anything but hardwood stocks, but today almost anything goes, whether camo-coated metal or durable synthetic stocks. And unlike African PH's, who may carry an engraved .470 Nitro Express stocked in fancy walnut, North American bear guides aren't usually known for artistic firearms. (They may own some, but usually don't carry them into alder thickets after wounded browns or grizzlies.)
The test rifle was chambered for the .338 Ruger Compact Magnum cartridge, still the only .33-cal. short/fat/rimless magnum offered by a major manufacturer. While the .338 RCM isn't wildly popular, it fills a definite niche. Essentially it's a short-action version of the .338-06 Ackley Imp., providing medium-bore performance in a small package, while recoiling noticeably less than a .338 Win. Mag., or any larger-bore magnum.
The rings provided with all Ruger center-fire rifles are easily detachable and precisely replaceable, so the hunter has the option of a scope or irons. The front sling swivel stud is mounted on the barrel in front of the fore-end, an option some hunters prefer in thicker cover, so a rifle slung over the shoulder won't extend above the user's shoulder as far and therefore not catch on as many branches. (There's also a filler screw in the typical forend location, threaded into in a steel nut, so a standard sling-swivel stud can easily be added if desired.)
The test rifle came with one stock spacer installed, for a length-of-pull of 131/4", just right for the test shooter. One of the recent Leupold 3X 20 mm scopes, already proven on several other rifles, was mounted in the stainless factory rings. With the scope and mounts the Guide Gun weighed 8 lbs., 8 ozs., and without them only 7 lbs., 12 ozs. With or without scope, the rifle balanced slightly muzzle-heavy, excellent for offhand shooting.
The only .338 RCM ammunition is made by Hornady, and it provided two loads for the tests, Superformance with 200-gr. SSTs and Custom with 225-gr. SSTs. For the third test load, 250-gr. Hornady Spire Points were handloaded with Vihtavuori N550 powder, the fastest powder listed with 250s in the 9th edition of the Hornady Handbook of Cartridge Reloading. The load wasn't specifically worked up for the rifle; instead the bullets were seated about 0.0625" short of lands, and propellant charges increased to a little less than the listed maximum of 56.7 grs.
The muzzle brake was left in place for the accuracy testing, making bench shooting far more tolerable. The action worked a little stiffly at first, but quickly smoothed out. Three rounds of .338 RCM fit in the magazine, and all fed perfectly every time through the controlled-feed action. Probably due to the short, stiff barrel—0.670" in diameter just behind the muzzle brake—all three loads shot very close to the same place at 100 yds.
Following the accuracy shooting, the brake was replaced with the muzzle weight. There was no discernible point-of-impact (POI) change, but after the muzzle weight was replaced with the thread protector, POI didn't change more than an inch with any of the loads—again, probably due to the stiff barrel.
The Ruger Guide gun is essentially weather-proof, and the controlled-round-feed action worked perfectly with the .338 RCM, something not always seen with CRF rifles chambered for short, fat cartridges. As such, the gun should work perfectly for its intended use, whether in Alaska or Africa.