Support NRA American Rifleman
DONATE
In 2012, Smith & Wesson introduced its Shield pistol, a slim, 9 mm Luger-chambered handgun that folks could carry easily, and the design proved to be an instant hit. Nearly a decade later, though, micro-compact handgun designs proliferated, with increased magazine capacities that eclipsed that of the original Shield. To answer its competition, S&W launched its Shield Plus design. We took a closer look at the gun in our American Rifleman Television Rifleman Review segment above.
"Two of the biggest trends in pistols during the last couple years have been the micro-compact 9mms and optic-cut slides, and the Smith & Wesson M&P that we have right here is a gun that ticks both of those boxes at the same time," said Kelly Young, American Rifleman senior executive editor. "Now because of its higher capacity, the Shield Plus is a bit wider in the grip than is the original Shield, but this is actually a good thing, as the extra width actually fills your hand a little better, makes the gun a little more comfortable to shoot, little easier to handle recoil with."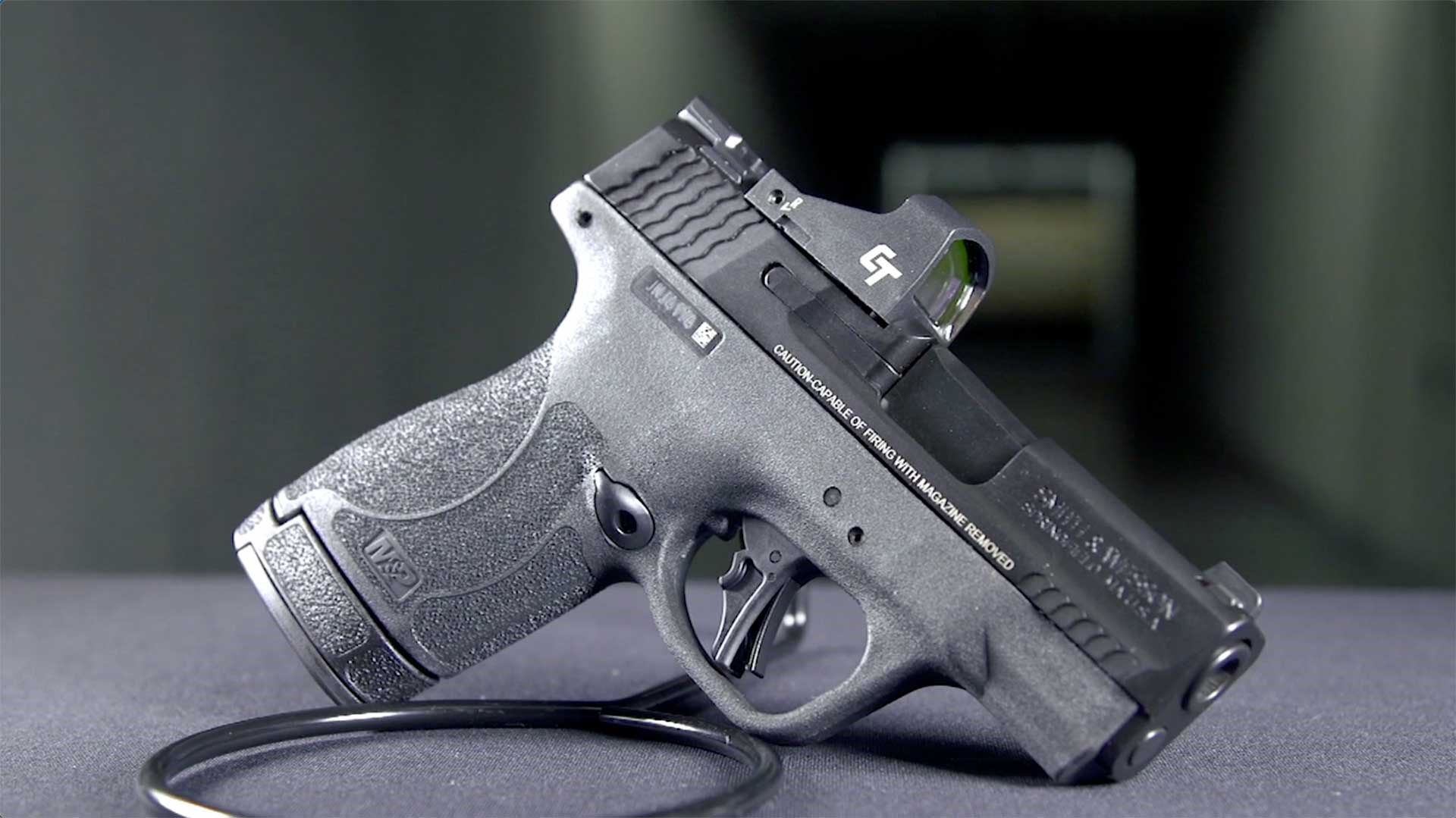 In addition to the increased magazine capacity and subsequent ergonomic changes, Smith & Wesson also took a look at the trigger design. Previous models in the company's M&P lineup used a hinged trigger blade that acted as a safety, differing from other designs that used a blade-in-shoe safety, like Glock. Many felt that the hinged design contributed to an indistinct, mushy trigger pull, so on the Shield Plus, S&W elected to incorporate a flat-faced, blade-in trigger safety to improve the pull.
The M&P Shield Plus' slide is milled to accept Shield RMSc-pattern optics, and S&W offers select models with an included Crimson Trace CTS-1500 micro red-dot. In addition to the optics-ready nature of the slide, the company also updated the open sights with tritium-illuminated options. Other features on the Shield Plus include many of the enhancements from S&W's M2.0 update, including enhanced grip texturing and fish-scale-style slide serrations fore and aft.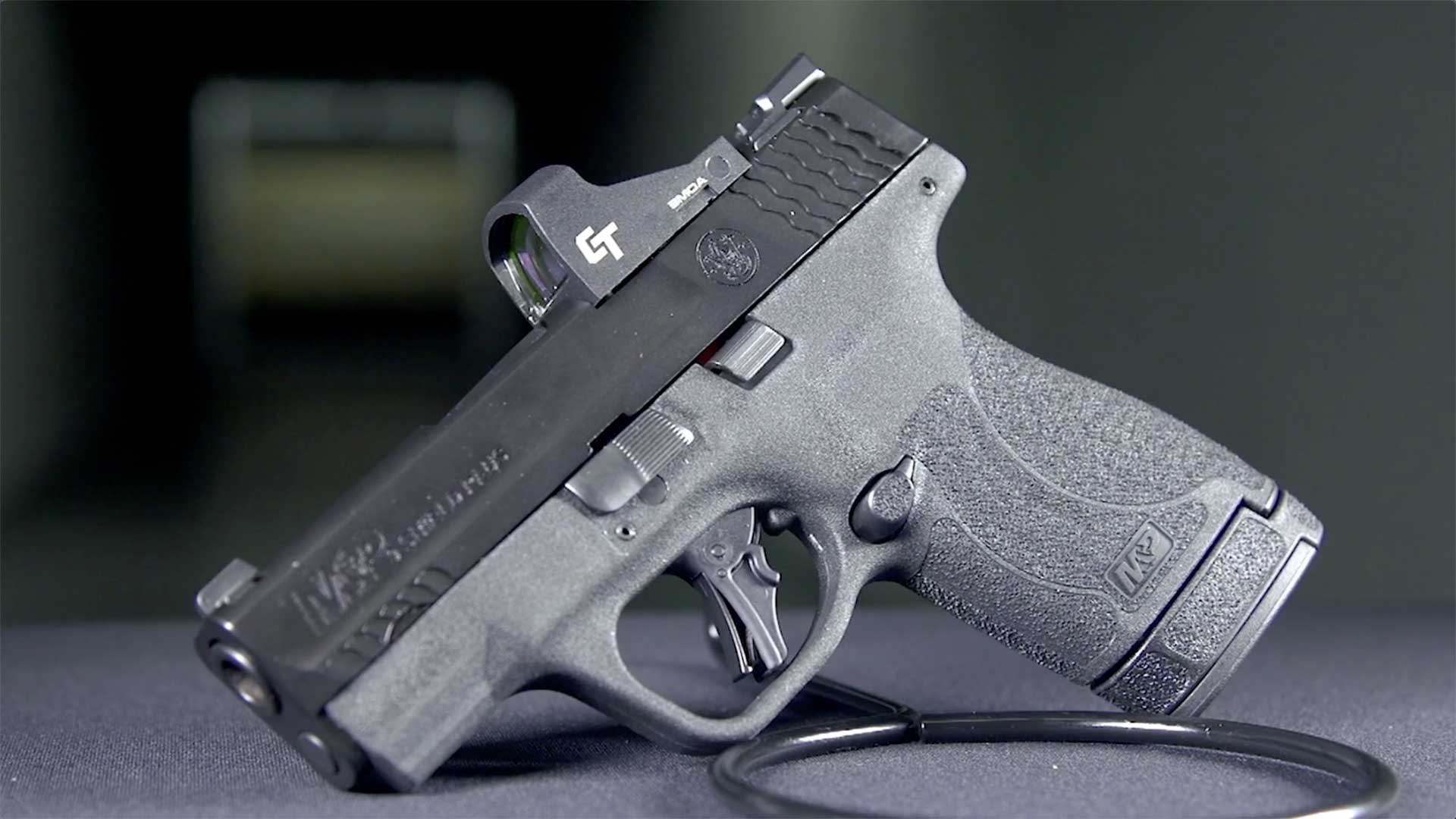 "Our experience with previous versions of the Shield Plus has been very favorable from the standpoint of reliability and accuracy, and this version just adds even more functionality by upgrading the sights a bit and allowing the option to use a red dot while actually only costing about $40 more than the base model," Young said. "So if you're interested in a Smith & Wesson Shield Plus but don't necessarily want to shell out the extra money for a Performance model, this is the one for you."
Smith & Wesson M&P9 Shield Plus OR Specifications
Manufacturer: Smith & Wesson
Action Type: recoil-operated, semi-automatic, centerfire pistol
Chambering: 9 mm Luger
Slide: stainless steel, Armornite finish
Frame: matte black polymer
Barrel: 3.1", stainless steel, six-groove, Armornite finish, 1:10" RH twist
Magazine: 10-round detachable box
Sights: steel, tritium night sights
Trigger: striker-fired, 5-lb., 10-oz. pull
Overall Length: 6.1"
Height: 4.6"
Weight: 19.3 ozs.
Accessories: owner's manual, optics cover plate, 13-round magazine, lock
MSRP: $549
To watch complete segments of past episodes of American Rifleman TV, go to americanrifleman.org/artv. For all-new episodes of ARTV, tune in Wednesday nights to Outdoor Channel 8:30 p.m. and 11:30 p.m. EST.