Support NRA American Rifleman
DONATE
Q: I recently purchased a "G.I." M1 carbine. The only unusual aspect of the gun is that it has a serial number in the normal location (behind the rear sight), but the same serial number is also stamped in front of the rear sight. The two serial numbers appear to have been stamped at different times. Can you explain why the serial number was stamped on the gun twice?
A: Most M1 carbines were originally fitted with non-adjustable "L-type" rear sights. When they were arsenal rebuilt after World War II, regulations called for any superseded parts to be removed and updated components installed. One of these new components was the improved rear sight that was fully adjustable for windage and elevation.
When the new sight was retrofitted to some overhauled carbines, it could obscure all or part of the original serial number. In such instances, the serial number was re-stamped in front of the rear sight by ordnance personnel as part of the overhaul procedure in order to have the serial number visible. A carbine encountered today with two serial numbers has unquestionably been through an ­arsenal overhaul.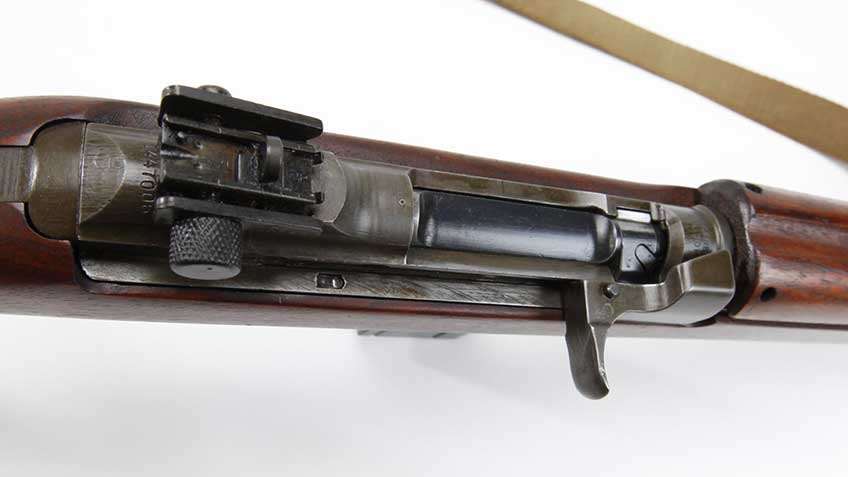 Most of the M1 carbines seen today have gone through extensive post-war arsenal overhauls. This resulted in many of the original factory parts being replaced by later pattern components, particularly the ramped rear sight and the "Type 3" barrel band with the integral bayonet lug. However, the re-stamped serial number wasn't standardized across all carbine rebuilds, so just because a particular carbine might only have one serial number stamp doesn't mean it hasn't gone through the rebuild process.
Additionally, the M1 Garands in U.S. military service underwent extensive rebuilding in the years following World War II, and there's a wealth of information on the markings and indicators found in rebuilt M1s. Bruce Canfield has a great overview in his story,
"M1 Garand Rebuilds: History & Markings."