by
posted on March 26, 2021
Support NRA American Rifleman
DONATE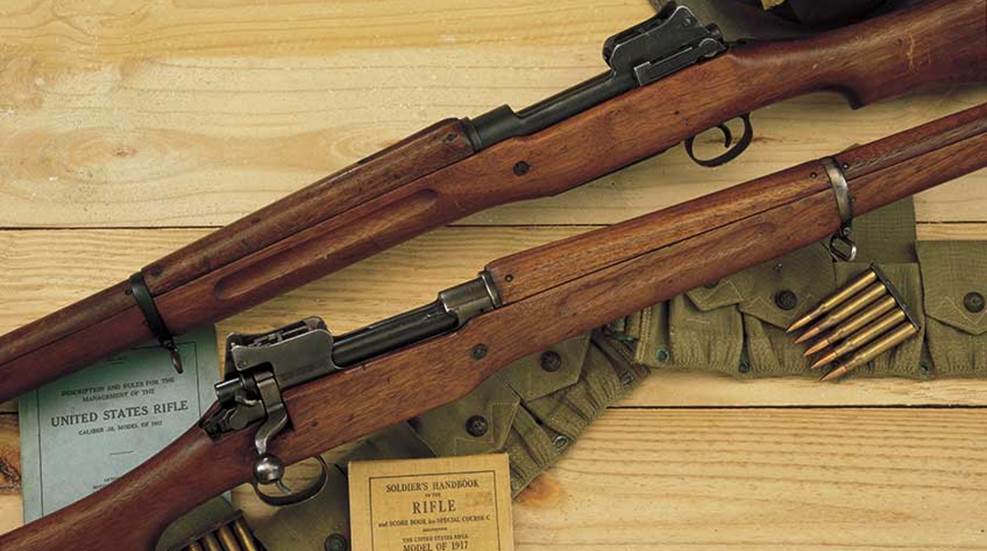 Q: I recently purchased an M1917 Enfield rifle with "U.S.M.C." markings on the bolt. I was not aware of Marine Corps-marked M1917 rifles and assume this is a rather rare variant. Can you give me some information on these U.S. Marine Corps-issue M1917 rifles?
A: Actually, you do not have a "Marine Corps-issue" U.S. M1917 rifle. While it is a logical assumption, the "U.S.M.C." marking on the bolt of your rifle does not signify "U.S. Marine Corps." Rather, it means "United Shoe Machinery Company."
The United Shoe Machinery Company of Beverly, Mass., manufactured replacement bolts for the M1917 rifle under government contract during World War II. Many of these bolts were used for overhaul and replacement purposes.
The presence of a "U.S.M.C."-marked bolt is indicative of a M1917 rifle that has been arsenal rebuilt and has no connection with the U.S. Marine Corps.
Many U.S. Army units were issued the Model of 1917 U.S. "Enfield" rifle, and by war's end, three out of every four U.S.-issue rifles would be an M1917. The Marine Corps, aside from using a few Enfield rifles for training at the Marine Corps' new base at Quantico, Va., and at various posts in the Caribbean, almost exclusively used Springfield rifles.
To get a better understanding of the rifles and other small arms used by the United States Marine Corps during World War I, Kenneth L. Smith-Christmas'
"Guns of the Devil Dogs"
is a worthy read.
While some later '03s can be attributed to the Marine Corps by certain characteristics, such as "Hatcher holes," electro-engraved numbers and barrel markings, the Springfield rifles that were issued to Marines during World War I do not bear any identifying markings, as such.

Aside from research conducted and published by the late Franklin B. Mallory many years ago, there has not been a serious attempt to analyze official USMC Quartermaster records of the period, and to then compile a listing of known serial numbers. There is no correlation between known serial numbers and dates of issue.