by
posted on January 20, 2015
Support NRA American Rifleman
DONATE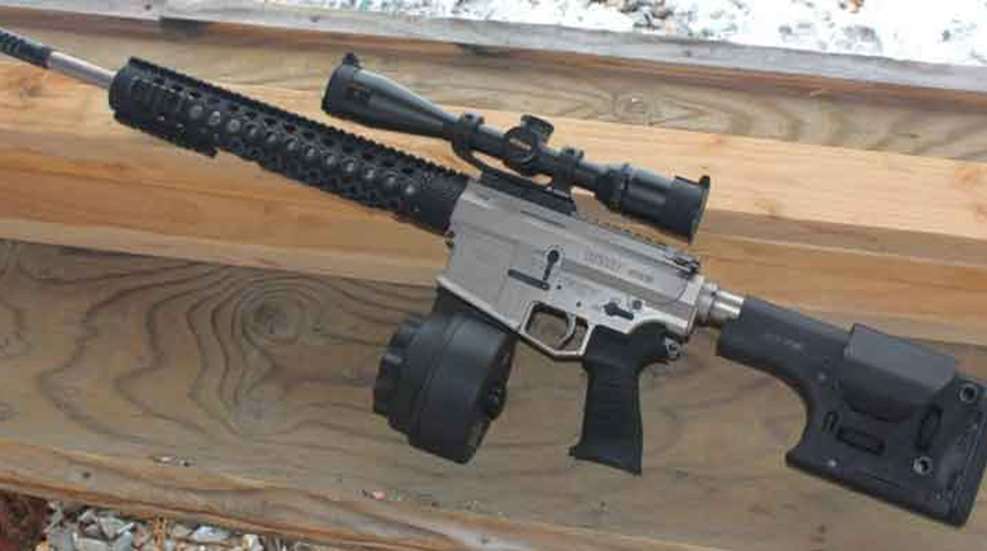 WMD Guns is an American manufacturing company that has built a reputation around its proprietary NiB-X nickel-boron coating process. Applying NiB-X to both ferrous and non-ferrous metallic components provides a tough, corrosion-resistant surface with a hardness of 70 Rockwell, a low friction coefficient and increased heat dissipation efficiency. It's harder than Melonite, nickel Teflon or hard chrome with a slick surface that's easy to clean. These properties make NiB-X an ideal finish for mechanical components that operate in hot and dirty conditions, such as crude oil pumping rigs, race car engines and AR-style rifles.
Although WMD does offer refinishing services for gun components its customers already own, they have developed an in-house line of factory-fresh firearms, kits and components with AR enthusiasts in mind. One line that should be of interest to the do-it-yourself crowd is the Ultimate Chassis series. These almost-finished rifles include a complete upper and lower assembly minus the muzzlebrake-device-flashhider, hand guard, grip, and buttstock so that customers can pick the furniture they prefer. For 2015, WMD is expanding its Ultimate Chassis line to include the new semi-automatic Big Beast AR platform chambered in .308 Win./7.62 x 51 mm NATO and treated with the NiB-X coating inside and out. 
The Big Beast is a factory-custom semi-automatic rifle that takes its design cues from the DPMS gas-impingement-operated, large-caliber AR platforms. All of the major components, including the receivers, bolt carrier group, barrel, buffer tube assembly, charging handle and trigger group, are coated with NiB-X. The appointments, including the takedown pins, dust cover, trigger pins, safety lever and magazine release, have a matte black finish. 
Both the upper and lower receivers are machined from a billet of 7075-T6 aluminum. The flat top upper has an integral Picatinny rail for mounting optics. The charging handle features an oversized release lever for reliable operation. The right side of the receiver is fitted with a dust cover and a brass deflector but no forward assist.
The DPMS-profile bolt carrier group has been designed with a long service life and reliability in mind. The bolt is constructed of Carpenter 158 case-hardened steel, shot peened, magnetic-particle inspected, and fitted with mil-spec gas rings. The heavy-weight M16-style carrier, constructed of 8620 steel alloy, is heat treated and case hardened. Manufacturing tolerances on the inside diameters are tightly controlled. The gas key is hardened to USGI specifications, attached using Grade-8 hardened fasteners, and staked in place. Like the receivers, the group is NiB-X coated throughout for durability and ease of cleaning.
The 18" chrome moly vanadium (CMV) steel match-grade barrel is fitted with a carbine-length gas tube and a low-profile 4140 steel CNC machined gas block for use with free-float handguards. Although the exterior of the barrel is coated with NiB-X for corrosion resistance and heat dissipation, the bore is treated with Nitromet QPQ salt-bath Nitride for extended life and accuracy. The six-groove rifling has a 1:10" right-hand twist. The threaded muzzle is cut with a 5/8 x 24 thread pitch to accept a variety of muzzle accessories.
The lower receiver features the usual AR-type controls in the typical locations. The checkered magazine release is on the right, with the bolt release and safety selector on the left. The front of the magazine well is shaped and textured to act as a finger rest, while the integral trigger guard has been angled to provide more finger room. The carbine-length aluminum buffer tube is designed to work with mil-spec six-position adjustable AR shoulder stocks. 
Although the Big Beast's single-stage trigger is listed as mil-spec, it was better than the usual factory configuration due to a bit of polishing and the NiB-X coating on the trigger, hammer and disconnector. Typical mil-spec triggers can be mushy and gritty requiring around 7 lbs. 8 ozs. of trigger pull to cycle. The WMD trigger was nice and smooth, breaking cleanly with 5 lbs. 3 ozs. of trigger pull. Even though it's not as light as a competition trigger, I wouldn't be in much of a hurry to swap it out because it's a big step up from the typical factory model.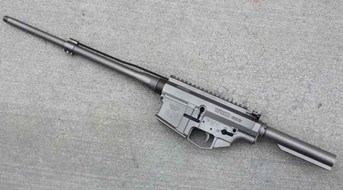 In order to complete the rifle, I got in touch with a few other manufacturers who provide top-notch components.  The barrel was fitted with a Seekins Precision AR ATC muzzle brake. Constructed of 416R stainless steel with an innovative port design, this brake uses a unique and easy-to-install knurled collar instead of a crush washer. The ATC brake did a terrific job of reducing felt recoil without the concussive effect other brakes sometimes produce.
The free-float handguard installed was the 13" Troy Industries Alpha 308 model designed for compatibility with DPMS LR-308 style high-profile sight rails. Lightweight with a low profile and a full length optics rail, the Alpha handguard is machined from hardened aircraft aluminum and treated with mil-spec matte black hard-coat anodizing. It arrives with stainless steel mounting hardware, a barrel nut, and two 2" and one 4" quick-attach accessory rails. Installing a set of the unusual rubber-ring Squid Grips gives the handguard a very comfortable and secure gripping surface.
The DMR308 shoulder stock, made by the Lewis Machine & Tool Company (LMT), is loaded with features. Designed specifically for use with the harder-kicking .308 Win.-caliber rifles, the two-position adjustments and click-adjustable buttpad provides a length-of-pull ranging from 13.50 to 16.25". Other features include a click-adjustable SOPMOD cheek rest, four quick-detach (QD) sling swivel sockets, and a concealed accessory rail for attaching a mono pod. 
The final piece of furniture was a Stark Equipment Corp Model SE-2 AR Sling Grip. Along with its hand-friendly shape, textured surface and battery storage compartment, the SE-2 features a sling mount. The model used for this test has a loop for the hooks commonly found on single-point slings. A QD version is available as well.
One concern shooters may have with purchasing an all-NiB-X finished rifle is that the silver coloring will bring too much bling to the table to be taken seriously. But unlike a high-polish stainless steel or chrome, the NiB-X coating on this rifle has a subdued matte gray appearance that makes it easy on the eyes. The black furniture paired with the NiB-X components work well together resulting in a handsome two-tone appearance.
With most of the tricky work completed at the factory, building the Big Beast was a cinch. Other than the need to properly set the tension of the barrel nut with a torque wrench, the rest of the accessories were mostly a plug-and-play affair. Once all the bits were in place and the rifle passed all of the bench checks, it was time to go shooting.
Working off of the bench, the Big Beast lived up to its name. Looking over several other complete AR-type .308s with the same barrel length, they tend to leave the factory weighing between 8 to 9 lbs. unloaded. The bare Beast chassis weighs in at 8.4 lbs. With all of the furniture in place, plus the test scope and an empty polymer magazine, the rifle tipped the scale at 11.5 lbs. But with nearly 1.5 lbs. of that weight in the LMT shoulder stock, the finished rifle had a good balance to it.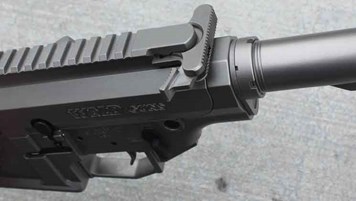 Two magazine brands were tested along with a mix of commercial hunting and match-grade cartridges, all of which worked together without any malfunctions in the course of testing. Magpul's Gen3 LR/SR 10-round and 20-round PMAGs are lightweight and affordably priced at less than $20 a piece. They locked in place when loaded, stayed put while shooting and dropped free when released. Just like the AR-15 and AK PMAGS I've worked with, the LR/SRs proved to be reliable.
The other magazine type was the X-Products Model X-25 drum that holds 50 rounds of ammunition. With a rigidly constructed heavy-duty aluminum housing and steel hardware to hold it together, the X-25 proved to be rugged, reliable and easy to load. A large tension-relief knob on the front of the magazine is twisted clockwise to lower the magazine follower to make room for each cartridge as it's loaded. When inserted into the Big Beast's magazine well, the compact drum fits snuggly in place and extended about 4.5" below the trigger guard, making it around 1.5" longer than the base of the grip. I really liked working with this magazine. It looks great, it ran without a hitch and it cut down on reloading time. But there are two things to be aware of. First, a full-loaded X-25 weighs in at just over 5 pounds, which is close to half of the weight of the entire rifle. Secondly, it converts perfectly good ammunition into empty brass casings with great rapidity if you're enjoying yourself.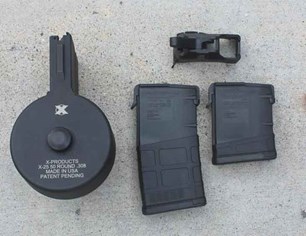 Formal accuracy testing was conducted from a bench rest by firing five 5-shot groups into targets set at 100 yards using a Nikon Monarch 3 4-16X 42 mm scope attached with an M-223 XR scope base. All of the rounds used were .308 Win. The best single group of 0.67" and the best five-group average was produced using ASYM Precision 175-gr. Sierra Match King rounds. The Barnes VOR-TX 150-grain Tipped TSX boat tail rounds turned in a best group of 0.78" with an average of 0.95". Black Hills 175-grain boat-tail hollow points turned in a best group of 0.97-inches with an average of 1.17". 
WMD's new Big Beast chassis provides a great way to build up a custom .308 Win. platform without the hassle of starting from scratch or filling a box with swapped-out parts. The WMD components proved to be reliable, accurate and easy-to-maintain because of the total NiB-X coating. The bolt carrier group all but wiped clean with a rag after testing. The carbon left on the assembly flaked off with just a modicum of effort. If the matte gray color of the NiB-X coating is not quite your style, the Big Beast will also be available in matte black and flat dark earth finishes.
WMD Big Beast .308 Rifle Chassis Chassis
Manufacturer: WMD Guns
Model: Big Beast Ultimate Chassis
Action: Gas-Impingement Semi-automatic
Caliber: .308 Win./ 7.62 x 51 mm NATO
Upper Receiver: Milled 7075 T6 Aluminum Billet
Lower Receiver: Milled 7075 T6 Aluminum Billet
Barrel: Match Grade Light Profile Chrome Moly Vanadium Steel
Bolt Carrier: NiB-X Coated DPMS Profile, Staked Gas Key
Buffer Tube: Mil Spec
Trigger: NiB-X Coated, Mil Spec
Finish: Satin NiB-X
Sights: None, Integral Picatinny Scope Rail 
Barrel Length: 18"
Muzzle: 5/8-24 Thread Pitch
Overall Length: 34"
Weight: 8.4 lbs.
Capacity: Accepts AR-10A/ DPMS LR308 Type Magazines
Twist: 1:10" RH
Rifle Grooves: Six
Accessories: One 10-Round Magazine, Owner's Manual
Chassis Suggested Retail: All NiB-X Finish - $1,579
Muzzle Brake: Seekins Precision AR ATC - $129
Handguard: Troy Industries, Inc. 13-Inch Alpha 308 - $240
Handguard Grip Enhancement: Troy Squid Grip 7-Pack (Black) - $24.99
Pistol Grip: Stark Equipment Corp AR Sling Grip (SE-2) - $49.95
Shoulder Stock: Lewis Machine & Tool Company DMR308 - $289
Scope: Nikon MONARCH 3 4-16x42 Side Focus Nikoplex Custom XR Turret - $459.95
Scope Base: Nikon M-223 XR - $99.95
Polymer Magazines: Magpul PMAG LR/SR GEN M3 7.62x51—Starting at $18.95
Drum Magazine: X-Products Model X-25 50-Round .308 Win.--$295