by
posted on March 17, 2020
Support NRA American Rifleman
DONATE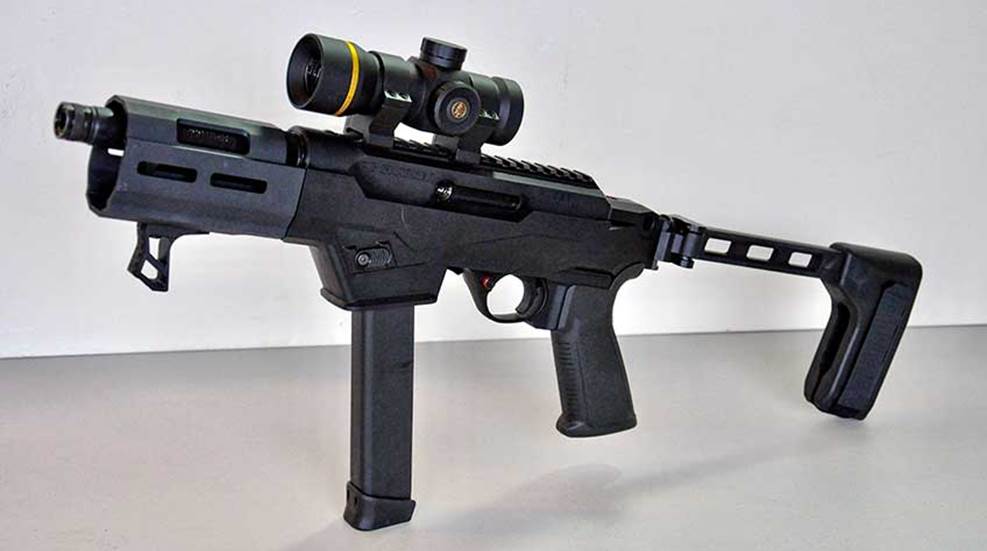 Folks want personal-defense guns. That's apparent from looking at the bright spots in slumping gun sales data, where handguns and other defensive firearms lead all other sales. Responding to this demand, while creating demand with new and innovative products is a hallmark of Ruger's business model. The company believes new products drive growth in the company and generally expand on new releases with a growing product line.

That's exactly what Ruger's done with its successful Pistol Caliber Carbine (PCC). Originally introduced as a 9 mm, it now includes models in .40 S&W and there are some 19 model variations shown on the company's website. It's going to be awhile before Ruger ends development of this successful product line, as it's a safe bet other calibers and variations will appear.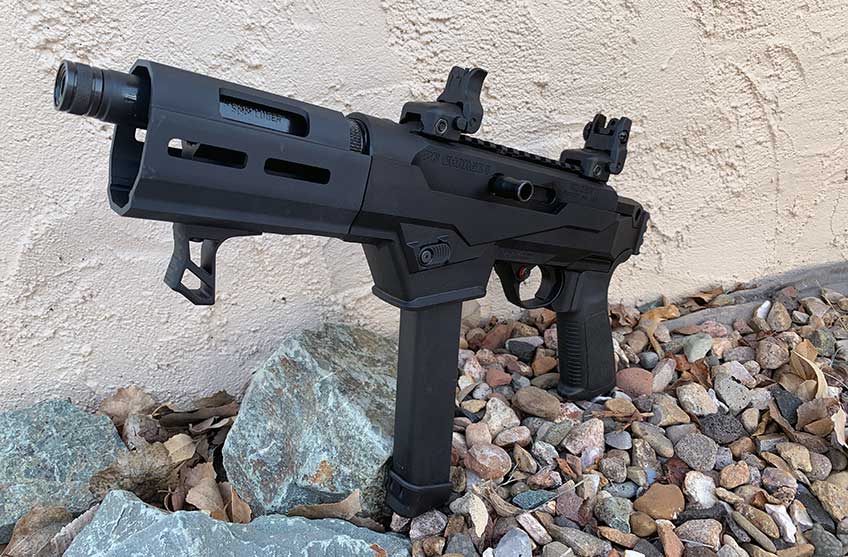 Following a formula used with the 10/22, Ruger now includes a Charger pistol variant of the PCC it calls the Pistol Caliber Charger in 9 mm. It's a short-barreled version of the PCC with a pistol grip that shares most of the features of the PCC. Yes, it's a takedown, and, yes, the 6.5" Charger barrel will fit on a PCC–but don't do it unless you have ATF approval to create an NFA-regulated short-barreled rifle.

What you can do is install a pistol arm brace on the Charger, which features a section of 1913 rail molded into the back of the stock for exactly that purpose. As the Charger seems a natural platform for an arm brace, I ordered an SB Tactical side-folding version from my favorite parts company, Brownells, and installed it on my test-sample PC Charger. It works great and seems to have been made for the Charger.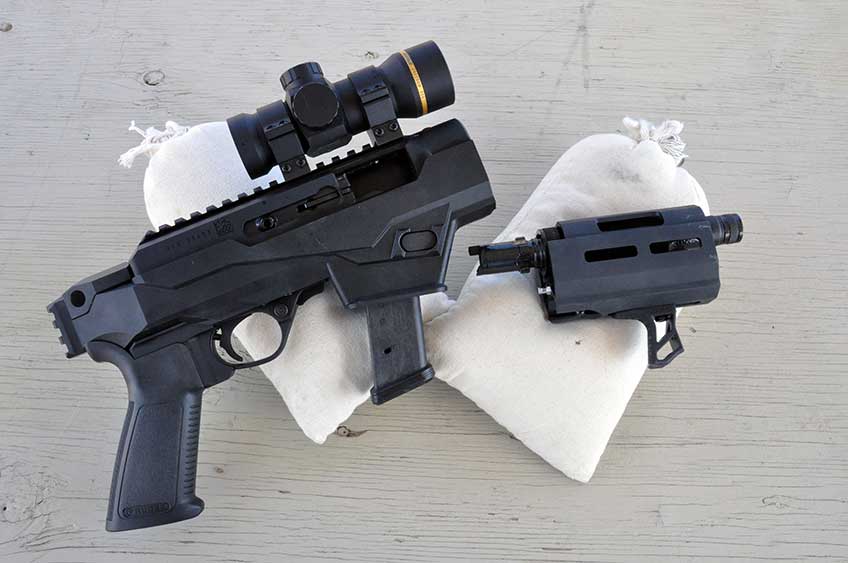 Just like the PCC, the Charger comes with one Ruger 17-round 9 mm magazine and an adapter to allow it to use readily available Glock pistol magazines. I followed the detailed instructions in the manual and used the included hex wrenches to remove the action from the stock, replace the magazine adapter and put the gun back together. The instructions call for torqueing the stock bolts to 80 in.-lbs., so I used an in.-lb. torque wrench to tighten the bolts. If you're lacking the proper wrench, I would advise you to simply tighten the bolts snugly.

The bolt handle and magazine release are reversible, and I like having both of them on the port side of my PCC, but after installing the side folding arm brace, I discovered it interferes with the bolt handle when folded, so I left the handle on the right side of the Charger.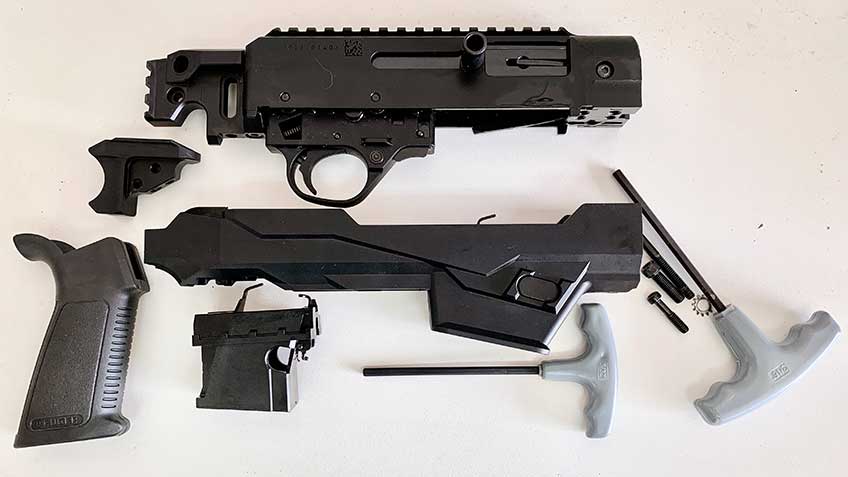 The 6.5" barrel of the Charger is threaded, should you wish to install a suppressor or muzzle accessory. The barrel is covered with an anodized-aluminum, free-float handguard with M-LOK slots for attaching accessories such as lights and lasers. The pistol comes with a hand stop in one of the bottom slots, and you can move it fore and aft or remove it altogether.

The rear of the stock has sling-swivel sockets, so I added a leather single-point sling from Simply Rugged Holsters. Worn cross-body, this allows the gun to be thrust forward and stabilized by the sling if not using an arm brace and shortening the sling allows it to be carried easily when hung from one shoulder.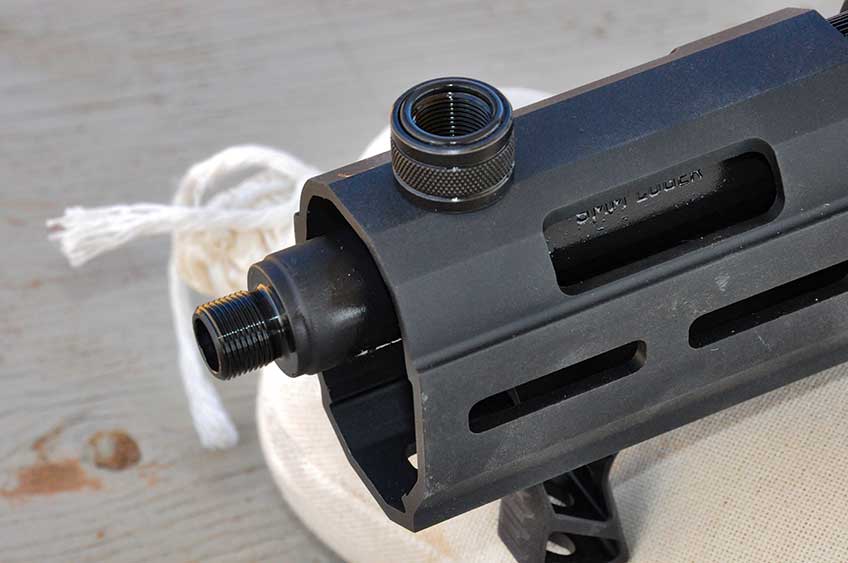 The Charger has a Picatinny rail atop the receiver and ships without sights. You can install clamp-on, flip-up, AR-style iron sights or your choice of optic. I chose to install Leupold's new Freedom Red Dot Sight. It features a 1 MOA dot, ¼ MOA finger-adjustable windage and elevation knobs, 10 levels of brightness and a feature I really like: it goes to sleep after five minutes of inactivity and comes back on when moved, meaning I don't have to fumble around with on-off switches.

The sight came installed into an AR-style sight base and rings, but I found I could seat it lower on the rail by using a set of Leupold 34 mm medium rings. This gives me about 1.5" of offset, that being the distance from the center of the scope to the center of the bore.

Considering the PDW role of the Charger, I chose to test it with several brands of premium defensive ammunition. The pistol digested all of them without a hitch and was entirely reliable.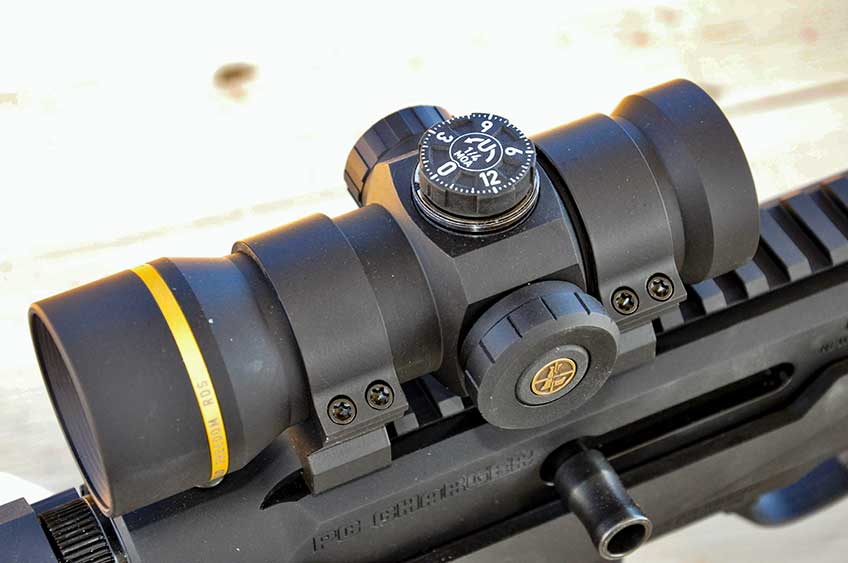 I started with a defensive ammunition standard, the Hornady Critical Duty 135-gr. FlexLock, averaging 1082 f.p.s., then moved on to four brands of ammunition using solid copper hollowpoint bullets (SCHP). I've been shooting and testing SCHPs for several years, and I really like them. They penetrate well, expand reliably in test media and stay together without breaking up, even after hitting steel plates.

The first of the SCHPs I tested is one I have been using for a couple of years. Fired in the Ruger PCC, the Doubletap 77-gr. SCHP generates more than 1,900 f.p.s. and penetrates 13-14" in ballistic gel. While I didn't shoot it into gelatin from the Charger barrel, it averaged 1,722 f.p.s.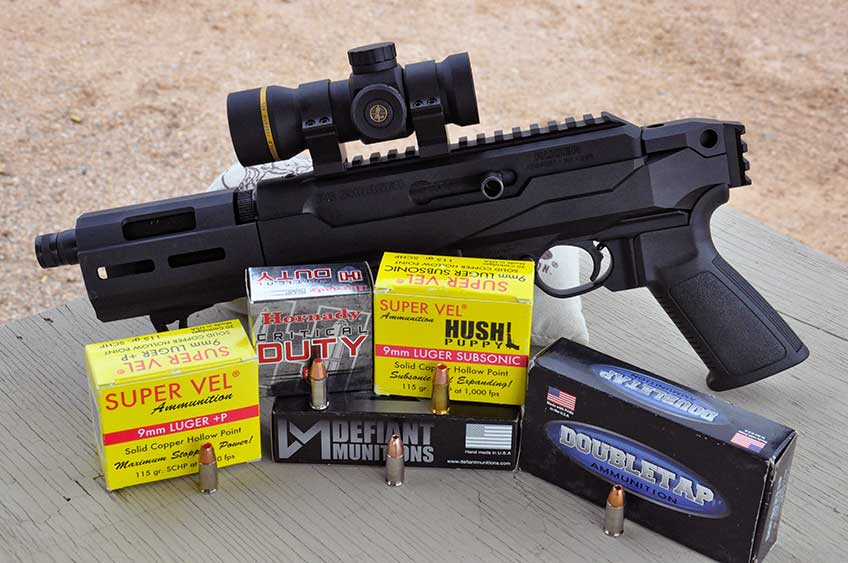 Next, I tested two loads from Super Vel, the company's Hush Puppy and +P loads, both using a 115-gr. SCHP. Being a subsonic load, the Hush Puppy averaged 1,023 f.p.s., while the +P load averaged 1,376 f.p.s.

Lastly, I tested a SCHP from a new maker, Defiant Munitions. While it's a new company the people behind it, Peter Pi and Pete Pi Jr. have been in the ammunition and copper-hollowpoint-bullet business for many years. Their 115-gr. TCX (total copper expanding) bullet averaged 1,320 f.p.s.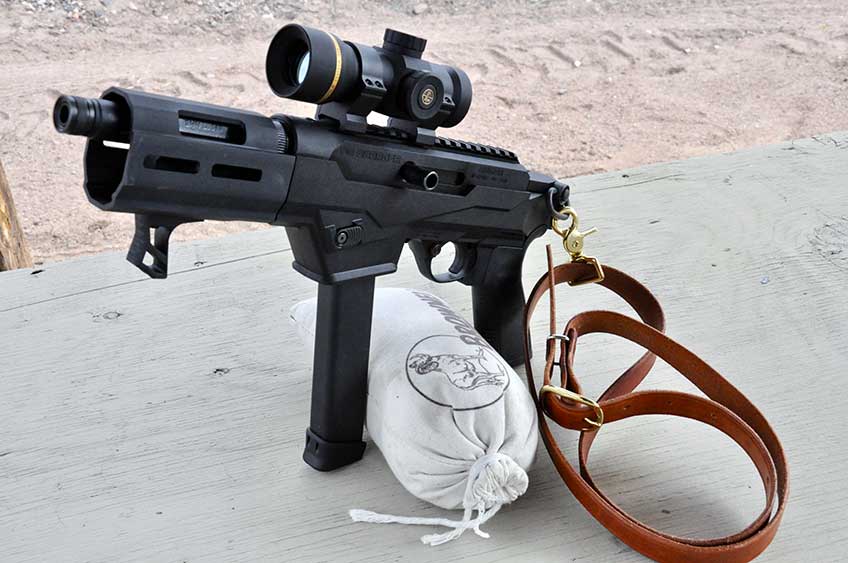 In the end, we have to address the question of what the Charger is for. Many will be attracted to it as a compact defensive firearm when outfitted with an arm brace, otherwise it's kind of a big pistol. It has a definite role as a PDW for use in the home, in a vehicle or in a camper or recreational vehicle. Being short-barreled, it's handy and maneuverable in confined spaces and small enough to be stowed away and secured. Having the ability to handle 15-, 17- or 33-round magazines, a suppressor and a huge variety of sighting options makes it a versatile little beastie.

As you might imagine, I'm sure we'll see additional models in different calibers, with .40 S&W probably coming next. Whether in the PCC or Charger, I know Ruger customers are out there who would love to see both these firearms in .45 ACP and 10 mm, so we'll have to be patient and see what Ruger does next.


Ruger PC Charger Specifications
Receiver: Type II Hardcoat anodized aluminum alloy
Barrel: Cold hammer forged alloy steel, 6.5", 1:10RH twist, 6-groove, threaded ½"-28
Sights: none
Trigger pull: 5.5 lbs. average, as tested
Weight: 5.2 lbs.
OAL: 16.5"
Stock: Takedown, A2 pistol grip, M-LOK anodized aluminum handguard with hand stop
Suggested retail: $799