by
posted on June 12, 2013
Support NRA American Rifleman
DONATE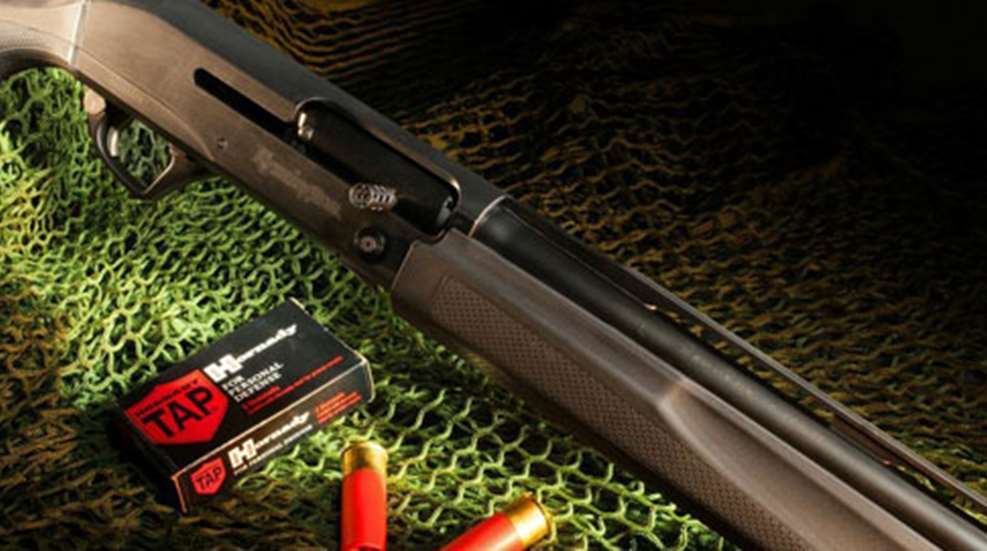 When Remington rolled out the Versaport gas system in 2010 with its new Versa Max lineup of shotguns, it was nothing short of revolutionary. Dual pistons cycle the action, drawing their energy from seven strategically located ports within the chamber/barrel. As shotshell length increases, the number of ports exposed to tap energy decreases, a system that regulates pressure so reliably that the 12-gauge shotgun could digest 2 ¾-, 3- and 3 ½-inch shotshells in virtually every load imaginable.
For those interested in home-defense, 3-gun and survival, the ruggedly simple system seemed like an ideal platform, and flawless performance in the 1,000-round-a-day dove fields of Argentina drove home that point. But, there was no tactical version, and non-hunting shooters stood on the sidelines, watching the gun garner a variety of awards—including an American Rifleman Golden Bullseye. A Versa Max Tactical finally appeared in 2011, premiering with a 7+1 capacity that's been increased to 8+1, and it's hard find a 3-gun match without a few of them in the hands of competitors.
Despite still employing the Versaport system, it is important to note the Tactical version no longer digests 3 ½-inch shotshells. Some claim it can if ammunition is used that doesn't crimp in the longer tube magazine, but Remington does not list the shotgun as being capable of taking the longer loads, so why risk voiding the two-year warranty. Besides, in competition and home-defense where follow-up shots are important, there's not much reason to shoot 3 ½-inch loads.
With a 22-inch barrel and an overall length of 43 15/16 inches, the Versa Max Tactical hardly qualifies as nimble. It is, however deliberate and smooth, lending itself to a 3-gun technique whereupon competitors often hold their support hand on a section of fore-end in another zip code as they drive from target to target. With some forethought and practice, however, moving through a darkened house as you work your way to your safe room can also be fast and efficient with this shotgun. Just don't expect movements to be as intuitive as with a short 870.
That said, the Versa Max Tactical has something shorter pump-actions don't have—less recoil, much less. Semi-automatic operation has a lot to do with it, but even when testing buckshot loads this shotgun was positively tame. An overall weight of 7.5 lbs. also helps, along with a recoil pad specifically designed for this shotgun that drinks energy faster than sorority girls down jello shooters on spring break.
Adding to overall comfort are three polymer spacers provided that allow shooters to tailor the gun to their preferred length of pull in ¼-inch increments, up to as much as 1 inch. The stock gun comes with a 14 ¼" length-of-pull, and in testing it was comfortable enough that no adjustment was made. A soft insert at the comb minimizes the chances of discomfort being transmitted to your cheek. Drop at comb is 1 7/16" and a different height insert is provided to customize fit. Heel drop and cast is easily modified by replacing the stock cast plate with the included alternate version.
But, there are more pieces in the box than most beginner Lego sets. If you're not fond of the green fiber-optic HiViz element in the front sight, simply swap to the red or white versions provided. Want a small rail up front for a laser or light? It's included, too. Simply place it on either side of the barrel ring and tighten. The sling stud can be moved to the other side of the barrel if you still want it attached.
Sighting on the Versa Max Tactical, as it comes from the factory, is by a mid-bead along the vented rib and the front fiber-optic element. The tapped receiver, however, allows you to easily mount the provided 6" section of rail, followed by aftermarket red dots, reflex sights or whatever your heart desires. During testing the stock setup was maintained, but the rail will go on instantly if I decide to give this gun a home.
The shotgun comes with improved cylinder and Tactical Extended choke tubes. Performance was impressive with both. With Hornady's OO Buck/TAP FPD load, average buckshot spread was 1.372" at 7 yards with the improved cylinder choke. With the same setup and distance, Remington No. 7 ½ Game Loads had pellets covering 5.287". At 7 yards, about the distance encountered in most home invasions, both shotshells put their entire payloads in center mass, with the TAP punching an intimidatingly small circle in the B27 target. A choke-removal tool is also provided to swap out the ProBore-threaded tubes.
The Tactical Extended choke gives the shotgun a more aggressive profile, but adds another 1.93 toothy inches to overall length. With it installed, average buckshot spread remained about the same (with the wad punching through the paper at this distance, accurate measurement was pretty dicey), perhaps a little tighter. The birdshot pattern, however, widened by ½" with the pellets distributed more evenly throughout the entire area. That's a good thing.
Function testing was conducted by randomly alternating 2 ¾" and 3" loads, and it never experienced a hiccup. The carrier smoothly fed the different length shotshells, ejection was flawless and recoil was negligible.
Fire controls are also well thought out and designed to ease operation under stress. A generous trigger guard ensures manipulation of the trigger even when wearing gloves and oversized safety and bolt-release buttons can be located easily in the dark. Extending nearly a full inch from the receiver, it would be nearly impossible to lose traction on this operating handle, even with mittens.
Wet weather wasn't given much thought in regard to purchase on the trigger, though. It's smooth and untreated texture could be a concern were this a rifle, but it's not. Let-off weight measured consistently at 7 pounds and there was no creep.
About the only serious complaint I have on the Versa Max Tactical is a common one with shotguns—the carrier is a real nail biter when you're in a hurry. It's little wonder 3-gun competitors either have it modified or carry a box of pre-emptive Band-Aids. Trying to reload fast was painful on several occasions when I tried to pick up the pace.
Bear in mind, too, the 8+1 capacity is for 2 ¾" shotshells. With 3-inchers, it drops to 7+1, although I came so close to stuffing eight into the magazine that someone, sooner or later, will apply enough pressure to do so and probably spend the afternoon field stripping the gun to get it running again. Stop after you've stuffed seven 3"-ers. You'll be glad you did.
If you're getting your feet wet in 3-gun competition, or looking for a home-defense shotgun that comes with all the right gear, take a close look at Remington's Versa Max Tactical. I'm not the only one who is impressed with the reliable shotgun. Here's American Hunter's Jeff Johnston with a video report. It's soft shooting, accurate, customizable and extremely reliable. At $1,399 it's more expensive than a pump-action alternative, but it's vastly more versatile, probably why it's called the Versa Max.
Manufacturer: Remington; Remington.com
Model: Versa Max Tactical
Action: Gas-Operated Semi-Automatic
Gauge: 12, 2 ¾" and 3" shotshells
Finish: Matte Black
Stock: Black Synthetic
Length of Pull: 14½" to 15½"
Sights: Mid Bead, Fiber Optic Front Sight, Picatinny Rail Provided for the Tapped Receiver
Barrel Length: 22"
Overall Length: 43 15/16"
Choke: ProBore Improved Cylinder, Tactical Extended
Capacity: 8+1 2 ¾"; 7+1 3" Shells
Weight: 7.5 lbs.
Suggested Retail Price: $1,399