Moultrie has a hard-earned reputation for producing the kind of cutting-edge and reliable game cameras that allow hunters to dial into an animal's movements. It took a while, but the company has finally rolled out a line of security cameras with the kind of features that make it a great addition to any home-defense arsenal. Mine's on duty right now.
The Trace Perimeter measures 6.5 inches tall, 4.75 inches wide and 4 3/8 inches deep (not including mounting brackets). Its camera lens rotates to three positions to take still images (up to 8 megapixel), giving it an effective frontward coverage of 150 degrees.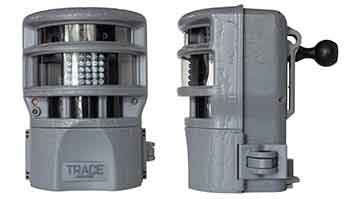 It's feature packed. Criminals prefer the anonymity of nighttime work, so the camera has a passive infrared flash that can't be detected unless you're next to the unit—and even then it's an extremely dim red glow around the edges of the LEDs. It works extremely well, and in nighttime testing the company's estimate of a 60-foot range seemed a little low.
You can opt to take video, select a three-photo burst, or use the landscape function, which takes three photos and stitches them together without the need for another program. Maximum photo resolution is eight megapixels; large enough to make out license plates and ID anyone easily if their face is exposed.
High-definition video, at 720, is available in both darkness and full daylight. Each photo and video has a date and time stamp at the bottom, and even temperature (a holdover from the game camera version, I surmise). Two of the three will be invaluable to you and law enforcement should a problem occur.
It comes with a nylon strap for tree mounting, although I found that system a little unstable for permanent installation. Then there are all the photos I had to view and delete when branches bobbed in the breeze. The back ball and mounting bracket, however, make wall or pole an ideal outpost for the home (which was my option).
Six C-cell batteries provide power (AC, solar panel and battery pack optional). The company estimates they will survive 9,000 still images, although mine have lasted two months with a mix of video and stills. It's waterproof and the one I'm testing has braved at least three heavy downpours and countless gentle rains without missing a beat.
It triggers in less than a second when something moves within 45 feet. A single SD card provides storage (32 gigs max) and my computer easily handled both the avi formatted video and jpg images. The control panel is lockable, the menu is backlit and it's very easy to use.

How well did it work? Well, I made the mistake of thinking it would record every vehicle's license plate that came down my 200-yard dirt road for a driveway. It didn't. I got a lot of great video of the side of the UPS truck and a couple others, but no driver's faces or plates. By the time it triggers, those heavy-footed drivers are often completely gone. It was the same when they left. I sort of think criminals coming in with a moving van will be moving fast, not suspiciously creeping along. At night, even when I drove slow to capture my truck's image, the taillights were bright enough on the infrared setting to obscure my plates (the camera automatically switches modes at dusk, so there's nothing to remember).
Therefore, I swapped to panorama photos. When going away from the camera, all the vehicle's details were there. The photo would be blank during its approach. Results were the same in three-shot bursts.
That said, it triggered reliably when I tried to sneak by to the camera's far left. I got to watch the farmer to its right spraying his field (and I had no idea he was doing it that day). Video, both day and night, was striking, except for that moving-vehicle problem.
The camera is now moved back at the house, where it's monitoring every knock and not missing a beat. I have the license plate when someone parks and usually a great image of the driver.
The Moultrie Trace Perimeter works extremely well in its mission, which is not recording vehicles at 30 miles per hour. If they're on foot—and they will be if they're breaking in—what you get will aid law enforcement considerably.
Knowledge is power. If that 1 a.m. knock turns out to be three armed thugs scared off by a passing car, it's time for the family to review their armed-defense strategy and call law enforcement. I guarantee they'll enjoy the photo or video—complete with time and date stamp.